Last week, in a historic verdict, a Pennsylvania jury awarded $4.24 million to two families in Dimock, PA who sued a shale gas driller, Cabot Oil and Gas Corp., over negligent drilling that contaminated their drinking water supplies.
Dimock has for years been one the nation's highest-profile cases where shale gas drilling and fracking was suspected to have contaminated water, a claim the oil and gas industry strenuously denied. Controversy over the water quality swirled as state and federal regulators repeatedly flip-flopped over who was responsible for the water contamination — and whether the water might even be safe to drink.
For years, Cabot Oil and Gas has maintained that the problems with the water were simply cosmetic or aesthetic, and that even if the water was not good, their operations in the area had nothing to do with it.
The federal jury's verdict last Thursday represents a legal conclusion that the water was in fact contaminated because of the negligence of the drilling company — no small matter for those who spent years living in a deeply fractured community where emotions over the shale rush have run high and pitted neighbor against neighbor.
The verdict also has broader ramifications for the national debate over shale drilling and water contamination.
The U.S. Environmental Protection Agency is currently reviewing the risks to American drinking water supplies from unconventional oil and gas drilling and fracking. And while the Ely v. Cabot case did not center directly on hydraulic fracturing, the wells surrounding the Ely property suspected of causing the contamination were mostly fracked shale gas wells.
"This jury trial reflects that drilling and fracking caused groundwater contamination, and this is only the beginning," actor Mark Ruffalo said in a statement on behalf of Americans Against Fracking. "It is also time for President Obama to let the US Environmental Protection Agency do its job and investigate thousands of complaints across the country of drilling and fracking polluting drinking water supplies and harming the American people."
Cabot Oil & Gas maintains that it acted responsibly and said that it plans to appeal the jury's verdict. In 2012, the company settled with forty other residents from the Dimock region, but the terms of that settlement were not public and those who signed agreed to a "non-disparagement clause" that precludes them from speaking out about their experiences with Cabot.
In the Heart of the Shale Gas Rush
One of the reasons that the Elys and Huberts never settled, they said, was because they wanted to have their voices heard and their experiences made public.
"All of the plaintiffs are going to tell you what it's like to live in the heart of a gas rush," attorney Leslie Lewis told the jury on the first day of trial. The litigation stretched into three weeks of testimony and arguments, as the residents of Carter Road finally had their day in open court.
Nolan Scott Ely testified that he had worked as a bulldozer operator for a Cabot subsidiary, Gassearch Drilling Services, when the shale gas rush first arrived in Dimock. But he became troubled by the accidents he saw and the lack of response from management when he notified them of problems.
"We would try to go as quick as we could to depth," he testified, describing how the company set up contests where rig crews raced each other to see how fast they could drill – and then problems began to occur. "We've had many spills," he added.
Meanwhile, his children were starting to develop headaches and other odd symptoms. And after a while, the Elys began to wonder whether their health issues had anything to do with the accidents and spills nearby.
"I approached my supervisor with questions of 'could there be anything wrong with my water?'," Mr. Ely testified.
The plaintiffs were mostly constrained from testifying about the effects on their health, since prior court rulings had narrowed the lawsuit so dramatically that only the impacts on the Ely and Hubert families' property values and the "nuisance" associated with living without water could be considered.
To get water, the Elys use a donated truck to haul 500 gallons of water at a time, to fill a 3,000 gallon tank installed in front of the house.
"In the summertime, it ain't too bad," Mr. Ely testified. "The wintertime is an absolute nightmare," he said describing frozen hoses and the difficulties of keeping outdoor water tanks from freezing when temperatures dip below zero.
The water treatments systems that other residents on Carter Road received after settling with Cabot under undisclosed terms were completely inadequate, Mr. Ely testified. "They're not able to drink their water," Mr. Ely said of his uncle, who also lived on Carter Road, and with whom the Ely family briefly lived. "The only thing he does is bathe in it."
Bad Wells, Bad Water
So what exactly went wrong on Carter Road?
Cornell professor emeritus Anthony Ingraffea described a litany of problems documented in Cabot's own records, including not only spills but also a series of accidents at the site, including a gas well blowout and well casing leaks.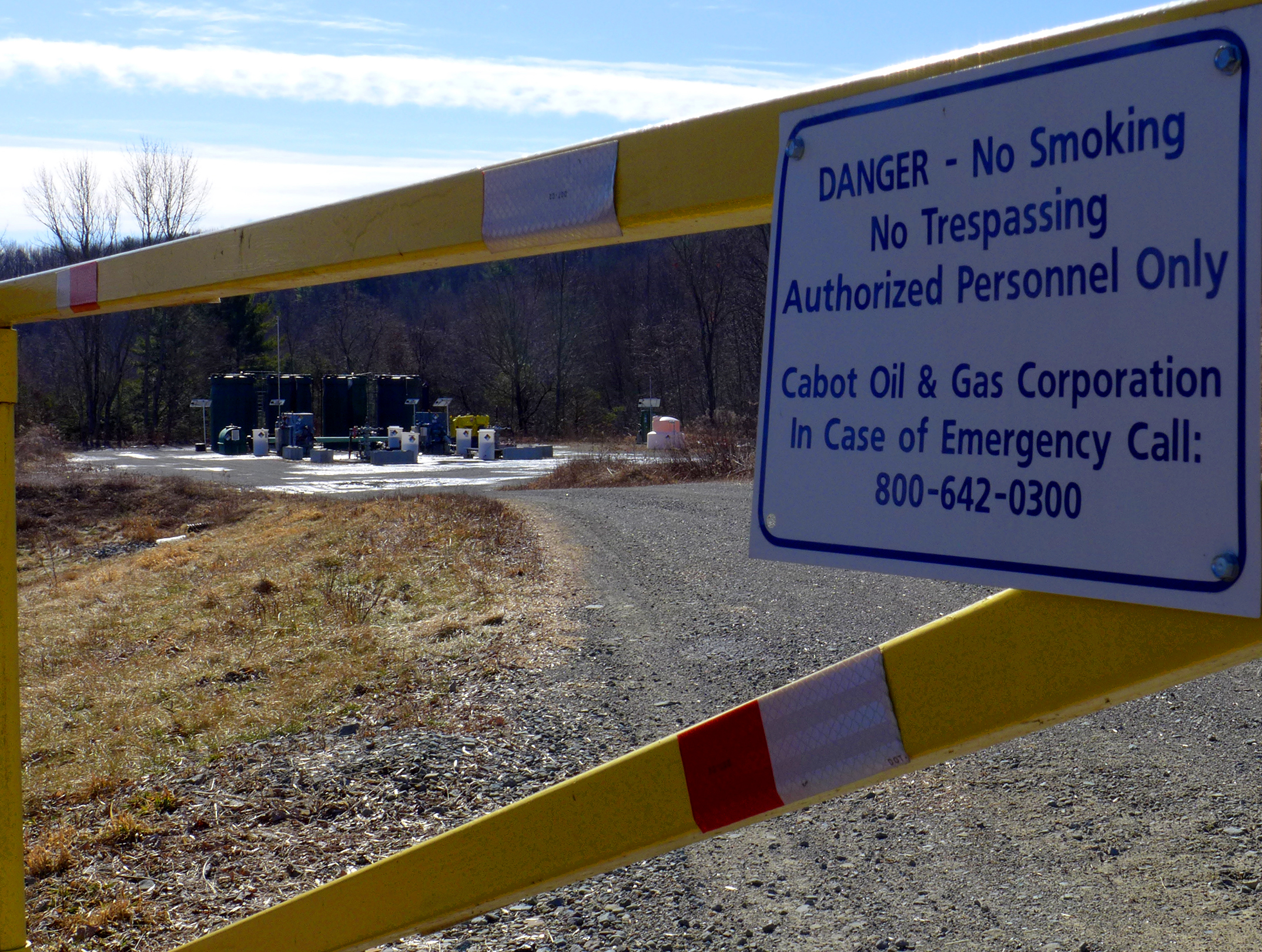 One of the Gesford natural gas wells in Dimock, PA. Tucked away and nondescript, these wells have changed the Pennsylvania countryside. © 2016 Laura Evangelisto
Leaking gas well casings and cement are not all that unusual, Prof. Ingraffea testified, saying that he had attended Society of Petroleum Engineers conferences where "loss of well integrity," or leaks are routinely discussed.
"This is not uncommon," he said. "This is so common that there are already 2,000 papers," published by oil and gas engineers, geologists and other experts, on how to avoid or repair leaks.
In this case, repair efforts were lacking, Ingraffea testified. "I detected nothing in the record" to show that Cabot did anything to stop the leaks from reaching underground water supplies, he said, and there was no direct evidence that the gas leak had ever subsided.
For many of those living along Carter Road, there is no question that their well water remains bad.
On a recent weekend, Ray Kemble, one of the Ely's neighbors, filled a 5 gallon bucket with water from his well to show visitors. The noxious fumes from that small slightly-greenish sample were so powerful that Kemble was left gasping for breath, and he warned that splashes of the water could lead to chemical burns.
Later, he displayed a water bottle filled with a brown liquid laced with pearl-white swirls, noting that even when the bottle was left to sit, the mud never settled out of the solution — water drawn in January from the Ely's water well, Mr. Kemble told reporters.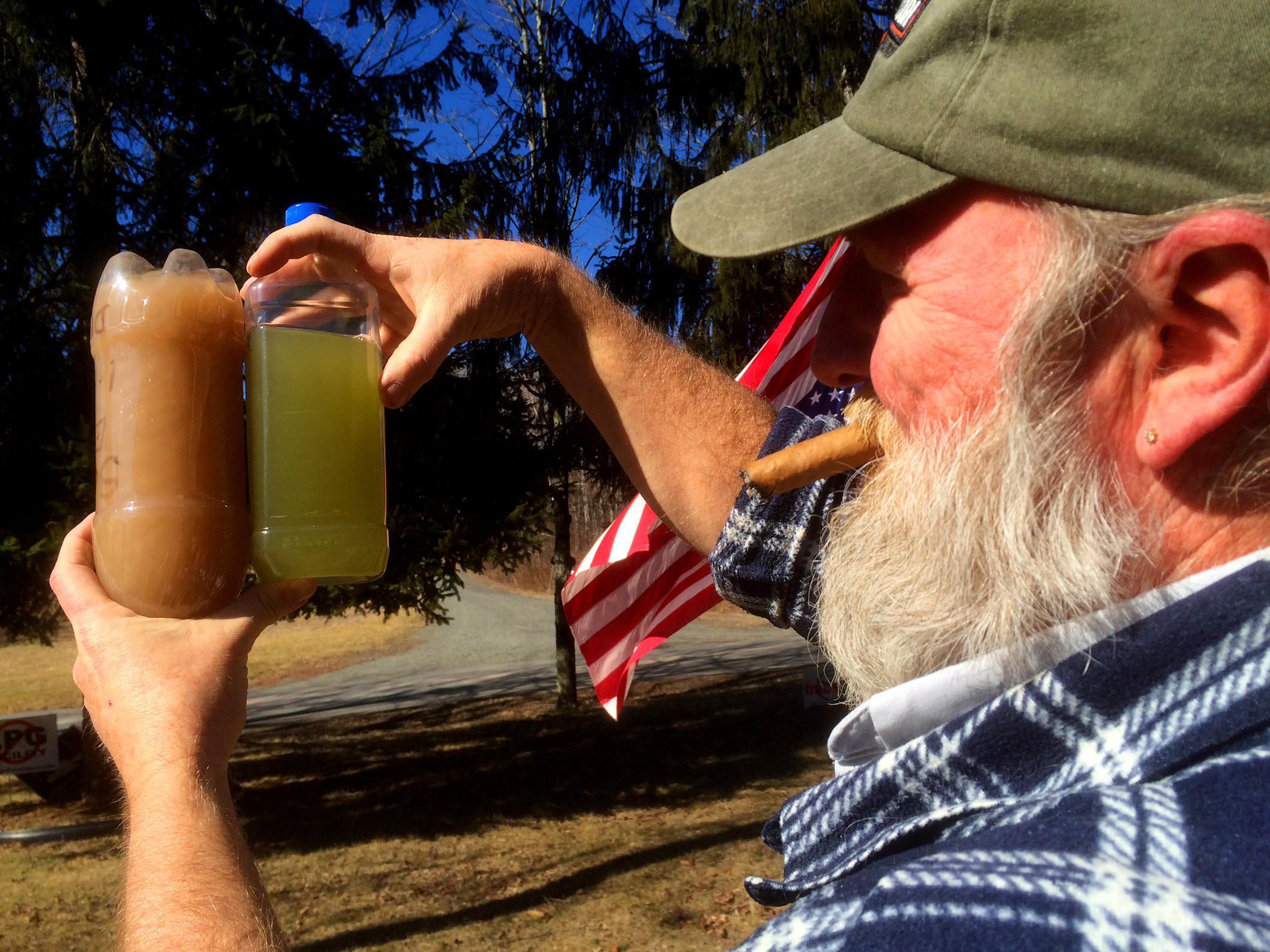 Ray Kembel shows examples of his sickly green and the Ely's oily brown well water. Locals say that the visible contamination varies, but that they believe Cabot Oil and Gas Corporation is responsible for the water pollution. © 2016 Laura Evangelisto
Erratic Government Response
In April 2010, state regulator established a 9-square mile zone where Cabot was forbidden to drill — a ban that remains in place because Cabot has not been able to bring methane levels in the water down or satisfy the state's other terms.
A string of inconsistent and erratic announcements by state and federal environmental regulators had done little to clear up what actually happened in Dimock. A plan to pipe municipal water in to Carter Road was scrapped at the end of 2010, only a month after it was first proposed.
Federal environmental regulators had found evidence of water contamination, but announced nonetheless that the water was safe to drink. "I'm sitting here looking at the values I have on my sheet – I'm over the thresholds – and yet they are telling me my water is drinkable," Nolan Scott Ely told ProPublica in 2012 after the EPA announced that the water in Dimock "did not show levels of contamination that could present a health concern."
The next year, a Los Angeles Times investigation revealed that EPA's own staff had disagreed with the agency's finding that the water was safe to drink.
An internal EPA Powerpoint presentation, later obtained and published by DeSmog, showed that after spending over four years investigating 11 wells in Dimock, EPA staff concluded that the drilling and fracking process "apparently cause significant damage to the water quality."
Meanwhile, the administration of then-Governor Tom Corbett, a staunch supporter of drilling, pushed hard for the EPA to back off from the Dimock investigation — based in part on the Ely v. Cabot lawsuit. EPA dropped its water deliveries to some of the Carter Road families later that year.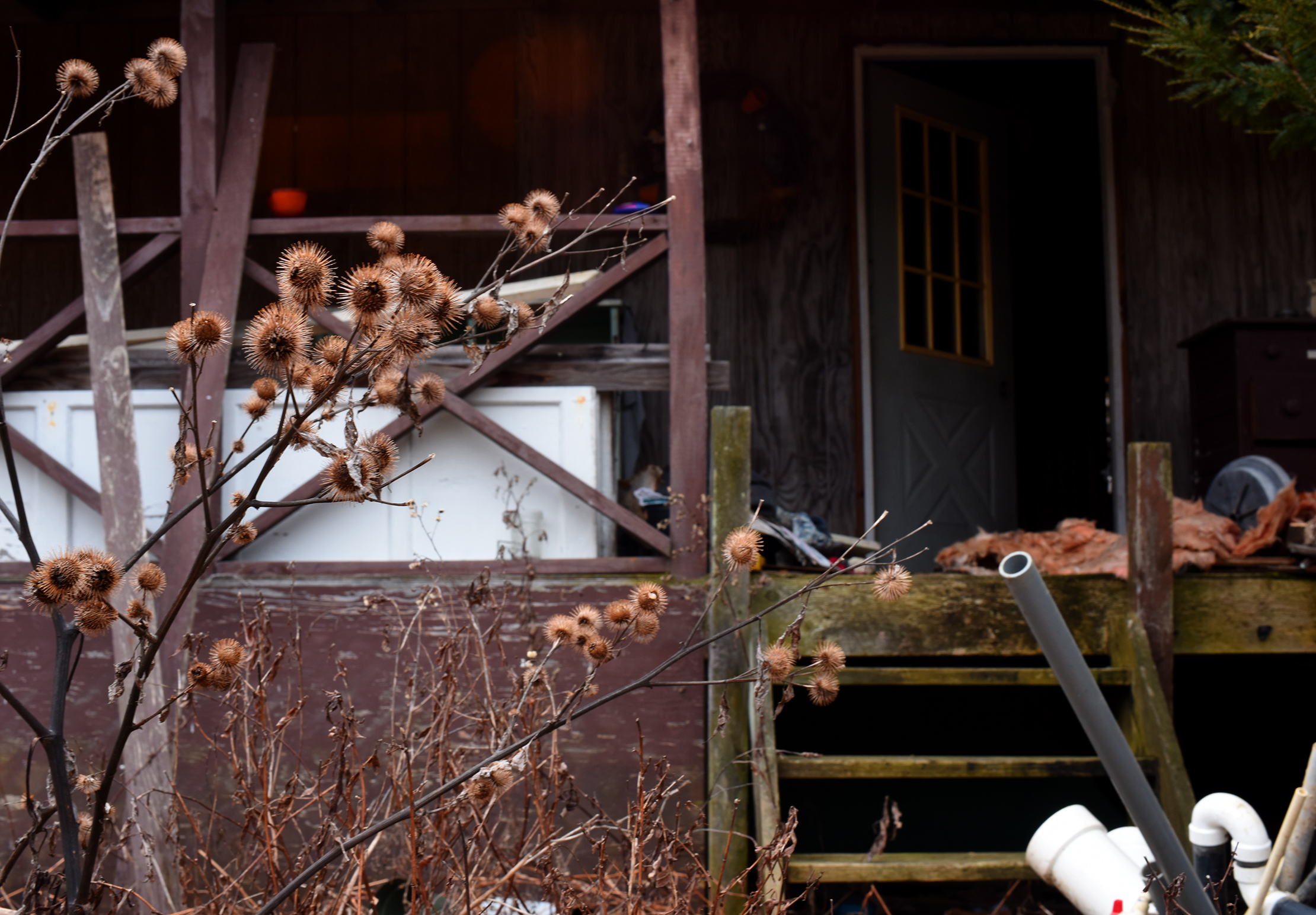 Now a derelict and abandoned property, this is the former home of Norma Fiorentino, one of the original litigants in the Dimock, PA lawsuit. © 2016 Laura Evangelisto
The jury's newly announced verdict in the case has community advocates in the region calling for EPA to reopen its investigation into the broader problems in Dimock and the broader region — and to include Cabot's negligence in contaminating Dimock's water in its national study of the potential for drilling and fracking to contaminate American drinking water supplies.
"The fact that this was a federal jury verdict brings this to federal attention now," Craig Stevens, a local organizer, told DeSmog. "We're demanding that they reopen the investigation and also get water to these people."
Blog Image Credit: Carter Road, the epicenter of the civil actions over water contamination in Dimock, Pennsylvania. © 2016 Laura Evangelisto