It isn't hard to find news these days about how the crash in oil prices is impacting investment in new oil infrastructure and development. Headlines like "Big oil to cut investment again in 2016" and "Big Banks Brace for Oil Loans to Implode" appear regularly.
So why is a group fronted by two former Koch Industries executives moving forward with plans to build a new oil pipeline from Albany, NY to Linden, NJ? That is a good question. And the lack of answers as the permitting process moves forward is troubling.  
The actual proposal is for two pipelines. One to supposedly handle Bakken crude oil that arrives in Albany by train. The other would return refined products to Albany from Linden, NJ.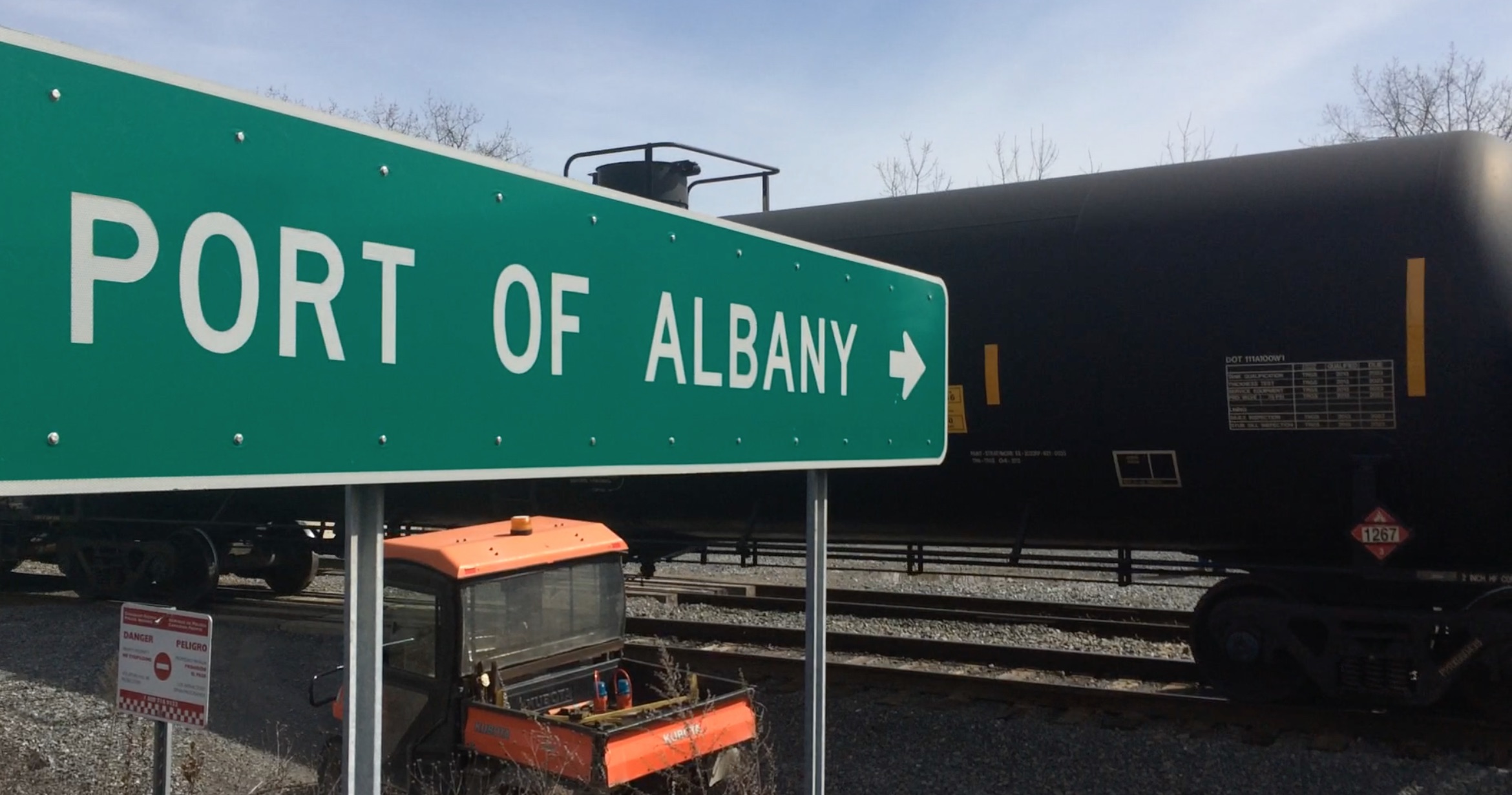 Albany is the largest oil distribution hub on the East Coast
Former Koch Executives and The Public Good
In order to justify this project — and the potential use of eminent domain — the applicants need to show that there is a benefit to the citizens of New York. The main argument by the applicant is that the the pipeline will, "Provide a safe and reliable fuel supply, thereby increasing emergency response capabilities and energy security in New York State."
The basis for this is that the pipeline that would bring refined products to Albany would improve New York's energy security by avoiding fuel shortages.
There are two flaws with this argument. The first is that New York hasn't experienced fuel shortages. The second is that it isn't hard to find examples of the oil and gas industry intentionally creating shortages to drive up prices. So why should members of the oil industry be trusted when they say they are just building this pipeline to help the people of New York?
Recently evidence has come to light that supports the premise that major oil companies intentionally kept supply of gas products low in California, resulting in much higher prices there than the rest of the country.
And in 2014, when propane prices skyrocketed during heating season in the Northeastern states, propane was actually exported instead of used to address the shortage.
Stephen Kretzmann, executive director of Oil Change International, explained the reality to Inside Climate News.
"It's really important to understand that the oil and gas industry is really good at doing one thing above all others, which is making money—they actually have a fiduciary duty to their shareholders to maximize their profit," Kretzmann said. "They have found out, particularly in recent years, that the best way to do that is to minimize inventories, to buy things on the spot market, and to take advantage of the export markets when they can."
And yet New Yorkers are now told an oil pipeline is being built in New York by a company located in Florida just to help the people of New York avoid fuel shortages.
Roger Downs of the Sierra Club summed up the situation well when the application for the project was filed in August.
"Today's bizarre filing by Pilgrim attempts to mimic a legitimate environmental review process while cutting out public input and circumventing agency review," Downs told the Times Union. "It's an ominous start for an already preposterous oil pipeline proposal."
Thruway Authority in Charge of Environmental Review
If asking New Yorkers to believe an oil company just wants to help them wasn't preposterous enough, what makes this project even stranger is that the initial application and environmental review was submitted to the New York Thruway Authority since much of the pipeline would be on its right-of-way.
And initially the Thruway Authority asked to be given "lead agency status" over the environmental review process. Understandably, the response from the many communities that would be impacted by this pipeline was almost unanimous opposition to this idea.  
This opposition led to the New York Department of Environmental Conservation (DEC) being named as a co-lead agency along with the Thruway Authority. Many communities have opposed this arrangement as well, and continue to ask for the DEC to lead the environmental review.
One of the concerns about having the Thruway Authority leading the environmental review is that the Thruway Authority stands to raise significant revenue in fees from the proposed pipeline. However, both Pilgrim Pipeline and Thruway Authority representatives have refused to quantify those potential fees.
As the Daily Freeman reported, the Thruway Authority said, "A longitudinal pipeline project of this size along the Thruway right-of-way is unique and there is no precedent regarding fees."
The Daily Freeman did note that Pilgrim estimates that by using the Thruway access over other potential routes, Pilgrim could save an estimated $295 million dollars on the project's costs.
Also noted is that due to the construction of a new Tappan Zee Bridge — with an estimated price tag of approximately $4 billion — the Thruway Authority is looking for money anywhere it can get it.
An additional issue is that Thruway Authority leadership is appointed by the governor. In the past, New York's Governor Andrew Cuomo received significant financial contributions from none other than David Koch himself. In 2010, David Koch and his wife gave Cuomo $87,000.
A Pipeline Without Customers
Perhaps the oddest thing about the Pilgrim pipeline is that it doesn't have any customers. How do you finance a billion dollar project in the middle of an historic downturn in the oil industry when you don't have anyone who says they want your oil?  
Pilgrim has mentioned the Bayway refinery which is located in Linden, NJ as a potential customer. And yet, Bayway has said they aren't interested. Pilgrim spokesman Paul Nathanson has addressed this issue by saying, "We're confident that if we build the pipeline, people will use it."
So, how do you get financing for a billion dollar project with no customers in the midst of an oil market crash and worldwide oil glut? Perhaps by providing a pipeline to a deepwater port where the oil could be exported now that the 40-year-old crude oil export ban is lifted?
In Pilgrim's application they do not name any potential customers and simply say they have, "plans to connect to marine terminals or refineries in and around Linden."  
And yet Bayway refinery has said they aren't interested in the oil and no other potential customers have been named. So that leaves, "marine terminals" — and exports.
Those marine terminals are currently used to import crude oil so the infrastructure is in place to transload crude oil to and from ships which would make exports quite viable.
At the same time that Pilgrim is proposing to build a new oil pipeline in New York and New Jersey, a pipeline that operated for 75 years from Portland, Maine to Montreal is shutting down. Due to the oil production in North America it is no longer viable to import oil to Portland via tanker and send it to Montreal by pipeline.
However, the Portland Press Herald reported that John Auers, executive vice president of oil industry consultants Turner, Mason & Co., said that there was potential to reverse the flow of oil in the pipeline to bring tar sands oil from Canada to Portland for export.
So if it is economically viable to export Canadian crude from Maine,  it also should be from New Jersey. Tar sands oil can easily reach Albany, NY by rail where it could be sent through this pipeline to New Jersey for export.
Additionally, once the pipeline is built, there is nothing stopping Pilgrim from reversing the second pipeline and using both pipelines to send oil from Albany to New Jersey.
And New Jersey Governor Chris Christie not only advocated for lifting the oil export ban but has received significant support from the Koch Brothers as well.
However, if this pipeline is going to be used solely for increased profits for oil companies by exporting US and Canadian oil to world markets it raises the question of how it benefits the public good of the people of New York and New Jersey.
A proposed pipeline that would cross Iowa is being challenged on this very basis where the residents say they will receive no benefit if the oil is just destined for export.
Go East Oil Men
At the 2015 Energy Information Administration annual conference in Washington, D.C, energy industry analyst Rusty Braziel of RBN Energy explained how that in the past, oil pipelines were built from North to South but the new trend was West to East.
Braziel's presentation was titled, "On Our Way Home" and in this case home meant the coast.  While his slide on new oil pipelines didn't show the Pilgrim Pipeline, it clearly shows several major pipelines to take Canadian and North Dakota oil to the East and West Coasts.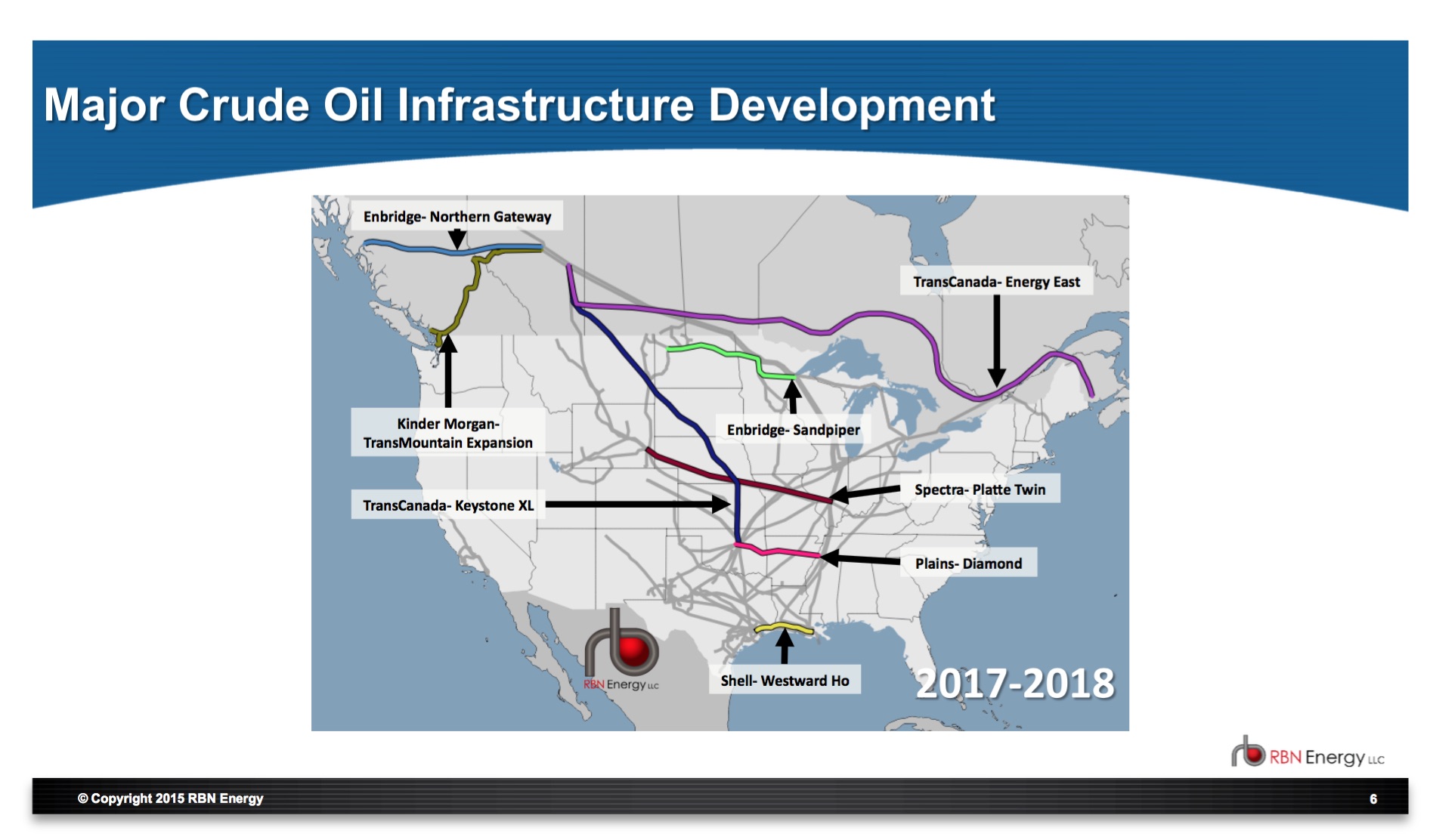 Perhaps the most relevant one is the proposed Energy East pipeline that would bring tar sands oil to Canada's East Coast for export. A Forbes article about the proposed Energy East pipeline raises a point that is described as "counter-intuitive" — that it is shorter in shipping days to ship oil to India from Canada's East Coast than from the West Coast.
As the article states, "Saint John provides among the fastest shipping times to India of any oil port in North America."
Linden, NJ is not that far from Saint John so it is quite plausible that it also is one of the fastest shipping routes to India. India's interest in increasing imports of Canadian tar sands oil is well documented.
In 2014, the Financial Post ran an article with the headline "India a potential market for oil sands but pipeline needed first, exec says." In the article Subhash Kumar, senior vice-president of business development for India's state run Oil and Natural Gas Corporation stated that oil from Canada's Atlantic Coast "would be of natural interest to us."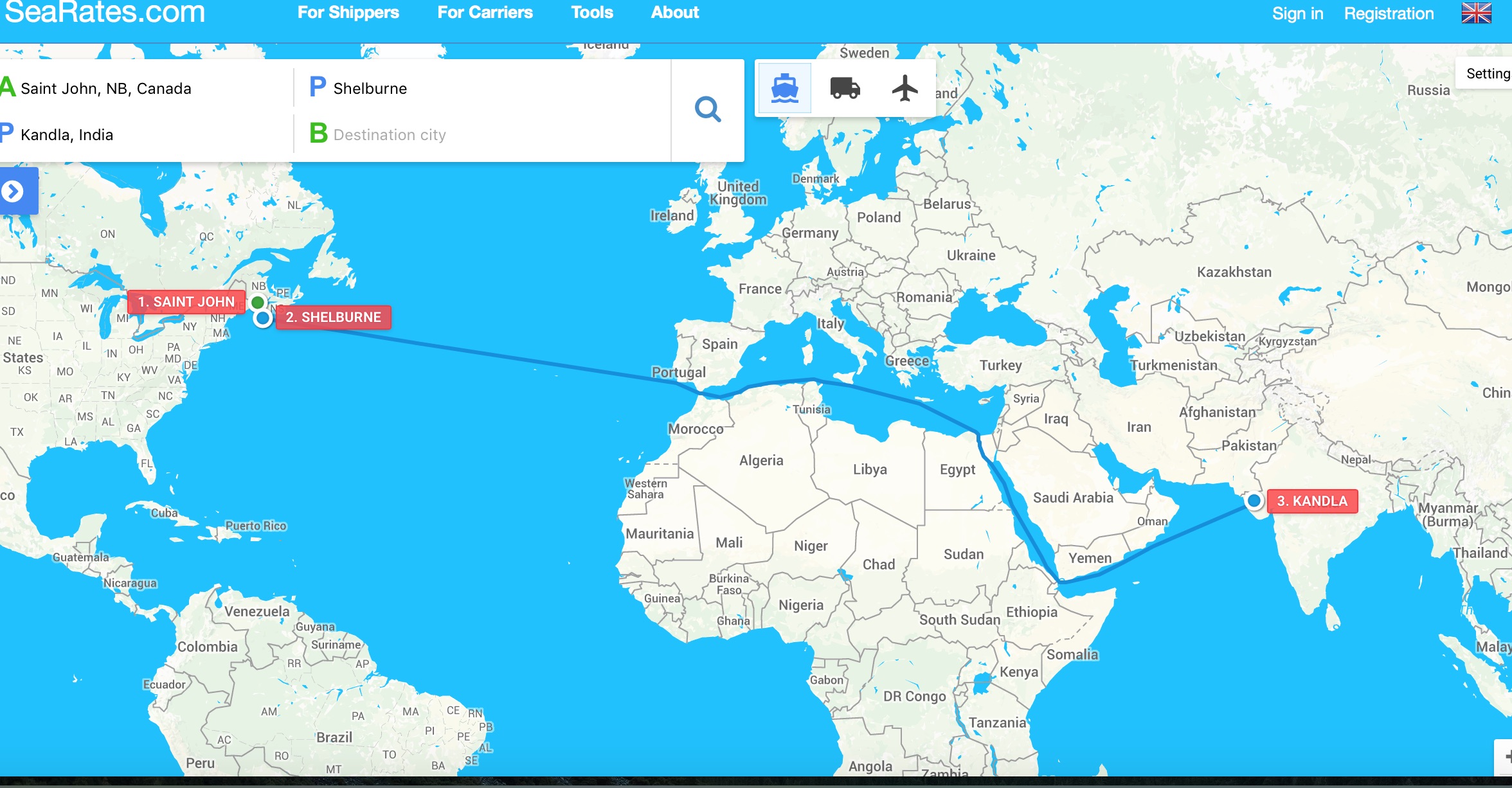 The difference in shipping distance from New Jersey as opposed to Saint John is negligible. If one is viable, so is the other.
So while Pilgrim Pipeline says they have no customers it is pretty clear where there is demand for this oil. And it isn't Linden, NJ.  And while there are so many unanswered questions about this project it does seem that it is clear the the residents of New York and New Jersey would take on great risks and receive no benefit from this pipeline.  
It is also clear that in the interest of the "public good" — this project should never happen.