This week, thousands of activists converged in Washington, D.C. for Democracy Spring, a series of rallies, marches and sit-ins to protest big money in politics, voter suppression, and the Senate's obstruction of President Obama's Supreme Court nomination.
 
The activists are demanding that Congress pass four bills already introduced that would stem the tide of big money by overturning the Supreme Court's Citizens United decision and match small political contributions with public funds, and expand voting rights by restoring protections against voter discrimination and expanding voting accessibility.
 
Central to these forces are environmental activists from all over the country. The Energy Action Coalition, a network of youth-led environmental and social justice organizations that trains and mobilizes youth climate activists, is on the Democracy Spring steering committee and is working with allies such as Oil Change International and SustainUS to coordinate "climate justice day" on Saturday.
Numerous others not affiliated with any of the organizing groups have come as well, eager to advocate for less money in politics, fair elections, and a cleaner planet.
 
The fossil fuel industry is a major political player, having dumped $1.7 billion into lobbying and campaign contributions over the last decade, according to Oil Change International.
 
What's more, dirty energy companies and their executives give millions more to super PACs and other outside spending groups, which pour that money into elections, including this year's presidential contest.
 
Democracy Spring has featured daily, themed rallies and marches to the Capitol. The tweet below has video from Monday's march.
 
#DemocracySpring march to Capitol with @cenkuygur @kai_newkirk et al. @DemSpring pic.twitter.com/Yk4QfTY6rM

— Alex Kotch (@alexkotch) April 11, 2016
 
Billed by organizers as "one of the largest civil disobedience actions in a generation," the protests saw 400 arrests on Monday alone, possibly the most ever at the Capitol.
 
Hundreds gathered at the Capitol steps, while police moved hundreds of others who did not wish to risk arrest east towards First Street. Organizers said there were nearly 800 arrests through Thursday.
 
The rallies, marches and civil disobedience continue on Saturday, the same day an affiliated three-day event, Democracy Awakening, will begin, drawing participation by hundreds more organizations.
 
DeSmog caught up with a number of environmental activists at the events this week. Here's what they had to say.
They are arresting Lady Liberty! #shame we want #justice #DemocracySpring pic.twitter.com/IT1BVgusIH

— Jodie Evans (@MsJodieEvans) April 11, 2016

Kaja Rebane traveled from Madison, Wisconsin to take part in Democracy Spring. A 38-year old graduate student in environment and resources at the University of Wisconsin, she came "to stand up together with other people to get the word out about needing to get money out of politics and get our system back so it actually works for all the people, not just the really wealthy people.
 
"For me, my number one issue is climate change … A lot of the [climate change] denialism comes from the fossil fuel industry over many years funding a lot of propaganda, saying climate change isn't happening. If we didn't have that influence on politicians who are more willing to listen to those folks who are funding their campaigns than common sense, then I think we would have actual action on climate change by now. So it's a huge factor."
 
On Monday, Capitol police arrested Rebane, dressed in Statue of Liberty garb, for "unlawful demonstration activity."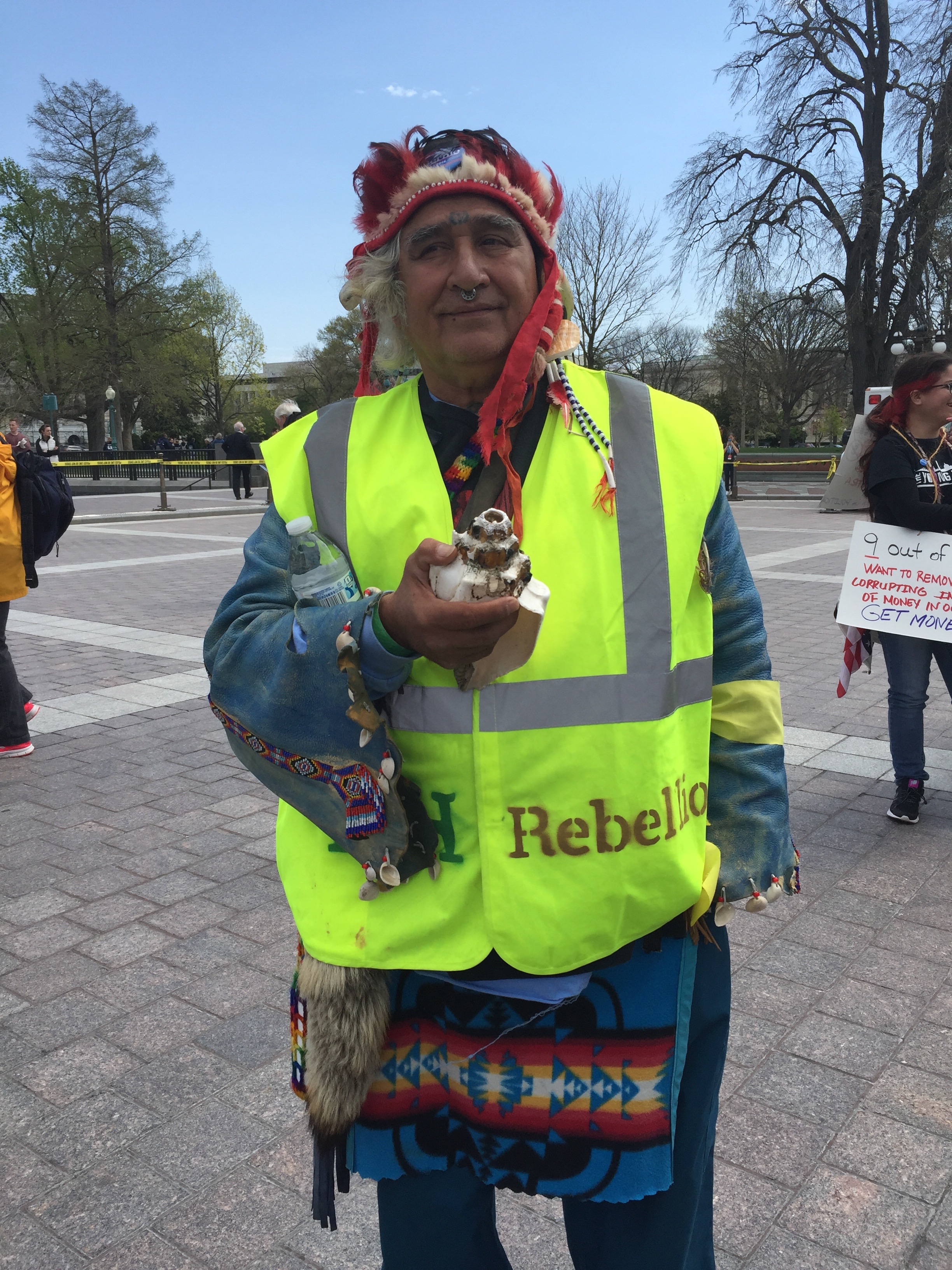 Chan Tlalok
 
Chan Tlalok, a 65-year-old Apache from Texas and a Vietnam veteran, marched with roughly 140 others from Philadelphia to Washington from April 2-10 before the sit-ins began. He joined Democracy Spring to stand up for everyone's right to speak and to represent the Apache.
 
"Our native ways are total freedom for everybody," he said. "Everyone has the right to speak, period. Total democracy. Pure democracy.
 
"I'm here for my people. My people have been trampled on. Trampled on! And we've had enough. It's time for us to rise up … Now it's time to speak up for Mother Earth.
 
"Enough is enough. All this corruption. All this climate change. All this pollution. Enough is enough."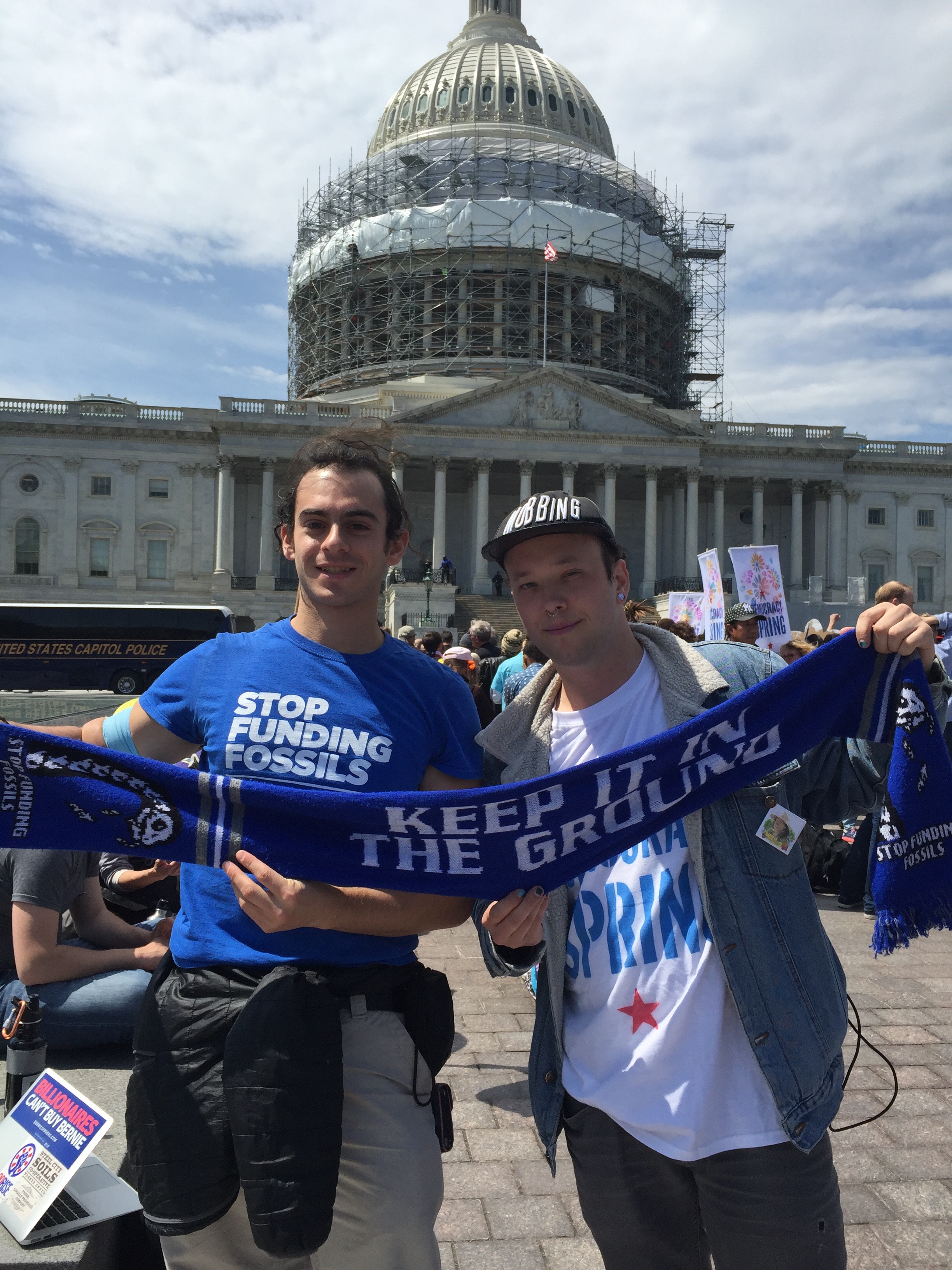 Adam Greenberg of Boston, left, and Sean Estelle of Chicago.
 
Chicago resident Sean Estelle, the national divestment campaigner for Energy Action Coalition, has been staying at the "movement house" a few miles north of Washington where around 20 Democracy Spring organizers stayed and planned the movement. Sean has been working to coordinate "Youth and Student Day" on Friday and "Climate Justice Day" on Saturday.
 
Says Sean: "One of the biggest issues we're seeing is a dirty energy cycle where millions of dollars are being poured into our political process by companies in the fossil fuel industry like Exxon and BP and other companies that are buying off our politicians in order to be able to block climate progress.
 
"Working with young people and students, I'm really excited to continue building this movement … and to get hundreds of people trained and experienced in nonviolent direct action, to be able to go back to their communities and see that this is something that they can use to win on issues."
 
Sean predicted that police will arrest at least 200 people on Saturday, when Sean will risk arrest.
 
Working alongside Sean at Democracy Spring is Adam Greenberg, a mobilizations coordinator with SustainUS, an entirely youth-led, all-volunteer organization that empowers young people to participate in domestic and international justice and sustainability advocacy. Greenberg has represented SustainUS along with many others at numerous Conference of Parties (COP) conventions on climate, hosted by the United Nations.
 
The U.S. has consistently stood in the way of meaningful international climate action, said Greenberg, something he's seen first-hand. This is because, he said, the U.S. "knows what it can and can't take back to Congress … which is in fact very little" because of the fossil fuel industry's "extreme influence" via its political donations. 
 
"The political process itself as a reflection of political will can't function if our democracy is bought.
 
"The problem in climate … is not a lack of solutions. The solutions are there … but what is missing is the political will. What we've seen particularly in the climate crisis is that we have a concrete deadline governed by the laws of physics and chemistry, and we need to address that now, which is why we cannot be asking for incremental gains. When we talk about what is politically realistic … that can't be the conversation we're having."
 
Greenberg has been busy coordinating social media for Democracy Spring but said on Monday that if possible, he'll risk arrest.
 
"This is nothing less than the future of the planet we inhabit and the people who live on it."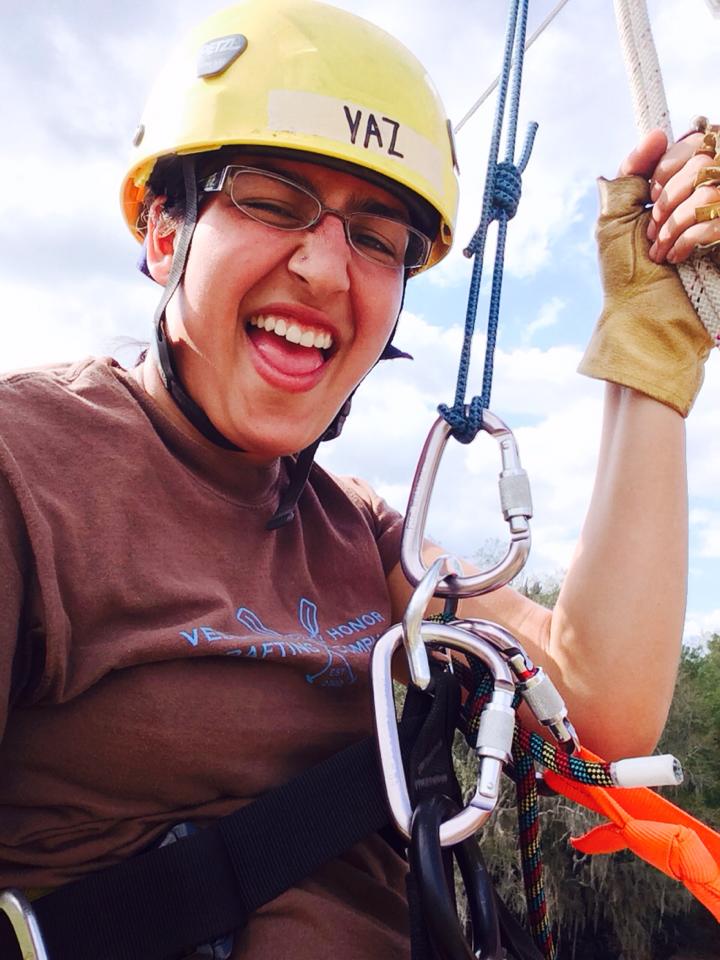 Photo obtained from Yasmeen
 
Yasmeen Najeebi, a 19-year-old climate activist, began a job fundraising for Greenpeace while going to school in Washington, D.C. They quickly realized their passion, protecting the environment, and transferred to Green Mountain College, a sustainability-focused school in Poultney, Vermont.
 
Najeebi has fought gas pipelines, including the Vermont Gas Systems pipeline, which they are opposing now, working with students and older individuals to canvass the issue, talk to residents about the proposed route, and document people's experiences.
 
Najeebi has done student outreach for Democracy Spring, mobilizing fellow activists to travel down to Washington. On Wednesday, they had plans to arrive at the actions on Friday or Saturday and risk arrest.
 
The current legislators, neither Republican nor Democrat, will save us from fossil fuels, said Najeebi. Overturning Citizens United and incentivizing small donors, they said, will help elect more environmentally friendly lawmakers.
 
"I really hope Democracy Spring greases the wheels on some legislation," they said. "I hope we actually see some legal framework to put an end to this and restore our democracy."
 
Also fighting pipelines is Doug Wight, an international activist and journalist of Greenfield, Massachusetts. He's currently opposing the Northeast Energy Direct pipeline by energy infrastructure giant Kinder Morgan.
 
Kinder Morgan's CEO, Richard Kinder, and his wife, Nancy, each gave $1 million to the super PAC supporting Jeb Bush's failed presidential run last year.
 
Wight came to Democracy Spring "to change this nondemocratic system taken over by millionaires and billionaires and large corporations. It's time to restore real participatory democracy to We The People, and also to rally people to stand up for a healthy, sustainable economy that's not going to continue to decimate the earth and her resources."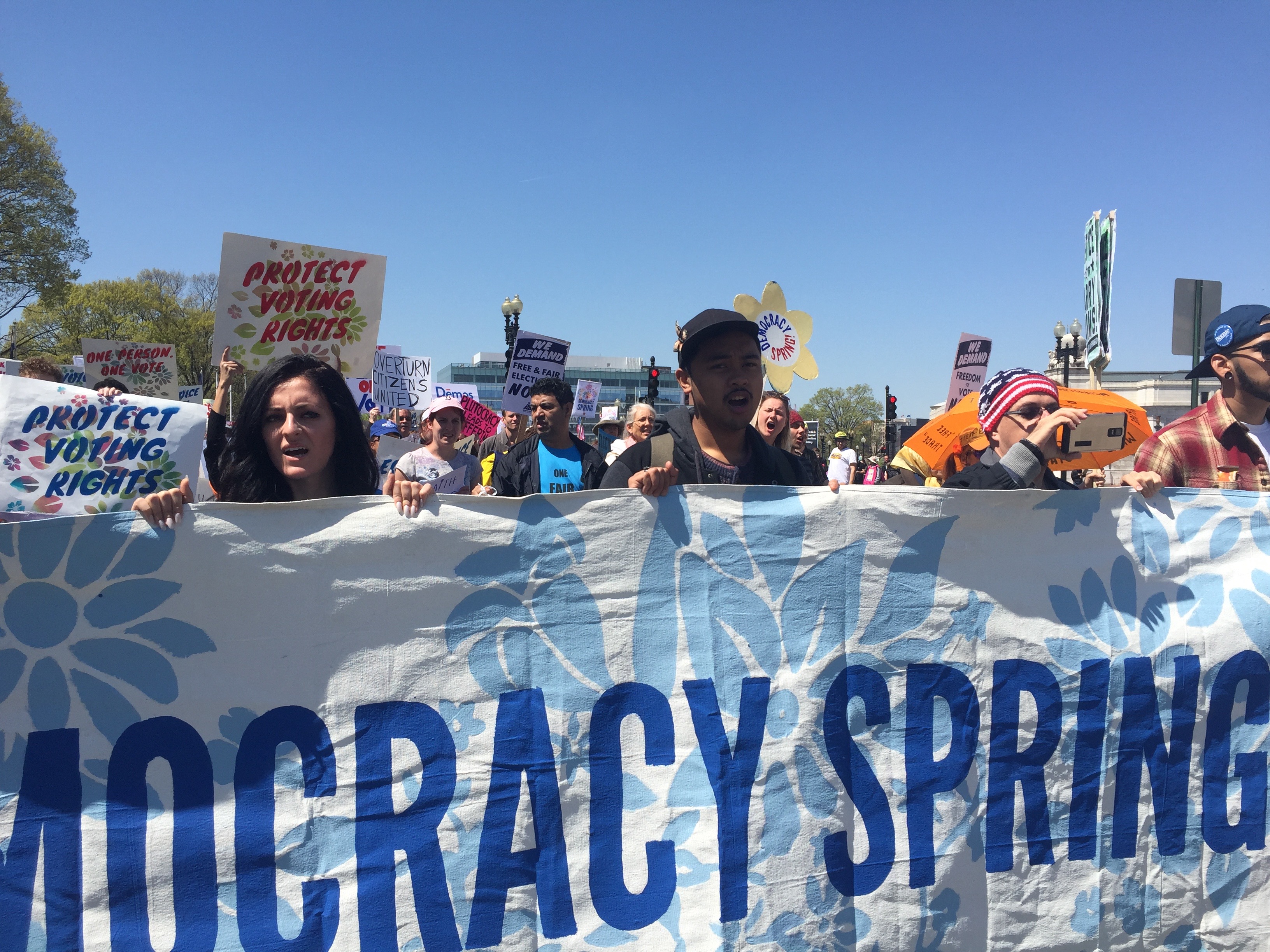 Ryan Camero, middle, of Stockton, California marches on Wednesday.
Ryan Camero, 23, of Stockton, California is a seasoned environmental activist, working with SustainUS, among other organizations. He's currently working with Restore the Delta to oppose the Metropolitan Water District of Southern California's plan to buy 20,000 acres of island farmland in the Sacramento-San Joaquin Delta.
 
Camero came to Democracy Spring because of his "overall sense that our political and social systems are being coopted by corporations … In California, I've been fighting corporations taking control of public resources for global profit for years now.
 
"Democracy Spring really comes out of these processes happening all over the country," he said. "In California people are continuously running out of water and these resources are continuously being channeled to the elites, so coming back to California I definitely want to really energize people back home that this is something that, while nationwide, is very much hitting us close to home."
 
In addition to rallies and sit-ins, groups have staged other actions as well. On Wednesday night, Oil Change International and Friends of the Earth projected Pac-Man-themed images onto the American Petroleum Institute (in video below) and U.S. Chamber of Commerce buildings.
 
EMBEDDED TWEET (WITH VIDEO):
Pac-Man goes to the American Petroleum Institute! We need to take a bite out of dirty energy money! #DemocracySpring pic.twitter.com/OUEDAwp3pV

— Oil Change Intl (@PriceofOil) April 14, 2016
 
Other environmental groups are set to join in the action on Saturday for Democracy Awakening, including Greenpeace, which is holding various teach-ins, leading nonviolent direct action trainings and turning out many of its supporters for sit-ins on Monday.
 
Environmentalists don't think their work stops with money in politics and conservation. Democracy Spring and Democracy Awakening have made the vital connection between elections and important social issues including racial justice, climate justice, and labor rights.
 
Rachel Rye Butler, head of Greenpeace's Democracy Campaign, notes the links between money in politics, race and the environment. Greenpeace found that the same fossil fuel interests that spend big politically also bankroll voter suppression efforts. And climate change, pollution and fossil fuel infrastructure impact many disenfranchised voters the most.
 
"Fossil fuel companies are pouring money into our political system at the same time that the people most impacted by fossil fuels and climate change have their votes suppressed: people of color, low income people and young people, who live near fossil fuel plants. These voices on the front lines of impact are literally being suppressed."
 
Activists at Democracy Spring and Democracy Awakening are fighting that pattern. The events end on Monday with a final nonviolent direct action and visits to the offices of senators and representatives.
 
All photos by Alex Kotch except where otherwise indicated.