By Larry Buhl
Last Wednesday evening, at a meeting of the Porter Ranch Community Council, a psychologist from Los Angeles County Department of Mental Health, Dr. Pietro D'ingillo, was invited to tell residents how to navigate the emotional impacts they experience when moving back home after being displaced by the nearly four-month gas leak resulting from an October blowout at the Aliso Canyon natural gas storage facility.
When D'ingillo mentioned that deep-breathing techniques could help with stress and fear, one resident asked how they were supposed to take deep breaths when what they feared was the air itself.
 
"Well, that's what can make the issue murky here," D'ingillo replied.
For residents who have warily returned home only to experience some of the same symptoms they faced when natural gas was still spewing from the Aliso Canyon storage facility last year, the issue of safety is quite murky.
 
The leak from the late October blowout was finally permanently sealed on Feb. 18, and SoCal Gas has been ordered to stop injecting new natural gas into the storage facility pending the successful inspection of Aliso Canyon's 114 wells. The facility lies in the Santa Susana Mountains in the northeast part of the San Fernando Valley, close to the community of Porter Ranch. Two schools were temporarily relocated.
 
For nearly four months the blowout spewed an estimated 100,000 metric tons of natural gas into the air and has led to several lawsuits and criminal charges against the Southern California Gas Company (SoCal Gas), which operates the facility.
 
About 8,000 households moved away from Porter Ranch and other surrounding neighborhoods for all or part of the four-month leak. SoCal Gas paid for them to stay in apartments in Burbank, more than ten miles from Porter Ranch. Yet more than half of those households have stayed away two months after the well was capped.
 
Los Angeles County Department of Public Health is testing air quality and surfaces inside Porter Ranch homes in an effort to determine if it is safe for residents to return. Some residents have returned home only to experience symptoms like headaches, nausea, nosebleeds and rashes, and say it doesn't matter whether the Department of Public Health say it's safe to be there.
 
And they are wary of SoCal Gas, which covered up the blowout for several days back in October, expressing mistrust about the utility and its parent company Sempra Energy's willingness to tell the full truth about the potential ongoing risks they face.
 
Last Wednesday, nearly two months after the well was capped, residents reported smelling something frightening and familiar: rotten-egg smell of a chemical called mercaptan that is added to make odorless methane detectable.
 
The South Coast Air Quality Management District (SCAQMD), the region's air regulator, reported dozens of complaints. But later that day SoCal Gas tweeted that there was "no indication of any gas leak" and "no potential source for odors" from the facility.
 
Also that day SoCal Gas provided local media a link to the state's methane monitor, saying it showed no spike Wednesday morning.
 
Some residents have not been quelled and they do point to a potential source for odors: the soil itself. Their concern is based on testimony before the SCAQMD Hearing Board on February 20 by Mosen Nazemi, Deputy Executive Officer for the Office of Engineering and Compliance with SCAQMD, who explained the potential for "offgassing."
 
"The leaking gas was coming not just from the well but through the compromised seal around the well, so through the soil that was underground," Nazemi said. "And so you still have some residual gas that is offgassing from the soil. But the well itself is permanently sealed."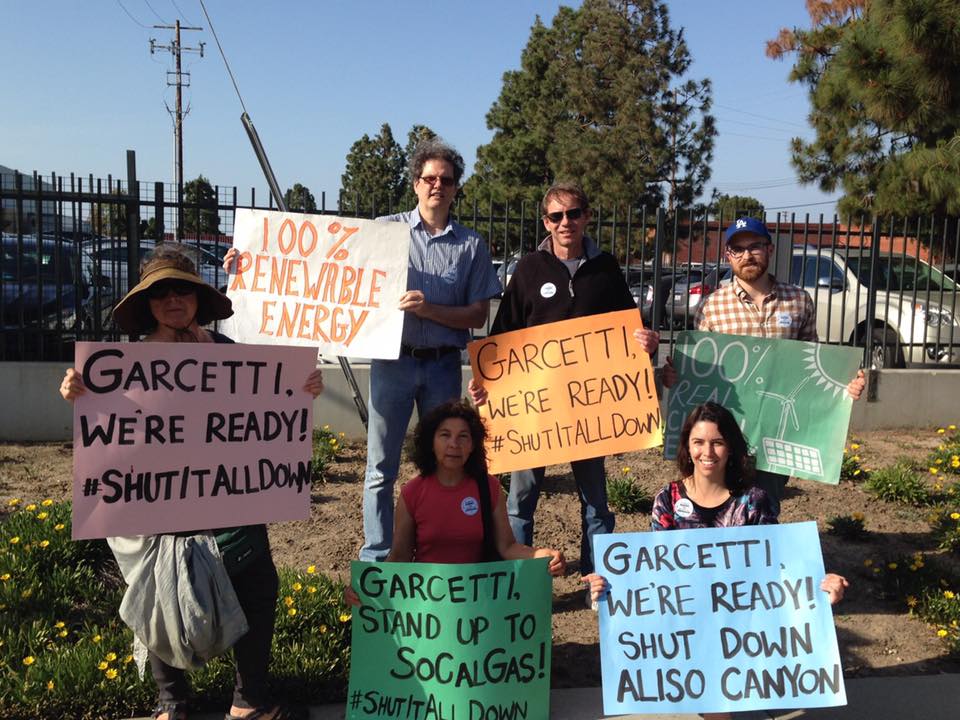 Porter Ranch residents rallied outside the L.A. Mayor Eric Garcetti's State of the City address. (photo credit: Larry Buhl)
"

Blackout Blackmail"

 

Residents' mistrust of SoCal Gas spiked two weeks ago, when the utility announced its intent to resume limited injections by late summer. It based this decision on a draft plan for avoiding or minimizing power outages in L.A. and surrounding regions during expected gas shortages.
 
That draft plan, a joint effort by the California Energy Commission, the CPUC, Cal-ISO and the L.A. Department of Water and Power, contained measures to conserve gas and electricity in hopes of avoiding outages.
 
The most incendiary finding in the plan: keeping the Aliso Canyon facility closed would mean gas-fired power plants in Southern California could see limited supplies and the possibility of up to two incidents of interrupted electrical supply this summer.
 
The Aliso Canyon storage facility now contains a maximum of 15 billion cubic feet of gas, less than one-fifth of its normal capacity. The plan is for it to remain at that low level while the wells are being inspected.
 
Critics of SoCal Gas and stage agencies call the threat of blackouts if the Aliso Canyon facility doesn't ramp up operations by summer a scare tactic, a public relations gambit to help the utility to go back to business as usual.
 
San Diego engineering consultant Bill Powers, a frequent expert witness before the California Public Utilities Commission, backs up these fears by refuting several claims in the report. 
 
"There is no blackout concern this summer," Powers told DeSmog last week. "Not based on the numbers they put in this document. Because these numbers are unsubstantiated, and they have one purpose. That is, to get a drumbeat of blackouts going. But the numbers are wrong."
 
Powers said state agencies used inflated estimates of demand for electricity from gas-powered generators in the Los Angeles Basin basin during winter and summer peaks, and that the report didn't allow for the ability of a nearby storage field, Honor Ranch, to substitute for Aliso Canyon. 
 
Jamie Court, president of Consumer Watchdog, told DeSmog the report amounts to "blackout blackmail," and was written with an agenda for SoCalGas to get back to business as usual.
 
"Southern California Gas was one of the authors of the report, along with the state agencies. And my suspicion is Southern California Gas wrote this report and the state of California put it under its seal."
 
Powers said there might not be a need for storage facilities like Aliso Canyon at all. He pointed to neighboring states – Arizona and Nevada – that have no storage facilities for natural gas.
 
Powers says these states put electric generators on firm gas contracts, meaning generators assure their gas supply by paying for firm interstate capacity. SoCal Gas could enter similar contracts if it wanted to, paying slightly more to make storage facilities like Aliso Canyon and others in the area nonessential, Powers said.
 
Legislative Action
There are ongoing efforts at the local, state, and even national level to keep the Aliso Canyon facility shut down permanently.
 
A new federal task force will be investigating the causes of the leak.
 
At the state level a bill that would force Southern California Gas Company to complete integrity tests on its wells before resuming injections to its underground gas storage field is moving forward in the California legislature.
 
Last Wednesday, the Assembly Appropriations Committee passed SB 380, a bill authored by Senator Fran Pavley (D-Agoura Hills) to extend a moratorium on gas injections at Aliso Canyon.
 
The bill would also ensure that testing protocols established by leading scientific experts are followed before gas injections can resume. And it would require all wells to undergo noise measurements and pressure tests to detect leaks or anomalies in well casings deep underground. SoCal Gas would also need the Division of Oil Gas and Geothermal Resources to certify that the field and its operating wells were sound before it could refill the gas storage fields.
 
Meanwhile, many residents say that nothing short of shutting down Aliso Canyon permanently will bring them peace of mind.
 
At last week's Porter Ranch Community Council meeting, psychologist Pietro D'ingillo stopped himself after suggesting that residents' stress-related symptoms were similar to PTSD, adding that conflating the Aliso Canyon blowout with war was overwrought.
 
"No, PTSD is right," one female attendee shouted. "We're in an ongoing war."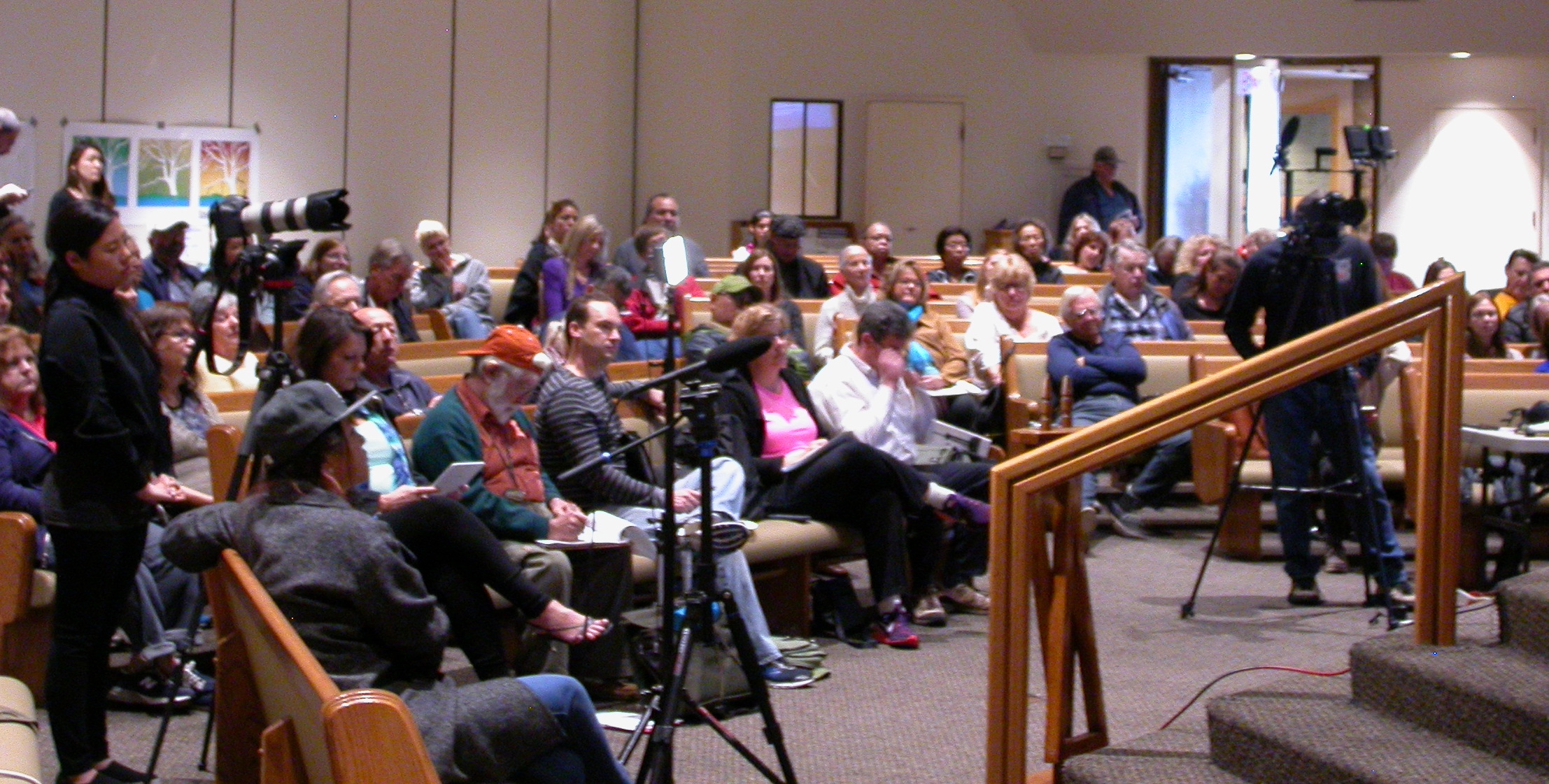 Porter Ranch community hearing. (photo credit: Larry Buhl)
Blog image: Protesters gather before a public hearing on the methane leak in January. (photo credit: Larry Buhl)