When New York state banned fracking in 2015, it was a blow to the oil and gas industry. But it didn't slow industry plans to continue to build out new oil and gas infrastructure in New York.
However, in another setback for the industry, Governor Cuomo's administration just denied permits for the proposed Constitution pipeline — a pipeline that would have brought fracked gas from Pennsylvania into New York — which has effectively killed the project.
Pipeline giant Kinder Morgan also just announced it is shelving plans to build the natural gas pipeline known as Northeast Direct due to "inadequate capacity commitments from prospective customers."  
These two decisions were celebrated by the many concerned citizens in New York who have been fighting new oil and gas infrastructure in the state.
Victory in Battles But The War Continues – Oil Trains
While these recent victories in the fight against oil and gas infrastructure in New York would appear to indicate a shifting of momentum, the industry is still pushing forward with many new projects in the state.
With Albany, NY serving as the largest oil distribution hub on the East Coast it is considered by many as the front line in the fight against oil-by-rail. And while the current low oil price environment has led to a large decrease in the amount of oil moved by rail through Albany — often leaving the main rail yard at the Port of Albany empty of oil tank cars — the reality is that the industry continues to explore new ways to use this existing infrastructure.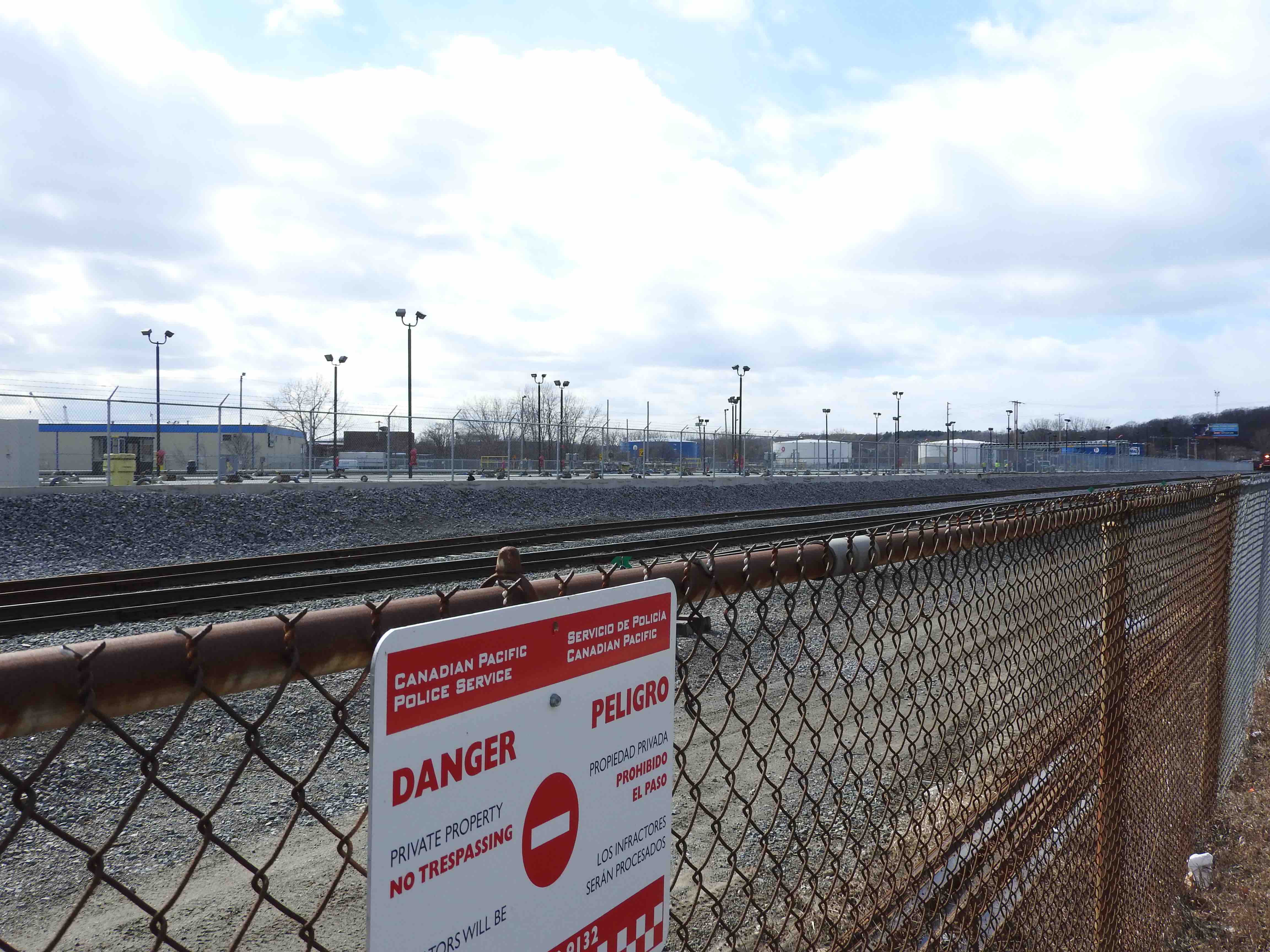 Empty Oil-by-Rail Offloading Facility in Albany, NY. Photo by Justin Mikulka
Global Partners, one of two midstream oil companies operating in Albany, is currently trying to build an oil heating facility at the Port of Albany which would allow the offloading of tar sands in the form of raw bitumen — the most cost effective way to move tar sands by rail.
Industry interest in this method of transportation for tar sands was supported in the past week as Cenovus announced plans to explore the option of building equipment to allow the loading of raw bitumen into rail cars in Alberta.
The Cuomo administration has delayed making a decision on Global's application for the oil heating facility. However, in April a judge gave the administration 60 days to make a decision.
Along with the potential of increased oil-by-rail traffic in New York if the heating facility is approved, a new proposed oil pipeline could also add to the number of oil trains crossing New York.
Pilgrim Pipeline Holdings LLC is proposing to build a pipeline from Albany to Linden, NJ which would be fed by oil trains. While the project faces broad opposition in New York and New Jersey, it is being led by two former Koch Industries executives with decades of pipeline experience and they continue to push the project forward despite the opposition.
David Koch and his wife gave Governor Cuomo $87,000 in the 2012 election cycle.
With various efforts to increase oil-by-rail in New York, it is not surprising that opposition to the idea continues to grow. On May 14th, activists are planning to mobilize hundreds to block the oil trains in Albany.
Additionally, New York state comptroller Thomas DiNapoli recently asked federal regulators to strengthen oil-by-rail insurance requirements. DiNapoli noted that rail company CSX is only self insured for $25 million and Canadian Pacific does not include any information in its financial reporting on insurance amounts.
DiNapoli states this is inadequate because the current estimates for total damages in the Lac-Megantic oil train disaster are around $2.7 billion — approximately 100 times CSX's existing coverage.
Victory in Battles But The War Continues – Seneca Lake Salt Caverns
For over five years, activists in the Finger Lakes region of New York have been fighting plans to use old salt caverns on the shores of Seneca Lake to store liquid petroleum gas (LPG). Seneca Lake provides drinking water for over 100,000 people in the region.
Over 550 people have been arrested opposing the project, including many leading environmental activists such as Bill McKibben, Josh Fox and Sandra Steingraber.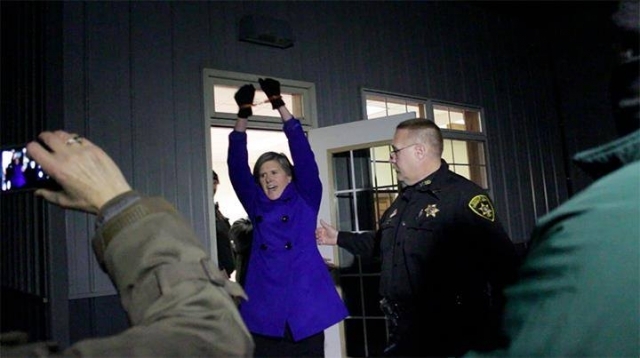 Sandra Steingraber after arrest at Seneca Lake
Last year, a state administrative law judge held an "issues conference" to consider arguments for and against the project. As with other Cuomo administration decisions, this one has dragged on longer than expected and the judge has yet to issue a ruling.
A recent article in the Ithaca Journal — "SENECA GAS STORAGE: Pipeline rejection bodes ill for lake project" — quoted several sources who supported this opinion.
However, things got a bit more complicated in April when Crestwood, the company applying for the permits for the gas storage, received an investment of $975 million from Con Edison. While Texas-based Crestwood isn't a political power in New York, the same can't be said for Con Edison.  
In 2012, Con Edison gave $250,000 to a political lobbying group associated with New York's Governor Cuomo. And while the recent denial of the Constitution Pipeline is a blow to lobbying efforts done on behalf of the project, a report released in March by the Public Accountability Initiative notes the recent increases in lobbying efforts in New York by the natural gas industry as well as the many close industry ties with Cuomo and his late father, the former governor of New York.
And while the Con Edison investment in Crestwood resulted in an over 40% jump in its stock price, Crestwood's safety record also reappeared in the news last week with a new study published by Duke University that noted widespread water contamination from fracking including a "legacy of radioactivity at spill sites." A subsidiary of Crestwood was responsible for a 2014 North Dakota pipeline spill involving one million gallons of contaminated brine.
Elections Have Consequences
Andrew Cuomo wants to remain governor of New York and has stated "I plan to stay as long as the people have me."
And while he easily beat his Republican opponent in 2014, he was surprised by the strength of the primary challenge he received from newcomer Zephyr Teachout.  
Many attributed Teachout's victories in 20 upstate counties to her strong anti-fracking stance as Cuomo had yet to ban fracking at the time. Bernie Sanders also performed very well in upstate New York in the Democratic primary in April where he advocated for a nationwide fracking ban. 
Cuomo got good news this week on the election front when Chris Gibson announced he would not challenge Cuomo. Gibson was widely considered a strong challenger to Cuomo and the rare Republican who acknowledges science and has urged his party to operate in the "realm of knowledge and science" when it comes to climate change. 
The Cuomo administration has made impressive progress by banning fracking and now a fracked gas pipeline, making Cuomo the rare combination of a politician combining both words and deeds. The next year should reveal if this is now the status quo for Cuomo — with a commitment to making New York a leader on climate change — or just more political calculus.
Blog Image Credit: We Are Seneca Lake