When residents don't trust the company who poisoned their water and soil, and they don't trust the government agencies mandated to stop the company, they'll either ignore everything and hope for the best, or they'll take matters into their own hands.
Both reactions are in abundance in Vernon, California near the site of a now-shuttered battery recycling plant now owned by Exide Technologies. Exide and the plant's previous owners knowingly leached lead and other carcinogens into the soil, air and water in surrounding residential neighborhoods, a problem made much worse by inadequate government oversight.
State regulators repeatedly warned Exide Technologies, which ran the Vernon battery smelting facility since 2000, and its previous owners that the plant was releasing dangerous chemicals into the atmosphere. Exide responded only by paying fines and continuing business as usual.
The fines were small considering the scope of the damage. A Los Angeles Times investigation found that, over more than 15 years, Exide paid $869,000 in penalties and that "most of the fines were assessed in the last two years."
The Department of Justice shut down the plant last year, but it hardly brought relief or closure to residents who said the shutdown took too long and that regulator's warnings to Exide carried no authority or urgency. And neither the company nor the government warned residents that they may have been ingesting lead and known carcinogens like arsenic and benzene for decades.
Exide inherited the Vernon plant by acquiring GNB Technologies in 2000, but lead smelting had been continuous at the site since 1922.
In 1999, the California Department of Toxic Substances Control (DTSC) found high levels of lead in the sediment at the bottom of the storm water retention pond and required the plant's operators to clean it up. A 2013 analysis of air quality found that Exide may have elevated the cancer risk for 110,000 Los Angeles residents. That same year the LA Times found that, 252,000 people may face chronic health hazards from Exide emissions.
The plant was closed temporarily in 2013, before the DOJ closed it permanently last year.
The interim director of public health for LA County has said that lead contamination could affect up to 10,000 homes within a 1.75-mile radius of the Exide plant.
Earlier this month, an analysis released by the state Department of Public Health found elevated levels of lead in the blood of children living near the Exide plant.  Exposure to elevated levels of lead can cause birth defects, learning disabilities, cancer and other chronic health issues.
In April, California Governor Jerry Brown allocated $176 million to decontaminate the surrounding neighborhoods. But that's a fraction of what residents think it will take. And they don't expect the money to be used wisely or effectively, given the state's history of handling the plant with less than an iron fist.
Countering helplessness
One evening in early May, I met Youth for Environmental Justice activists, part of Communities for a Better Environment, as they were gathering to door-knock in neighborhoods surrounding the now-closed Exide plant. 
Their mission was to find residents who haven't filled the access agreement giving consent to the California Department of Toxic Substances Control (DTSC) to analyze their soil for lead contamination. And they intended to inform residents on the most recent developments in the cleanup.
The first battle for citizens here was getting the Exide plant shut down. They succeeded in doing that last year. But the cleanup process is bringing more hurdles, like residents who ignore anything they receive in the mail from the DTSC.
Milton Hernandez-Nimatuj, the Youth Program Coordinator for Communities for a Better Environment, told me that many residents in these mostly working class and Latino neighborhoods in southeast Los Angeles County either don't trust the government, don't have faith in it or don't have sufficient information.
"The packet sent by the DTSC doesn't explain the harm that Exide did and the danger that Exide put people in," Hernandez-Nimatuj says. "And many (residents) now ignore information that comes from regulators. We want to make sure we follow up with the committee members and with the department to make sure they follow up with the community members."
That residents don't trust government regulators like the DTSC and Air Quality Management District (AQMD) is not surprising, Hernandez says.
For over a decade, regulators fined Exide for releasing dangerous chemicals into the atmosphere until the Department of Justice shut the plant down in March 2015.
Residents blame the DTSC for being too slow in its efforts to crack down on the company.  The DTSC levied only seven fines on Exide over two decades and took no effort to shut down the plant, and has admitted that it dropped the ball on regulating Exide.
"After more than nine decades of ongoing lead contamination in the City of Vernon, neighborhoods can now start to breathe easier," said acting U.S. Attorney for the Central District of California Stephanie Yonekura in a statement.
Exide was ordered to pay $50 million toward the cleanup effort.
But residents point to the part of Yonekura's statement that's easy to overlook: nine decades. It took nine decades.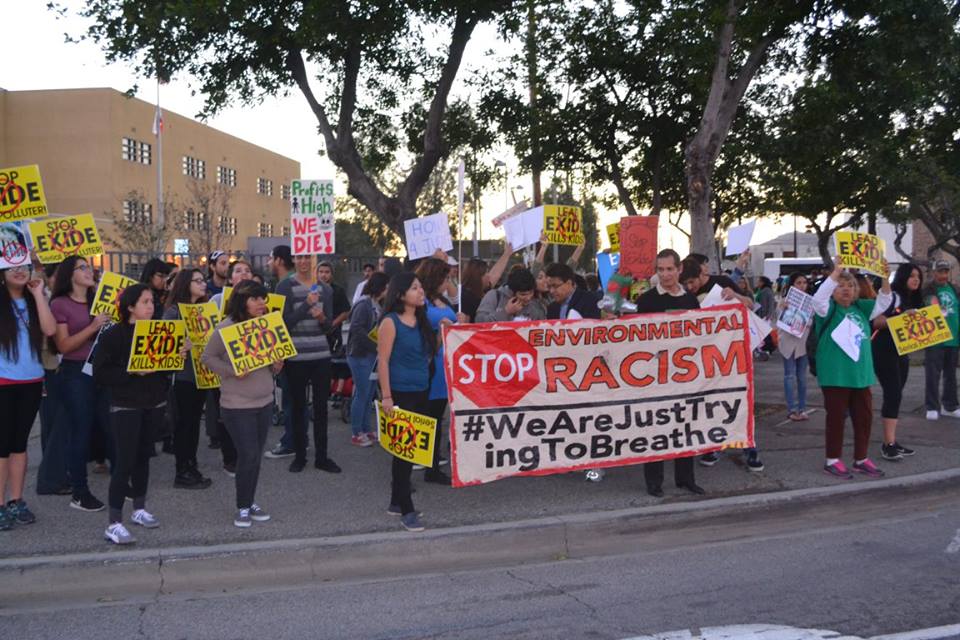 Mauro Barrera, a volunteer with Youth for Environmental Justice, confides that he's angry about the fact he and his family lived in a neighborhood near the plant for years without knowing the dangers.
"This agency that was supposed to protect us was fining the company. And instead of complying with the law, it kept constantly polluting, literally poisoning us."
Lisette Ruiz, another volunteer, says that few homes have been tested and the that have been tested are showing lead contamination.
"People have been living without knowing. I grew up in this neighborhood and just seeing how many homes had kids playing there. It's just heartbreaking. "
Both residents and area activists say that even though the state and Exide are paying for cleanup efforts, they can't be trusted to do it thoroughly. After all, the plant had been polluting, as Yonekura admitted, for nine decades.
At a recent public hearing, Joe Gonzalez, a 60-year-old resident who lives near the Exide plant, didn't believe a representative from the DTSC and AQMD, who said the cleanup effort was going smoothly.  
"We have to look into a way as a community to get this $176 million out of the hands of the culprits of this contamination. That's not only Exide. The co-conspirators are also the DTSC, who admitted verbatim, 'we screwed up we're sorry,' and now they have $176 million dollars. Since the last weekend how many access slips has the DTSC collected? It doesn't seem to be moving very fast." 
Battery recyclers, which aim to recover valuable lead inside batteries, have moved operations outside the U.S. due to tightening regulations. Many of them ship batteries illegally to Mexico.
Exide is one of 14 battery smelters still operating in the United States, though it is under fire in communities where it operates. A Los Angeles Times investigation of Exide's plants  found that, between 2010 and 2013, seven Exide operations have been linked to ambient airborne lead levels that posed a health risk.
The area has a new advocate in Hilda Solis. The former U.S. secretary of labor became an LA County supervisor in 2014. She's set aside $2 million in county funds to create small teams that can quickly test properties for lead.
Residents worry that the funds won't be enough.  And they worry that regulators still don't appreciate the scope of the damage.
Los Angeles radio journalist Warren Olney has called Exide "one of America's worst cases of environmental pollution" and has pointed out similarities to Flint, Michigan. In both regions, low-income people of color suffer from lead contamination while public officials responded for too long with indifference.
"Maybe if we called ourselves 'Boyle Heights Ranch' we would have gotten more attention," says Monsignor John Moretta, of Resurrection Church in Boyle Heights, who has been a key organizer in fighting Exide. The 'Ranch' he says, is Porter Ranch, the mostly white, mostly affluent community abutting the SoCal Gas Aliso Canyon facility on the other end of Los Angeles County.
It's apples and oranges, Moretta admits, but the fact that the Aliso Canyon natural gas leak was stopped after four months, while Exide polluted the air, soil, and water in surrounding neighborhoods for years, is not lost on Moretta.
"I've lived here for 33 years and I didn't know about the dangers until a few years ago," Moretta tells DeSmog.
Moretta says he worries, like many residents do, that the tests being done won't measure the full human costs.
"Blood tests won't measure how much damage is done to the brain. We don't see people falling over or bleeding in the streets, but what about the long-term effects?"
Moretta adds that he's also concerned about the lack of urgency in the cleanup effort, citing the time it takes for the state to return with results of neighborhood soil testing.
"The county has shown they can do soil testing and give results the same day, so why does it take months with the state? With Aliso Canyon, we see how fast the government can react. Here we just haven't seen the same urgency."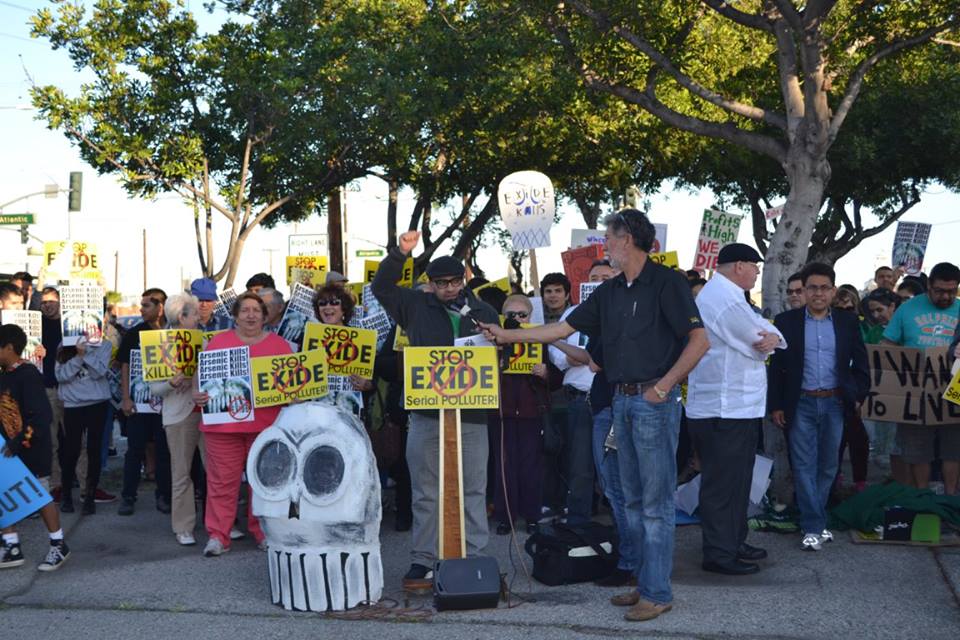 All image credits: Youth for Environmental Justice.