If the recent past serves as prologue, then online leasing of oil and gas on U.S. federal lands may resemble the proverbial fox guarding the hen house, with one eBay-like company in particular standing to profiteer from the industry's proposed e-bidding scheme.
That company, EnergyNet Inc., ran the U.S. Bureau of Land Management (BLM)'s online oil and gas bidding pilot program back in 2009. The Amarillo, Texas-based corporation also hosts online oil and gas bids for Texas, North Dakota, Utah and Colorado, effectively shutting out citizens of those states from the bidding process altogether.  
Online bidding, as opposed to BLM's current process of holding oral auctions at locations open for the public to attend (or protest outside), has been proposed by the industry-funded advocacy group Western Energy Alliance (WEA) as a reaction to the most recent set of actions held in early-May in Denver, Colorado by the Keep It In The Ground movement as a way to "end the circus."
John Klee — vice president of corporate business development for EnergyNet — formerly served on WEA's board, and Ryan P. Dobbs, the company's business development manager for the western U.S., is a WEA member according to EnergyNet's website.
EnergyNet occupies a special niche in the oil and gas world, with almost no competitors, most of whom have gone out of business, such as TheOilAuction.com, World Energy Exchange, Oil & Gas Journal Exchange and Petroleum Place.
Its main competitor these days is the Oil and Gas Asset Clearinghouse. Unlike EnergyNet, though, it acts as an auction broker in the private sphere only for the oil and gas industry and does not facilitate auctioning off government-owned land on behalf of the oil and gas industry like EnergyNet.
EnergyNet's president Chris Atherton formerly worked at the now-shuttered and much-maligned oil and gas company Enron, where he served as "Sales Executive for the Energy Services division selling web-enabled energy management software, consulting, training, and professional services to large commercial and industrial customers" according to his LinkedIn page. Its vice president of government affairs, John Munroe, spent 35 years at Chevron before joining the EnergyNet team.
A further depiction of its synergistic relationship with the oil and gas industry, in 2012 EnergyNet launched an "alliance" with BlueRock Energy Capital — the latter a portfolio asset of the energy-centric private equity fund TPH Partners (the private equity arm of Tudor, Pickering, Holt & Co.) and spin-off of hydraulic fracturing ("fracking") pioneer Range Resources — to help select and finance profitable lease plots for independent oil and gas companies bidding from EnergyNet. 
Pilot Launches, Records "Destroyed"
BLM's online bidding pilot program arose out of a provision tucked into the 2008 Consolidated Appropriations Act, Section 117 titled, "Oil and Gas Leasing Internet Pilot Program."

Image Credit: U.S. Government Printing Office
"If the pilot is successful, the BLM believes oil and gas leasing will be opened up to a broader audience, and there could be significant cost savings for the BLM and the Treasury," wrote BLM on its website at the time. "It is expected that lease sale participants will enjoy some cost savings, too, as they will not have to travel to the site of the oral auction in order to participate."
BLM's online bidding pilot project held its own bid in order to see who would run the program, a "competitive bidding process" won by EnergyNet, according to BLM's website.
When asked by DeSmog if a list existed of the other bidders, a contract specialist for BLM said those records had been "destroyed" because they have "exceeded our mandatory record retention period of six years."
The pilot, as its name infers, would serve as a testing crucible for permanent internet-based bidding going forward.
"After the pilot, the BLM will then determine whether to recommend an amendment to the Mineral Leasing Act allowing for Internet lease auctions on a permanent basis," explained the BLM on its website. "With that action, the BLM would consider incorporating the Internet lease auctions into its National Oil and Gas Lease Sale System."
A concerted push for online bidding by some members of congress, the oil and gas industry and EnergyNet itself through its federal lobbying efforts ensued in the years ahead.
"Bidder 70"
The U.S. Department of Interior's Office of Inspector General pointed to the 2008 Consolidated Appropriations Act's online bidding pilot program and the prospect of moving toward 100-percent online bids in its August 2009 report titled, "Evaluation of Bureau of Land Management's Oil and Gas Lease Auction Process."
Tim DeChristopher, an activist best known as "Bidder 70" for showing up at a BLM auction in December 2008 and bidding despite lack of a license to do so (and going to jail as a result), is cited in the Inspector General report as the rationale for the report's launch. It can be seen as a parallel, of sorts, to the response today to the Keep It In The Ground movement.
"Our review was prompted by a highly publicized incident in which an individual who, in an act of environmental protest, disrupted a BLM lease auction by bidding for parcels without the intent or ability to pay for or develop the leases," wrote Mary Kendall, Acting Inspector General at the time and now Deputy Inspector General of the Interior Department. "In response to the incident, we initiated an evaluation of BLM's lease auction process."
The report called on BLM to do a study on "which auction process is best suited for oil and gas leases." EnergyNet, in an article published in the June 21, 2016 edition of Forbes, also cites the backlash against the Keep It In The Ground movement as a potential business growth avenue for the company. 
EnergyNet, Industry Lobbying Push
EnergyNet's federal-level lobbying push officially began in 2004, according to lobbying disclosure forms, featuring a team of lobbyists from the firm Larson Dodd Stewart & Myrick. Dave Larson and Tim Stewart, the namesakes of that firm, have since started a new firm called American Capitol Group.
Larson formerly served as a senior-level staffer for former Senate Majority Leader Bill Frist (R-TN), while Stewart is the brother of both U.S. Rep. Chris Stewart (R-UT) and Cody Stewart, the latter an energy adviser for Utah Republican Governor Gary Herbert. Tim Stewart has lobbied on behalf of EnergyNet and on behalf of online auctions every quarter since 2004, doing so alongside brother Cody for three years before Cody left to become legislative director for U.S. Rep. Rob Bishop (R-UT).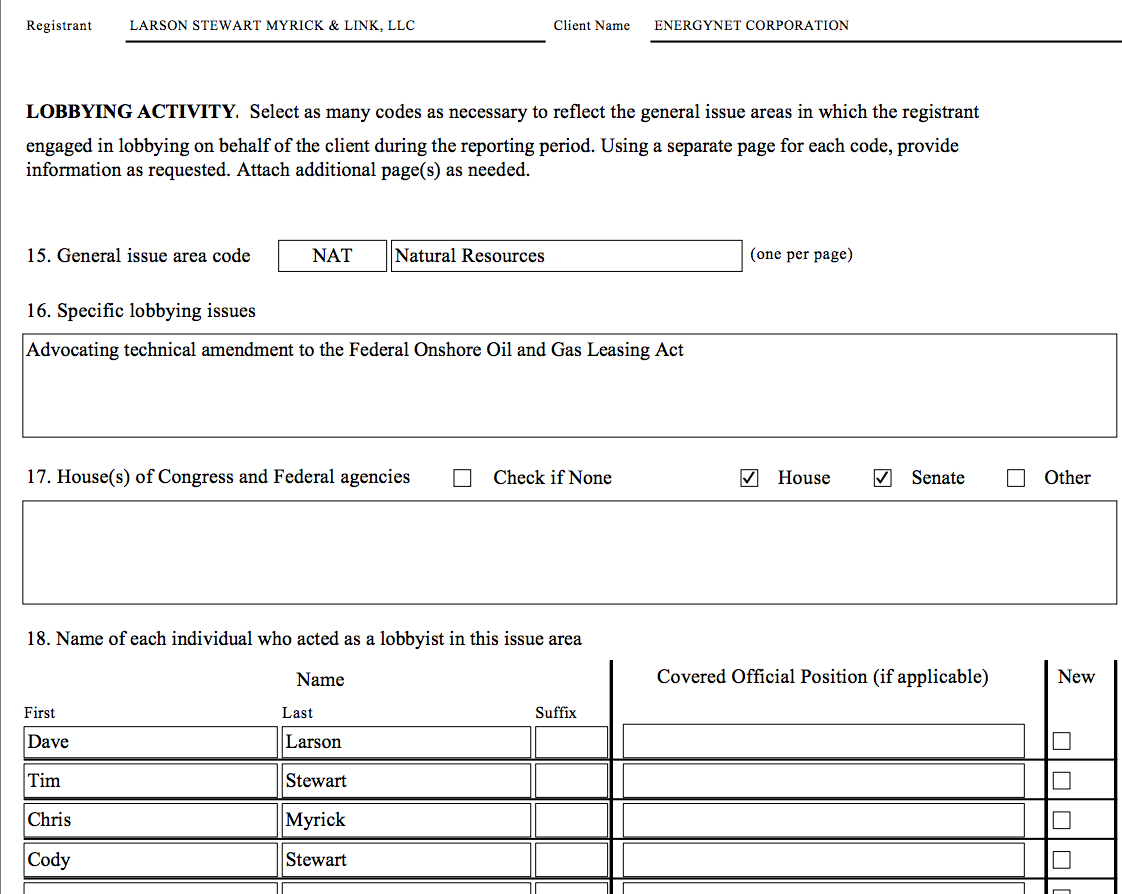 Photo Credit: Office of the Clerk, U.S. House of Representatives
Stewart — who did respond to repeated requests for comment — also lobbies for WEA, of which EnergyNet is a member. Since 2012, Bishop has taken $10,500 in campaign contributions from WEA and Chris Stewart received a $1,500 donation from WEA in February. The two of them have taken $350,650 and $149,450 from the oil and gas industry, respectively, throughout their political careers and oil and gas has been the biggest special interest group donor to their campaigns.
Beyond EnergyNet itself, many oil and gas industry players also have lobbied for standalone bills and broader bills with online lease sale provisions tucked within them. They include Koch Industries, Halliburton, Chevron, ConocoPhillips, BP America, Independent Petroleum Association of America (IPAA), America's Natural Gas Alliance (ANGA), American Petroleum Institute (API), Marathon Oil, Sempra Energy, BG Group, Oklahoma Independent Petroleum Association, Anadarko Petroleum and others.
Congressional Testimony, Legislative Win
On September 13, 2011, the BLM Live Internet Auctions Act (H.R. 2752) received consideration in front of the House Subcommittee on Energy and Mineral Resources. 
EnergyNet's William "Bill" Britain — co-founder, president and CEO of the company, former oil and gas industry executive and a member of both IPAA and OIPA — testified at that hearing and also submitted testimony. The U.S. Chamber of Commerce lobbied in support of H.R. 2752.
H.R. 2752's successor standalone bill, for which Halliburton lobbied and bearing the same name, also landed a hearing in Congress in front of the Subcommittee on May 22, 2013. Britain testified at that hearing too, once again submitting testimony.
"This piece of legislation opens the door, by giving the Secretary of the Interior the authorization to establish an Internet leasing program," Britain testified. "This common sense piece of legislation can truly change the future of the BLM's leasing program."
BLM's acting deputy director at the time, Jamie Connell, also came out in support of H.R. 555 at the hearing.
Bishop, for whom EnergyNet lobbyist Tim Stewart's brother Cody Stewart formerly worked, now serves as chairman of the U.S. House Committee on Natural Resources and as a member of its Subcommittee on Energy and Mineral Resources. Bishop and U.S. Rep. Chris Stewart (brother of both Cody and Tim) both served on the Committee on Natural Resources in 2013 when H.R. 555 was being considered.
After a decade-long push by EnergyNet, the National Defense Authorization Act of 2014 legalized online lease sales of U.S. public lands for the first time.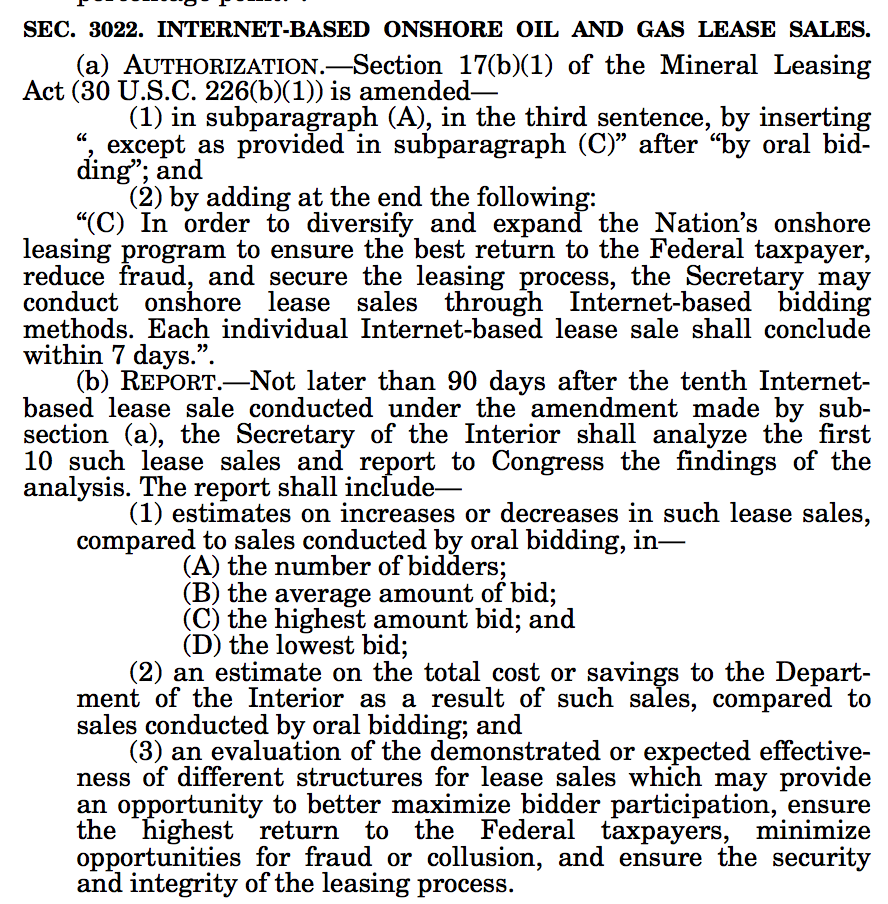 Image Credit: U.S. Government Printing Office
Though now technically a legal option, BLM oil and gas online auctions have not yet occurred to-date other than the 2009 pilot project lease run by EnergyNet, which did not respond to repeated requests for comment for this story. If EnergyNet's ongoing lobbying efforts bear fruit, though, that may not remain the case for long. 
"It has only been within the past year that the public has thoroughly withdrawn its consent for the BLM oil and gas lease process, as has been demonstrated by the constant protest and disruption of in-person auctions," DeChristopher told DeSmog via email. "The government can respond to that by either listening to the will of the people or by taking their process further into the shadows through online auctions. But the more the public is removed from the decision-making process, the more the government delegitimizes itself."
Image Credit: Willis Nowell | Flickr