On Wednesday, June 22nd, President Obama signed the Protecting our Infrastructure of Pipelines and Enhancing Safety Act of 2016 into law. The bill, known as the PIPES Act, reauthorizes the federal government to move swiftly in the event of a pipeline leak or rupture. Specifically, the Secretary of Transportation is allowed to issue emergency orders if the unthinkable happens.
The reauthorization was in response to the natural gas pipeline rupture in California where an estimated 97,000 tons of gas were released from the Aliso Canyon pipeline near Porter Ranch. The bill also includes new mandates on construction to insure the safety of future pipelines and to reduce the chances of another massive leak.
Ironically and very disturbingly, less than 24 hours after the bill was signed into law, an oil pipeline in Ventura County, California ruptured, and current estimates put the amount of oil leaked at over 29,400 gallons (down from the original estimate of over 210,000 gallons), though officials are still assessing the situation.
The L.A. Times has more:
The oil was flowing out near the beach at San Jon Road and the 101 Freeway, Lindbery said. But the area has a natural catch basin that crews are relying on to capture the oil while they build larger barriers with bulldozers and hand crews, officials said.
The oil belongs to Aera Energy and was flowing through a pipeline owned by Crimson Pipeline, Lindbery said. Crimson Pipeline operates in California and Louisiana. The oil company owns 1,000 miles of pipelines in Ventura, Los Angeles, Orange, Kern and in some Northern California counties, according to its website.
When the leak was discovered, the company shut the pipeline down, but the oil remaining in the pipeline continues to flow out.
The L.A. Times reports that Ventura County firefighters were able to stop the leak from reaching the ocean.
Here is an image of the spill taken by the Ventura County Fire Department: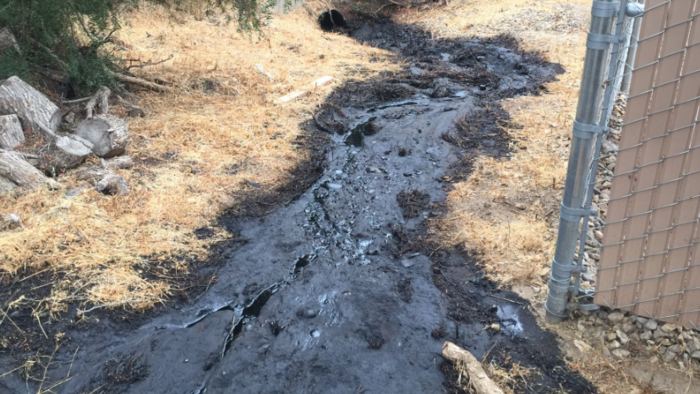 Image via EcoWatch.com