It isn't hard to find critics of the American Petroleum Institute's CEO Jack Gerard in the community of people who care about the climate. However, it is perhaps telling that the Washington Post reported that when they asked oil industry insiders to describe him, one response was "Voldemart." 
In addition to such "compliments" from his industry peers, the work Jack Gerard performs netted him over $13 million in 2013 alone. 
In that same Washington Post article it was noted that a former API board member said "for my taste the whole organization is far too aggressive." But that board member probably doesn't make $13 million a year.  
With the API producing slick ads with its Vote4Energy "energy voters" saying they "don't buy it" that fossil fuel energy is harmful to the environment, it is clear that the organization remains aggressive. 
More evidence of the aggressive nature of the API appeared last week in the form of a poll Gerard was touting. 
"Broadly, the poll makes clear that when it comes to energy, what matters to most Americans is that they want and expect reliable and affordable energy," said API President and CEO Jack Gerard. "During this election season we are backing our candidate 'energy' and the broad support by the American electorate for more oil and gas production."
Of course Gerard is touting a "drill baby drill" strategy because that is what he is paid very well to do. But perhaps the most interesting part of the poll was American voters' support for reducing greenhouse gases.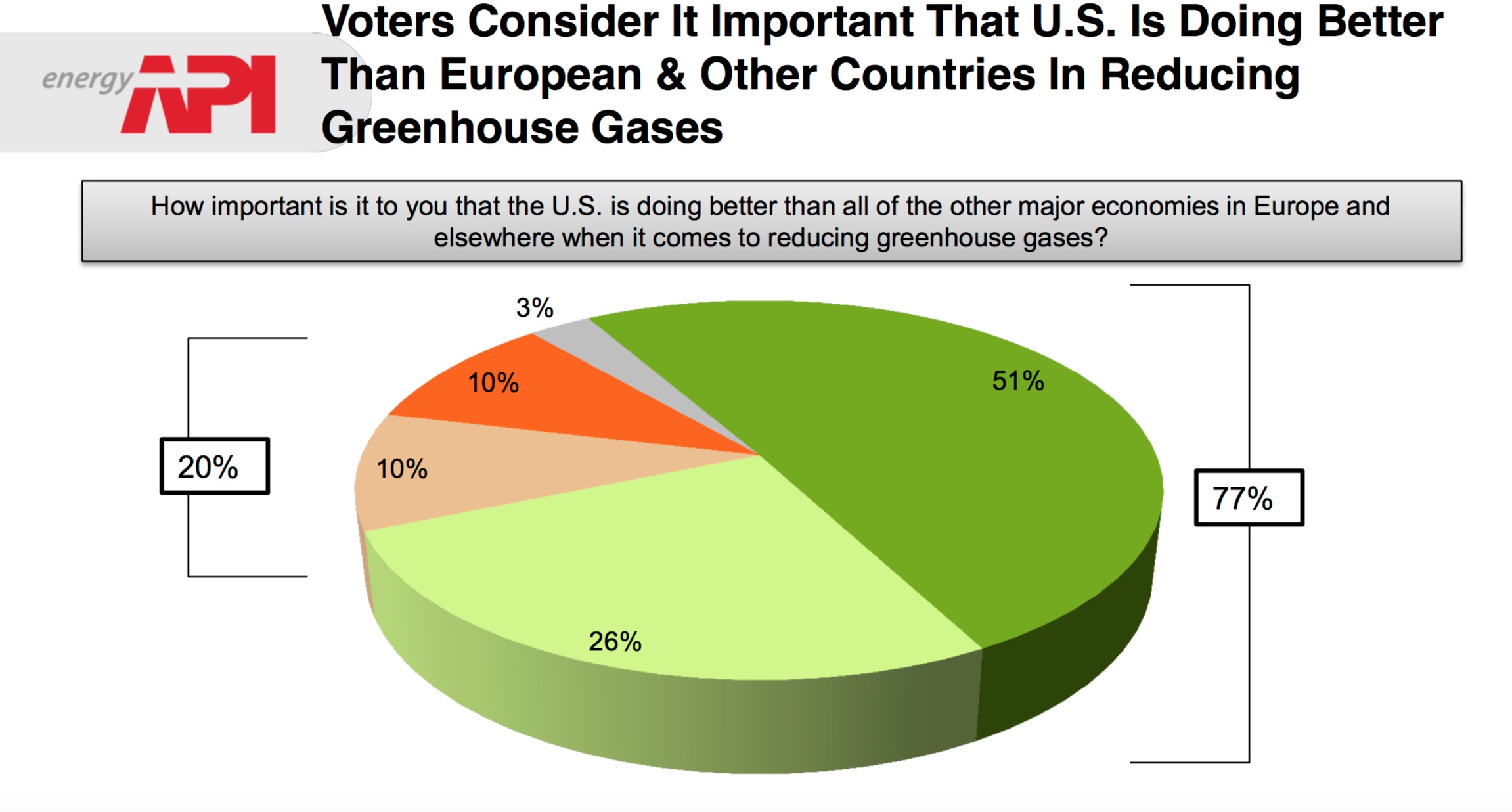 Which might explain the news that the American Petroleum Institute is "exploring" a new climate change strategy. However, true to form, Politico reports that Gerard says there are "different views within our industry as to how that should be addressed."
It also is important to note that greenhouse gas emissions in the US increased in both 2013 and 2014. 
So, claiming that the US is doing a better job at reducing greenhouse gases isn't accurate although it certainly is a goal that the majority of Americans support. 
Additionally, new information about how methane emissions have been underestimated in America means the numbers are worse than have been reported. That they were potentially underestimated on purpose also might indicate the influence and power of people like Jack Gerard. 
Meanwhile, the European Union recorded a new record low in 2014 for greenhouse gas emissions. 
Politico also helped shed light on why the API might be addressing climate change with a quoted source saying, "The political environment has shifted so dramatically with Paris, with the 'keep it in the ground' campaign having controlled the conversation, with a president making climate change policy part of his legacy. So it makes sense for API to be reviewing its approach to climate."
Has the oil industry's "Voldemart" seen the light? Is this progress from the group that claimed "victory will be achieved when the average citizen understand (recognize) uncertainties in climate science?" 
Perhaps. But with the reality of more polling being funded and used to push the idea of more oil and gas extraction – highly unlikely.
So if you were thinking the American Petroleum Institute was going to start working to address climate change, you should remember what the actual Lord Voldemart said, "They never learn, such a pity." Or as the actors in the API ad said, "I'm not buying it."