Senators Launch Resolution, Speech Blitz Calling Out #WebOfDenial Blocking Climate Action summarized the comments by 19 US Senators July 11-12.  The text of their remarks was extracted from the Congressional Records, annotated and combined into the attached 42-page PDF.  That is easily searchable, and may help guide selection of videos to watch.
They offered strong words, including Senator Elizabeth Warren's analysis of Viscount Christopher Monckton.
Pink shading is used to emphasis denierfunders, groups and indviduals, many found in the DeSmog Research Database or other analyses at DeSmog, which was mentioned 8 times by the Senators.
The two tables below give page numbers of Senators' remarks, showing first the funders they mentioned, and then the denial groups.  Many Senators mentioned the Kochs, ExxonMobil, tobacco, and Donors Trust.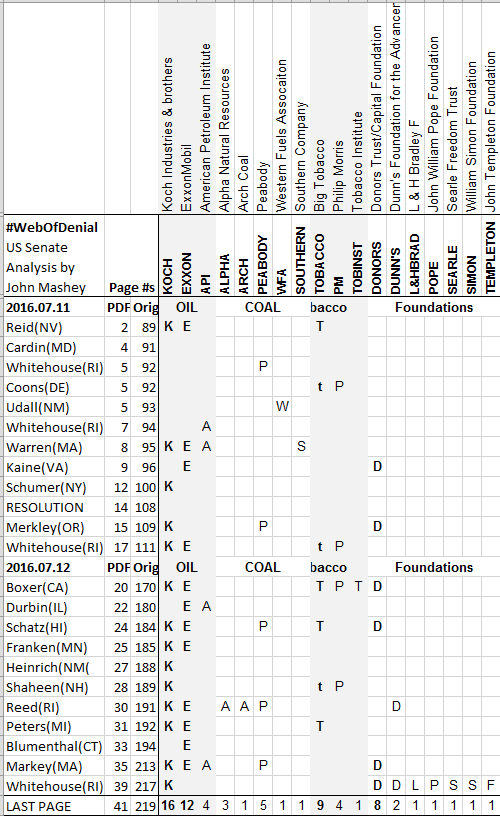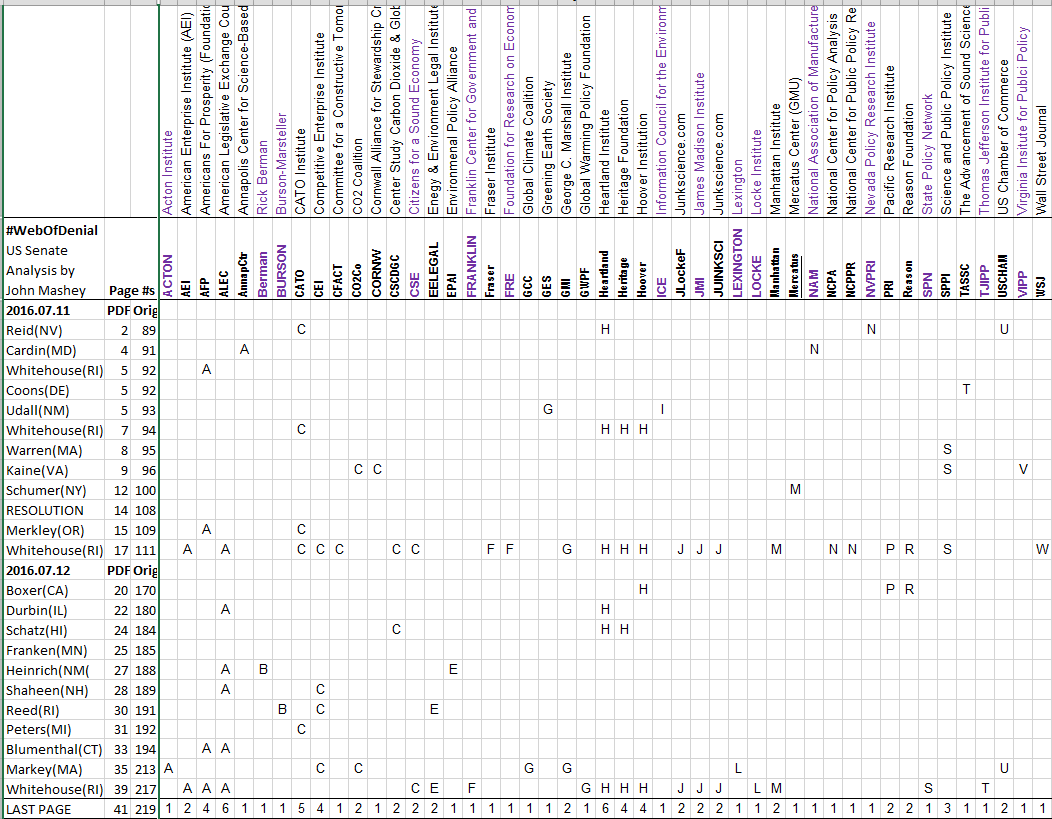 This was done quickly, so a few may have been missed. This follows the same model as in Crescendo to Climategate Cacophony (2010), especially pp.93-95, which shows funders X denial groups.  Names in purple are those added for #WebOfDenial to the large spreadsheets accumulated over years.
See also Fakery 2, especially pp.37-42 on tobacco donations to climate-denial groups,  pp.68-76 on Donors Trust, and pp.77-82 on the Idso family business Center for the Study of Carbon Dioxide and Global Change and its fake-independent facade, Science and Public Policy Instiute, groups all mentioned by a few Senators.
The Senators often referenced the crucial 2013 study by Professor Robert Brulle, introduced here in Study Details Dark Money Flowing to Climate Science Denial, which also provides large versions of key figures.
It is well worth watching the videos as these well-informed Senators exposed the @WebOfDenial.