Hydraulic fracturing ("fracking") — the controversial horizontal drilling technique used to extract oil and gas in shale basins around the U.S. and the world — has sat at the center of the debate over the Democratic Party's draft platform set for a vote at the Democratic National Convention (DNC) convention in Philadelphia July 25-28.
That platform was drafted and debated by a 15-member committee, with four members chosen by DNC chairwoman Debbie Wasserman-Schultz, five by Bernie Sanders and six by presumptive nominee Hillary Clinton. After a fracking moratorium clause failed in a 7-6 vote at the DNC Platform Committee meeting held in St. Louis, Missouri from June 24-25, an amendment calling for President Barack Obama's Clean Power Plan not to incentivize fracked gas power plants also did not pass at the July 8-9 DNC Platform Committee meeting held in Orlando, Florida.
A DeSmog investigation has revealed that two members of the committee chosen by Hillary Clinton work for a consulting, lobbying and investment firm with a financial stake in fracking. Those members — Carol Browner and Wendy Sherman — work for Albright Stonebridge Group. Clinton campaign energy policy adviser Trevor Houser, who introduced a regulate fracking amendment (introduced as a counter to the one calling for a ban) also has industry ties via his now-defunct fellowship* at the Peterson Institute for International Economics.  
Albright Stonebridge
Albright Stonebridge Group — founded and run by U.S. Secretary of State under President Bill Clinton, Madeleine Albright — also has a private equity capital investment wing named Albright Capital Management. That wing owns a 10-percent stake in Eco-Stim Energy Solutions, a company formerly known as FracRock International.

Image Credit: U.S. Securities and Exchange Commission
Albright Capital Management also signed a contractual agreement with Eco-Stim in 2014 which grants Albright Capital the right to have six seats on Eco-Stim's Board of Directors. Currently, two Albright Capital employees sit on Eco-Stim's Board: Ahmad Al-Sati and Lap Wai Chan. 
Further, Albright Capital has a Stockholder Rights Agreement granting it the first rights to buy up to 40-percent of any securities Eco-Stim sells on the market. Albright currently owns over 33-percent of Eco-Stim's shares, according to its most recently filed 2015 U.S. Securities and Exchange Commission Form 10-K.
So what is Eco-Stim? In short, it's a fracking services company focused these days primarily on tapping into Argentina's Vaca Muerta Shale basin.
Eco-Stim 101
On its website, the Houston, Texas-headquartered Eco-Stim touts the environmental friendliness of its fracking drilling technology. 
"An independent energy-services company, EcoStim offers advanced and proven technologies for reducing the environmental impact of well-stimulation projects," reads its website. "Our current focus is on the emerging unconventional Vaca Muerta Shale of Argentina and other Latin American markets."
In a recent interview (starting at 2:52), EcoStim CEO Chris Boswell said one of the main ways his company makes money comes via contracts for "well stimulation," industry lingo for fracking and its accompanying horizontal drilling techniques.
Boswell said he changed FracRock's name to Eco-Stim "for political reasons, for environmental reasons" after seeing the writing on the wall as it pertains to fracking's lack of popularity in the U.S. In the end, it's all semantics though, at least according to the U.S. Patent and Trademark Office.
"Well improvement services, namely, hydraulic fracturing of subsurface geologic formations to enhance well production" is what the company's EcoFrac Solutions patented procedure does, according to its trademark filing.
The company also has technology it utilizes to identify maximum productivity drilling zones called GeoPredict, which it has utilized in Texas' Eagle Ford Shale basin and elsewhere. GeoPredict does "Geophysical exploration of oil and gas locations, and for the optimization of hydraulic stimulation zones," according to the U.S. Patent and Trademark Office.
House-r of Oil, Gas Money
The Clinton campaign's top energy adviser, Trevor Houser — formerly a visiting fellow at the Peterson Institute for International Economics who left the Institute in February 2015* and a partner at the Rhodium Group — introduced his own amendment to the fracking moratorium amendment in Orlando. It passed by a vote of 102-68.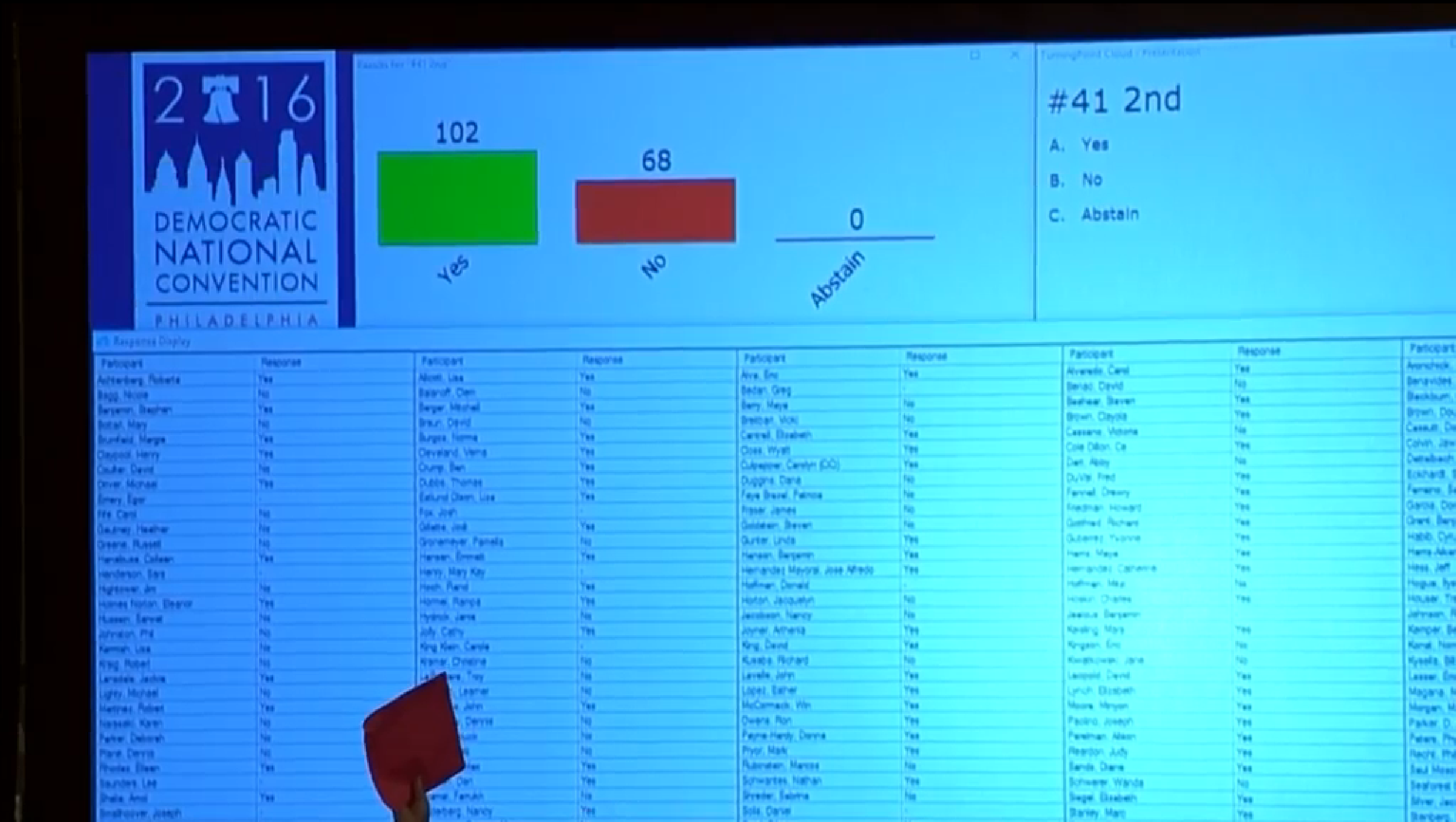 Image Credit: C-Span Screenshot
That amendment calls for fracking to continue in the U.S., but be better regulated. It also calls for the closure of the Energy Policy Act of 2005's "Halliburton Loophole," which exempts the oil and gas industry from U.S. Environmental Protection Agency (EPA) enforcement of the Safe Drinking Water Act and the Clean Water Act, as well as regulating fracking supply chain-related methane emissions.
"When we had air pollution from steel production in Pittsburgh, our response was not 'Let's ban steel production," said Houser in introducing his Platform amendment. "We effectively reduced the pollution from steel production and we can do the same thing here. We have the ability to do the same thing here. At least we should try first. At least we should try before throwing millions of union households under the bus: we at least owe them that."
Shorter #TeamHillary's Trevor Houser: climate action hurts jobs. #DemPlatform #banfracking pic.twitter.com/Jj4xRM7kVh

— Brad Johnson (@climatebrad) July 10, 2016
While Rhodium Group does not disclose its clients or funding, Peterson Institute for International Economics does. According to its website, it has received funding from the likes of Chevron and Eni.**
Further, in September 2014, Houser co-authored a report with former Obama National Security Council energy adviser Jason Bordoff titled, "American Gas to the Rescue? The Impact of US LNG Exports on European Security and Russian Foreign Policy." Bordoff now heads up Columbia University's Center on Global Energy Policy, which received $50,000 from ExxonMobil during 2015 and which, like Rhodium, does not disclose its funding.
Houser is set to speak alongside pro-fracking Colorado Governor John Hickenlooper and Heather Zichal, former top climate aide in the Obama White House and current member of the Board of Directors at gas exporting powerhouse Cheniere Energy, at a forum sponsored by the American Petroleum Institute on the sidelines of the DNC.
"Truth Behind the Democratic Platform Debate"
Responding to an opinion piece written by DNC Platform Committee member and 350.org founder Bill McKibben, one of the five Sanders selections, Clinton selectee Carol Browner — former head of the U.S. Environmental Protection Agency (EPA) under President Bill Clinton and more recently a top climate aide in the Obama White House — chided McKibben for calling out Clinton's Platform Committee selections for voting down almost every climate-friendly Platform measure.
"[D]ebating the merits of different policy solutions is quite different from setting up a litmus test for what it takes to be 'serious' about climate change," wrote Browner in Politico Magazine. "And that is what the Sanders campaign and its representatives have done, claiming that the Democratic platform falls short because it does not include their preferred amendments to enact a carbon tax and immediately ban all oil and gas production through hydraulic fracturing."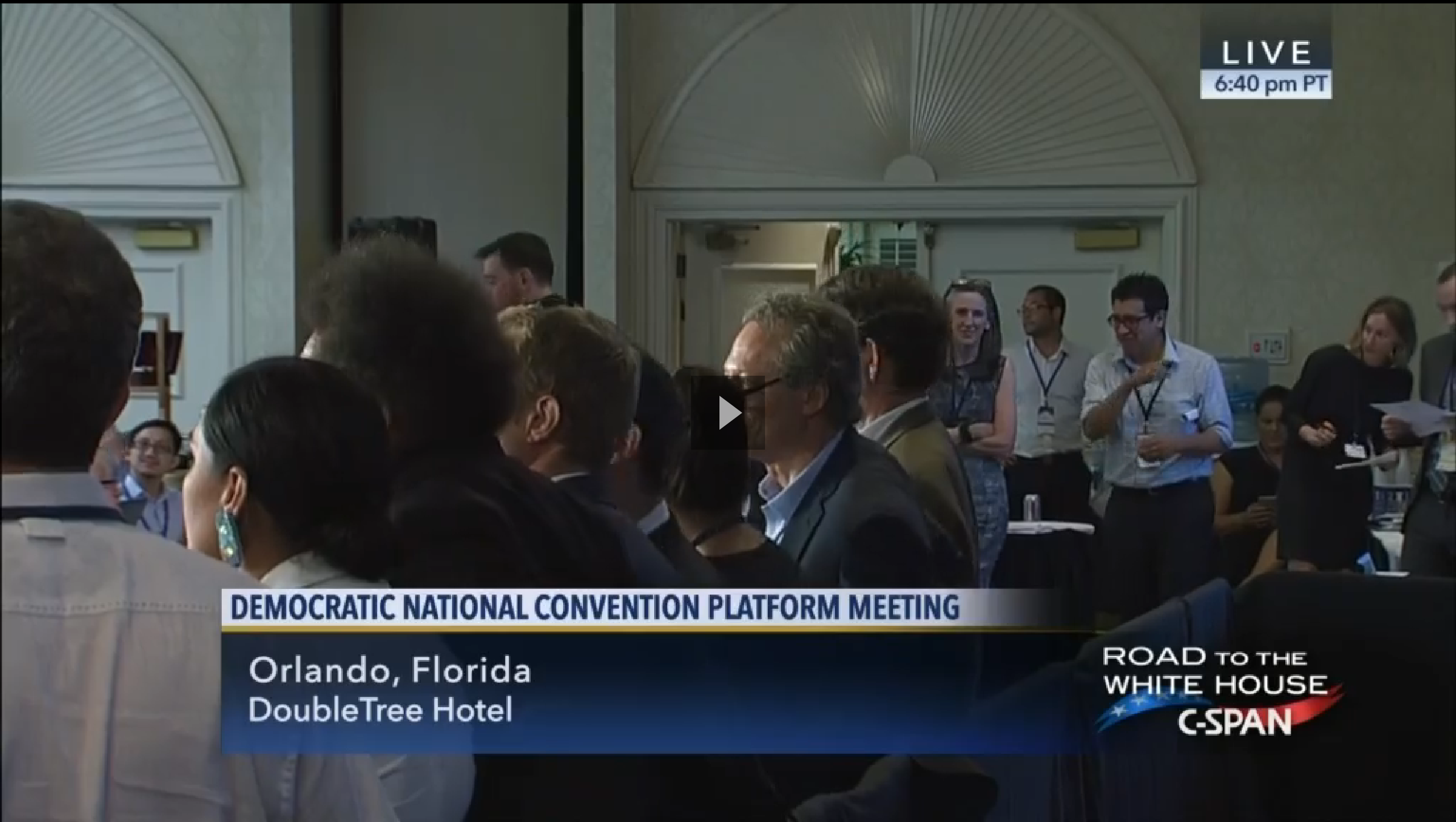 Browner at DNC Platform Meeting on July 9 in center facing camera; Image Credit: C-Span Screenshot
Nowhere in the biography listed at the end of that Politico piece does Browner mention she works for Albright Stonebridge, nor does she mention that firm's private equity wing has fracking-related investments. Browner was also the first ever EPA administrator to deny a link between fracking and groundwater contamination, as oil and gas industry front group Energy in Depth has pointed out. 
Despite this track record, Houser said that Browner has made a career out of "breaking her neck to protect the environment."
Browner, Sherman, the DNC Platform Committee, Albright Stonebridge Group, Albright Capital and the Clinton campaign did not respond to repeated requests for comment for this story.
"Carol Browner is a disappointment," says David Braun — a Sanders campaign delegate from California and activist with Californians Against Fracking. "Americans are being hurt by fracking, and it's not because of 'bad operators' or 'poor regulation.' It's because fracking is an inherently dangerous practice and can't be done safely," Braun told DeSmog via email.
"The science on fracking is very clear: between the toxic chemicals used in extremely high quantities along with the chronic well casing failures and other pathways of contamination, it's a catastrophe unfolding on the American people. Any policy platforms which allow for continued fracking, will inevitably persist in sacrificing communities, endangering American lives and exacerbating climate change."
Unity Amendment
Others, though, see a hopeful ray of light in the platform deliberations. 
The Platform Committee agreed on a unity amendment — added on top of the fracking regulation provision — stating that the Party agrees with the "Keystone Principle" created by President Obama for the Keystone XL pipeline and agreed to favor renewable energy over natural gas.
"We will streamline federal permitting to accelerate the construction of new transmission lines to get low-cost renewable energy to market, and incentivize wind, solar and other renewable energy over the development of new natural gas power plants. We support President Obama's decision to reject the Keystone XL pipeline," reads the clause.
"As we continue working to reduce carbon dioxide, methane and other greenhouse gas emissions, we must ensure federal actions don't 'significantly exacerbate' global warming. We support a comprehensive approach that ensures all federal decisions going forward contribute to solving, not significantly exacerbating climate change."
Josh Fox, director and producer of the new film "How to Let Go of the World and Love the Things Climate Can't Change" and the "Gasland" movies, hailed the insertion of this amendment as a victory for the climate movement. And the Sanders campaign called the Platform the "most aggressive climate change plan in party history" in a press release.
"This is what happens when you organize. This is what happens when you never say die," Fox told those present at the Platform Committee in Orlando, while also acknowledging in a follow-up interview with "The Young Turks" that it will take grassroots movements holding elected officials accountable to ensure the Platform's verbiage amounts to more than hollow words moving forward. 
Food and Water Watch executive director Wenonah Hauter, author of the book "Frackopoly: The Battle for the Future of Energy and the Environment," is not quite as enthusiastic about the DNC Platform Committee's maneuvers.
"This 'unity amendment' is a compromise that sweeps the debate over fracking under the rug," Hauter told DeSmog. "A vast majority of Democrats now oppose fracking. We must work to keep fossil fuels in the ground and transition to a renewable energy future."
Hauter's organization will lead the March for a Clean Energy Revolution on July 24, the day before the start of the DNC in Philadelphia.
At the request of the Peterson Institute for International Economics, this article has been edited to clarify the timing of Trevor Houser's fellowship and the Peterson Institute for International Economics' industry funding.
*The original version of this article did not identify when Houser's fellowship ended at the Peterson Institute. It ended in February 2015. The text has been updated to reflect this.
**The original version of this article, using the information available on the Peterson Institute's website, identified ExxonMobil, BP and Statoil as funders of the Institute. The Peterson Institute has informed DeSmog that these three companies have not funded it since 2014. The text has been updated to reflect this.
Photo Credit: C-Span Screenshot