With about 42,000 active wells, Kern County, California is home to three-quarters of California's oil drilling and 95 percent of the state's hydraulic fracturing (fracking) activity.
This mainly rural region is the largest oil-producing county in the U.S.
The influence of oil and gas is so great here that in late 2015 the county board of supervisors approved a new ordinance to allow drilling permits for tens of thousands of new wells to be fast tracked.
Time span for the new ordinance? Two decades. Ongoing environmental review? None. Public participation? Not allowed.
In response, the environmental legal organization Earthjustice filed suit against the county on behalf of the Sierra Club and the Natural Resources Defense Council (NRDC).
The lawsuit, in coordination with the Center on Race, Poverty & the Environment and the Center for Biological Diversity, challenges the county's claim that a single environmental review would be sufficient to authorize up to 72,000 new wells over twenty years.
Stacey Geis, managing attorney for Earthjustice's California regional office, tells DeSmog the Kern County ordinance is a "rubber stamp" that would have a disproportionate impact on Kern's most vulnerable communities – people of color.
"In Kern County and throughout the state the vast amount of oil is drilled in communities of color.  In Los Angeles, there are drill sites literally a stone's throw away from children's swing sets."
Geis cited a 2014 study conducted by the NRDC, which found that of the 5.4 million Californians living within one mile of an oil or gas well, 69 percent are people of color, usually Hispanic. She says drilling sites being permitted in low income areas and communities of color is not unique to California. "It happens wherever people are disenfranchised."
The way that a person's race – and to a lesser extent, wealth – determines who gets the benefits or the downsides of drilling and other industrial activity has a term. Depending on who you ask, it's environmental justice or the more controversial term environmental racism.
Neither term is new, but with national attention on the drinking water crisis in the largely African-American city of Flint, Michigan, plus a growing body of research into which communities bear the burden of fracking waste and other contaminants, the concept of environmental justice (or racism) is finally expanding beyond environmental lawyers, advocates and front line activists.
Who Gets Eagle Ford Shale Fracking Waste?
A study published earlier this year in the American Journal of Public Health found that fracking wastewater disposal wells in southern Texas are disproportionately permitted in areas near communities of color and people living in poverty.
The research focused on the Eagle Ford Shale area of south Texas, where more than 1,000 new disposal wells have been permitted since 2007. The study found that fracking disposal wells were twice as common in areas mostly populated by people of color, compared to mostly white areas.
The results of the study, led by community health researcher Jill Johnston, were published last November in the American Journal of Public Health.
The study also found that 16 percent of the area's domestic water wells were within five kilometers of a disposal well.
Johnston, along with fellow study authors Emily Werder and Daniel Sebastian, cite the Energy Policy Act of 2005 for allowing fracking companies to avoid U.S. Environmental Protection Agency (EPA) oversight:
Permitted disposal wells can be actively used for decades, receiving millions of gallons of toxic wastes, whereas the active life of an extraction well is typically a few years. The Energy Policy Act of 2005 specifically excludes the underground injection of oil and gas fluids from the Safe Water Drinking Act, which authorizes the Environmental Protection Agency to regulate chemicals in drinking water to protect public health. Current regulations allow the oil and gas industry to inject and indefinitely store hazardous materials underground and near drinking water supplies.
Fracking waste can seep into drinking water supplies — a big problem in the Eagle Ford Shale region where most people use private drinking wells not covered by EPA standards.
Johnston, now an assistant professor of preventive medicine at the Keck School of Medicine at the University of Southern California, tells DeSmog : "What we found is part of a national trend where the communities who benefit from (natural gas) extraction are very different from the ones who are getting its waste."
Johnston points out two other problems facing residents of the region. They have fewer resources if they have health problems from contamination, and less access to information about where disposal wells are being located.
The Texas Railroad Commission, which regulates oil and natural gas production in the state, requires disposal well operators to notify only property owners adjacent to the wells.
Johnston's study isn't the only one looking at the Eagle Ford Shale region of southern Texas. A recent investigative series from the Center for Public Integrity found that of the nearly quarter-million minorities living less than three miles from a disposal well in the region, 83 percent were Hispanic. The area is only 50 percent Hispanic.
Research into fracking waste disposal in the Eagle Ford Shale has implications beyond south Texas.
People living near fracking zones in North Dakota, Oklahoma, and Pennsylvania often learn after the fact that waste is being pumped into the ground near their communities. Who decides to issue permits for any oil and gas extraction depends on the state and the region.
Generally state and local agencies are responsible for siting and permitting with the U.S. EPA maintaining oversight authority. But the EPA's enforcement mechanisms, say environmental lawyers and activists, are often lax.
Pollution's Disproportionate Effect
Recent research on southern Texas' fracking sites adds to a growing body of research showing that race is more important than income  when determining a person's risk from air, water, and ground pollution in the U.S.
A University of Minnesota study from 2014 that looked at outdoor nitrogen dioxide levels found people of color in the U.S. are exposed to nearly 40 percent more of this deadly chemical than their white counterparts.
A 2014 analysis by NRDC found the majority of people living near oil and gas development in California are people of color.
A 2015 study showed that poor Latino and Latino immigrant communities are very likely to be living near "toxic hot spots" of cancer-causing air pollution.
In April, the Pittsburgh Post-Gazette reported a rather candid public quip by Terry Bossert, vice president for legislative and regulatory affairs at Range Resources, a natural gas exploration and production company.
Bossert said, essentially, that you can't frack the wealthy because they have the money to fight back.
The U.S. EPA acknowledges the problem and defines environmental justice as the "fair treatment and meaningful involvement of all people regardless of race, color, national origin, or income with respect to the development, implementation, and enforcement of environmental laws, regulations, and policies."
But acknowledging the problem doesn't mean the agency has been effective in combatting it.
The EPA's Office of Civil Rights handles complaints of discriminatory pollution, but there has been little in the way of action taken by that office, according to investigations by the Center for Public Integrity.

Last year Earthjustice, on behalf of a group of environmental and social justice plaintiffs, filed a civil rights complaint against the U.S. EPA for not ensuring compliance with Title VI of the Civil Rights Act in siting decisions throughout the U.S.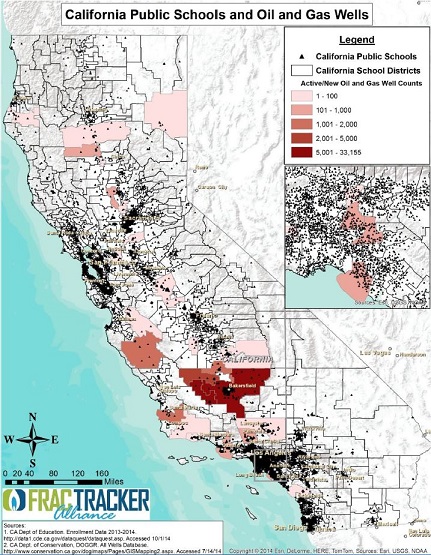 Environmental Sacrifice Zones
In Kern County, any new wells approved by the plan would be constructed in a region that is already very polluted.
According to the American Lung Association, Bakersfield, the largest city in Kern County, has the second worst year-round air quality in the nation. Adding potentially environmentally destructive activity to areas already besieged with pollutants, like Kern County, creates environmental sacrifice zones — areas permanently impaired by environmental damage.
These are areas where people live. Environmental activists say residents' lack of political power, plus ineffective state environmental oversight, makes these neighborhoods perennial dumping grounds for toxic waste. 
Dr Robert Bullard, Dean of the Barbara Jordan-Mickey Leland School of Public Affairs at Texas Southern University and commonly referred to as the father of environmental justice, tells DeSmog that it's easier to permit a facility in an area that's already polluted.
"I heard elected officials say, 'that area already has five facilities, one more won't make a difference,'" Bullard says. "That's like putting people with asthma in a room with smokers, and saying 'let's bring in more smokers.'"
Bullard, who was part of a team that updated the 1987 landmark study Toxic Waste and Race in the United States in 2007, found that over twenty years there had been no progress in protecting communities of color from environmental hazards. In fact, the situation deteriorated.
"In 1987, 33 percent of people who lived in a two mile radius of hazardous waste facilities were people of color," Bullard tells DeSmog. "Twenty years later, that number had jumped to 56 percent."
What Bullard and other frontline activists want is a federal threshold, a way to measure the cumulative impact of all types of pollution on an area.
"Permits are granted one at a time and they don't take account of (environmental hazards) already in the area," Bullard says. "We say common sense dictates that if a community has fifteen oil and gas facilities, you have to look at the cumulative impact of those facilities before adding one more."
The problem, Bullard says, is that states do the permitting and some states – he points a finger at Texas and the deep south – "have never seen a permit they haven't liked." Bullard says the EPA can and should usurp states' authority in the most egregious cases of state mismanagement.
"If the state agencies are not doing their jobs then the federal government should pull their money and enforce it directly. The most recent example is Flint. The state did not live up to what it should have done in protecting residents with clean water. A lot of people say the state should pay the price."
Community Activism and the 2016 Election
Though communities of color may not use the terms environmental racism or environmental justice, they're increasingly aware of how they're being impacted. And when local, state and federal governments neglect them, communities of color are getting themselves organized.
In Los Angeles last November, three groups – Youth for Environmental Justice, the South Central Youth Leadership Coalition and the Center for Biological Diversity – filed a lawsuit against the city, alleging L.A. was fast-tracking new oil and gas wells in minority communities without the environmental reviews required by the California Environmental Quality Act.
Residents of Buffalo, New York, recently won victories for regulatory actions and penalties against the Tonawanda Coke Corporation. In 2014 the company was forced to pay $24 million in criminal suit for releasing cancer-causing benzene at rates nearly 30 times higher than it reported to the EPA. In 2015 it agreed to pay $2.7 million in penalties and $8 million to upgrade its plant.
Before the Michigan primary in March, both Democratic candidates had plenty to say about how the drinking water crisis in Flint was an example of environmental racism.
In April, Hillary Clinton announced a new plan to eliminate lead as a major public health threat within five years. She also released a fact sheet outlining her plans to lesson the environmental burdens of communities of color.
As Senator in 2007, Clinton held the body's first ever hearing focused solely on environmental justice, and also sponsored the Environmental Justice Renewal Act in 2008, a bill that was never passed.
Clinton's 2016 presidential opponent, Donald Trump, has taken an "end it, don't mend it" approach to the EPA by repeatedly promising to eliminate the agency.
A recent poll conducted by Earthjustice and GreenLatinos found that Latinos believe strengthening the clean water act and reducing smog and pollution (90 percent and 85 percent, respectively) should be more important priorities for the president and Congress than immigration reform (80 percent).
That poll, along with assurances from both political parties that they won't take voters of color for granted, suggests that environmental justice may be heard more than once in this presidential campaign.
Blog image credit: Chris Jordan-Bloch/Earthjustice