Some of the largest, most profitable companies in Canada are collectively receiving an estimated $3.3 billion in subsidies every year from Canadian taxpayers, according to a new analysis.
The report, released today by the International Institute for Sustainable Development, a Canadian-based think tank, outlines how billions in federal and provincial tax breaks and corporate incentives benefit companies in the oil and gas sector like Imperial Oil, whose earnings in 2015 were CDN$1.1 billion.
The new analysis comes as Trudeau is in China for the G20 Summit. In 2009 G20 leaders committed to a complete phase out of all fossil fuel subsidies over the medium term and Justin Trudeau, while on the campaign trail, made an election promise to fulfill that commitment.  
"

Fossil fuel subsidies work against Canada's commendable progress in putting a price on carbon — they give money and tax breaks to the sources of carbon pollution that we're trying to scale back," Amin Asadollahi, North American Lead on Climate Change Mitigation at the International Institute for Sustainable Development, said.
Fossil Fuel Subsidies in Canada
Between 2013 and 2015 the federal government handed out an average of CAD $1 billion every year through the Canadian Development Expense program. During that same period an average of CAD $148 million was provided to oil and gas companies through the Canadian Exploration Expense program.
B.C. and Alberta also provide the lion's share of oil and gas subsidies through royalty reductions and drilling credits.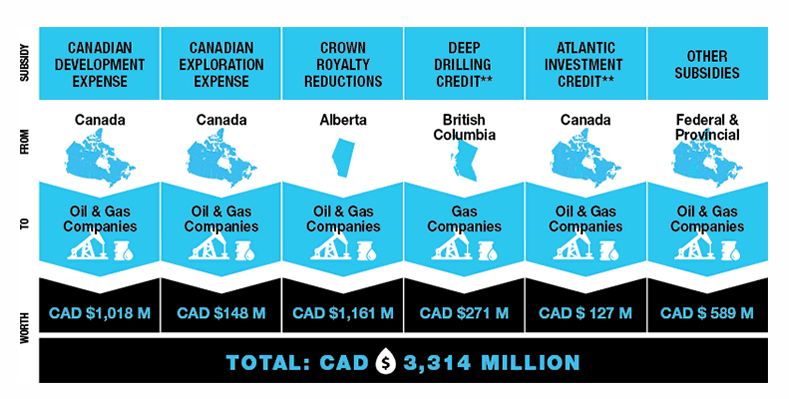 Oil and gas subsidies across Canada. Image: IISD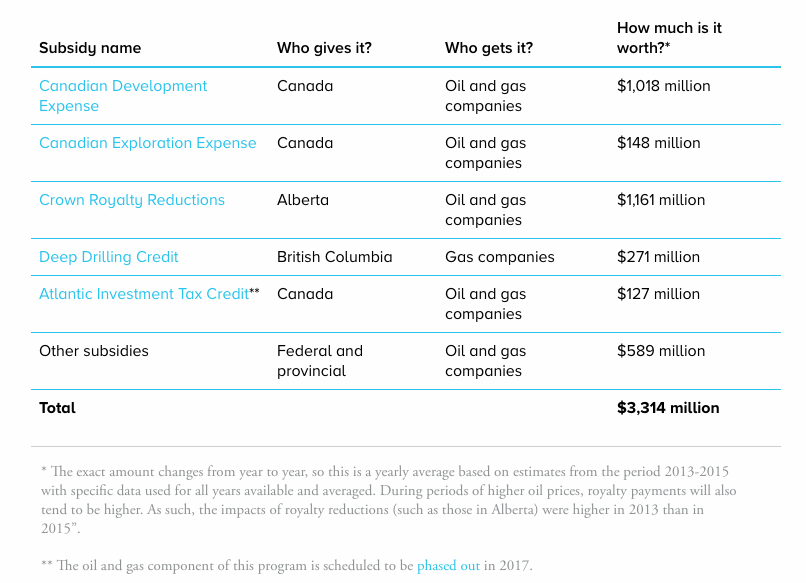 Some of the largest oil and gas subsidies in Canada. Image: IISD
Fossil Fuel Subsidies Better Spent Elsewhere
The new analysis details how those taxpayer funds could be better spent in Canada.
For instance, the institute calculates that $3.3 billion could pay for the education of 260,000 students, or job training for 330,000 Canadians, each year. Or each Canadian could just pay $94 less per year in taxes.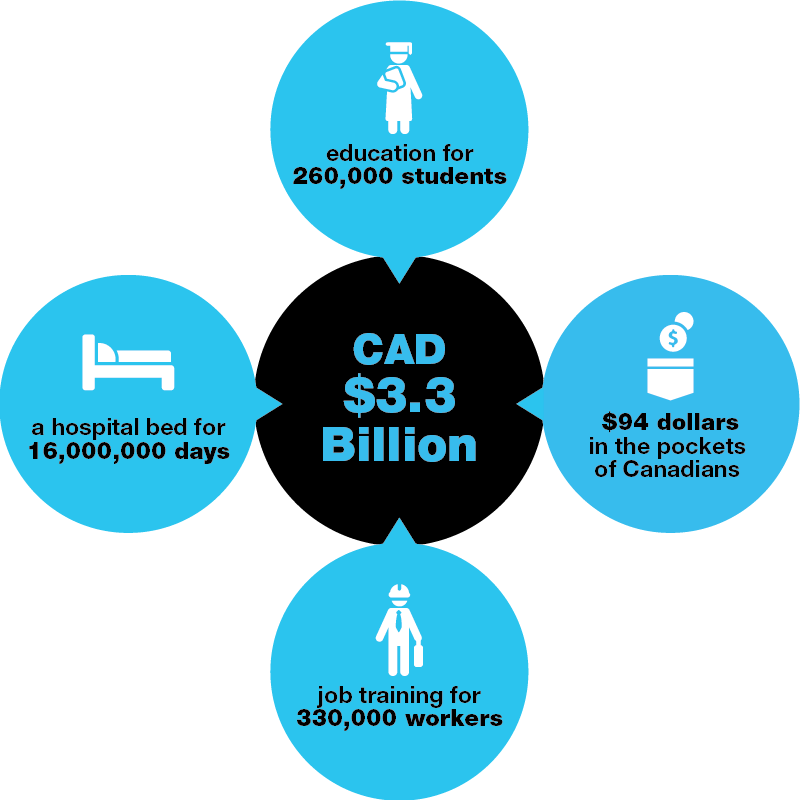 Image: IISD
Despite the global downturn in oil prices, some of the largest oil and gas companies in Canada have turned an impressive profit. In 2014 oilsands giant Suncor Energy posted a record profit, with operating earnings of CDN$1.37 billion.
Last year Suncor Energy and Imperial Oil ranked 11th and 12th respectively for most profitable companies in Canada.
Canadian Taxpayers Fork Out $3.3 Billion Every Year to Super Profitable Oil Companies https://t.co/yO6ILluS8S #cdnpoli #oilandgas

— DeSmog Canada (@DeSmogCanada) September 1, 2016
Subsidies for Fossil Fuels Undermine Carbon Tax
While oil and gas companies are getting windfall tax breaks, the Canadian government is proposing to put a tax on the greenhouse gas emissions that result from the production of oil and gas. 
As IISD analyst Amin Asadollahi describes it, "[i]magine the Canadian government taxed cigarettes with one hand, while handing out tax breaks to tobacco companies with the other."
Fossil fuel subsidies also undercut tax breaks and financial incentives for renewable energies like wind, solar and geothermal. 
In a 2015 report the International Institute for Sustainable Development along with Oil Change International found global subsidies for the fossil fuel industry are four times greater than subsidies for clean energy alternatives.
Clean energy analysts say the overwhelming emphasis on support for fossil fuel development has prevented the renewable energy industry from reaching its full potential. The renewable energy industry, despite the lack of help, is still booming and outpacing even the most optimistic predictions for its growth.
In its election platform the Liberal party promised to eliminate fossil fuel subsidies in order to support the growth of alternatives.
"The saving will be redirected to investments in new and clean technologies," the party platform says.