The shale gas and oil industry gathered in Pittsburgh this week for a major annual East Coast conference, Shale Insight 2016, and to hear the words of presidential candidate Donald Trump, who served as the keynote speaker.
"It's great to be with so many of my friends," Trump began. "Oh, you will like me so much."
Then, right out of the gate, Trump botched his facts about the shale industry he was there to address.
"Do you know all of my life, that business has never had problems, but in the last seven or eight years, it's been tough," he said. "With the EPA, with all of the difficulties you're going through."
As other speakers at the conference had noted, about eight years ago, the Marcellus shale industry barely existed — and the last seven or eight years have seen the industry's highest peaks, not just its recent lows. In fact, 2008 was the year that Prof. Terry Engelder first made national headlines by claiming that the Marcellus might theoretically contain trillions of cubic feet of gas, sparking one of the nation's largest shale drilling land rushes.
And while many in the oil industry have expressed displeasure with the EPA, the industry's current downturn is generally blamed on plunging oil and gas prices in the U.S. and worldwide, not on regulations.
These facts aside, Trump seemed to assume — in many cases, rightly, judging by the periodic applause from the audience — that he was among friends.
"You are going to like Donald Trump," he told the crowd of shale executives, "and all of the workers that get put to work, they're going to love Donald Trump."
But many of those workers themselves seemed to disagree. The International Union of Operating Engineers Local 66 pulled its regular $10,000 sponsorship from the Shale Insight conference over Trump's appearance. "There's just no way that I was going to associate Local 66 with any function that gives this guy an avenue to speak," Jim Kunz, the union's business manager, told the Pittsburgh Post-Gazette.
For the next 40 minutes or so, Trump's remarks continued much along these lines — a mix of claims that failed to withstand fact checks, striking self-contradictions, and a general warmth toward the oil industry along with an inflated expectation of what that industry could achieve.
"America is sitting on a treasure trove of untapped energy," Trump told the crowd. "Some $50 trillion in shale energy, oil reserves and natural gas on federal lands, in addition to hundreds of years of coal energy reserves. It's all upside for this country."
For the gathered shale industry reps, delivering the $50 trillion that Trump projected would be quite a feat, given their recent track record.
Last year, the oil and gas industry's 50 largest companies generated a net loss of $111.99 billion dollars, more than enough to wipe out their total gains from the previous three years of operations combined, an Ernst and Young report published this year concluded.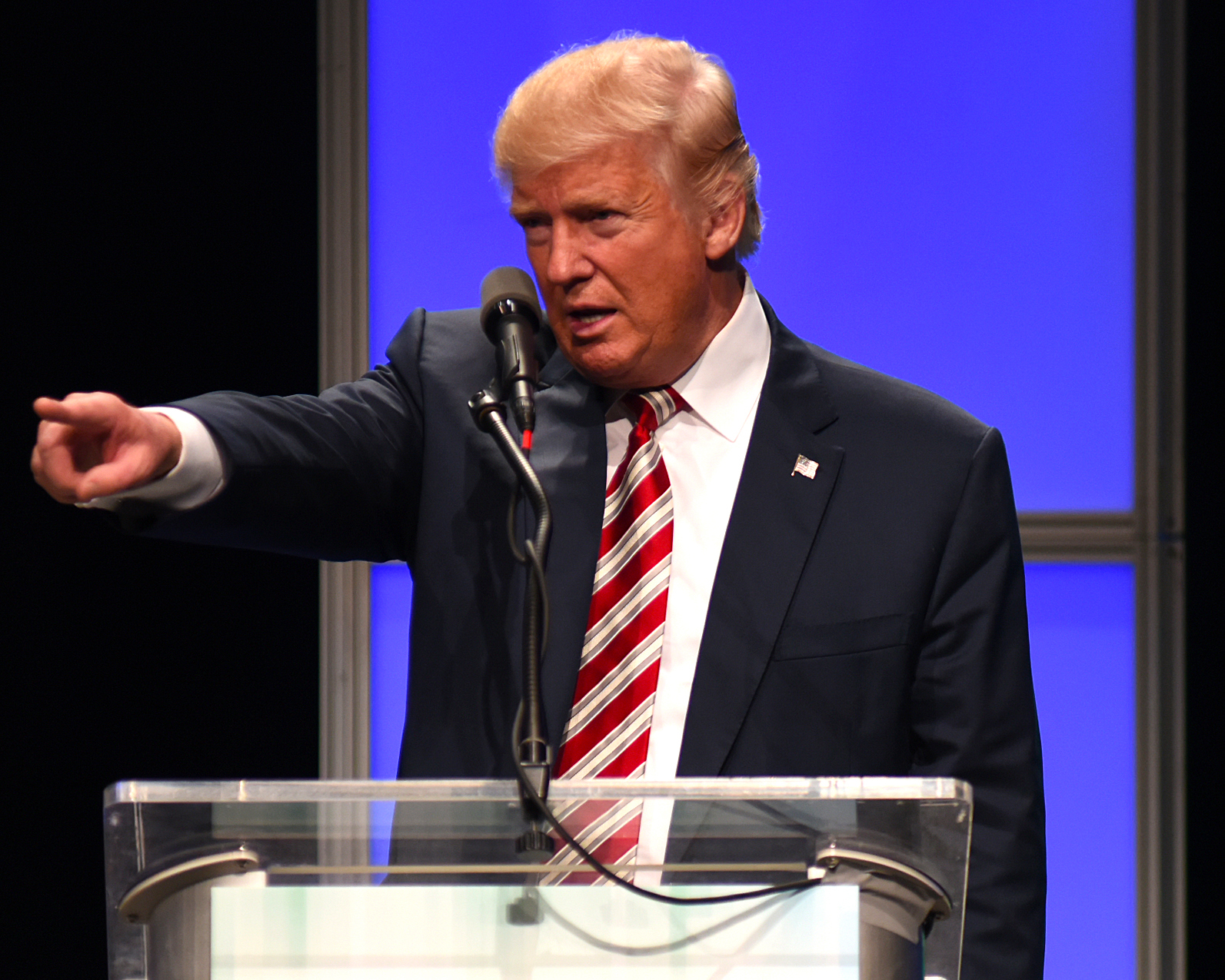 Donald Trump at Shale Insight 2016, Photo copyright: Laura Evanglisto, 2016.
This year's Shale Insight conference was strikingly smaller and less robust than events just a few years ago, reflecting an industry that has suffered layoffs, massive write-downs, and investigations for allegedly overstating the value of their oil and gas reserves (including a Securities and Exchange Commission investigation into the country's largest oil company, ExxonMobil, that was announced just this week).
Trump suggested that the oil industry's troubles stemmed from over-regulation, saying that if he was elected, he would lift "the restrictions on American energy," which he predicted would create benefits including 500,000 new jobs — every year.
Delivering those jobs would also be an extraordinary achievement, given that, according to data from the Energy Information Administration, the drilling industry managed to create a total of just 161,600 jobs from 2007 to 2012 — several years when the shale rush was sweeping across the U.S. — and that many of those jobs have now been lost in recent layoffs.
Trump's remarks betrayed more fundamental misunderstandings of the oil industry.
"And remember, every energy dollar that isn't harvested here in America is harvested instead in a foreign country, often foreign countries not very friendly to us," he said, seeming to ignore the fact that oil and gas rock formations can only be drilled from the country where they are physically located.
"That not only means that we're sending our jobs to those countries," he said, "but it means that energy is being produced in foreign countries that lack our high environmental and conservation standards, which we want to keep."
"We're going to be cutting — massively — regulations," he added, shortly after saying he wanted to keep the very environmental and conservation standards that those regulations create.
It's the kind of dizzying logic that has caused many commentators to say they find Trump's beliefs difficult to pin down or inconsistent.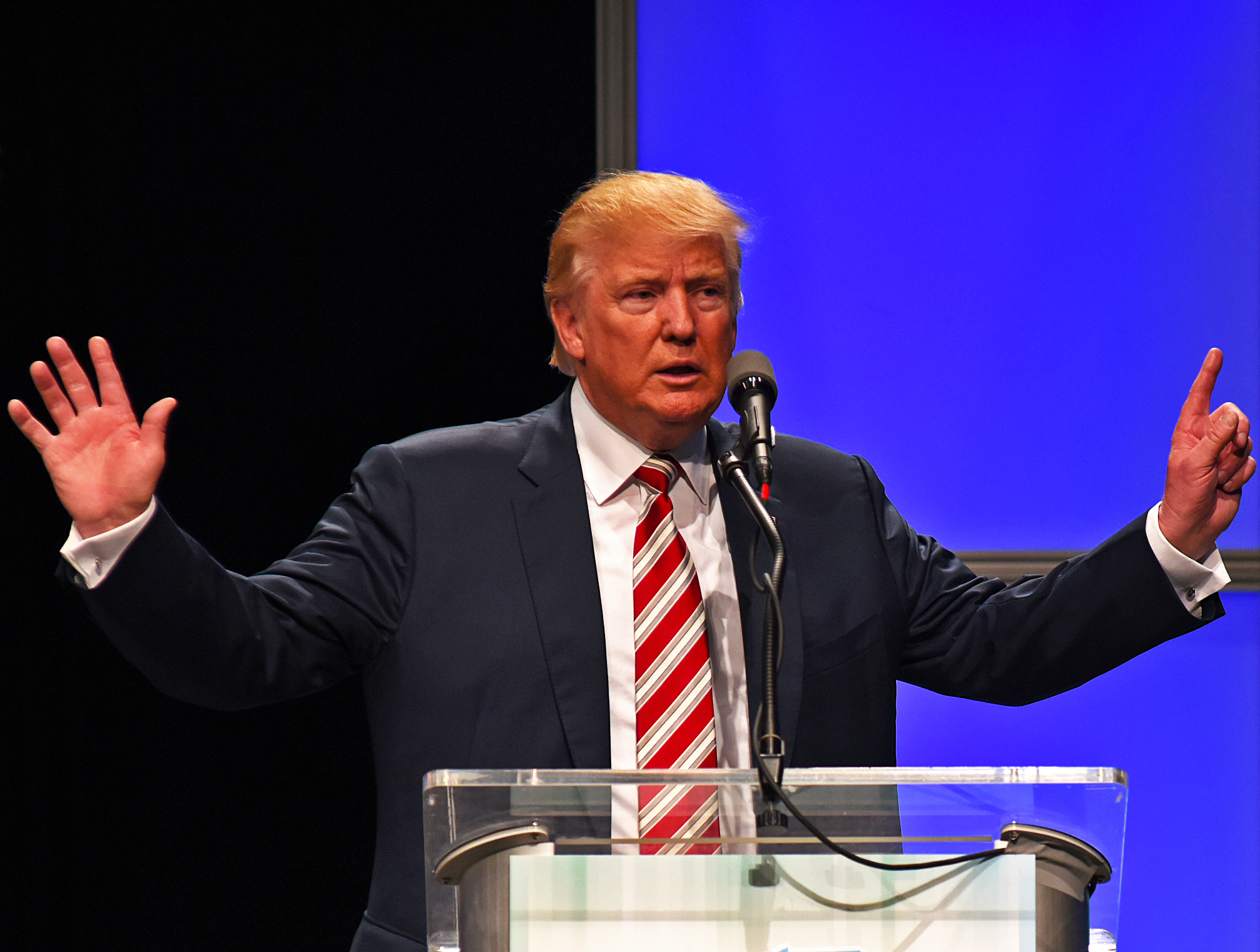 Donald Trump at Shale Insight 2016, Photo copyright: Laura Evanglisto, 2016.
Rally, Protest Outside Shale Insight 2016
Outside the convention center, about 150 protesters gathered for a rally and march.
"It's not really about jobs, it's about money," said Erin Kramer, a protester and organizer with OnePittsburgh. "Trump illustrates that to a T — with the package of that mass capitalism you also get a whole bunch of hate, a whole bunch of racial unrest and human rights violations."
Conference organizers indicated that Hillary Clinton was invited to attend, but told the Pittsburgh Post-Gazette that she declined, citing scheduling conflicts.
While Trump repeatedly called on the shale gas industry to help him get out the vote in November, before the event, it seemed he still had work to do to gain their enthusiastic support.
Within the Republican party, Trump has been an extraordinarily divisive figure, with many prominent Republicans refusing to endorse him. And when it comes to contributions from oilfield workers, Trump's reception from them has been notably muted.
"As of last week, Republican nominee Donald Trump raised a paltry $245,000 from individuals working in the oil and gas industry, according to figures provided by the nonpartisan Center for Responsive Politics," NPR's State Impact recently reported. (By contrast, Mitt Romney raised $5.9 million from the oil and gas industry in 2012.)
In Pittsburgh, Trump arrived for his speech late, then kept the executives, who included top officials at major oil and gas companies, waiting as conference organizers informed the crowd that Trump was pausing to spend another several minutes giving an interview, rather than speaking to the hundreds of businesspeople and journalists there to hear him speak.
But once he arrived on stage, Trump tried hard to make his own support for the fossil fuel industry quite clear.
"Producing more American energy is a central part of my plan to make America wealthy again, especially for the poorest Americans," he said. "I knew I'd have to make that statement in order to get you guys a little bit enlivened. Oh well, you'll like the rest of what I've got to say even more."
Trump also used a significant portion of his time at the podium to comment on protests over the police killings of black Americans, and it was those remarks that drew the most attention from the national media. He decried recent protests in Charlotte, North Carolina, which were sparked by the police killing of Keith Lamont Scott, father of seven, who neighbors say was waiting for his son to arrive on a school bus.
Even before the police released video of that death, whose circumstances they've disputed, Trump had made up his mind about who he was behind. "The men and women in blue need your support," Trump told the crowd. "They need your thanks and they need your gratitude."
He seemed to suggest that Black Lives Matter protests were fueled not by anger over the police killings of black Americans, but by drugs. "And if you're not aware, drugs are a very, very big factor in what you're watching on television at night," Trump told the crowd.
Clinton supporters quickly seized on Trump's remarks, especially his comments disparaging the protests over police violence.
"Today, in a room full of oil executives, Trump blamed the Charlotte protests on 'drugs' and insinuated that his administration would have no 'compassion' when it comes to criminal justice," Brad Woodhouse, president of Correct The Record, which describes itself as "a pro-Hillary Clinton Super PAC," said in a statement. "Despite weeks of so-called outreach to communities of color, Trump today showed us who he really stands with: wealthy fossil fuel special interests."
To be sure, Trump was in Pittsburgh primarily to discuss another conflict — the fight over the fate of the fossil fuel industry.
"It's war," Trump said. "And you people know it's war."
The stakes are indeed high. Climate scientists warn that if the world's remaining oil, gas, and coal are burned, the climate consequences would be extraordinarily catastrophic.
In an open letter this week, 375 members of the National Academy of Scientists, including Steven Hawking, issued a grave warning. "It is of great concern that the Republican nominee for President has advocated U.S. withdrawal from the Paris Accord," the scientists wrote. "The consequences of opting out of the global community would be severe and long-lasting — for our planet's climate and for the international credibility of the United States."
Trump made it clear that if he was elected, his administration would go further, repealing several measures aimed at curbing climate change. "We will eliminate the highly invasive 'waters of the U.S.' [Clean Water Act] rule and scrap the $5 trillion Obama-Clinton climate action plan and the Clean Power Plan," he told the crowd.
Then he left the room to a standing ovation.
Donald Trump at Shale Insight 2016, Photo copyright: Laura Evanglisto, 2016.
Main photo credit: Laura Evangelisto, copyright 2016.