It took two and a half months after methane first started leaking from the Aliso Canyon storage facility on October 23, 2015 for the state of California to declare a state of emergency.
By the time the leak was stopped in February 2016, the blowout at Aliso Canyon had caused an estimated 100,000 metric tons of natural gas to escape into the atmosphere, the largest single emission of methane documented in U.S. history. Thousands of homes had to be evacuated in the nearby North San Fernando Valley community of Porter Ranch, where residents suffered headaches, nosebleeds, rashes, and other serious health impacts due to the gas leak.
To commemorate the one year anniversary of the blowout last Sunday, local residents, political leaders, and environmental activists held a rally in Porter Ranch's Holleigh Bernson Memorial Park, followed by a march to highlight their calls for the Aliso Canyon facility to be shut down permanently.
Locals are well aware that shutting down the storage facility owned by Southern California Gas Company (SoCalGas) will not be a simple task.
"People think we are fighting Goliath and we are," said Matt Pakucko, president and co-founder of Save Porter Ranch, according to the Los Angeles Daily News.
But Pakucko pointed out that there are compelling reasons for the community to get organized and demand the facility's closure. "Remember this very park was closed, many of your homes were closed, our schools were closed because of that facility," Pakucko said. "That place is still leaking. We've had four leaks that they've announced since it's been shut down … They've had four fires since the place has been shut down, including that huge one last week. People are still getting sick."
For its part, SoCalGas said in a statement that "over the past year, SoCalGas has worked alongside regulators and local, state and federal officials to implement comprehensive infrastructure, technology, and safety enhancements at our Aliso Canyon natural gas storage facility."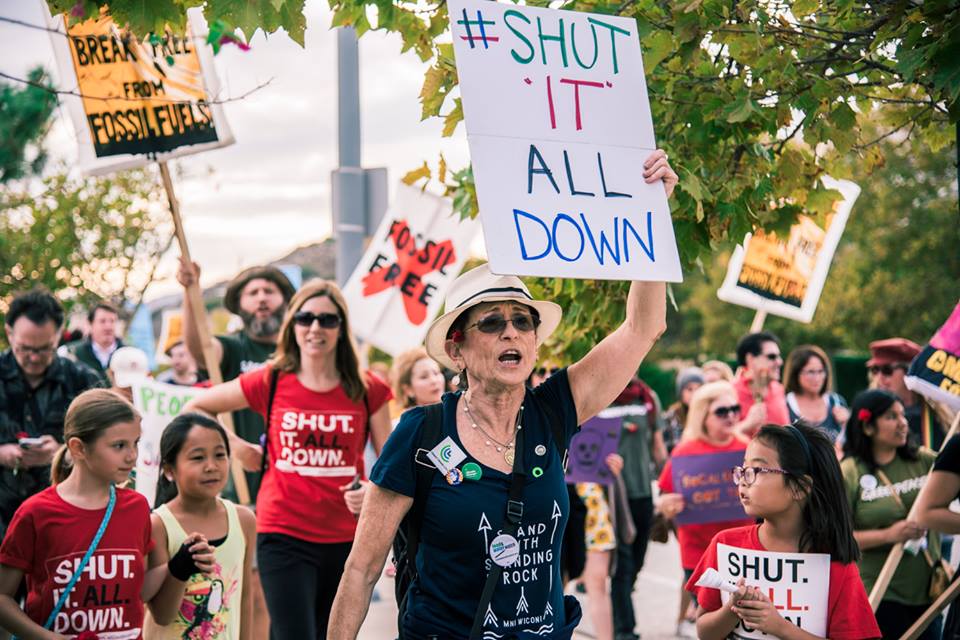 Used with permission from Hannah Benet Photography
The company is hoping to re-open the facility, which has been closed since January. Alexandra Nagy, an organizer with the nonprofit Food & Water Watch, said that she fears the company is planning to quietly resume operations at Aliso Canyon during the holiday season, while most people's attention will be elsewhere.
"We have to be ready," the LA Daily News reported Nagy as telling the crowd at the rally. "This crowd here today is great, but we have to be extra committed and double down, knock on every neighbor's door, to show up to these hearings and push back and not let SoCalGas open (the storage facility)."
Last Sunday's rally echoed calls for the closure of Aliso Canyon that locals and activists have been making since at least this past April. SoCalGas was pushing for operations at its storage facility to resume, with warnings of blackouts throughout the summer should Aliso Canyon be forced to stay offline. As this was unfolding, residents began calling for the natural gas storage facility to be shut down permanently.
Porter Ranch residents certainly haven't had a chance to forget about the threat SoCalGas's facility poses to their community, as there have been at least four more incidents since the blowout and subsequent leak that began late last year. Nine months after the October 2015 blowout, for instance, another leak was discovered at Aliso Canyon. Though this one was stopped within a day, the way the company handled disclosure of the leak was met with heavy criticism by locals who felt that the company's first concern was its reputation and profits.
"Our communities in the North San Fernando Valley were deeply impacted and still have yet to recover from this disaster," the group Save Porter Ranch wrote on Facebook. "The Aliso Canyon gas storage facility continues to leak and poison our communities daily, thousands are still sick, and yet SoCalGas is rushing to re-open this DANGEROUS facility."
Feature Image Credit: Hannah Benet Photography