On the doorstep of Yellowstone National Park, an area known internationally for its abundant wildlife and spectacular scenery, a Vancouver-based junior mining exploration company is causing community ructions over its plan to search for gold at Emigrant Gulch, a fragile ecosystem about four kilometres from the Yellowstone River and 24 kilometres from the park boundary.
Lucky Minerals Inc., a company that lists only the Montana proposal in its financial statements, wants to drill up to 46 core holes on privately-owned land to assess gold, copper, silver and molybdenum deposits in an area where there has been mining in the streambed since the 1880s.
If the results are positive and permits are issued, the company will look for investment to construct an underground mine, which could be in operation in 10 to 15 years, Shawn Dykes, Lucky vice-president, said in an interview.
But the proposal has brought overwhelming opposition from residents who are concerned about both the environmental effects and the company's finances, which they fear are not solid enough to ensure the area is remediated.

"Lucky Minerals doesn't appear to have the money to conduct the exploration they're proposing, let alone the reclamation," said Beth Kampschror of the Greater Yellowstone Coalition, after combing through company reports showing that on June 30 the company's cash balance was $123,838.
A note by the auditors points out that the company will need additional capital to finance ongoing exploration.
"The company has limited financial resources, has no source of operating income and has no assurance that additional funding will be available to it for further exploration and development of its projects," says the report.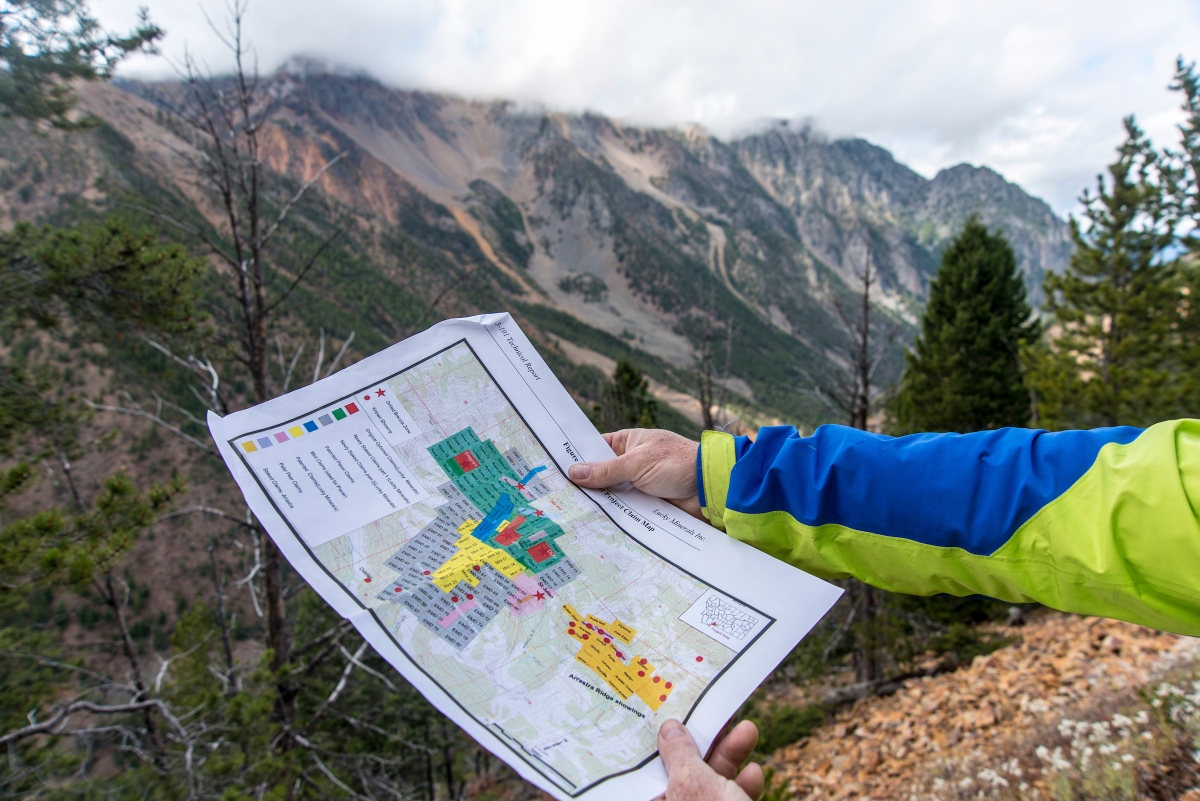 Map of mining claims and leases acquired by Lucky Minerals in Emigrant Gulch, Montana. Emigrant Peak is in the clouds to the background right. Credit: William Campbell.
The cost of filling in the core holes could be about $11,000 for each hole, according to estimates by Montana's Department of Environmental Quality — which means the company does not have the cash on hand to do the necessary work, said Liz Purdy of Greater Yellowstone Coalition.
But the financial concerns are dismissed by Dykes who said the holes will be filled with cement at a cost of about $2,000 each, and the work will be done to the satisfaction of the Department of Environmental Quality and the Forest Service.
"We will make sure the bats are happy and the frogs are happy and no one can go in and kill themselves," he said.
It is not unusual for junior exploration companies to have limited available cash, Dykes said.
"Exploration companies never have money because they are always spending it. We go to investors, who invest in the stock and then we go and spend it and then there's no money left," he said.
The Montana Department of Environmental Quality, in a draft environmental assessment has concluded that, with mitigation, environmental impacts from the exploration will not be significant and has sent the proposal for a 60-day public comment period, ending December 12.
All comments will be taken into account and a decision is likely to be several months away, said public policy director Kristi Ponozzo.
Although there has been a history of companies failing to live up to reclamation requirements, there is now strong bonding legislation and it is strictly enforced, Ponozzo said.
"Before they can do any exploration they have to post their bond. If they can't post their bond they can't do any exploration," she said.
Opposition to the plan is coming from a wide swath of Paradise Valley residents including the Yellowstone Gateway Business Coalition, which describes itself as a pro-business, pro-property rights group "representing thousands of hardworking employees and their families."
"While not anti-mining, we recognize not all mining is created equal. Our gateway communities — surrounding Yellowstone — are no place for sulphide gold mines," says a statement from the group, which is distributing lawn signs saying "Yellowstone is more valuable than gold."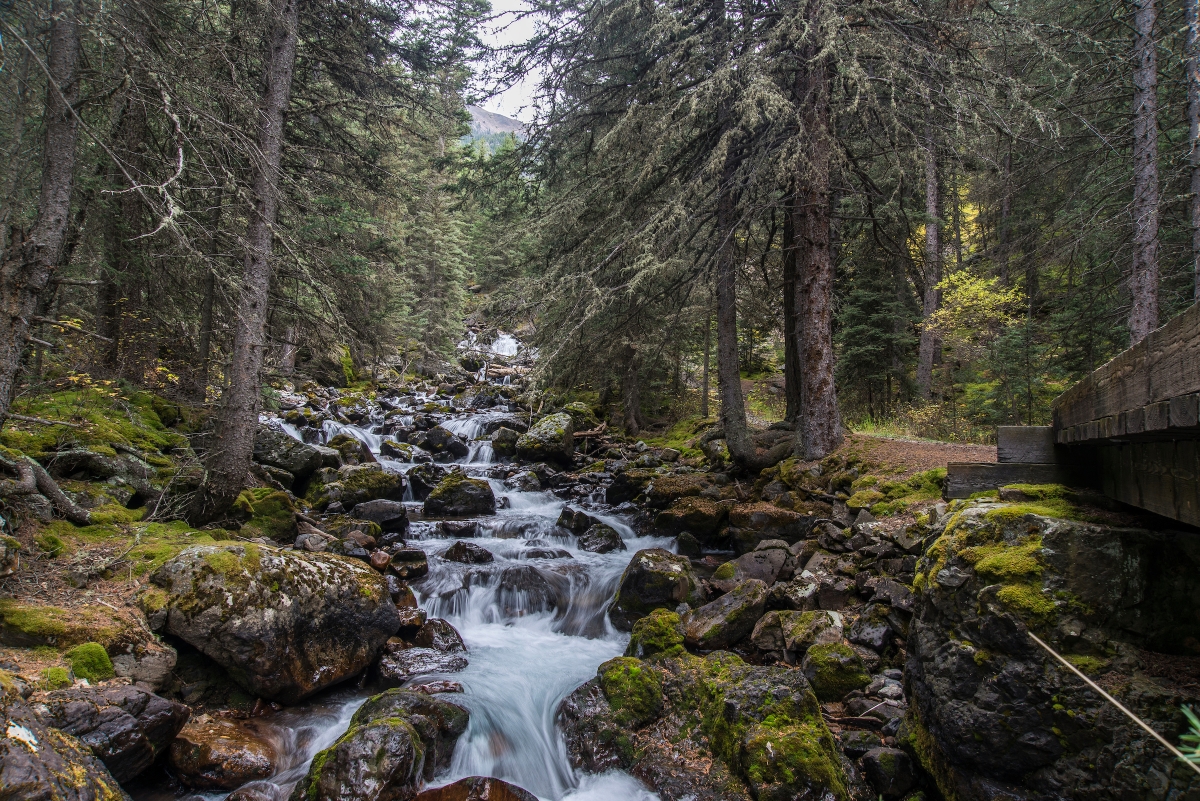 Emigrant Creek flowing out of Emigrant Gulch. Credit: William Campbell.
If the natural beauty of the area is compromised, the tourism-based economy will also collapse, say business owners and residents, who are skeptical about claims that a mine would bring prosperity to the area.
"The economic gain is going to be so compressed, it's going to be like a gold rush, short and fast with a massive amount of damage and it will be gone," said Colin Davis, owner of Chico Hot Springs Resort and Spa, in a video prepared for the business coalition.
The area has a history of companies arriving, deciding the profit is not high enough and leaving without cleaning up, says Bryan Wells, owner of Emigrant Creek Cabins.
"These mining companies have come here over the years and they have made all sorts of promises — everything they are going to do for the community," Wells said.
"When things don't pan out they get amnesia and forget all about the promises they have made and they leave — and they leave a mess," he said.
According to Dykes those problems occurred in the bad old days when rules were not enforced and companies walked away from their responsibilities.
"You can't do that today," he said.
Those fighting against the mine scored a victory this week when U.S Department of Interior Secretary Sally Jewell and Department of Agriculture Secretary Tom Vilsack recognized the importance of protecting the gateway to Yellowstone with a two-year moratorium on gold exploration on public lands in the area.
The business coalition and environmental groups hope the time-out on mining, will turn into a legislated mining ban on the 30,000 acres of public land included in the moratorium.
"Today's decision buys the community and the Congressional delegation time to discuss and consider the prospect of a longer-term solution," said Theresa Pierno, National Parks Conservation Association president.
"We call for a full science-backed review of the resources at stake on these lands and the permanent protection of this priceless landscape."
Although the Lucky Minerals exploration would take place on private land and would not be affected by the moratorium, the original proposal included exploration on public land. That application was withdrawn because the study would have taken two years, but there are hopes it could be revived in the future, Dykes said.
Another application, by a different company, for exploration in an area closer to the Yellowstone Park entrance is on hold because proponents have not yet provided enough information.
Although the moratorium does not affect the private land proposal, it sends a message on the importance of the area, both to wildlife and the local economy.
"Mining in Yellowstone's gateway not only threatens our jobs and our quality of life. If developed, these mines would industrialize critical habitat for grizzly bears, cut off migratory corridors for elk and risk poisoning the Yellowstone River with acid runoff," said Michelle Uberuaga, Park County Environmental Society executive director.
Vancouver Company At Centre of Gold-Mining Controversy on Edge of #Yellowstone National Park https://t.co/2hoVvmdZur #bcpoli #cdnpoli #YVR

— DeSmog Canada (@DeSmogCanada) November 23, 2016
The political battle to protect the area from mining has been led by Montana Senator Jon Tester, a Democrat and it is not yet known how the Donald Trump administration will view the push for protective legislation.
Tester, in a letter to the federal government, sent before Monday's moratorium announcement, said mining is not appropriate near the entrance to Montana's first national park.
"The local economy in the Paradise Valley and Gardiner Basin is diverse and thriving due to the quality of life, opportunities for world-class fishing and other outdoor recreation, and the millions of visitors that Yellowstone draws through these communities every year. The prospect of large-scale mining operations threatens the unique nature of this area and the livelihoods of the people who live there," he wrote.
The broad community concern about the mining proposals should send a strong message to whoever is in charge politically, said Jenny Harbine, Earthjustice staff attorney, pointing to devastating environmental impacts from other Montana mines.
"This is a project that threatens our way of life," she said.
It is also troubling that representatives of Lucky Minerals have been entirely absent from the community, Harbine said.
"In other areas at least the company showed up," she said.
The community has every right to be nervous, said Ugo Lapointe, MiningWatch Canada program coordinator.
"Generally speaking, impacted communities should always be wary of small, penny-stock companies, with little or no financial capacity, as they can't afford best environmental and social practices — let alone even respect environmental regulations," he said.
"In other words, we find repeatedly in our work that there is a strong correlation between increased socio-environmental risks and corporate financial risks."
Canadian mining companies have come under increased scrutiny since the tailings dam at Mount Polley collapsed in 2014 sending 24-million cubic metres of waste and sludge flooding into nearby lakes and rivers.
Main image: Chico Hots Springs Resort in foreground with Emigrant Peak and Emigrant Gulch proposed mining area behind the locally owned world famous resort. Aerial flight by Bruce Gordon-EcoFlight. Photo by William Campbell.