Since 1977, the Federal Energy Regulatory Commission (FERC) has been quietly reviewing and authorizing liquid natural gas (LNG) terminals, interstate natural gas pipelines, and non-federal hydropower projects. It's been approving far too many projects with too little scrutiny, said participants at the so-called "People's Hearing" in Washington, D.C. on December 2. 
At the day-long event, more than 100 people representing 65 communities from across the country gathered at the National Press Club to denounce what they call FERC's "rubber stamp" review and approval process that favors natural gas pipelines over the rights of homeowners and communities. 
Specifically, critics say FERC has been misusing the language of the Natural Gas Act of 1978 to undermine the rights and authority of states and to minimize communities' input in the decision-making process for pipelines and LNG terminals. That's according to Maya K. van Rossum, leader of the Delaware Riverkeeper Network and an organizer of the event. 
"People felt empowered by the hearing," van Rossum told DeSmog. "We've been in an abusive situation with FERC for years." 
She added that the hearing supported a request signed by more than 180 organizations calling on the U.S. Senate Energy and Natural Resources Committee and the House Energy and Commerce Committee to investigate FERC and to reform the Natural Gas Act.
"FERC has a revolving-door relationship with the companies it is supposed to regulate," van Rossum said.
Critics of FERC point out that the agency has approved every pipeline it reviewed for several decades, except one earlier this year — a pipeline and LNG terminal in coastal Oregon. They say this proves FERC is neglecting, even abusing, its oversight and regulatory duties. 
Despite "Federal" in the name, FERC is not technically a government agency. It is funded largely by the American Petroleum Institute and licensed by the U.S. Department of Energy to see that every application meets criteria for approval. Critics say FERC approves every project that meets the bare minimum for approval. This year FERC has approved 38 major pipeline projects in the U.S. as of October 2016.  
Hearing Makes
FERC

's Alleged Abuses Personal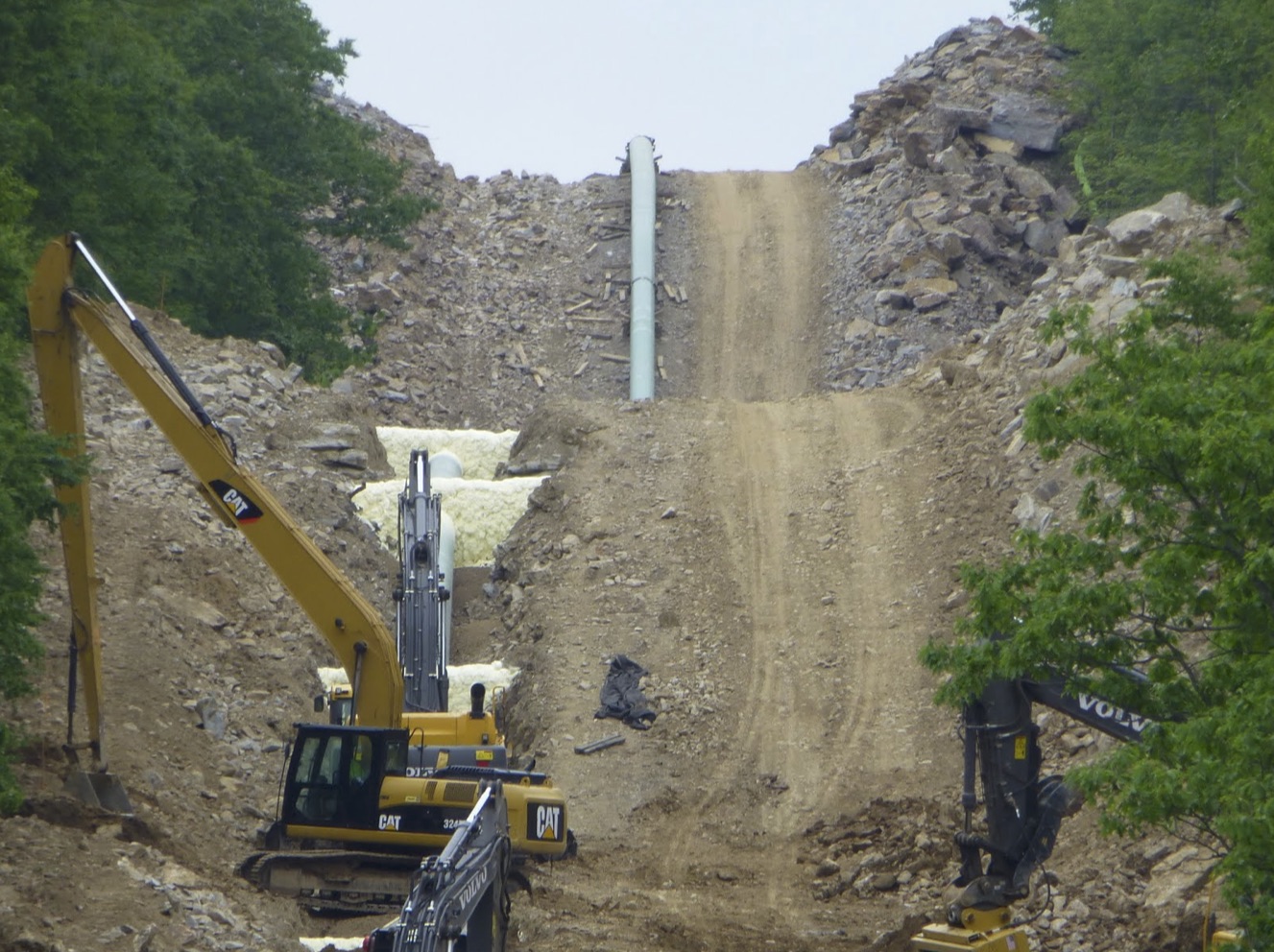 The Northeast Upgrade Project in New Jersey was the focus of testimony about FERC's alleged abuses at the "People's Hearing" December 2. Part of the this project was laid down before a federal judge ruled FERC had misused legal authority to allow construction. Credit: Delaware Riverkeepers
Testifiers at the December 2 hearing included Megan Holleran, whose family maple syrup forest was seized by eminent domain and clear-cut for construction of the Constitution Pipeline in Pennsylvania. 
Holleran said FERC was derelict in its duty by not waiting until all permits from local lawmakers were in place before the pipeline company, Williams, dispatched workers to cut down her 50-year-old trees. The company didn't wait until the New York legislature approved that state's leg of the pipeline to start destroying property in Pennsylvania.  
"I blame FERC just as much as Williams," Holleran told DeSmog after her testimony. "They're both working for the same purpose, to build pipelines. FERC is supposed to be regulating but it isn't." 
Spencer Phillips testified that his firm, Key-Log Economics, documented costs of pipelines that FERC doesn't consider in its cost analyses.
"FERC doesn't do an adequate job of considering the economic costs of people and communities in the path of a pipeline," Phillips told DeSmog during a break in the hearing. 
He added that his analyses showed how pipelines significantly affect recreational and economic development losses in the communities they pass through, as well as property values of homes that could be in a blast radius of a pipeline explosion. 
"FERC uses wildly inflated studies of the economic benefits of pipelines, but not the costs, and they uncritically adopt poorly researched and inflated estimates by the pipeline applicants," Phillips said. 
Anneke Walsh, a member of Delaware Riverkeepers and a moderator at the People's Hearing, told DeSmog she was amazed by the testimony of so many people who were abused, directly and indirectly, by FERC's decisions.  
"Some families described having headaches, severe nosebleeds, and increased instances of asthma from being near pipelines," said Walsh. "Others testified that pipeline company workers were harassing families, cursing, threatening, and trespassing on property."
The common thread, Walsh told DeSmog, is that FERC does not work for the people. 
"Whenever people attempted appeals, to work with FERC, to understand the paperwork, and so on, FERC simply ignored them," said Walsh. "Either not answering at all or telling people it was not FERC's job to interpret the paperwork for the citizens they were affecting."
Demand for Congress to Reign in
FERC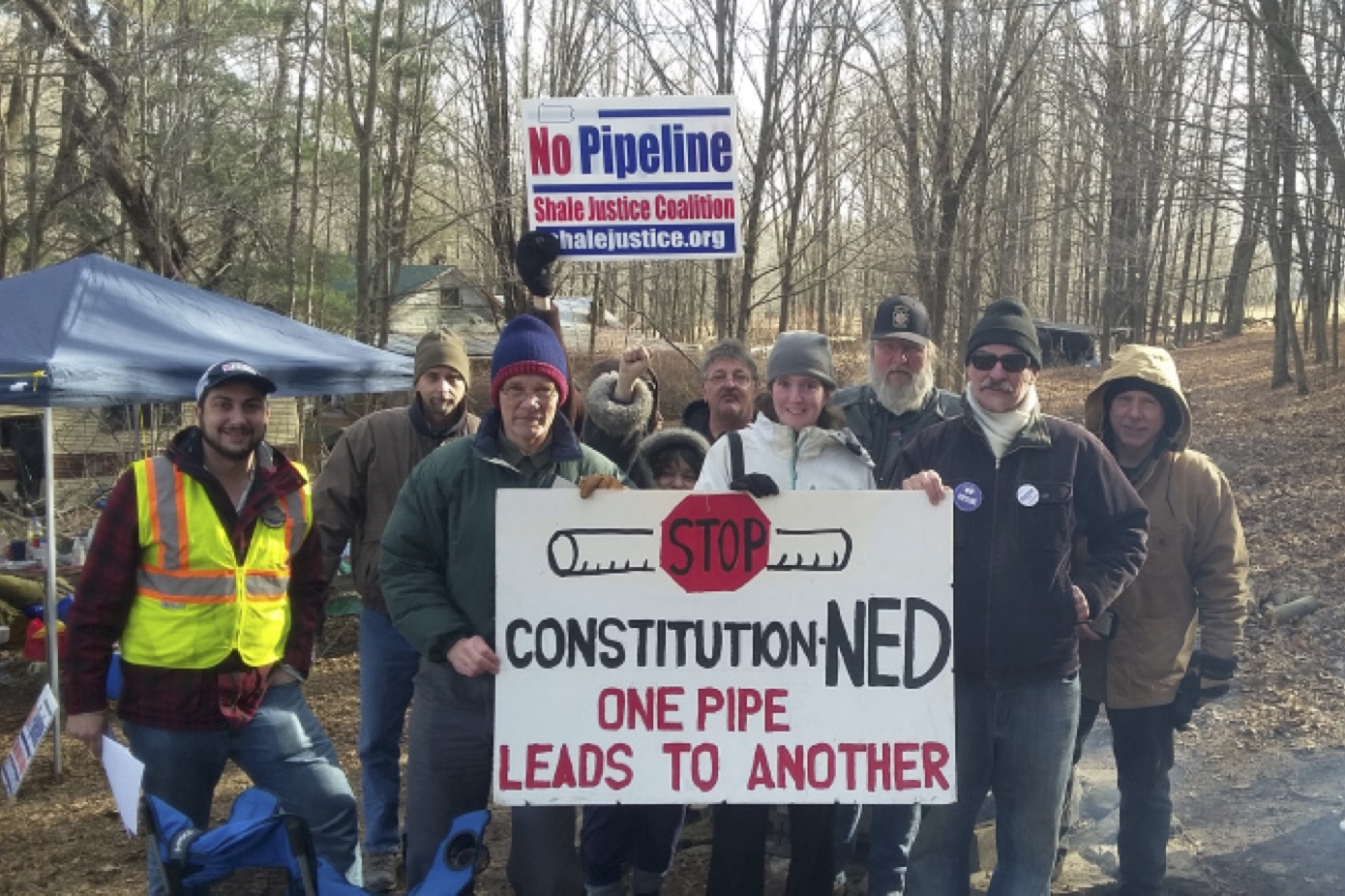 Activists from Beyond Extreme Energy try to stop the clearing of maple trees for the Constitution Pipeline in northeastern Pennsylvania. Credit: Beyond Extreme Energy, one of the sponsors of the People's Hearing
Walsh and other moderators from the hearing are compiling testimony to be used in a report to be presented to the U.S. House Committee on Natural Resources after the new Congress convenes in January.
Van Rossum told DeSmog that reforming FERC is an uphill battle, but that several lawmakers, including Senator Bob Casey (D-PA) and Representative Frank Pallone (D-NJ) have indicated interest in their cause. Staffers from both lawmakers' offices showed up at the hearing. 
"I don't expect anti-environment representatives will be interested, but property rights and environmental issues cross political boundaries," van Rossum said. "Democrats and Republicans should care about the abuse of eminent domain, at least. Both parties should be listening to their constituents on this."
Representatives from FERC did not return requests for comment.
Main image: Maya K. van Rossum opens the People's Hearing on December 2, 2016 at the National Press Club. Credit: Delaware Riverkeepers