Compared to many other Senate confirmation hearings for potential Cabinet members, the hearing for U.S. Energy Secretary proved much faster and less rocky for nominee and former Texas Republican Governor Rick Perry. 
Perry's hearing lasted about three and a half hours and included only two rounds of questioning. That was far shorter than either Oklahoma Attorney General Scott Pruitt's nearly six hour hearing for Environmental Protection Agency head, in which he faced four rounds of questions, or the eight and a half hour hearing for Secretary of State nominee and retired ExxonMobil CEO, Rex Tillerson. Before this hearing, Perry was on the record as an enthusiastic climate change denier who previously failed to come up with either the name or the functions of the agency he could soon run.
It seems unclear why Perry, a just-departed board member of Energy Transfer Partners — owner of the Dakota Access pipeline — skated through with far less turbulence than his peers. One potential explanation: some senators from the Committee on Energy and Natural Resources found themselves busy with another task, besides questioning Perry, today. That is, they were in a rush to get to the "Leadership Luncheon" put on by the Trump Inaugural Committee, the latter funded by major corporate sponsors, including Chevron, J.P. Morgan Chase, Bank of America, and others. 
Leadership Luncheon
Held at the Trump International Hotel in Washington, D.C., located just blocks from the White House, the luncheon provided an opportunity for U.S. congressional leadership and Trump's Cabinet nominees to intermingle with big-money donors to his inaugural committee. 
"Donors in the '$1,000,000+' category will receive four tickets to a 'leadership luncheon' billed as an 'exclusive inaugural event' for donors in that category and featuring 'select Cabinet appointees and House and Senate leadership to honor our most generous inaugural supporters,'" explained an investigative piece published by the Center for Public Integrity in November, pointing to a brochure it had obtained and authenticated.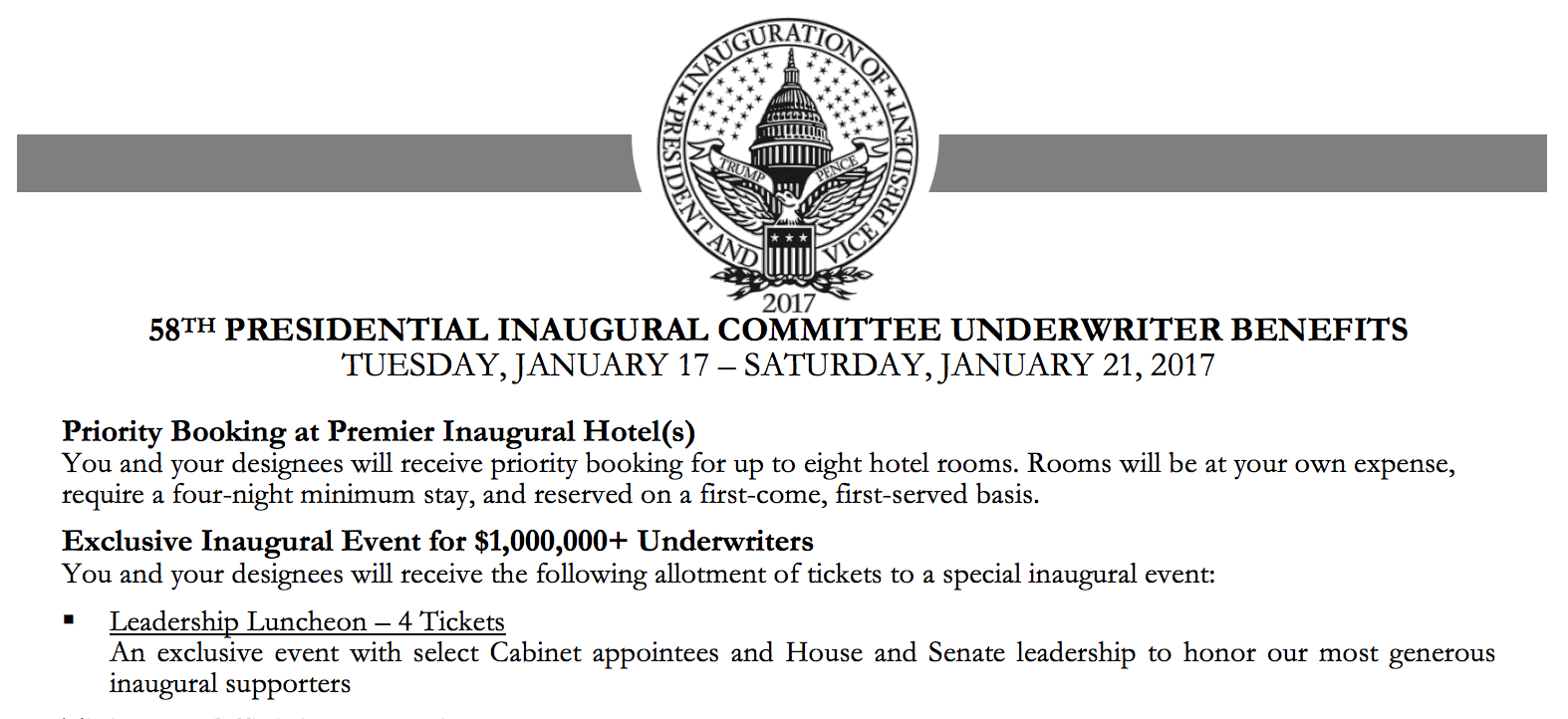 Image Credit: 58th Presidential Inaugural Committee
In November, The New York Times also reported that Chevron had donated $500,000 to the Trump Inaugural Committee, which at that level would have excluded its lobbyists or executives from attending the Leadership Luncheon. While it's unclear whether Chevron has upped its donation since then to $1 million, under ethics laws the company will not be required to disclose its full donation until April, 90 days after Trump's inauguration.
The event was eventually closed to the media, but somehow, major cable news outlets including Fox News, MSNBC, and CNN were initially allowed in and aired the first eight minutes of President-elect Donald Trump's speech before getting booted out.
In the televised portion, Trump introduced some of those in attendance, such as House Majority Leader Kevin McCarthy (R-CA), Senate Majority Leader Mitch McConnell (R-KY), Attorney General nominee Sen. Jeff Sessions (R-AL), and U.S. Ambassador to the United Nations nominee, South Carolina Republican Governor Nikki Haley. Mississippi Republican Governor Phil Bryant also posted a picture of himself and his wife at the event on Twitter.
Attending to
LNG

Exports for Chevron?

Another luncheon attendee was Sen. Cory Gardner (R-CO), a member of the Committee on Energy and Natural Resources and major promoter of exporting gas obtained via hydraulic fracturing ("fracking") in the form of liquefied natural gas (LNG). The U.S. Department of Energy (DOE) is one of two agencies, alongside the U.S. Federal Energy Regulatory Commission (FERC), which gives permits to export LNG.

Chevron gave $10,000 to Gardner during his time as a member of the U.S. House of Representatives and another $7,000 toward his victorious 2014 U.S. Senate campaign. Gardner's wife, Jaime Gardner, formerly served as the Executive Director of the Consumer Energy Education Foundation, the foundation side of Consumer Energy Alliance (CEA). CEA is an industry front group funded by 83 fossil fuel industry members, including Chevron. 

Gardner asked Perry a question during round one of his hearing and, perhaps unsurprisingly, was absent for round two of queries. After his first question was answered, C-SPAN's coverage (see starting at 1:53:08) depicts Gardner packing up his papers and bolting from the room.

DOE filings show that Chevron has an application pending, submitted in September, to export gas from the Sabine Pass LNG terminal owned by Cheniere.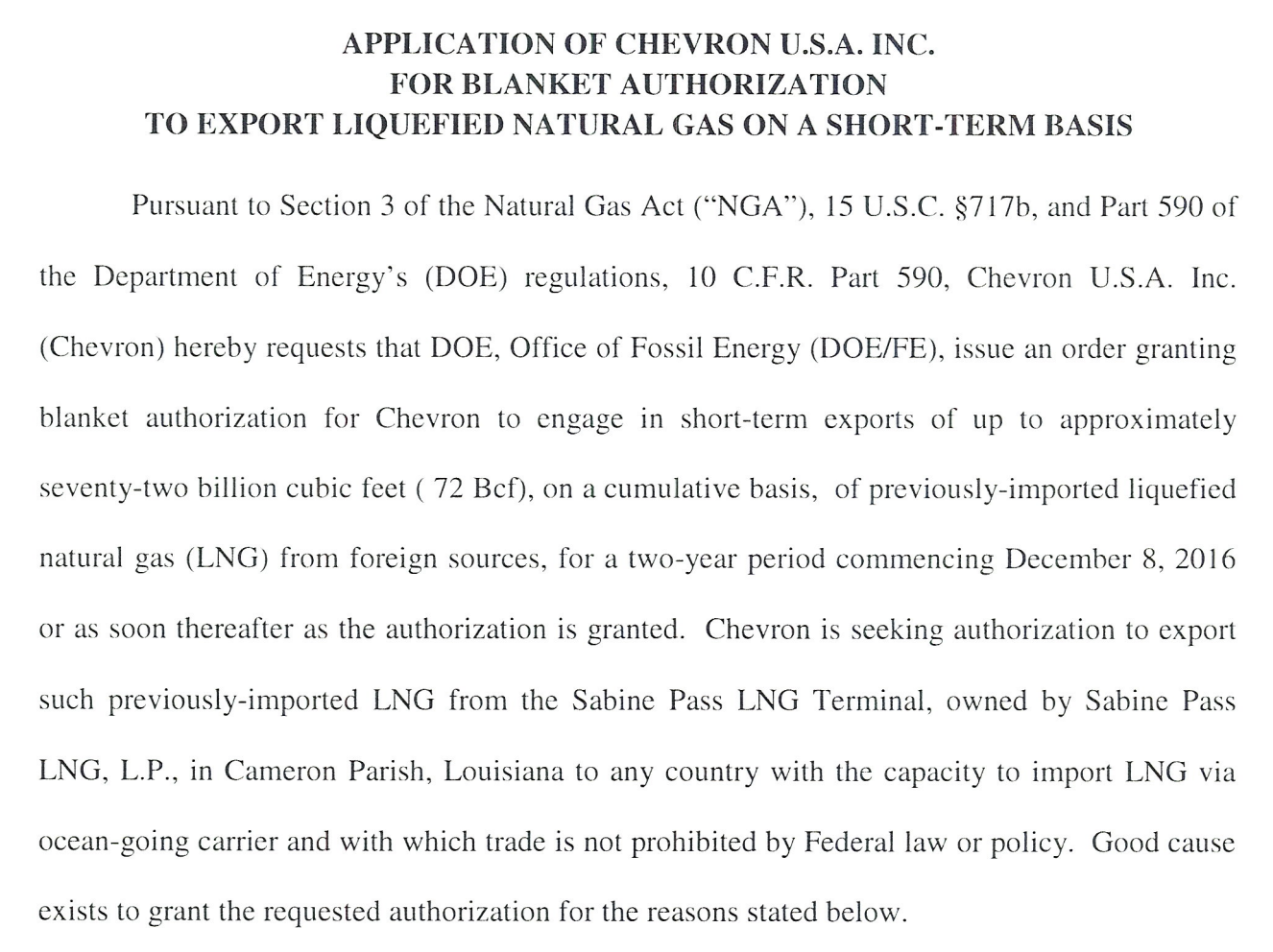 Image credit: U.S. Department of Energy
In the months prior to submitting the application to the Department of Energy, Chevron signed LNG export supply deals with Singapore Carbon Hydrogen Energy and China's ENN Energy Holdings. Chevron's most recent federal lobbying filing also reveals that the company advocated for a piece of legislation known as the LNG Permitting Certainty and Transparency Act, which would expedite LNG export permit applications.
At the hearing, Perry received two major questions related to LNG.
One of them came from Sen. John Barrasso (R-WY), who first introduced the LNG Permitting Certainty and Transparency Act in January 2015. He asked Perry whether, as Energy Secretary, "would you commit to acting on the pending LNG export applications?" Barrasso, who has taken $36,750 in campaign cash from Chevron since first being elected U.S. Senator in 2008, also said he intends to re-introduce the same LNG export bill this congressional session.
Perry responded by saying "I will follow the laws [and] I will follow the clear instruction received as Congress goes forward, obviously working with the administration. My understanding from having conversations with President-elect Trump is he is truly an all-of-the-above supporter of American energy and to support, develop, and promote that resource, that being liquefied natural gas exports."
Another LNG question came from Sen. Angus King (I-ME). King asked about the potential impacts LNG exports would have on domestic natural gas prices for U.S. consumers. In so doing, King pointed to consumer natural gas prices tripling in Australia, a country which exports massive amounts of LNG via the Gorgon and Wheatstone facilities, both owned by Chevron.
Perry replied, "If we produce it in America, it makes abundant sense to me to sell it to the world."
As governor in 2013, Perry gave Chevron a $12 million subsidy to build an office tower in Houston, Texas, which to date remains unbuilt. During his tenure as Texas governor, Perry received $17,500 in campaign contributions from Chevron.
"Selling Access"
Despite his pledge to abolish the DOE as a Republican Party presidential candidate in 2011, which he said at the hearing he now regrets, it looks like Perry has the votes necessary to become the next Secretary of Energy. 
"This is nothing short of selling access to the president, the vice president and the cabinet," Craig Holman of Public Citizen told the New York Times of the Trump Inaugural Committee's cash-for-access arrangement. "This is very unfettered, brazen selling of access. It certainly runs counter to any presidential candidate who was talking about draining the swamp."
Image Credit: C-SPAN Screenshot