In response to the ongoing battle over the Dakota Access and Keystone XL pipelines, the oil industry and the groups it funds have started a new refrain: transporting crude oil through pipelines is safer than by "dangerous" rail.
It's a talking point wedded to the incidents over the past several years which have seen mile-long oil trains derail and even explode, beginning with the 2013 Lac-Megantic oil-by-rail disaster in Quebec, which killed 47 people. These trains were carrying oil obtained via hydraulic fracturing ("fracking") from North Dakota's Bakken Shale basin. Bakken crude may be more flammable than other crude oils and is the same oil which would travel through the Dakota Access pipeline (DAPL), owned by Energy Transfer Partners.
What goes unsaid, however, is that the Dakota Access pipeline actually connects to an oil-by-rail hub, also owned by Energy Transfer Partners, in Patoka, Illinois. Patoka is the end point of this pipeline, where it links to both the rail hub and the Energy Transfer Crude Oil Pipeline Project (ETCOP).
"DAPL will provide shippers with access to Midwestern refineries, unit-train rail loading facilities to enable deliveries to East Coast refineries, and the Gulf Coast market through an interconnection in Patoka, Illinois, with ETCOP, which will provide crude oil transportation service from the Midwest to the Sunoco Logistics Partners and Phillips 66 storage terminals located in Nederland, Texas," Energy Transfer stated in an August 2016 press release (emphasis ours).
"Safest Mode of Transportation"
While Energy Transfer Partners has not hidden the fact that it owns the Patoka oil-by-rail hub, entities the company funds are taking a different tact, presenting inland oil transport options as being either pipeline or oil-by-rail, but not both together.
"The Dakota Access Pipeline has always been committed to providing low-cost energy as safety [sic] as possible," Standing Rock Fact Checker, a project funded by Energy Transfer Partners in reaction to protests unfolding near the Standing Rock Sioux Reservation in North Dakota, wrote in a blog post. "Pipelines are already the safest means of transporting crude oil — 5 times safer than rail, 13 times safer than shipping, and 530 safer than trucking — and the Dakota Access Pipeline will be no exception."
This comparison also is made openly on the pipeline's own website, Dakota Access Pipeline Facts.
"Numerous studies have shown that pipelines are safer than shipping oil by trucks or rail," reads the website. "DAPL will replace 100- to 120-car trains that carry crude oil every day from North Dakota — greatly reducing the risk of train accidents and spills."
Another group funded by Energy Transfer Partners, the Midwest Alliance for Infrastructure Now, has also used the rail vs. pipeline framework to promote the Dakota Access pipeline.
However, as Reuters has reported, data from the Pipeline and Hazardous Materials Safety Administration (PHMSA) shows pipelines experience more reported crude oil spills than the rail industry.
Argument Repeated to (and by) Government
The pipeline vs. rail schema has also been deployed by Energy Transfer Partners in official government settings. At a South Dakota Public Utilities Commission hearing in October 2015, Energy Transfer Partners' Vice President for Engineering, Joey Mahmoud, delivered his own version of this paradigm.
"Pipelines are, by far, the safest mode of transportation," Mahmoud said at the time. "In my mind, absolutely, it's going to remove crude that otherwise would be transported by rail or truck that's coming out of the Bakken."
Mahmoud, who did not respond to a request for comment, spoke similarly at a February 15 hearing convened by the U.S. House Energy and Commerce Committee's Subcommittee on Energy.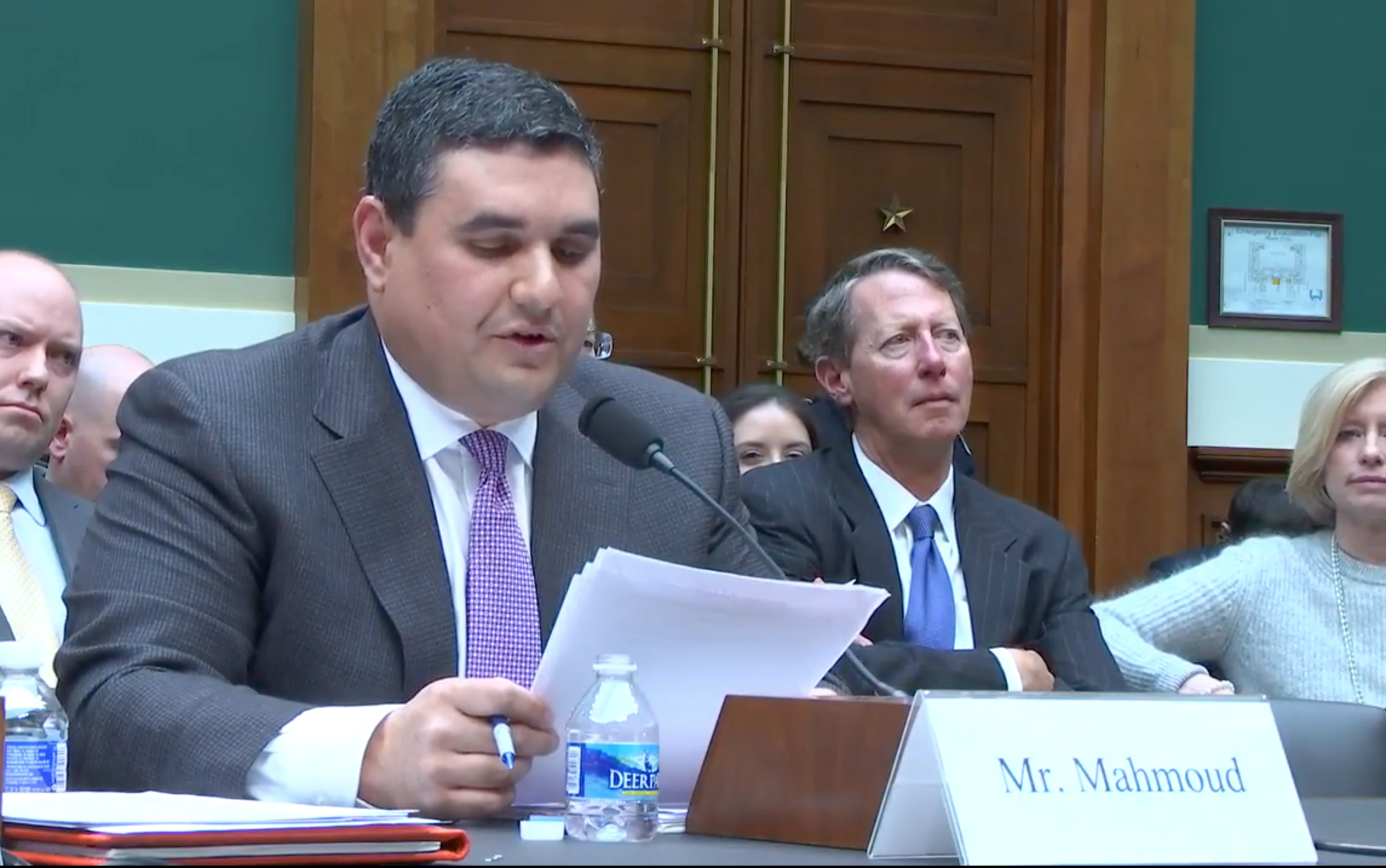 Image Credit: U.S. House Energy and Commerce Committee, Subcommittee on Energy
"Perhaps the most prominent, and ill-founded, of [the misconceptions about] Dakota Access [is that it] represents a threat to the Missouri River and those who rely on it for drinking water," reads Mahmoud's testimony. "Nothing could be further from the truth. Much of the oil from the Bakken is currently being transported across the Missouri River via truck and rail transportation — modes which, statistically, are far more likely to experience an oil spill than a new, state-of-the-art pipeline."
The oft-repeated framework by Energy Transfer Partners proved so convincing that the Iowa Utilities Board cited it in March 2016 when it granted the permit needed to build the Dakota Access pipeline across the state.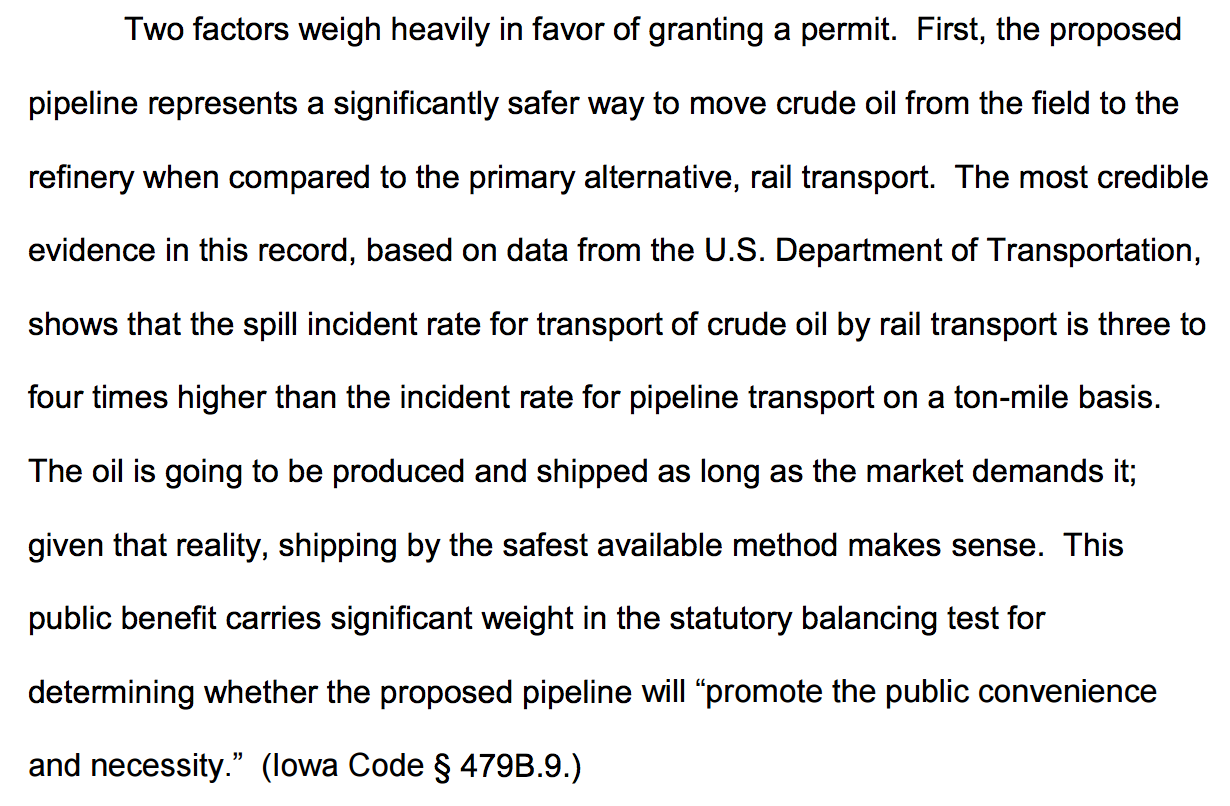 Image Credit: Iowa Utilities Board
"Simply a Distraction"
Meanwhile, Patoka does not get an either-or, but rather, a reality of both. It will have oil traveling into the small town both from the end of the Dakota Access pipeline and out of town by rail to East Coast refinery markets. 
Coincidentally, two pipelines owned by Dakota Access co-owners Enbridge and Phillips 66 have recently exploded, one in Texas and the other in Louisiana, respectively. North American environmental groups have long decried the pipelines vs. rail framework. 
"Both oil-by-rail and pipelines are dangerous," said Annette McMichael, an activist for Illinois People's Action who helped organize an anti-Dakota Access pipeline event in Patoka in September. "The argument that one is safer than the other is simply a distraction. The last thing families living in and around Patoka need is more pipelines."
Energy Transfer Partners spokesperson Vicki Granado did not respond to a request for comment for this story.
Main image: Oil train Credit: Russ Allison Loar, CC BY–NC–ND 2.0