On March 8, ProPublica obtained "beachhead team" rosters with the names of hundreds of temporary staffers the Trump administration has installed in federal agencies, including the Department of Interior (DOI), Department of Energy (DOE), the White House Office of Management and Budget (OMB), and others. 
A DeSmog investigation shows that this list of staffers, largely undisclosed before this week, includes former operatives allied with Koch Industries, oil and coal industry employees, a former employee of a prominent climate denial group, and an advocate for a pro-trophy hunting organization funded by oil and gas. The background and connections of these staffers may serve as a preview to potential priorities these agencies may take on related to energy, climate, and environment under Donald Trump.
Koch and Coal Allies at Energy Department, Office of Management and Budget
ProPublica's reporting yielded many new, previously unreported names of those filling the ranks and making the calls at the Department of Energy.
One of them: Doug Matheney, listed as an assistant to U.S. Secretary of Energy Rick Perry. Matheney, as first reported by E&E News, once worked as the state coordinator for the Count on Coal initiative. He also formerly worked as a coordinator for the Koch-funded front group Americans for Prosperity (AFP) in Ohio's sixth congressional district, according to his LinkedIn profile.
Count on Coal is an advocacy initiative "supported" by the National Mining Association in order to promote coal. The association registered the initiative's website and ponied up considerable public relations funding for this allegedly "grassroots" campaign.
"National Mining Association showed that it paid $4 million to Weber Merritt, a Northern Virginia public affairs firm, as an independent contractor," Center for Public Integrity reported in January 2015. "The services were listed as 'Count on Coal' in 2012, according to IRS filings."
Count on Coal and the National Mining Association ran the website CostlyPowerPlan.com, set up in opposition to President Barack Obama's Clean Power Plan, which would have regulated emissions from coal-fired power plants. The duo also recently came out in opposition to the Office of Surface Mining and Reclamation Enforcement's Stream Rule, recently nullified by Congress and President Donald Trump, allowing coal companies to dump mining waste into U.S. streams.
As DeSmog has previously reported, the Trump transition team was loaded with Koch-tied operatives, many from the Institute for Energy Research, a Koch-funded group which helped carve out the Trump White House's energy policy. Mike Catanzaro, a former Koch lobbyist, serves as Trump's top White House energy aide.
Mark Maddox, former Assistant Secretary of Energy during the George W. Bush administration, is another coal-associated official on the roster, which E&E News first reported on January 23. While at DOE, Maddox oversaw the proposed Illinois-based FutureGen, a carbon capture and sequestration demonstration project, which in its second iteration had its DOE funding suspended in 2015.
"Maddox oversaw the development of many of the critical technologies that will be essential to controlling future green house gas emissions," reads a biography of Maddox. "He also managed a $750 million budget, and high profile initiatives including the FutureGen Zero Emissions Power Plant."
Maddox, after leaving DOE, became a lobbyist for coal company Cline Resources, petrochemical company Sasol, and the Calcasieu Refinery Company. 
Another assistant of Sec. Perry, Suzanne Jaworowski, formerly did public relations work for the Terre Haute, Indiana-based Sunrise Coal LLC, according to her LinkedIn page. Jaworowski headed up Trump's presidential campaign in Indiana and her company called the Clean Power Plan "yet another example of government overreach into an area for which there is no problem."
"The rule will cause permitting to be much more onerous for mining, it will prevent many landowners from exercising their right to lease the minerals they own and it will cost thousands of jobs — all for no measurable impact on our environment," Jaworowski said in January 2016.
Kerrie Carr, listed as a confidential assistant for the White House Office of Management and Budget, also formerly worked for the coal industry. The OMB is a powerful White House office which, according to USA.gov, "oversees the performance of federal agencies, and administers the federal budget." Carr, a former senior-level staffer for then-Sen. Jeff Sessions (R-AL), now the U.S. Attorney General, worked as an analyst for Alabama Power Company. 
Alabama Power also actively opposed the Clean Power Plan. So too did its parent, Southern Company, a coal and gas giant and funder of climate change denial groups.
Representing the oil and gas industry side at DOE these days is G. Michael Brown, listed as an executive assistant to Sec. Perry. Brown formerly worked as a market development manager for hydraulic fracturing ("fracking") giant Chesapeake Energy, the second biggest producer of natural gas in the U.S. behind ExxonMobil. He also served as national political director for Republican Party presidential candidate Ben Carson, who now heads up the Department of Housing and Urban Development.
Oil and Gas at Interior
The beachhead list for the Interior Department, led by Sec. Ryan Zinke, sees many more alumni from the oil and gas industry. Ryan Nichols, an Interior employee without a job title listed, formerly served as development director for the Committee For a Constructive Tomorrow (CFACT), a prominent college campus-based hub of the climate denial machine.
Nichols currently serves as an associate director for the Republican Party-allied think-tank, the Heritage Foundation, which has a federal budget blueprint already borrowed by the Trump administration and another plan recently released for Sec. Perry and the Department of Energy.
Megan Bloomgren, another Interior employee with no listed job title, appears to be serving as the Interior Department's spokesperson and as a part of its communications team, based on reporting by GreenWire.
Prior to landing the job at Interior, Bloomgren has gone back and forth through the government-industry revolving door. She worked multiple communications jobs in the George W. Bush administration, including at DOE, Council on Environmental Quality (CEQ), and the Environmental Protection Agency (EPA). Bloomgren also performed press work for the 2004 Bush presidential campaign and later, the Bush Inaugural Committee.
After leaving the Bush administration, Bloomgren began working for the U.S. Chamber of Commerce's Institute for 21st Century Energy. She then moved on to the Republican Party-allied lobbying and public relations firm, DCI Group.
DCI, as DeSmog revealed, oversaw crisis communications work for Energy Transfer Partners and its Dakota Access pipeline in North Dakota and may have helped create fake Twitter profiles depicting young women (and celebrities) espousing pro-pipeline talking points. Among DCI Group's former lobbying clients is ExxonMobil. 
Melissa Simpson, listed as a special assistant to Sec. Zinke, until recently worked as director of governmental affairs for Safari Club International (SCI). Safari Club advocates in support of trophy hunting, a practice of hunting prized animals which are often rare or endangered. She also served as counselor and deputy director of external affairs for the Interior Department under George W. Bush.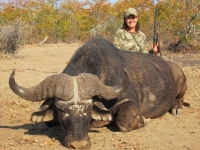 Image Credit: Web Archive | Congressional Sportsmen's Foundation
Safari Club International has received funding from the oil and gas industry. Simpson formerly served on the board of directors for the Congressional Sportsmen's Foundation, which like Safari, also accepts donations from the oil and gas industry.
The Congressional Sportsmen's Foundation has taken money from the likes of ExxonMobil, America's Natural Gas Alliance (ANGA), Shell, American Fuel and Petrochemical Manufacturers (AFPM), Koch Industries, Peabody Energy, and National Mining Association. As the Center for American Progress conceptualized in an April 2014 report and depicted in a graphic flow chart, the Congressional Sportsmen's Foundation and Safari Club are part of the same lobbying nexus, fueled by oil and gas industry funding, aiming to gain access to members of Congress.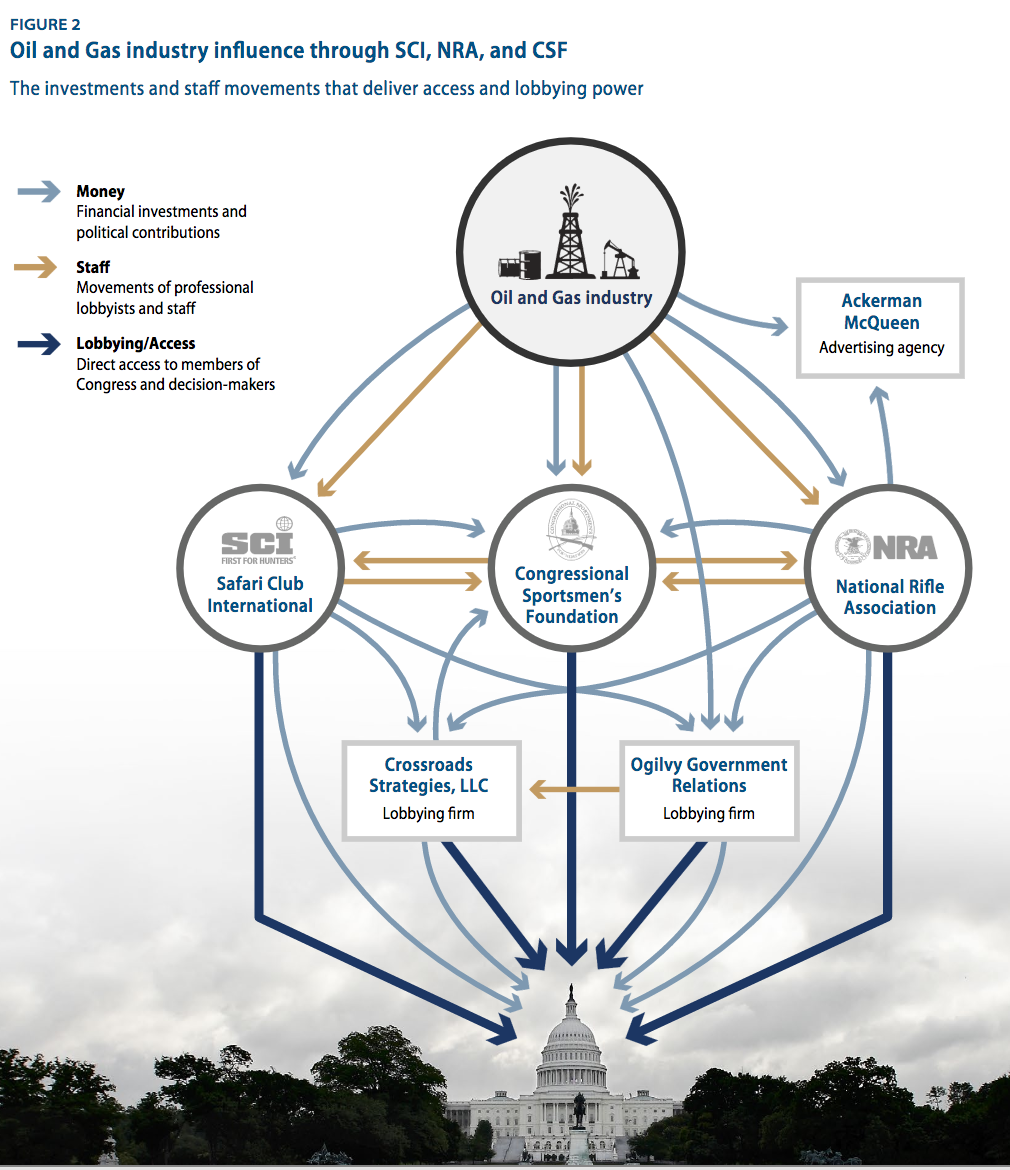 Image Credit: Center for American Progress
"First among SCI's strategic partnerships is the oil and gas industry, and the partnership is spearheaded by Melissa Simpson, SCI's director of government affairs and science-based conservation," wrote the Center for American Progress.
"SCI also benefits from direct financial contributions from members of the oil and gas industry. Although SCI does not disclose donors to its tax-exempt, 501(c)(3) organization, SCI's political action committee, or PAC, lists at least 48 large contributions from the oil and gas industry between 2010 and 2012. Its donors include Tim Wigley — who is the head of the Western Energy Alliance, the trade group representing Western oil and gas producers — and representatives of the Saudi Arabian Oil Company, Conoco Phillips, and Chesapeake Energy."  
The Center for American Progress also obtained a document containing confidential meeting minutes published by the Western Energy Alliance's (WEA) precursor, Independent Petroleum Association of Mountain States (IMAPS). The document revealed that Simpson worked on retainer for IMAPS via funding from several oil and gas drilling companies while working full-time for the influential PR firm PAC/WEST Communications, which was Simpson's job before coming to Safari Club.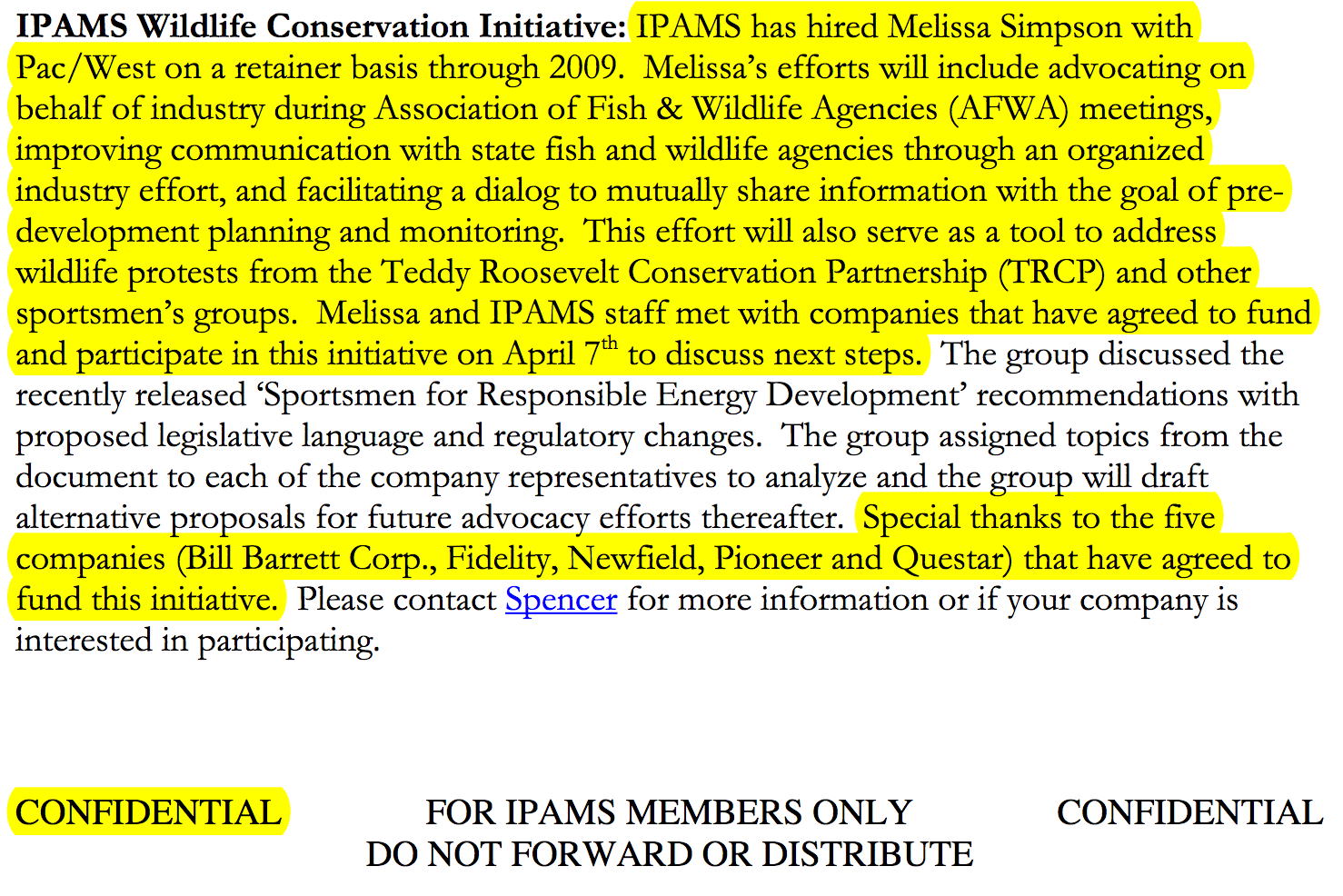 Image Credit: Center for American Progress
The Western Energy Alliance's team of lobbyists and advocates played a central role in the oil and gas industry's successful lobbying campaign to move the bidding process for oil and gas leases for U.S. public lands and offshore reserves from in-person to online. Those lease sales are part of the regular course of business for the Department of Interior's Bureau of Land Management (BLM) and Bureau of Ocean Energy Management (BOEM).
Simpson's pay grade is listed as the top-level for federal employees at GS-15, reserved for senior-level governmental officials, according to FederalPay.org. Her hire at Interior was first reported by Politico Morning Energy on January 23.
"Polluter Operatives"
It is unclear how many of these temporary staffers will eventually have to face Senate confirmation hearings as part of the constitutional "advise and consent" process if they end up in higher level, permanent positions. However, that will likely clarify itself in the days and weeks to come. Yet one critic gave his own take on the issue to DeSmog.
"Trump installing corporate polluter operatives into key energy and climate positions is just another distressing example of just how radically he is hijacking our country in the wrong direction," Tyson Slocum, Energy Program Director for Public Citizen, told DeSmog.
Main image: Officials from the President-elect Donald Trump incoming administration and President Barack Obama's Cabinet and senior staff hold a transition meeting in the Eisenhower Executive Office Building of the White House, Jan. 13, 2017. Credit: The White House, public domain