A contractor working for the Federal Energy Regulatory Commission (FERC) in its environmental review of the proposed Atlantic Coast pipeline has ties to the project's leading environmental contractor, DeSmog has found.
Merjent, a Minneapolis-based environmental consulting company, was hired by FERC in 2014 as a third-party contractor to assist in the review of the pipeline, a 550-mile multi-state natural gas project promoted by a partnership led by Dominion Energy and including Duke Energy and Southern Company. If authorized by FERC, the pipeline will ship fracked gas originating in the Marcellus Shale through West Virginia and Virginia, and into North Carolina.   
As DeSmog reported in February, several associates and members of the new Trump administration's transition teams have ties to companies behind the Atlantic Coast pipeline. A document leaked to the press in January revealed that the project was the only gas pipeline included by the transition team in a list of high priority infrastructure projects.
While third-party contractors are paid by the applicant pipeline company, they are considered independent consultants working under the control of FERC staff and are screened by the government for conflicts of interest. 
Prospective contractors must disclose any potential conflicts to FERC. Disclosure forms must specify any past and current "direct or indirect relationship" with "any business entity" that "could be affected in any way by the proposed work."
Merjent-Natural Resource Group Connections
DeSmog has found that Merjent has ties to the pipeline's main environmental and engineering contractor, Natural Resource Group, which is also based in Minneapolis. Natural Resource Group has been working on the Atlantic Coast pipeline since it began its FERC application process in 2014. 
Merjent's website lists Natural Resource Group as one of its clients. The list includes various major energy companies such as Hess Corporation, TransCanada, and Whiting Petroleum. The company says it has "experience serving clients on all types of energy projects, including oil and gas, utilities, renewable energy, and biofuels."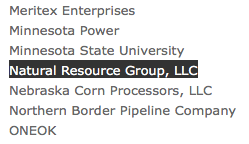 From Merjent's website, showing Natural Resource Group as one the company's clients.
DeSmog has also found that eight Merjent employees currently reviewing the Atlantic Coast pipeline — more than a third of its team members for the project — previously worked for Natural Resource Group. These include Merjent's project manager Jeff Mackenthun and deputy project manager Zeke Rice. 
All eight previous Natural Resource Group employees signed off on the project's Draft Environmental Impact Statement (DEIS), which was published in late December 2016. 
Records Dominion submitted to FERC show that it hired Natural Resource Group to provide a variety of key services to the project, including environmental and permitting services, field surveys, and support for stakeholder engagement activities. Natural Resource Group was behind much of the resource reports for the project.
In the interim, Natural Resource Group was purchased in late 2014 by Environmental Resource Management, a large international environmental consulting company.
Strong Opposition to the Pipeline
The DEIS was overall positive for the pipeline companies behind the project. While it found that the construction of the pipeline will have some adverse and significant impacts on the environment, the "majority of impacts would be reduced to less-than-significant levels" with the implementation of various mitigation measures by the applicant companies. 
However, that has not reassured the controversial project's many opponents, who have been fighting the proposed pipeline for over two years. In early March, three grassroots organizations — Friends Nelson, Wild Virginia, and Heartwood — filed a motion with FERC requesting it rescind and revise the DEIS, which they claimed to be "inadequate." According to the motion, new pieces of information about the pipeline's potential effects have come to light following the publication of the DEIS. 
Residents and activists living near the pipeline path have in the past few weeks been protesting and marching along its route. In their opposition, they cite, among other things, damage to pristine wild areas, potential adverse human health effects, long term climate implications, and inappropriate use of eminent domain land seizures.   
Earlier analysis led by the research group Key-Log Economics has found that of the thousands of comments submitted by the public to FERC during the pipeline's scoping period, most have been negative and critical of the project.
Reached for comment, Merjent's Jeff Mackenthun referred DeSmog to FERC, saying the company is obliged to do so under FERC's direction. FERC did not provide a comment before publication. Natural Resource Group did not respond to a request for comment.  
Main image: A June 2016 rally against the Atlantic Coast pipeline in Augusta County, Virginia. Credit: Anne Meador, CC BY–NC–ND 2.0