More than a year and a half after the Aliso Canyon natural gas storage facility suffered a massive methane blowout, a California state bill that would keep the facility idled pending an exhaustive analysis of the disaster's cause was approved Tuesday in the California Senate Energy, Communications, and Utilities Committee.
Senate Bill 57, co-authored by state Sen. Henry Stern, requires the California Public Utilities Commission and the Department of Oil, Gas, and Geothermal Resources (DOGGR) to complete a "root cause analysis" of the source of the October 2015 methane blowout as a condition of lifting Aliso Canyon's moratorium on natural gas injections. 
The Southern California Gas Company (SoCalGas), which operates Aliso Canyon, has been opposed to the root cause analysis, which would take at least six months to complete. The company's opposition to the study has dismayed and infuriated residents living near the aged facility in the northwest San Fernando Valley. 
From October 2015 until February 2016, more 100,000 metric tons of methane spewed into the atmosphere after a storage well blowout. More than 8,000 households and two schools were relocated for months. Many residents say they continue to experience physical maladies from the released natural gas, which is primarily methane, a powerful climate-warming gas. 
Independent Analysis of the Blowout's Cause Necessary?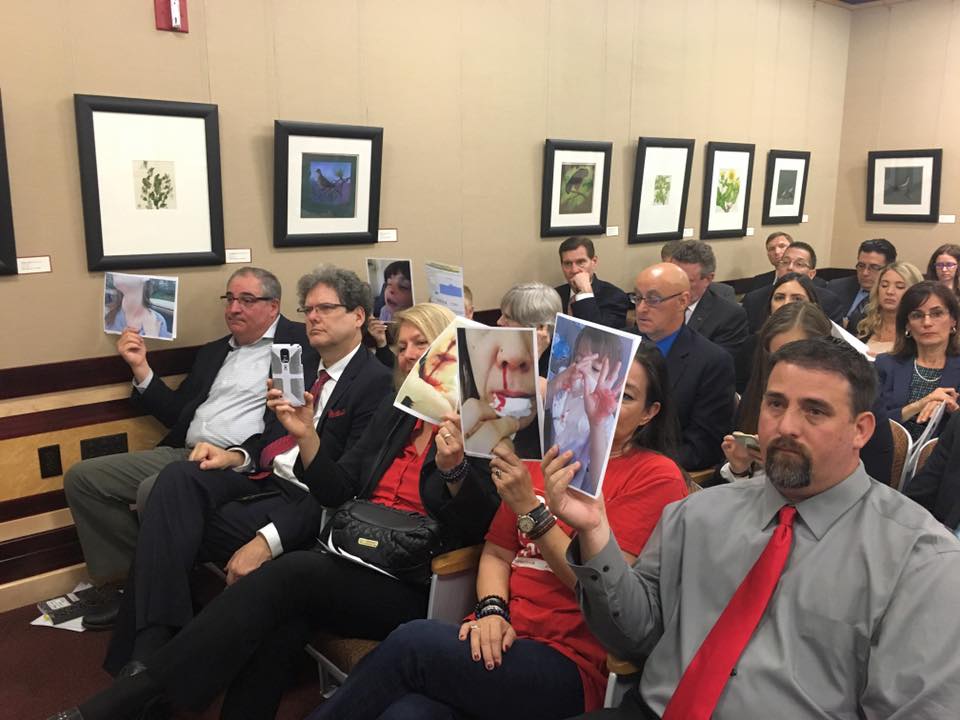 Residents who live near Aliso Canyon testified in support of SB57 at the committee hearing April 4. Credit: Save Porter Ranch
Several residents traveled to Sacramento to speak in favor of SB 57. Jane Fowler, a resident of Granada Hills, California, testified that in the past two weeks there had been thirty leaks from the facility, and she spoke of experiencing repeated dizzy spells and nosebleeds. 
"Please find out what happened," she implored the committee. 
Chief William Jones of the Los Angeles County Fire Department testified that the root cause analysis was necessary for discovering "unknowns." 
"It makes sense to see the final report and put in place any recommendations before allowing resumption of normal operations," he said.
Rodger Schwecke, vice president of gas transmission and storage at SoCalGas, testified at the state senate committee hearing that there was no need for a root cause analysis, saying any conclusions would be separate and independent of operations in the field and that the company had put multiple new safety measures in place. 
"[The root cause analysis] would determine the mode and mechanism for the failure of the [old] casings," he said. "We do not expect the [new] casings to fail. They have been tested. They are brand new pipe."
What's Ahead
An amendment to the bill would give Governor Jerry Brown emergency authority to order incremental gas injections into the Aliso Canyon facility to "maintain energy reliability" in emergencies. SB 57 supporters were unconcerned with the amendment, saying it acknowledges the governor's existing authority.
"This amendment reiterates what we've been saying all along, that reopening Aliso Canyon is Gov. Brown's decision," Alex Nagy, the Southern California organizer with Food & Water Watch, told DeSmog. "And a real climate leader just wouldn't reopen it."
The state Senate Appropriations Committee will consider SB 57 after spring recess. If it passes out of that committee, it will be voted on by the full Senate. 
Supporters of the bill include U.S. Sen. Dianne Feinstein, Los Angeles Mayor Eric Garcetti, the Los Angeles City Council, and the Los Angeles County Board of Supervisors. Last month the Board of Supervisors sued DOGGR to keep Aliso Canyon closed until not only a root cause analysis was completed, but also a comprehensive environmental review that would consider alternatives to the facility. 
SoCalGas Critics Claim Company Tried to Directly Amend Bill
Tuesday's vote came in the wake of accusations that SoCalGas was exerting undue influence on legislators. 
The state Senate Energy Committee was originally going to take up the bill on March 23, but it was immediately tabled because significant "misunderstandings" needed to be ironed out before the bill could be considered, according to Committee Chairman Ben Hueso.
This move fanned speculation that the misunderstandings resulted from meddling by SoCalGas. An earlier draft of SB 57, obtained by DeSmog, showed SoCalGas's Schwecke, working through company lobbyist Jared Liu-Kim, submitted bill amendments deleting three key provisions. 
Schwecke's suggestions removed language making DOGGR's ability to reauthorize injections dependent on completing the root-cause analysis. He also recommended getting rid of limits on injections to Aliso Canyon once reauthorized, as well as the requirement that the California Public Utilities Commission finish a feasibility study for gas storage alternatives to the facility.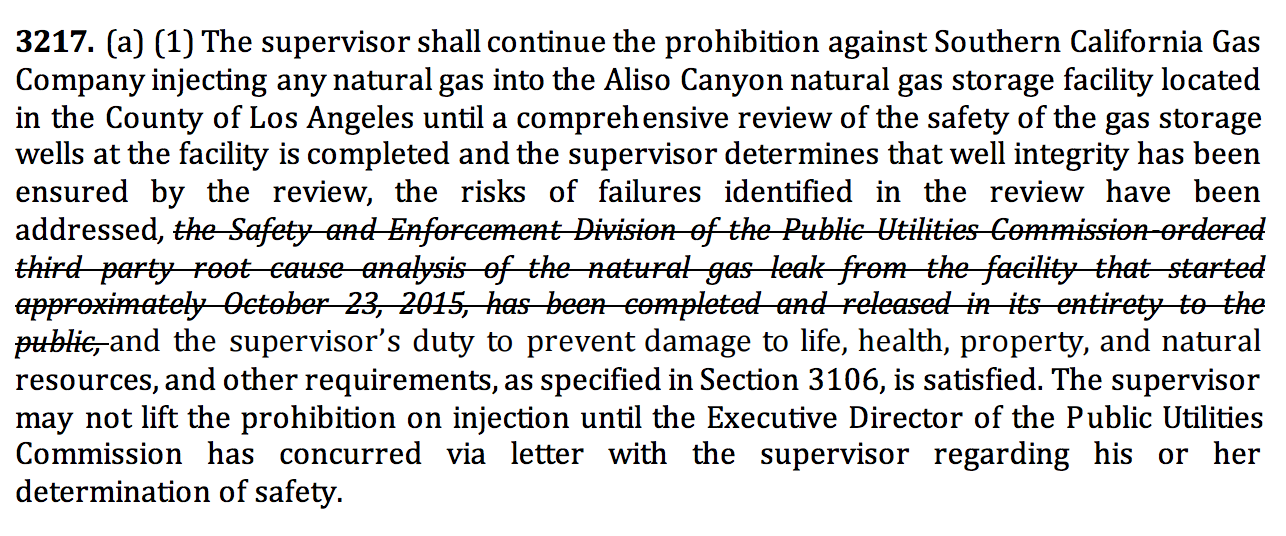 Language which SoCalGas suggested be struck from California Senate Bill 57.
The amendments proposed by Schecke were not in the bill voted on Tuesday. Jay Dickenson, a consultant working for the California Senate Energy Committee, told DeSmog that a company can't directly alter a bill.
Dickenson disputed the speculation that SoCalGas had a direct line to state Sen. Hueso, saying that the amendments made by Schwecke were merely recommendations, and that he, as the committee analyst, decided which recommendations to pass along to the committee.
"This [process] is not unusual," Dickenson said. "Interested parties regularly propose amendments. And SoCalGas is definitely an interested party."
The accusations of meddling and rebuttals played out in the Los Angeles Times recently. After the March 23 vote was tabled, the Times Editorial Board accused Hueso of stalling on SB 57 and giving SoCalGas too much influence over the legislative process.   
Sen. Hueso responded to the Times with an op-ed, writing:  
"I do not oppose SB 57, which would prohibit the reinjection of gas into the Aliso Canyon facility until the completion of an independent study. The amendments that I (and not the Southern California Gas Co.) proposed reflect my concern for the health and safety of all Californians."
At Tuesday's hearing, Hueso enthusiastically reiterated his support for pursuing a root cause analysis.
Opponents of reopening Aliso Canyon admit that the root cause analysis isn't the end goal, but rather the complete and permanent shutdown of the facility.
Another Study Disputes Necessity of New Gas Injections 
While several state senators, including Jerry Hill, expressed concern that closing Aliso Canyon could lead to potential energy instability in the region, mounting evidence suggests such concerns may be unwarranted.
SoCalGas and state regulators have maintained that, without Aliso Canyon, the region could suffer rolling blackouts, despite a 2016 report refuting them and an absence of blackouts to date.  
A study released Monday also contradicts warnings of blackouts, saying that state regulators have overestimated the importance of Aliso Canyon in meeting the greater Los Angeles region's energy demands. Commissioned by Los Angeles County, the study found that energy conservation and other efforts would make withdrawing natural gas from Aliso Canyon unnecessary, and that the wells already contained enough natural gas to cover emergencies. 
SoCalGas spokesperson Chris Gilbride decried the study, saying it "demonstrates a fundamental lack of understanding about how our natural gas and electricity systems work."
"The state's energy experts have concluded Aliso Canyon is necessary in three consecutive technical assessments," Gibride said in a statement. "And, unlike the County's report, the state's assessments have been independently reviewed or verified by experts at the National Labs."
Main image: Residents living near the Aliso Canyon gas facility traveled to Sacramento to show support for California Senate Bill 57, which would require an independent study of what caused the facility's 2015 blowout. Credit: Save Porter Ranch