A contractor assisting the Federal Energy Regulatory Commission (FERC) in its review of the proposed Atlantic Coast pipeline has removed mention of its link to the project's main contractor from its website. The move came after DeSmog reported on the links between the two contractors.
Merjent is the third-party contractor hired by FERC to review the Atlantic Coast pipeline, a massive interstate natural gas project proposed by a business partnership of Dominion Energy, Duke Energy, and Southern Company. FERC considers third-party contractors to be independent consultants working on the government's behalf and vets them for possible conflicts of interest. 
Yet as DeSmog has reported, Merjent has ties to the pipeline's main environmental contractor, Natural Resource Group. Not only was the company listed online as a Merjent client, but several Merjent employees assigned to review the Atlantic Coast pipeline had previously worked for Natural Resource Group. Both companies are situated in downtown Minneapolis, Minnesota.
Craig Cano, a FERC spokesperson, told DeSmog:
"The Commission has confirmed that Merjent has not done any work with NRG since June 2013, and that none of its 15 employees who previously worked for Natural Resource Group (now ERM) worked on the Atlantic Coast Pipeline project while employed by NRG/ERM. There were no conflicts. Additionally, Merjent will consult with the Commission prior to doing any future work with the merged NRG/ERM."
Shortly after the publication of DeSmog's story, Merjent removed mention of Natural Resource Group from its website's client list. But the questionable connections among those working on the Atlantic Coast project don't end there.


On the left, Merjent's prior client list. On the right, Merjent's client list after the publication of DeSmog's April 2, 2017 story calling attention to this link among contractors.
Portions of Reports Are Identical  
In another development, a Virginia resident recently has written to FERC noting several identical portions between the project's Resource Reports, written by Natural Resource Group, and the recently published Draft Environmental Impact Statement (DEIS), written by FERC staff and Merjent. In his letter, Jim Bolton of Lovingston, Virginia, who is an activist in the group Friends of Nelson, which opposes the pipeline, cites DeSmog's story on the link between the two contractors.
"NRG's fingerprints are, in fact, all over the DEIS," Bolton claimed. "There are numerous examples where wording found in the Resource Reports is apparently lifted word-for-word, only to reappear in virtually the same form in the DEIS." He cites two examples of identical wording from segments in both documents where alternatives to the pipeline are considered.
In a review of these documents, DeSmog has found other examples were the DEIS repeats verbatim the Resource Report's conclusions. Juxtaposing these segments highlights the similarities.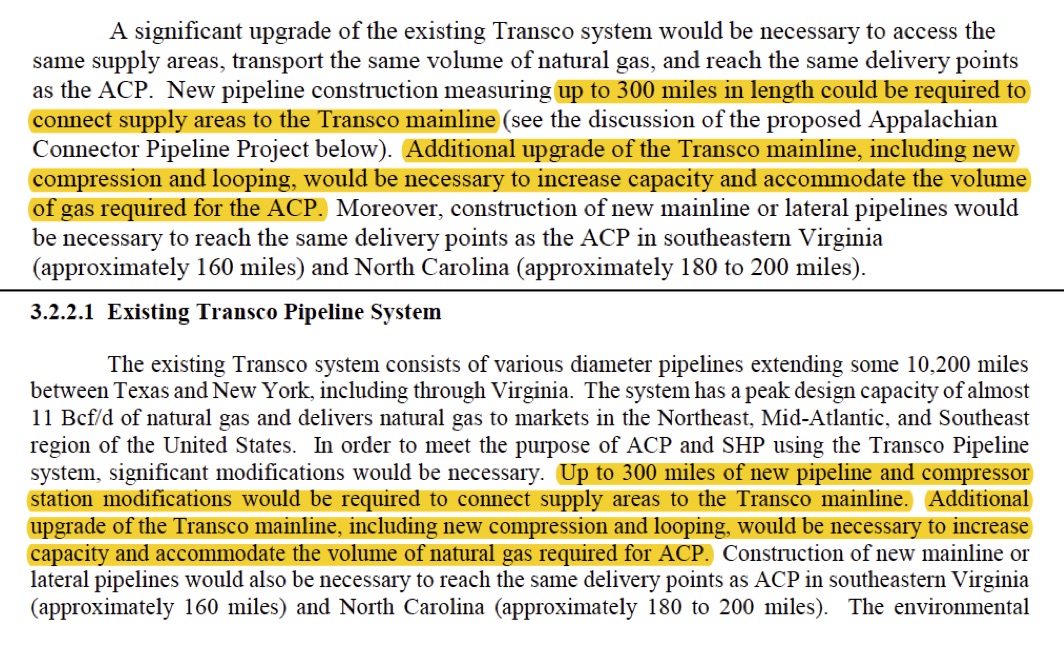 Top, from the pipeline companies' Resource Report 10 written by Natural Resource Group. Below, from FERC and Merjent's later Draft Environmental Impact Statement (DEIS)."]
Another example of identical phrasing is found in a different segment discussing alternatives to the proposed Atlantic Coast pipeline.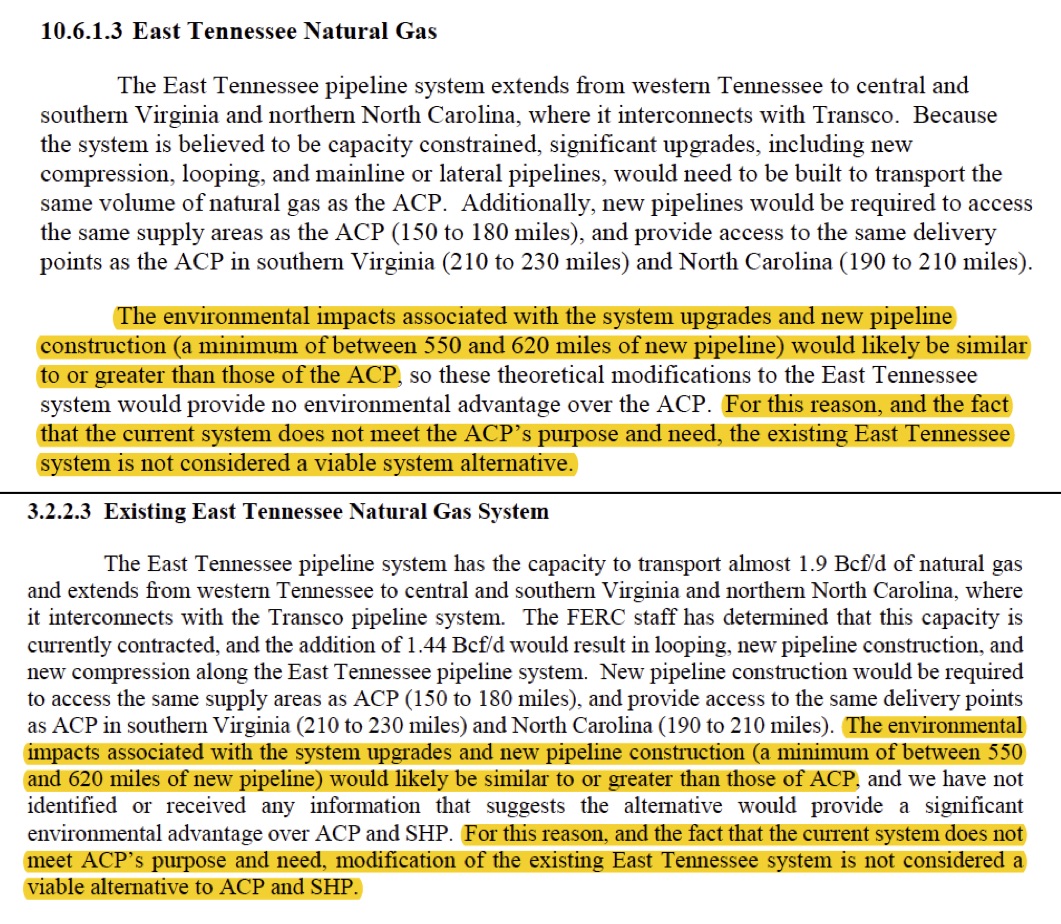 Top, from the pipeline companies' Resource Report 10 written by Natural Resource Group. Below, from FERC and Merjent's later Draft Environmental Impact Statement (DEIS).
FERC's Cano declined to comment on this issue, citing it as "a pending matter."
FERC

Commissioners' Ties to Southern Company

Meanwhile, DeSmog has found several ties between the two sitting FERC commissioners, Cheryl LaFleur and Colette Honorable, and lobbyists and executives of Southern Company, the minority partner in the Atlantic Coast pipeline.

Lisa Luftig, a former legal advisor to LaFleur at FERC, was hired in September 2016 to work as a lobbyist for Southern Company. The company's latest congressional lobbying disclosures show that among other things, Luftig is registered to lobby on legal issues related to energy infrastructure. 

LaFleur, who is currently FERC's acting chair, seems to have a close relationship with other Southern Company personnel. In a tweet from early March this year, she posted a photo of herself at Southern Company's Washington, D.C. offices, alongside Toni Hannah, a regional external affairs manager at Georgia Power, a subsidiary of Southern Company. LaFleur wrote, "Hanging out … at Southern Company on a gorgeous DC night. #Georgiacousins." Southern Company's D.C. lobbying team is housed in those offices. 
Hanging out with @romechamber at @SouthernCompany on a gorgeous D.C. night. #Georgiacousins pic.twitter.com/doIzh6ArKI

— Cheryl LaFleur (@CLaFleurFERC) March 9, 2017
Cano told DeSmog that LaFleur's cousin works for the nonprofit organization which sponsored and paid for the event at Southern Company's office and stated that LaFleur's attendance was approved by a FERC ethics officer ahead of time.
Two weeks later, Commissioner Honorable tweeted from a conference she attended, calling Southern Company's executive Chris Womack a "colleague" and describing his talk as "masterful." Womack is Southern Company's executive vice president and president of its external affairs division.
Good morning @_AABE – Great C Suite panel. Dear friend Susan Story @amwater is wowing the crowd. Colleague @chriscwomack is masterful! pic.twitter.com/JK7a6HwE22

— Colette D. Honorable (@CHonorableFERC) March 23, 2017
While Honorable's tenure at FERC ends this June, LaFleur, who remains on the commission until 2019, will likely be ruling on the Atlantic Coast pipeline in the near future. 
Main image: FERC headquarters Credit: FERC