By Steve Horn and Curtis Waltman
At the end of 2016, as a mix of sheriffs, police, and private security forces were clashing with those protesting the Dakota Access pipeline at the Standing Rock Sioux Reservation, the National Sheriffs' Association was lobbying Congress for surplus military gear and on undisclosed issues related to the now-operating oil pipeline. This information comes from federal lobbying disclosure forms reviewed by DeSmog.
The National Sheriffs' Association, a trade association representing sheriffs' departments nationwide, hired the firm Ervin Hill Strategy to lobby on its behalf during quarter four of 2016 and quarter one of 2017. Lobbyist and former congressional staffer John Blount was assigned to the cause. Blount did not respond to a request for comment for this story.
The multi-state policing response at Standing Rock came under sharp criticism due to its highly militarized nature against the Native American-led opposition. Spurred by the North Dakota governor's emergency declaration, law enforcement officials nationwide began pouring into North Dakota under the auspices of the Emergency Management Assistance Compact (EMAC).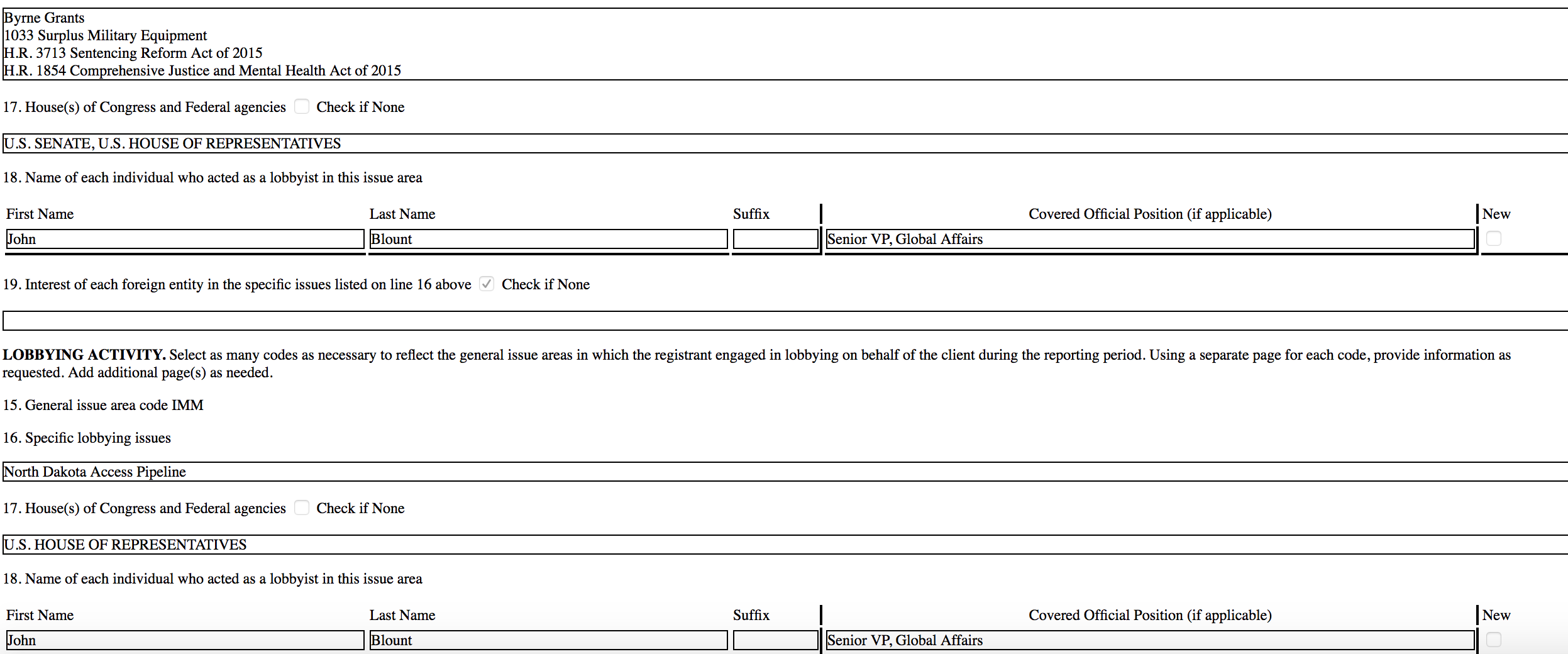 Credit: U.S. House Office of the Clerk
The lobbying disclosure comes as sheriff departments in rural America now look to the Dakota Access response as a policing crisis model, with some already bracing for similar demonstrations against the recently approved Keystone XL and Diamond pipelines.
"Professional Protesters"
Under what is known as the Defense Department's 1033 program, state- and local-level law enforcement agencies have the ability to purchase unused military gear from the U.S. Department of Defense's Defense Logistics Agency. On its lobbying disclosure form, the Sheriffs' Association cited 1033, which goes by the motto "from warfighter to crimefighter."
Throughout the duration of the Standing Rock encampment in North Dakota, the Sheriffs' Association served as a vocal critic of those participating, writing in an October 2016 letter to then-U.S. Attorney General Loretta Lynch that those protesting were "illegally preventing the completion of a project under the guise of environmental and cultural concerns — an obvious ruse."
"They are threatening ranchers and farms and trespassing onto private property to intimidate and scare local citizens," wrote the association in its letter. "It is nothing less than lawless behavior perpetrated by professional protesters with no vested interest in the Pipeline nor any ties to the communities they claim will be affected."
TigerSwan Funding
Founded in 1940 and headquartered in Alexandria, Virginia, the Sheriffs' Association has a $3.46 million budget, according to its most recently filed tax forms.
Some of the organization's funding comes from corporate sources, according to its website, which includes the private security company TigerSwan. As DeSmog reported in October 2016, TigerSwan maintains offices in both Iraq and Afghanistan and is run by a special forces Army veteran. TigerSwan was put "in charge of Dakota Access intelligence and supervises the overall security," according to an investigation conducted by Morton County in North Dakota.
James Reese, TigerSwan's founder and CEO, formerly served as an adviser to the multinational private security firm Blackwater. Dubbed "the world's most powerful mercenary army" by investigative journalist Jeremy Scahill, Blackwater was founded by Trump campaign donor and transition team member Erik Prince, the brother of U.S. Secretary of Education, Betsy Devos.
Post-Ferguson Lobbying
Beyond its lobbying efforts, the Sheriffs' Association has also made a public call for President Donald Trump to reverse the ban on sending military gear to local police agencies. President Barack Obama enacted this moratorium in the aftermath of the chaos and violence that followed the police shooting of unarmed black teenager Michael Brown in Ferguson, Missouri, in 2014.
"Sheriffs will work closely with President-Elect Donald J. Trump to repeal Obama's Executive Order," the organization stated in December. "We are hopeful the new administration is more supportive of law enforcement's important work to protect people in harm's way, instead of the previous administration's repeated moves to cripple and prevent us from defending and helping citizens in need."
President Trump spoke to and met with representatives from the Sheriffs' Association in February. At the White House meeting, the association showed its appreciation to Trump for helping push its agenda by gifting him a "new sheriff in town" sculpture, which was reportedly its first time ever giving one to someone outside law enforcement.
New Sheriff in Town Sculpture Presented to President Trump by the National Sheriffs Association. #LAWandORDER pic.twitter.com/yMVWa7vcuC

— TrumpTracker (@DaveNYviii) February 8, 2017
"Let me tell you the difference of six months," Sheriffs' Association executive director Jonathan Thompson said at the meeting, according to a White House transcript. "I sat in this room, in this chair, and I was pleading — I was begging for help. Today, you've invited us here to your home. You're offering help. You're delivering on that offer. And on behalf of our members across the country, thank you."
As an organization, the Sheriffs' Association had remained dormant on federal-level lobbying activity until the aftermath of Ferguson, according to forms reviewed by DeSmog. Blount, the Ervin Hill Strategy lobbyist for the Sheriffs' Association, also currently serves other military contractor clients including General Dynamics, Northrup Grumman, and Aerojet Rocketdyne. 
Dakota Access Owner Coordinates with Sheriffs
As protests heated up at Standing Rock in October, the Morton County Sheriffs' Department requested support from the Sheriffs' Association, which coincided with out-of-state cops flooding the state in assistance.
In December, DeSmog reported on an audio recording first obtained and published by New York Daily News writer Shaun King, in which Energy Transfer Partners executive Matthew Ramsey said that the Sheriffs' Association worked in close coordination with his company, the pipeline's majority owner, against those opposing it at Standing Rock. 
"We met with some of the officials in North Dakota [during a recent trip to the state]," said Ramsey in the recording. "We met with the National Sheriff's Association. People are tired of this. They're tired of seeing what's going on in the community and we think that the tide has turned and people are understanding what a great project this would be for the State of North Dakota."
Indeed, the Sheriffs' Association did send training staff and office personnel to Standing Rock. The group tasked Dane County, Wisconsin Sheriff Dave Mahoney with training North Dakota agencies, which had little experience policing protests.
"When the situation in North Dakota began over the pipeline, I had been asked by the National Sheriff's Association and by the Department of Justice to travel to North Dakota to speak to the sheriffs who didn't have much experience with large gatherings," Mahoney said in an interview.
While adamant his police force handled the response in Standing Rock in the same peaceful way as in 2011, when the Dane County Sheriff's Office handled over 100,000 people protesting Wisconsin's Republican Governor Scott Walker's Budget Repair Bill, the results in North Dakota tell a different story.
Greg Champagne, president of the National Sheriffs' Association and sheriff of St. Charles Parish in Louisiana, was also intimately involved in Standing Rock. In late October, Champagne traveled there for a publicity appearance, which was funded by the EMAC agreement. He was toured around the police lines and the construction sites, afterwards posting on Facebook a lengthy rebuttal to protesters and the media, which received 46,000 shares.
The St. Charles Parish Sheriff's Office also sent two cameramen to video the cleanup after the eviction of demonstrators at one of the Standing Rock encampments. An open records request for that footage is still pending.
For its part, the Sheriffs' Association told DeSmog, "What we were trying to do was help the local sheriffs, as a national organization, to coordinate the actions through the EMAC to get them people that would make themselves available."
The association added that although the intent of its coordination was not to train law enforcement officials present at Standing Rock, that "per things like this, there is always training going on and coordinated tactics between North Dakota, Wyoming, Wisconsin or whoever else was there. We are also helpful with guidance and coordinating the knowledge as well by having people there like Dave [Mahoney, the Dane County Sheriff] who have better knowledge of large protest gatherings."
Sheriffs Tackle Bayou Bridge
In the aftermath of Standing Rock, the Sheriffs' Association has remained active on pipelines owned by Energy Transfer Partners, including its proposed Bayou Bridge pipeline through Louisiana.
As DeSmog previously reported, Joseph Lopinto — an attorney with the Jefferson Parish Sheriff's Office in Louisiana and former Republican state legislator — criticized the federal government's Standing Rock response while speaking on behalf of the National Sheriffs' Association at a February public meeting related to the Bayou Bridge pipeline.
"The federal government failed to provide local law enforcement [in Standing Rock, North Dakota] with support to control hostile, often violent protesters that caused millions of dollars in property damage and shot at law enforcement officers," he said at the convening. "The federal government failed to provide local law enforcement with the resources they need to deal with violent and unruly protests."
Policing Protest
The intervention of the Sheriffs' Association in social justice movements, such as the one at Standing Rock, is not unprecedented.
During the civil rights era, the Sheriffs' Association policed protests in Alameda County, California, which houses the City of Berkeley and the University of California. The association's California state representative, Alameda County Sheriff Frank Madigan, described these policing efforts during a 1970 congressional hearing about the Black Panther Party.
"Prior to World War II, I worked in the field as an investigator of subversives and now I am seeing the children back in the scene, what we call the Red-diaper babies getting into the act," remarked Madigan. "Since Berkeley has become a Mecca we are getting dissidents from all over the country."
"Red diaper baby" was a term applied to the child of socialists or communists (either self-described or as described by law enforcement officials), and was generally meant as a pejorative and to discredit. The Black Panther Party and campus-based antiwar movement, which were the subject of the 1970 hearing, were at the time the target of extensive surveillance and attempted disruption under the FBI's COINTELPRO (short for Counterintelligence Program). COINTELPRO eventually was scrutinized in a U.S. Senate probe known as the Church Committee investigation (named after then-U.S. Sen. Frank Church), and nominally came to an end.
Alex Vitale, a professor of criminology at Brooklyn College and author of the forthcoming book The End of Policing, told DeSmog that Standing Rock and the role of the Sheriffs' Association serves as a case study of broader policing trends seen during social movements.
"The 1033 program [lobbied for by the Sheriffs' Association] should be understood in two ways," said Vitale.
"First it is a cynical form of corporate welfare to the defense industry. It has opened up vast new federally subsidized markets by normalizing the idea that local police departments, no matter how small, need vast arsenals of military gear to defend themselves from the exaggerated threats of hidden terrorist cells and rampaging drug gangs. Second, it is part of an ideological worldview that the threats we face as a society are best dealt with by ever more police power."
Main image: Oregon's Marion County SWAT team prepares for an exercise. Credit: Oregon Department of Transportation, CC BY 2.0