A changing of the guard in the White House, with President Donald Trump taking the helm, has spawned a hiring spree of new lobbyists to advocate for TransCanada's long-contested Keystone XL pipeline.
In the forefront, TransCanada has hired the firm CGCN Group — former employer of Trump's top White House energy adviser, Mike Catanzaro — to lobby for Keystone with a two-person team. TransCanada has also hired a duo of in-house lobbyists, one who worked as a Democratic congressional staffer and another who worked for a Republican, to make the case for the pipeline.
TransCanada's new team of lobbyists serves as a departure from recent years, in which teams of lobbyists and public relations professionals tied to the Democratic Party and President Barack Obama went to bat for Keystone. Keystone XL landed its long-desired presidential permit from President Trump in January, but now faces the specter of a lack of sufficient market demand for oil from the Alberta tar sands.
KXL

Lobbyists Under Trump

CGCN's Keystone lobbying team, as DeSmog previously reported, is led by Jay Cranford. Cranford formerly worked as a staffer for U.S. Rep. John Boehner (R-OH) and as staff director of the U.S. House Natural Resources Committee's Subcommittee on Energy and Minerals. 

Mike Freeman, former legal counsel for the House Natural Resources Committee under Chairman U.S. Rep. Rob Bishop (R-UT), started with CGCN in May and has joined Cranford in lobbying for the pipeline.

Freeman also has worked as an attorney for the Federal Energy Regulatory Commission (FERC), which oversees the presidential permit process for cross-border natural gas pipelines. TransCanada has several gas pipelines planned in Mexico and a cross-border pipeline, the Sur de Texas-Tuxpan pipeline, which is still in the proposal phase.

Before leaving for his current White House energy job, Catanzaro actually lobbied for Keystone XL during quarter one of 2017.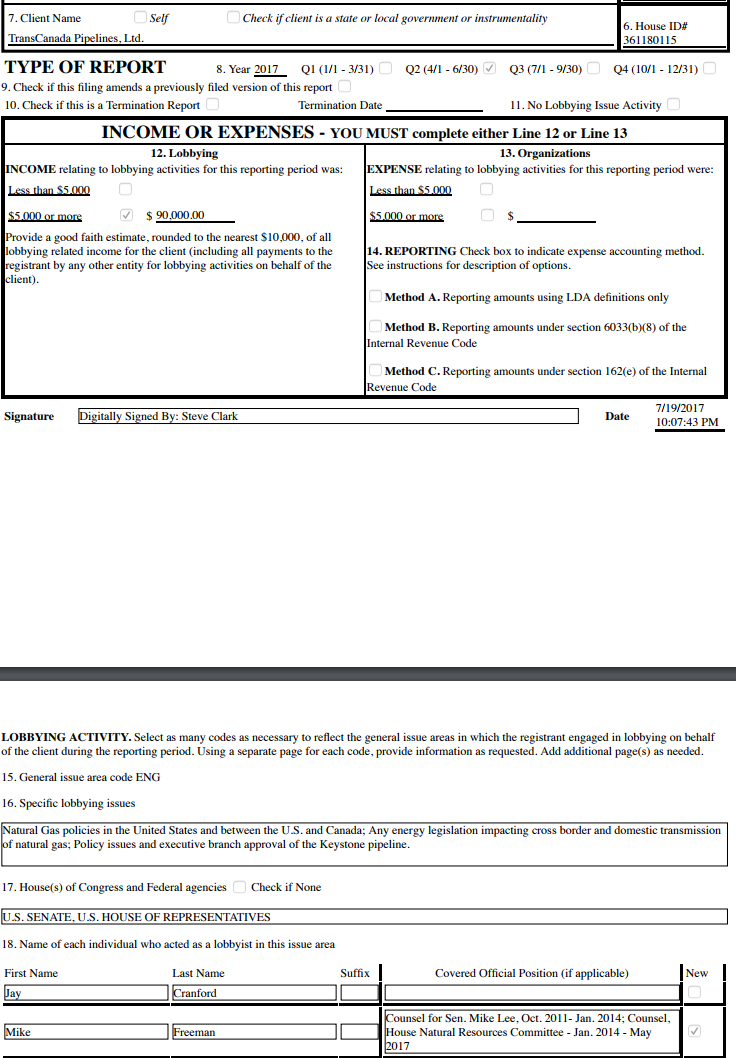 Credit: Office of the Clerk, U.S. House of Representatives
TransCanada, meanwhile, has hired lobbyists from both sides of the aisle to fight for its cause. One of them, Alex Oehler, served as a staffer for California Republican, U.S. Rep. Wally Herger, according to data compiled by Legistorm. TransCanada's federal government relations manager, Jim Gordon, who was a long-time policy adviser for U.S. Rep. Stephen Lynch (D-MA), is also now lobbying for the project.
After John Kerry departed the Senate to become U.S. Secretary of State, the 2013 Democratic Party primary race for his seat featured Lynch, who ran as a pro-Keystone candidate, and the eventual winner, U.S. Sen. Ed Markey (D-MA).
Beyond just Keystone XL, however, both lobbying teams are also pushing to ease the regulatory and permitting path for future cross-border pipelines and domestic natural gas pipelines, according to the disclosure forms. This drive coincides with the recent passage of two House bills, one which would ax the presidential permitting process that killed Keystone XL the first time around under President Obama in November 2015, and another which would expedite FERC's permitting process for natural gas pipelines.
Main image: Pipes for the Keystone XL pipeline in 2009. Credit: shannonpatrick17, CC BY 2.0