Energy Transfer Partners, owner of the Dakota Access pipeline, has filed a federal lawsuit against Greenpeace and others for alleged racketeering in their anti-pipeline activism related to Standing Rock. The company's legal support comes from the firm Kasowitz Benson Torres LLP, whose attorneys also represent President Donald Trump in the ongoing Russia-U.S. election investigation.  
However, federal court rules require that, in addition to the New York-based team at Kasowitz, Energy Transfer Partners must retain local legal counsel in North Dakota, where the lawsuit was filed. The bottom of the 187-page legal complaint filed on August 22 reveals that the corporation chose Vogel Law Firm, with offices in both Minnesota and North Dakota, for that job.
However, by serving as a law firm for Energy Transfer Partners, Vogel may have a potential conflict of interest. That's because, at the same time, the firm is representing the North Dakota Private Investigation and Security Board in its ongoing lawsuit against TigerSwan. This private security firm worked on behalf of Dakota Access during the months-long protest movement at the Standing Rock Sioux Reservation in Cannon Ball, North Dakota.
The Private Investigation and Security Board has sued TigerSwan for operating in the state without a permit — on behalf of Energy Transfer Partners.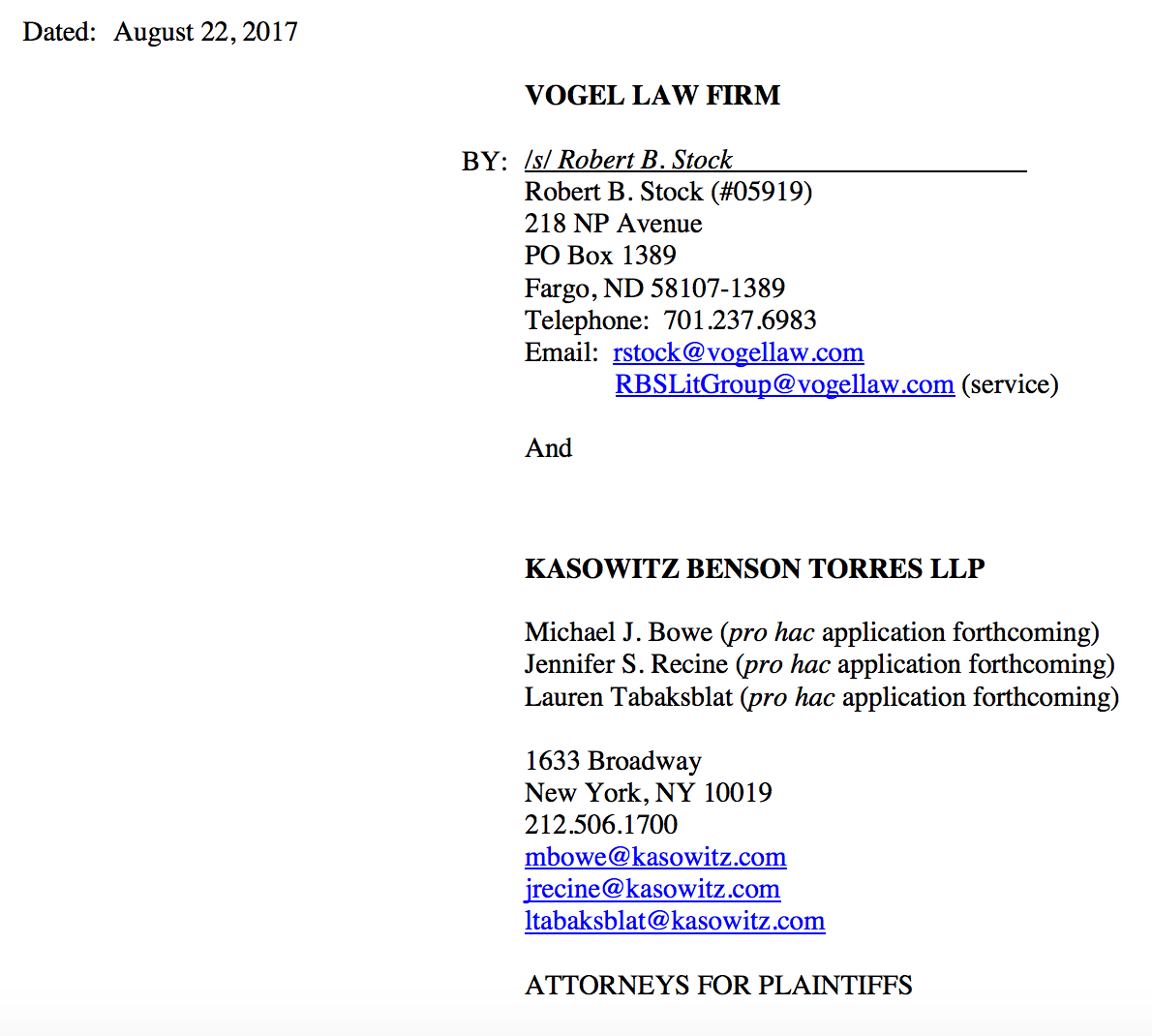 Credit: U.S. District Court for the District of North Dakota
In the racketeering lawsuit, Vogel lawyer Robert Stock is serving as local counsel alongside the Kasowitz lawyers. In the case against TigerSwan, Vogel attorneys Monte Rogneby and Justin Hagel have filed the lawsuit on behalf of the Private Investigation and Security Board in Burleigh County, North Dakota civil court.
Ethics Rules
According to the North Dakota court system's ethics guidance language, "(a) A lawyer shall not represent a client if the lawyer's ability to consider, recommend, or carry out a course of action on behalf of the client will be adversely affected by the lawyer's responsibilities to another client or to a third person, or by the lawyer's own interests. (b) A lawyer shall not represent a client when the lawyer's own interests are likely to adversely affect the representation."
The American Bar Association has similarly worded ethics rules on the books. 
Rogneby, Stock, and Hagel did not respond to multiple requests for comment for this story, which inquired whether the firm ran a conflicts-of-interest check before taking on the racketeering case. These types of checks, according to the American Bar Association (ABA), should be a matter of routine for law firms to ensure the interests of one client do not compete and conflict with those of another.
"Attorneys are obligated to constantly update the conflict entries in every representation," reads a November 2013 article by ABA professional liability committee member, Marian Rice, a lawyer at the firm L'Abbate, Balkan, Colavita, & Contini, LLP. "At a minimum, automatic updates must be made whenever a new client or matter is accepted (or rejected); whenever an individual or entity's name changes; whenever a new party, expert, witness or attorney is added to existing representations; and whenever the relationship of a party changes, e.g., adverse claims are asserted, businesses merge or split, divorces occur and the like."
Though the North Dakota court system spells out the conflict rules in plain terms, law firms can receive a waiver from a client in "rare circumstances," as long as the potential for conflict is clearly spelled out. But not in the circumstances laid out in prongs "a" and "b" of the rules. 
"Only in rare circumstances may a lawyer properly request a client to waive a conflict that may arise in the future. Advance waiver is not permissible for future conflicts described under paragraphs (a) or (b) of this Rule," reads the state court system's guidelines.
"The effectiveness of such waivers in other circumstances is generally determined by the extent to which the client reasonably understands the material risks that the waiver entails. The more comprehensive the explanation of the types of future representations that might arise and the actual and reasonably foreseeable adverse consequences of those representations, the greater the likelihood that the client will have the requisite understanding." 
One Step Removed
In the racketeering and Dakota Access security firm cases, though, Vogel Law Firm has at least some level of plausible deniability, according to Hofstra University Law School Professor Ellen Yaroshefsky. That's because TigerSwan is not Energy Transfer Partners and is one step removed as its former private security contractor.
Vogel Law Firm is "going to claim that there's not a relationship. They're not the same firm and that doesn't answer the question," Yaroshefsky told DeSmog. "The question from an ethics perspective is could they have obtained confidential information from TigerSwan in this case they're going to use against them [or vice versa]. You can't be on both sides without a wavier, so the way it works if you have two clients [with competing interests], you identify a conflict" and if necessary, obtain a waiver.
Instances like this have occurred before, most prominently in the 1978 Westinghouse Electric v. Kerr-McGee case decided by the U.S. Court of Appeals. That case also centered around a law firm representing two clients with potentially conflicting interests.
"The case arose from the simultaneous representation of Westinghouse by the Chicago headquarters office of Kirkland & Ellis and of the American Petroleum Institute by the firm's Washington office," explained a 1978 Washington Post story about the case. "The API's members include defendants in the Westinghouse suit."
In Westinghouse Electric v. Kerr-McGee, the court declined to create a hard-and-fast rule on conflicts-of-interest for federal lawsuits, saying they should be dealt with on a case-by-case basis. Yaroshefsky says that in a small state like North Dakota, with fewer lawyers and law firms, these types of conflicts can be more difficult to avoid than in more populous states. In turn, this could create legal representation problems for all parties involved in cases.
"The effects should be obvious," Yaroshefsky told DeSmog. "That is to say, if you're on both sides of a case, in effect, you're representing the client in one case and you're on the side of suing a client in the other, there's a conflict and it may affect the way you represent the client. You're going to make compromises you shouldn't [and] you're not going to provide loyal representation to them and effective representation to them."
"It is unclear whether [Vogel Law Firm] identified this one as a conflict or not," said Yaroshefsky. "There's often myopia, where law firms do not even want to acknowledge the [ethical] problem. Firms have an economic self-interest often times in not recognizing a conflict."
Lawyers for Greenpeace did not respond to a request for comment for this story. Members of the North Dakota Bar Association's Legal Ethics Committee also did not respond to repeated requests for comment.
Main image: People protesting the Dakota Access pipeline block the entrance to an Army Corps of Engineers office, while a San Francisco police officer stands nearby. Credit: Pax Ahimsa Gethen, CC BY–SA 4.0