A contractor hired by the state of Michigan to independently review an aging oil pipeline running under the Great Lakes was simultaneously working for the pipeline company, documents obtained by DeSmog suggest. The documents contradict the contractor's earlier claim that it had effectively stopped working for Enbridge once hired by Michigan.
Last year, facing increasing public pressure to shut down Enbridge's 64-year old pipeline under the Straits of Mackinac between Lakes Michigan and Huron, Governor Rick Snyder convened Michigan's Pipeline Safety Advisory Board. One of the Board's first actions was to order studies about the pipeline, called Line 5, and the Board soon hired Calgary-based Dynamic Risk Assessment Systems Ltd. (Dynamic Risk) to provide an alternatives report.
Yet as DeSmog first reported in July, documents suggested Dynamic Risk had been working at the same time directly for Enbridge in Minnesota on the company's Line 3 pipeline. The contract between Michigan and Dynamic Risk includes a conflicts of interest clause prohibiting the contractor from "doing anything that creates an appearance of impropriety with respect to the award or performance of the Contract."
Earlier this year, Michigan abruptly terminated the work of DNV, another contractor the state hired to conduct a second study on Line 5, after officials became aware that a DNV team member reviewing the pipeline had begun working for Enbridge on a different project.
New Evidence of Conflicts of Interest
Dynamic Risk began working for Michigan on August 24, 2016. As DeSmog had previously reported, the contractor's Chief Engineer James Mihell, who's heading the Line 5 review, signed off on a report Dynamic Risk produced for Enbridge on its Line 3 in January 2017—that is, five months after starting to review Line 5 on Michigan's behalf.
In response to that revelation, Dynamic Risk told Michigan officials that Mihell had merely signed retroactively on work he had completed prior to beginning his work on Line 5 and that Dynamic Risk had effectively ceased to work on the Line 3 report for Enbridge once it commence its review of Line 5 in August 2016.
Nick Assedelft, a spokesperson for the Michigan Agency for Energy, told DeSmog at the time that "Dynamic Risk told us this morning that their employees who were working on a Line 3 report for Minnesota had completed their work on that project before they were assigned to do the Line 5 project for the State of Michigan." Assendelft added, "Dynamic Risk told us Jim Mihell was finished with his part of the Minnesota project in June 2016 and he was taken off of that project team at that time. I don't know Dynamic Risk's internal guidelines or time lag on when a researcher signs off on their part of a report on which they worked, but the company says his work on the Line 3 report for Minnesota did not overlap with his work on the Line 5 report for Michigan."
Yet documents obtained by DeSmog through an open records request from the state of Minnesota raise serious doubts about version of events. 
An October 2016 draft report on Line 3 produced by Dynamic Risk for Enbridge, a copy of which is held at Minnesota's Department of Commerce, shows that one of Dynamic Risk's subcontractors for that work—Kelly Geotechnical Ltd.—was still working on its portion of that report on September 13, 2016. In both the draft (October 2016) and final reports (January 2017) for Line 3, Dynamic Risk stated that it had relied on Kelly Geotechnical's portion. It should be noted that James Mihell is listed as the only Dynamic Risk employee working on the Line 3 report.

From an attachment to a report produced by Dynamic Risk for Enbridge on Line 3, suggesting the contractor was still working for Enbridge in September 2016, after it had begun reviewing Line 5 for Michigan.
In other words, contrary to Dynamic Risk's claim that the company had ceased working for Enbridge upon commencing the independent Line 5 review for Michigan, the documents suggest the firm must have still been working on Line 3 after it had commenced its work on Line 5.
The documents also show that Kelly Geotechnical submitted a first version of its work for Line 3 to Dynamic Risk on September 12, 2016.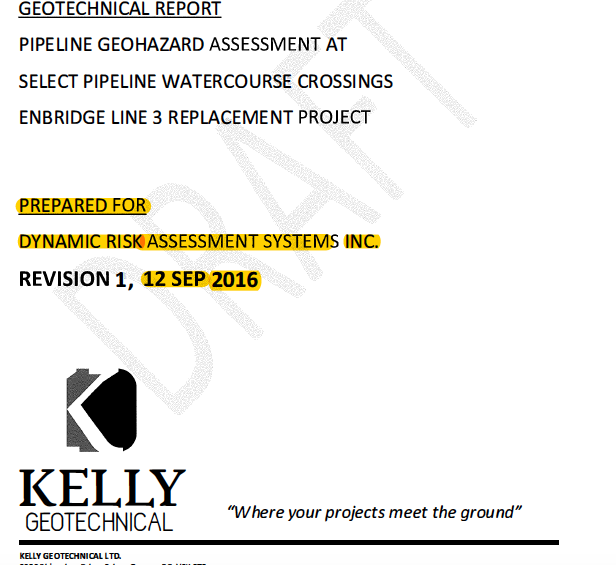 From the cover page of an attachment by Kelly Geotechnical submitted to Dynamic Risk for its work on Enbridge's Line 3, suggesting the latter contractor was still working for Enbridge in September 2016, after it had begun reviewing Line 5 for Michigan.
It should be noted that Kelly Geotechnical is also a Dynamic Risk subcontractor in the Line 5 review. As DeSmog previously reported, another subcontractor in this review, Stantec, also participated in the Line 3 report for Enbridge.
Calls for Shutting Down the Pipeline
These revelations come after Michigan's Attorney General Bill Schuette had repeatedly assured the public that the Line 5 reviews will be independent and objective.
Yet following DeSmog's original reporting, environmental organizations repeated their calls on Schuette and Governor Snyder to shut down the pipeline in the Mackinac Straits.
"The facts clearly demonstrate these 'independent' assessments have Line 5-owner Enbridge Energy's fingerprints all over them, and Bill Schuette should acknowledge the reports aren't credible and take immediate action to shut down Line 5," said David Holtz, Chair of Sierra Club Michigan Chapter and coordinator of the Oil & Water Don't Mix campaign, which aims to shut Line 5 down. "It's time for Bill Schuette to take real action on behalf of the people of Michigan – not continue to hide behind a report process that's laden with conflicts of interest between Enbridge Energy and the state."
Reached for comment, the President of Dynamic Risk Trevor Macfarlane said his firm had not worked simultaneously for Enbridge on Line 5. Macfarlane said: "Dynamic Risk confirms that no project team members worked on any project directly related to Enbridge Line 5 during the lifetime of the Straits Project, whether for Enbridge or other stakeholders."
Macfarlane did not comment on Dynamic Risk's work for Enbridge on Line 3.
Reached for comment, an Enbridge spokesperson referred DeSmog to the state of Michigan and Dynamic Risk.
A spokesperson for Attorney General Schuette's office did not respond to a request for comment.
Nick Assendelft, a spokesperson for the Michigan Agency for Energy, said that the state contacted Dynamic Risk for clarifications. Although Assendelft says the contractor admitted that Kelly Geotechnical edited early versions of its contribution to the Line 3 report in September 2016, the state still does not believe it was misled by Dynamic Risk. According to Assendelft:
"Dynamic Risk Assessment Systems Inc. has told us that subcontractor Kelly Geotechnical's work on Minnesota's Line 3 report was materially completed in April 2016. Subsequently, Kelly Geotechnical provided some editing changes and corrections to their part of the report as late as September 2016. We have looked at the information that was provided by Dynamic Risk and we don't see anything in the public record to contradict what they told us or that leads us to think that the State has been misled."
While the state does this not see this documentation as evidence the contractor on Line 5 was actually working simultaneously for Enbridge, the appearance of direct conflict of interest is clear. It remains to be seen if the state's confidence in the contractors' assurances will assuage opponents of the pipeline who want it shut down.  
Main image: A diver for the National Wildlife Federation inspects the Enbridge Line 5 pipeline under the Straits. Credit: National Wildlife Federation