President Trump's nominee to head the Federal Energy Regulatory Commission (FERC) has, as a corporate attorney, personally represented a host of energy and utility companies, many of which do business that is directly impacted by FERC's decisionmaking. According to Kevin McIntyre's financial disclosure — obtained by DeSmog and published here for the first time — these include major utilities, fracking companies, pipeline builders, and international energy corporations.
McIntyre is a lawyer who co-leads the global energy practice for the legal and lobbying firm Jones Day, and is currently awaiting final Senate confirmation of his appointment to the nation's top energy regulatory body. That confirmation may come as soon as this week.
McIntyre's financial disclosure, submitted recently to the Office of Government Ethics, reveals that in the past two years alone he has represented various energy and utility companies. Some of these companies are regulated by FERC or have projects seeking FERC approval.
The list includes the following entities: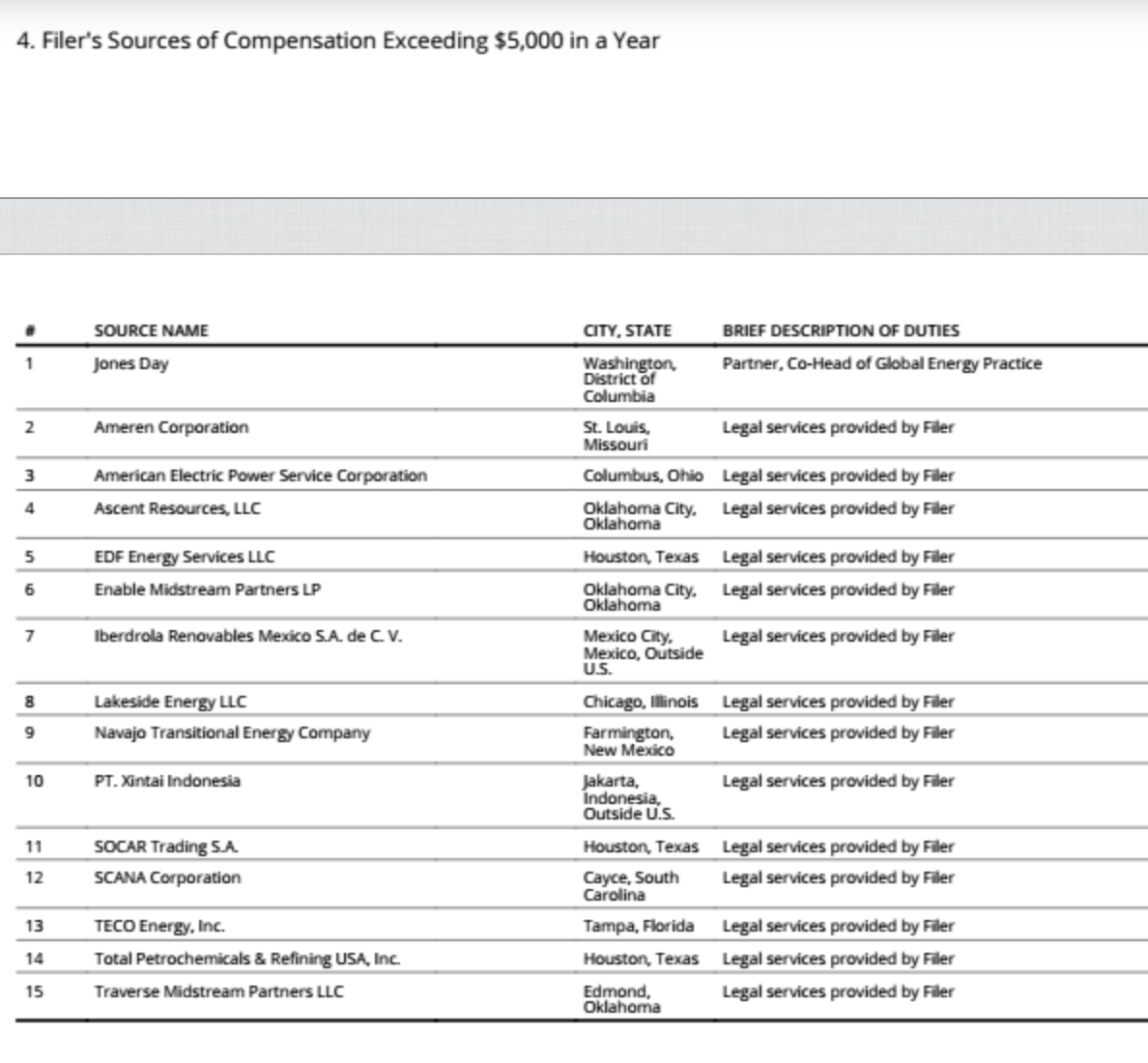 Screenshot from McIntyre's financial disclosure.
Concern Over Industry Ties
After a number of resignations and term expirations, as of this past June the FERC's bench had dwindled down to one single commissioner. The Trump administration has nominated four new candidates to restore the quorum needed for FERC to make key decisions.
Industry representatives lauded the reestablishment of a quorum on the commission, which can now approve the logjam of pending energy projects.
Critics, however, have sounded the alarm about some of the new appointees' industry ties. Protesters with the group Beyond Extreme Energy had disrupted two Senate confirmation hearings in recent months.
They've pointed out that the newest FERC appointees Neil Chatterjee and Rob Powelson have ties to fossil fuel companies and utilities. While Chatterjee previously worked as an energy policy advisor to Senate Majority Leader Mitch McConnell (R-KY), Powelson developed a close relationship with the industry as a state utilities regulator.
As DeSmog recently reported, Powelson received gifts from industry in his previous regulatory position.
Kevin McIntyre's financial disclosure adds fuel to these concerns. McIntyre did not respond to a request for comment.
Tyson Slocum, director of the energy program at the government watchdog group Public Citizen, says the disclosure is cause for further concern. "I do think FERC has had problems of not accommodating the public interest as much as is spelled out in its statutory requirements," Slocum says. "And McIntyre's list of clients does not appear to include public interest clients, whereas today there is much opportunity for lawyers to represents such clients as well."
Slocum adds that as co-lead of Jones Day's energy practice, McIntyre is probably privy to other kinds of key information about energy clients, beyond those entities listed as the ones he personally represented at the firm. 
"This complicates the question of potential conflicts beyond the list he provided in the disclosure since there's uncertainty as to that kind of information he may hold," Slocum says.
 
Main image credit: BranderGuard via Flickr CC