Early morning skies Wednesday in Baton Rouge, Louisiana, were alight from a fire that started around 2:30 a.m. at an ExxonMobil refinery. The blaze, though contained before the sun came up, is a reminder to the surrounding community of yet another danger of living next to refineries and chemical plants.
Exxon's refinery is located along the stretch of Mississippi River between Baton Rouge and New Orleans known as "Cancer Alley" due to the high number of chemical plants and refineries — and illnesses possibly connected to emissions — along the river's banks.
Exxon issued a statement to CBS affiliate WAFB while the fire smoldered, saying the community was not impacted by emissions from the refinery fire and that air quality readings were "below detectable limits."
Mary Lee Orr, executive director of The Louisiana Environmental Action Network (LEAN), questions the possibility of making such a determination so fast. Her group has been working with Cancer Alley communities, helping to reduce their exposure to pollution from the area's oil and petrochemical industry.
Exxon's Baton Rouge refinery is adjacent to one of the company's eight facilities named in a settlement reached with the Environmental Protection Agency (EPA) and the Department of Justice (DOJ) and announced October 31.  
Last year LEAN filed a lawsuit against an Exxon chemical facility in Baton Rouge, next to the refinery that caught on fire Wednesday. That suit alleges the facility has been violating the Clean Air Act by failing to report pollution releases correctly. Lisa Jordan, director of Tulane University's Environmental Legal Clinic and representing LEAN in this case, said it is too early to say how the recent agreement between the federal government and Exxon will impact their own case. Jordan said LEAN's case encompasses a broader range of issues than those in the one recently settled.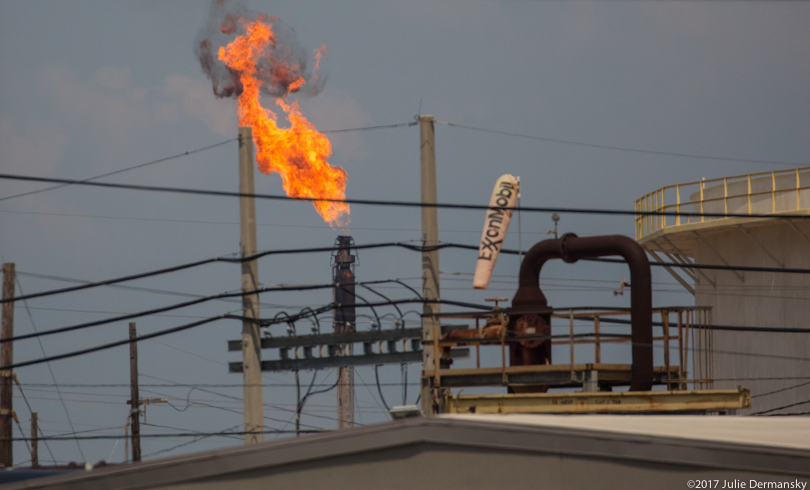 Flare at ExxonMobil Beaumont, Texas, facility after Hurricane Harvey.
According to the DOJ, the settlement "resolves allegations that ExxonMobil violated the Clean Air Act by failing to properly operate and monitor industrial flares at their petrochemical facilities, which resulted in excess emissions of harmful air pollution."
It requires Exxon to install and operate air pollution control and monitoring technology to reduce air pollution from 26 industrial flares at five facilities in Texas and three in Louisiana, at a cost of about $300 million. In addition, the company must pay a civil penalty of $2.5 million.
Some environmental groups have described the fines as a slap on the wrist, but LEAN'S technical adviser Wilma Subra believes the settlement is substantial. "The amount of money to be spent on air pollution improvements is a positive step in the right direction," she told me.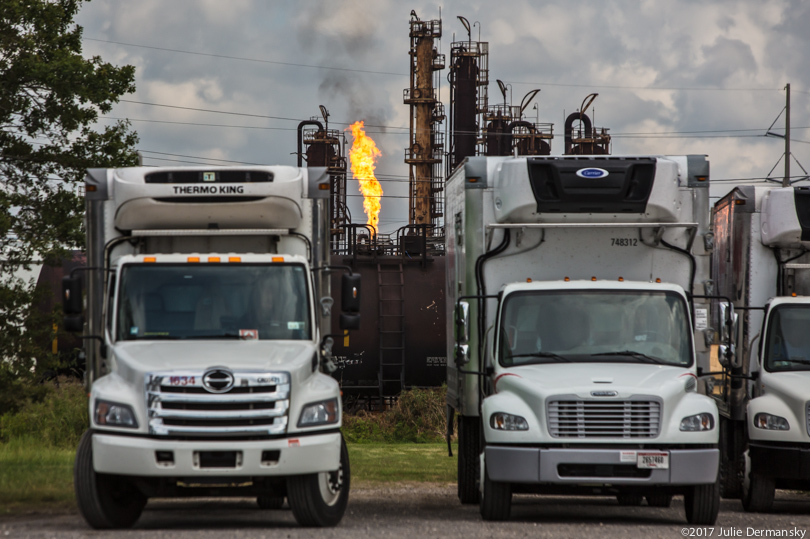 Flare at ExxonMobil Beaumont, Texas, facility after Hurricane Harvey.
However, Subra is concerned that the air pollution monitoring devices in the agreement will only monitor benzene, which is known to cause cancer. In her view, Exxon should be required to monitor a whole host of other potentially harmful chemicals it is emitting. 
The instances of pollution cited in the recently settled suit do not include emissions from any of Exxon's Texas facilities affected by Hurricane Harvey. Subra pointed out that the pollution incidents at Texas refineries and chemical facilities following the hurricane show that industry has no method for controlling pollution when hurricanes hit, something she hopes industry will change soon.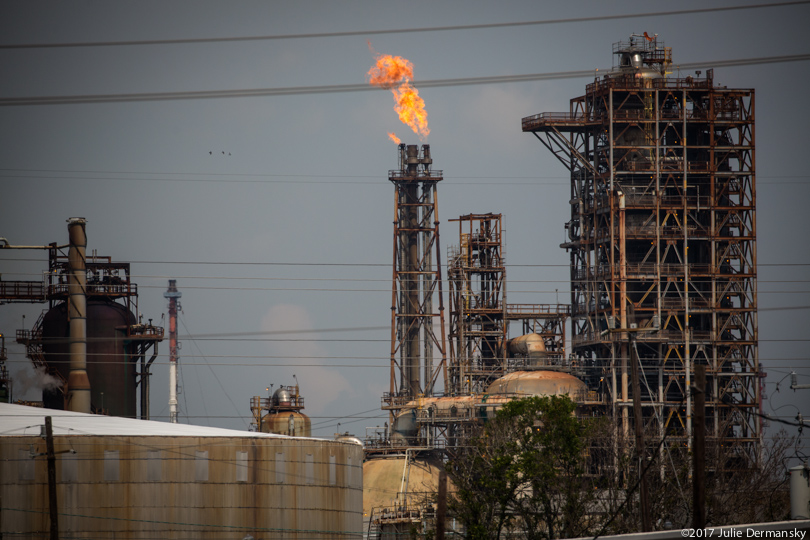 Flare at Exxon's Baytown, Texas, refinery following Hurricane Harvey.
Exxon's Baytown, Texas, operation was among the eight industrial facilities included in the recent settlement. It was also one of the plants that reported pollution releases due to Hurricane Harvey. In this case, the refinery's roof sank due to the storm's heavy rains, which resulted in the release of hazardous gases — including volatile organic compounds and benzene above permitted levels, according to the New York Times. 
Orr also sees the agreement between Exxon and the Trump administration as a positive step toward protecting Cancer Alley communities. But "sadly, in the short term, the agreement won't help the community," she told me. "It will take time to implement the new pollution reduction devices."
And though EPA Administrator Scott Pruitt stated that "this agreement shows, EPA is dedicated to partnering with states to address critical environmental issues and improving compliance in the regulated community to prevent future violations of the law," the agency under Trump has been racing to undo its previous work. Recently Pruitt announced a measure to repeal former President Barack Obama's EPA policy to curb greenhouse gas emissions from power plants, a plan Trump's EPA has concluded would have substantial health benefits.  
Furthermore, a list of potential names for the agency's Science Advisory Board and Clean Air Scientific Advisory Committee includes a sizable increase in industry representatives and consultants, as reported by the Intercept. On that  list are two scientists who have worked for Exxon, indicating the oil and gas giant could have greater influence over EPA science and policies in the future.  
Main image: ExxonMobil's refinery and chemical plant in Baton Rouge, Louisiana, in 2011. Credit: All photos by Julie Dermansky