A broad base of advocacy groups opposed to Energy Transfer Partners' (ETP) proposed Bayou Bridge pipeline continue to pressure officials in Louisiana to deny the remaining permissions the company needs to build the pipeline.
The groups are also trying to stop TigerSwan LLC, one of the security firms that ETP worked with in North Dakota, from obtaining a permit to operate in Louisiana.
ETP, the company behind the Dakota Access pipeline, intends to build a 162-mile pipeline across southern Louisiana. If built, the Bayou Bridge will be the last leg, carrying oil fracked in North Dakota to Louisiana. 
Before the pipeline can be built, ETP needs a water quality certificate from the Louisiana Department of Environmental Quality and a permit from the U.S. Army Corps of Engineers.
The company already obtained another required permit to operate from Louisiana Department of Natural Resources under the state's Coastal Zone program, but that permit is being challenged vy a lawsuit spearheaded by the St. James community, where the pipeline will end, roughly 50 miles west of New Orleans.
 
TigerSwan in Louisiana?
Meanwhile, TigerSwan is trying to obtain a permit from the Louisiana State Board of Private Security Examiners to operate in the state. 
The Board rejected TigerSwan's permit application in June. In part, the denial was based on the ongoing litigation filed against the company by the North Dakota Private Investigative and Security Board for allegedly providing services without the required license. 
Despite being turned down for a permit twice in North Dakota, TigerSwan operated on ETP's behalf anyway.
A few days after TigerSwan's permit was denied in Louisiana, the company filed an appeal and hired five lobbyists who work for the lobbying firm Southern Strategy Group.
At a November 9 press conference at the office of Louisiana's Democratic Governor John Bel Edwards, groups opposing the Bayou Bridge pipeline, including the Louisiana Bucket Brigade, Bold Louisiana, 350 New Orleans, Atchafalaya Basinkeeper, Gulf Restoration Network, Louisiana Crawfish Producers Association – West, and L'eau Est La Vie (Water Is Life) Camp, announced that the New York-based Center for Constitutional Rights (CCR) filed a petition to intervene on their behalf. CCR wants to ensure that the groups can participate in the permit appeals hearing set for December 14.
Video: Anne Rolfes, director of the Louisiana Bucket Brigade
"TigerSwan's well-documented use of militarized surveillance tactics against ordinary people opposing pipelines across the country is cause for alarm," Anne Rolfes, director of the Louisiana Bucket Brigade, said at the press conference. "As concerned citizens from across Louisiana, we must be permitted to voice our opposition to TigerSwan infiltrating our communities at the upcoming hearing." The group wants not only a seat at the table, but a platform at the hearing to voice its opposition to TigerSwan. 
Pamela Spees, a senior staff attorney with CCR who was raised in Lake Charles, Louisiana, one of the communities that would be affected by the pipeline, told me: "The lines seem dangerously blurred between law enforcement and private security firms when it comes to dealing with pipeline opposition."
Spees found especially worrisome leaked documents published by The Intercept that revealed TigerSwan used counterterrorism tactics at Standing Rock, North Dakota, to "defeat pipeline insurgencies."
Blurred Lines Between Private Security and Law Enforcement
In October 2016, Greg Champagne, sheriff of St. Charles Parish and the 2016 president of the National Sheriffs' Association, went to Standing Rock, where he observed the police lines at the pipeline construction site. In published statements about his trip, Champagne voiced his support for ETP's project and held the water protectors in disdain. He made an unsubstantiated claim in a lengthy Facebook post:
"Despite the statements coming from the media and protesters that they were completely peaceful and prayerful, it has been a fact that more militant protestors (terrorists) have destroyed property and physically beaten employees of the company in recent weeks."
TigerSwan is a corporate donor to the National Sheriffs' Association's $3.46 million budget, according to the association's most recent tax forms. Under Champagne's leadership, the association lobbied Congress for surplus military gear and other undisclosed issues related to the Dakota Access pipeline, according to a review of federal lobbying disclosure forms conducted by DeSmog reporter Steve Horn. 
Joseph Lopinto, the newly elected sheriff of Jefferson Parish, and former Republican state legislator, voiced support for the Bayou Bridge pipeline at a permit hearing in February, where he claimed that protesters shot at law enforcement officers. "We don't want the same thing occurring in Louisiana," he said, while some at the hearing opposed to the pipeline yelled over him: "Liar." 
Video:  Joseph Lopinto
Cherri Foytlin, director of the environmental advocacy group Bold Louisiana who also went to Standing Rock, told me that the "water protectors didn't instigate violence."
She contends that it is companies like TigerSwan that initiate conflicts to try to make their services seem needed. At the press conference Foytlin presented photos of water protectors at Standing Rock injured by security forces, including TigerSwan.
"Justice is not what we saw at Standing Rock," Foytlin said. She wants to prevent similar events from taking place in Louisiana. 
Video: Cherri Foytlin, Director of Bold Louisiana
Foytlin and others opposed to the pipeline believe that TigerSwan is already operating in Louisiana. A report by Paste explains how a hit-piece video originally posted on the Facebook group "Louisiana First" was likely created by TigerSwan. The narrator is an actor―not the person he claims to be in the video. It turns out the actor lives in Chapel Hill, North Carolina, not far from TigerSwan's headquarters.
The claims made about Foytlin in the video are largely false. For instance, though she is a paid employee of Bold Louisiana, she does not make $100,000 a year, not that she would mind bringing in that kind of money, she joked.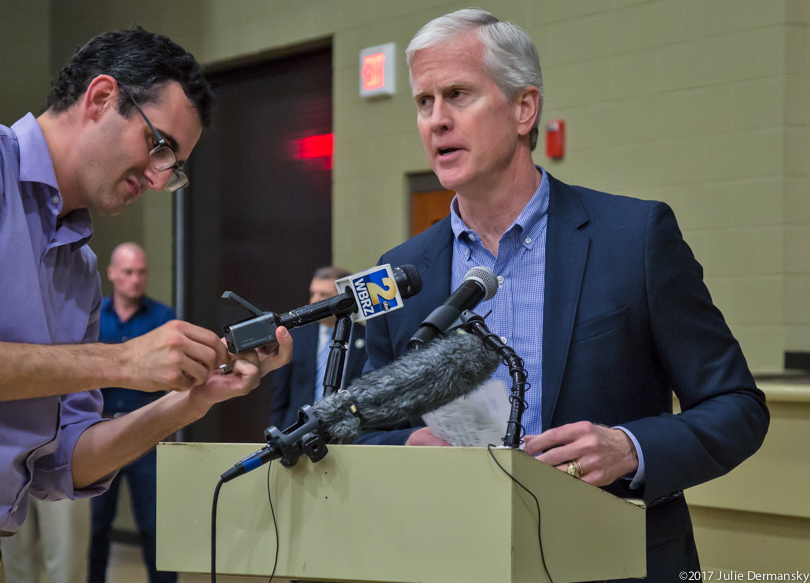 James "Spider" Marks speaking at a Bayou Bridge pipeline permit hearing in February, 2017
 
Furthermore, Major General James "Spider" Marks (retired), who chairs TigerSwan's advisory board, testified in support of the Bayou Bridge pipeline at the Department of Natural Resources permit hearing, and published an op-ed in favor of the pipeline in The Daily Advertiser, a local Louisiana paper without disclosing his connection to TigerSwan.
Marks claimed that many of the protesters were not from Louisiana, coloring the pipeline opposition as a bunch of troublemakers. "No Louisianan wants to live under the conditions that those unsuspecting North Dakota residents were subject to," he wrote.
Documents uncovered by reporters at The Intercept show that TigerSwan does public relations for its clients, including "counter-messaging" like Marks' op-ed. The company also used "military-style counterterrorism measures" against protesters, and conducted "sweeping and invasive surveillance" of them.
"TigerSwan doesn't get to deny us our humanity in our state," Bold Louisiana's Foytlin said at the press conference. "We love this state. We love the water. We love our people―they don't get to come in and crap on that."
She called on water protectors from all over to come and stand with her on December 14 at TigerSwan's permit appeal hearing.
Though Marks and others like to claim Foytlin and other opponents to the pipeline are from out of state, it is TigerSwan and the likes of "Spider" Marks who don't live in Louisiana.
"They are the outsiders," Foytlin said. "They are mercenaries for oil and gas companies."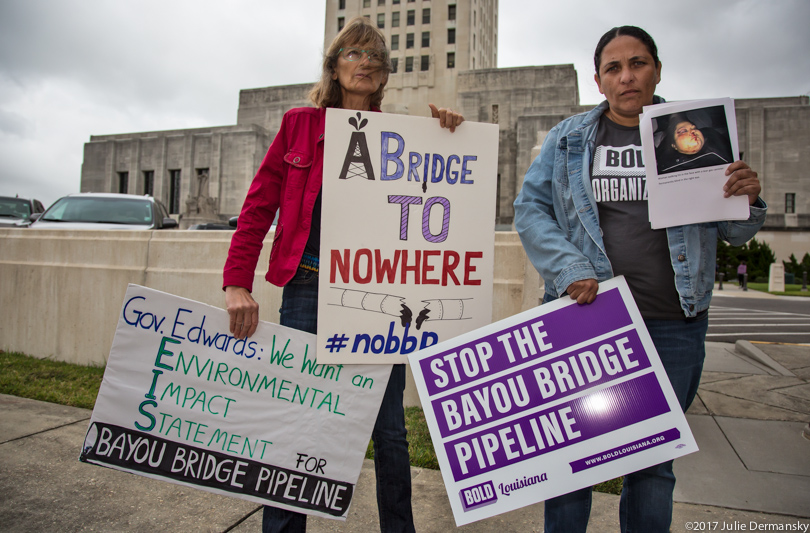 Cherri Foytlin, Director of Bold Louisiana and Renate Heurich, with 350.org in front of the Louisiana State Capitol
Every Tuesday for the last five weeks, members of the groups against the Bayou Bridge pipeline have met at Governor Edwards' office, asking him to perform an Environmental Impact Study before final consideration of the pipeline is made. "A very reasonable request," Foytlin pointed out.
Edwards, a supporter of ETP's project, has used industry talking points to defend his stance in backing the pipeline, dismissing environmentalists' concerns by claiming that pipelines are the safest way to transport oil and gas and will create jobs.
"The Department of Natural Resources is going to make absolutely sure that developers of the pipeline abide by all of the state permit requirements, regulations, and laws," Edwards said, according to an email sent to me by Shauna Sanford, the governor's press secretary. 
In addition, Edwards also stated: "We are also going to make sure that the latest technologies and safety techniques are used in constructing the pipeline." But when asked what those technologies and techniques are, I did not get a reply. 
Blog photo credit: Press Conference on November 9, 2017 at State Capitol