The World Economic Forum in Davos is a very weird event, with billionaire business leaders, heads of state and select policy wonks all mingling at a swanky Swiss resort.
But the chat isn't just focused on how one percent of the world's population can keep 82 percent of the world's wealth — glasses of prosecco are occasionally downed to discuss technology, trade deals and gender inequality, with a smattering of talk about climate change and the fossil fuel industry thrown in for good measure.
Here's what has caught DeSmog UK's eye so far.
Liam Fox has been busy shaking hands
It's always interesting to see what the UK's international trade secretary, Liam Fox, is up to. He has a chequered history of associating with dodgy transatlantic groups that fund and spread disinformation on climate change.
He founded the Atlantic Bridge think tank that was associated with some unpleasant forces across the pond, and closed down in 2011. More recently, Fox met with two neocon thinktanks — the American Enterprise Institute (AEI) and the Heritage Foundation — during his June 2017 state visit to the US, according to documents previously published by DeSmog UK.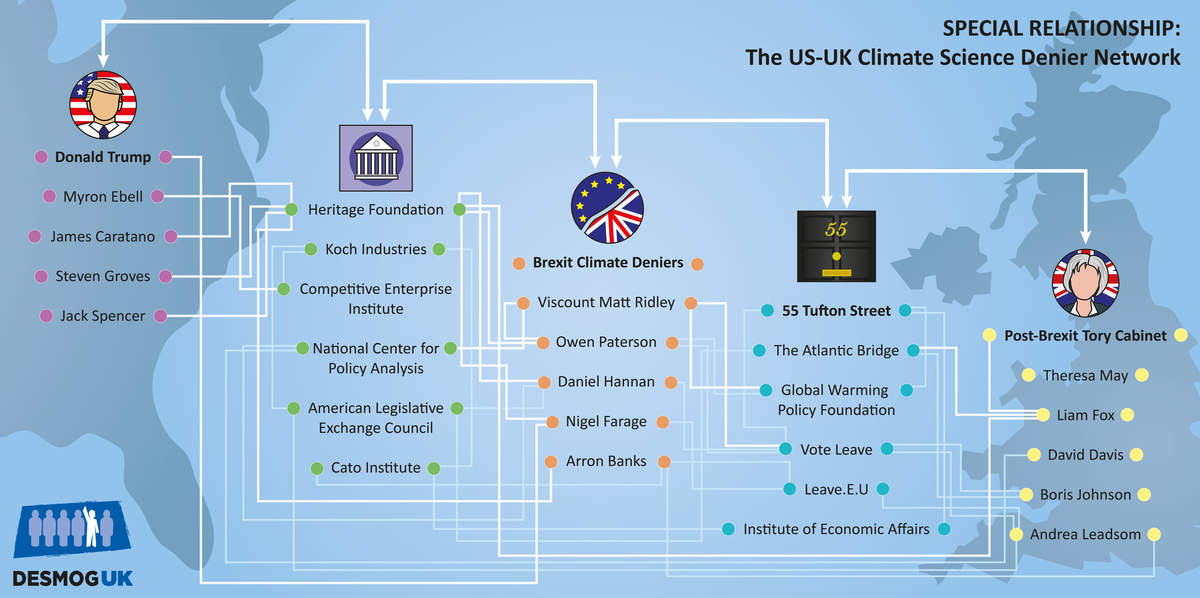 At Davos, Fox met with US representative George Holding, and boasted that it showed the strength of the relationship between the US and UK. Holding is listed on new media website Motherboard's catalogue of North Carolina's climate change deniers.
Great to see strong congressional support for future US/UK trade relations @RepHolding #wef18 pic.twitter.com/OVVetzY6Qr
— Dr Liam Fox MP (@LiamFox) January 24, 2018
Fox has been repeatedly criticised for not recruiting enough experienced negotiators to hammer out Brexit and post-Brexit international deals. And Fox failed to bring any experienced trade negotiators to previous US talks, according to a report by UnEarthed and the Financial Times.
The National Audit Office watchdog has now stated: "DIT has not yet defined the range of capabilities and level of capacity it will require to undertake its role in delivering an independent UK trade function."
Trump's America First speech anticipated
Donald Trump is due to speak at Davos today, but he's already annoyed most Brits by allowing Piers Morgan to be extra smug due to securing an interview with the golden-haired titan.
Trump is expected to speak about his 'America First' policies and how they are — sort of — compatible with everyone trading together. At least, that is what his economic advisors have been briefing.
US treasury secretary Steven Mnuchin said on Wednesday: "This is about an 'America First' agenda. But 'America First' does mean working with the rest of the world. It just means that President Trump is looking out for American workers and American interests, no different than he expects other leaders will look out for their own."
The World Economic Forum itself stated that "nation-state unilateralism" would damage the environment in a report released at the start of the conference . The same report identified climate change as a significant global threat.
Of course, Trump is not exactly a fan of the hard facts of climate science. And French president Emmanuel Macron took an ever-so-smooth dig at the US president's views on climate change in his own Davos speech, saying, "When you arrive here and see the snow, it could be hard to believe in global warming. Obviously you don't invite anyone skeptical about global warming this year."
True to form, only a few days ago, Trump slapped levies on imports of solar panels. Nonetheless, former vice-president Al Gore said at Davos that the US would make its climate targets despite Trump's intent to withdraw from the Paris deal and set the energy revolution into reverse.
"Gore's bullish prognosis depends on the leaders [of states, cities and companies] creating enough momentum in the clean economy to close the gap," Climate Home reported.
May mentions clean energy (a little), and robots (a lot)
Though most of UK prime minister Theresa May's speech at Davos focused on the opportunities and challenges of technology, including AI and social media, she did mention that the UK is at the forefront of low carbon technology and offered a line on the UK's offshore wind industry.
This relatively paltry touch on the subject is a little bit embarrassing for a supposed global leader on the issue, who has been in recent weeks going hard on 'bright blue' green issues such as plastics and reforestation.
Earlier this month, May stated: "I want the Britain of the future to be a truly Global Britain, which is a force for good in the world. Steadfast in upholding our values – not least our fierce commitment to protecting the natural environment."
And her Davos comments could be seen as slightly ironic given her government's penchant of undermining onshore wind power and being somewhat shaky on support for other forms of renewable energy.
May was also criticised for her lack of networking — something trade secretary Liam Fox could never be accused of. And her speech was sidelined as a scheduling clash meant a meeting of 'world leaders' taking place at the same time, Politico reported. Ouch.
You can't make this up. Can you? "@theresa_may's speech [at #WEF18 today] risks being a sideshow [..]. In a serious faux pas, May's speech is scheduled to overlap with an informal meeting of 'world economic leaders'." #Brexit @PoliticoRyan @POLITICOEurope https://t.co/QdbbnvX2IS

— Matthias Struwe (@Mat_Struwe) January 25, 2018
In other ostensibly more serious renewables chat, the IEA's Fatih Birol said that EVs won't peak oil demand, apparently contradicting analysis from BNEF.
The IEA's Fatih Birol, in the audience for the US, Saudi Arabia and Russian show, has more of a statement than a question.

Says (eventually) electric cars won't make oil demand peak.

"We not oil from all these three countries to meet growing demand". #OOTT #WEF18 #Davos2018 pic.twitter.com/g1DEFxM82f

— David Sheppard (@OilSheppard) January 24, 2018
But it's worth noting the IEA has been historically conservative on all things renewable, and have been criticised for downplaying how fast prices would drop and capacity would boom. 
Image: World Economic Forum/Flickr CC BY–NC–SA 2.0