If you'd met John Werring four years ago, he wouldn't have been able to tell you what an abandoned gas well looked like.
"We had no idea whether they were even accessible," said the registered professional biologist.
That was before the summer of 2014, when he headed up to Fort St. John, B.C., on a reconnaissance mission. At that time, much was known about leaking gas wells in the United States, but there was very little data on Canada.
All Werring had to work with was a map of abandoned wells provided by B.C.'s Oil and Gas Commission. Armed with a gas monitor and a metal detector, he headed into what the gas industry calls the "Montney formation," one of the largest shale gas resources in the world. Shale gas is primarily accessed via hydraulic fracturing, also known as fracking.
"Most of these places, there's nobody in the field," Werring said. "You won't see anybody for miles and miles. Just well after well after well."
In some areas, Werring — a senior science and policy advisor with the David Suzuki Foundation — could detect gas leaking from the wells just with his nose. His curiosity was officially piqued.
'

Out of sight, out of mind'

Fast forward three summers and Werring has now logged more than 10,000 kilometres on B.C.'s oil and gas roads in the hunt for leaking wells. In the process, he has revealed that B.C. is vastly underreporting its "fugitive emissions" — emissions vented or leaked during the natural gas extraction process.

"The whole city of Fort St. John is surrounded by wells," Werring said. "The further away we got from the centre of Fort St. John the worse the conditions were in the field in terms of well maintenance. Out of sight, out of mind. No company was immune."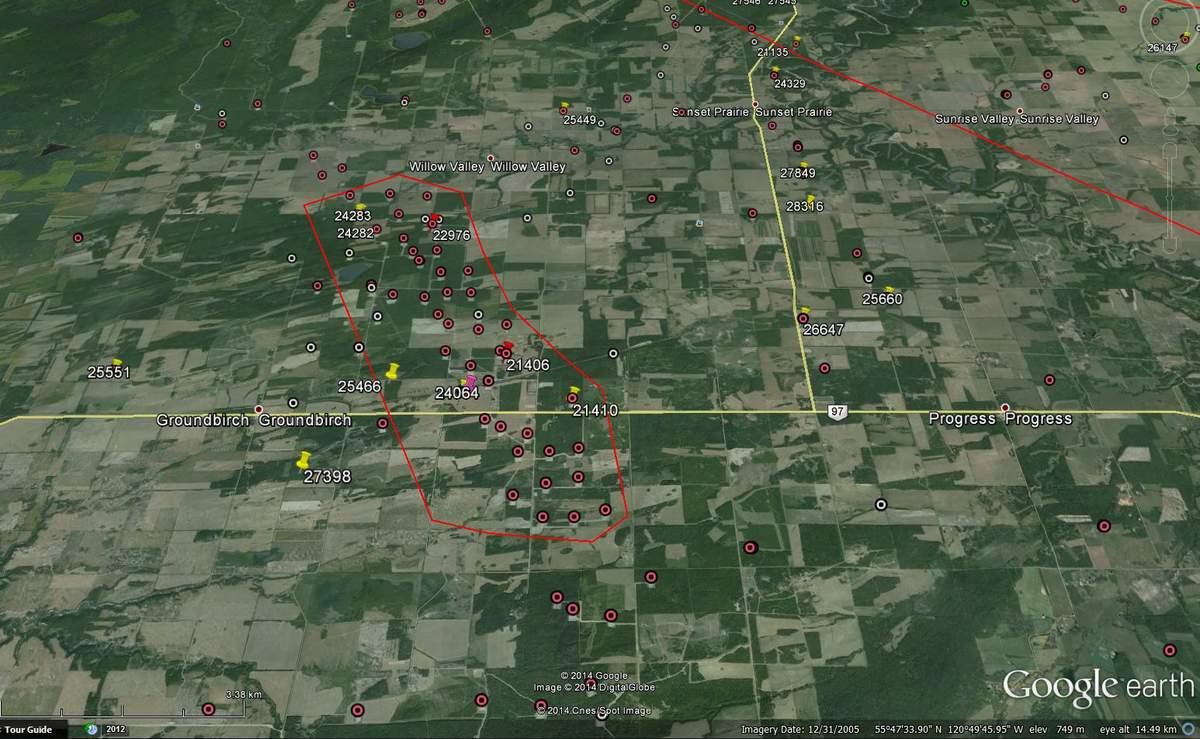 Getting the data wasn't easy. For starters, the equipment required to detect the gas was prohibitively expensive. But then Werring reached out to David Risk, a world-renowned expert on fugitive emissions at St. Francis Xavier University in Antigonish, N.S.
"He was game and had all the equipment," Werring said. "He had mobile gas sniffing technology in the back of a Dodge Ram so what we'd do is drive around on oil and gas roads and try to detect plumes of methane gas and hydrogen sulphide."
The research team travelled 8,000 kilometres of back roads in the summer of 2015, mapping where the plumes were detected and overlaying that with a map of gas wells. That research was published in the peer-reviewed scientific journal Atmospheric Chemistry and Physics Discussions in October 2017.
When Werring returned to the area in the summer of 2016, he came armed with a hand-held gas-sniffing device and an infrared camera able to see gases. This time he ventured right onto the well sites.
"You would see a cloud in the video," Werring said. "It would look like smoke."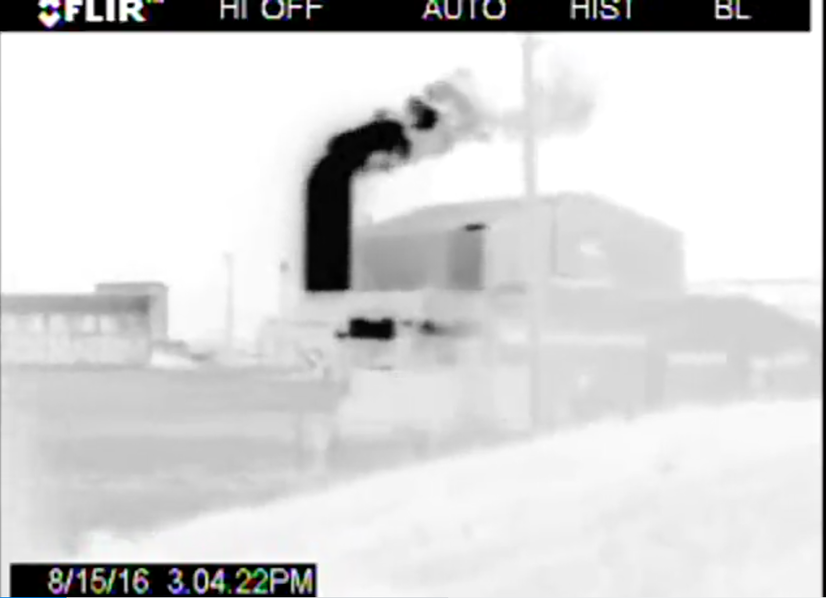 The problem with methane leaks
Over the course of 12 days, Werring and his son visited 178 well sites. On any given day, they'd access between 10 and 30 wells. They discovered that, on average, 85 per cent of the active wells were venting methane gas directly into the environment. Additionally, they found that 35 per cent of inactive wells were leaking methane.
Natural gas is 95 per cent methane — and methane is a particularly potent greenhouse gas, especially in the near term. A molecule of methane is 84 times more effective at trapping heat than a molecule of carbon dioxide over the course of 20 years.
That's why Prime Minister Justin Trudeau and former president Barack Obama signed a landmark agreement in 2016 to cut methane emissions by 45 per cent by 2025.
"Forty-five per cent of what? We didn't know," Werring said. "The company just estimates what their vent rate is and that's it."
Right now, fugitive methane emissions in B.C. are reported via the greenhouse gas emissions inventory published annually by the Ministry of Environment and Climate Change.
More than 25,000 wells have been drilled in British Columbia since the 1950s. The challenge with addressing methane emissions is two-fold: first, there are all sorts of ways methane can leak from gas wells. Second, the pumps used to control the flow of gas from wells (called "pneumatic devices") are fuelled with gas from the well itself and these devices often "bleed" gas directly into the atmosphere.
A number of U.S. states, including Colorado and California already require companies to move away from high-emitting pneumatic devices, according to Drew Nelson, director of international affairs for the U.S.-based Environmental Defense Fund.
"The technology exists," Nelson said. "In most cases, you can pay back your switch almost immediately."
The Canadian government's draft regulations on methane require companies to use zero-bleed or low-bleed devices that minimize and contain emissions, even capturing gas so companies can sell it — but those regulations have been delayed for three years in what many see as a capitulation to the industry.
"And that's wrong because they can capture that stuff," Werring said.
Effective regulations will also need to target venting, leak detection and repair, Nelson said.
In its latest world energy outlook, the International Energy Agency found the oil and gas industry can feasibly reduce up to 75 per cent of its current methane emissions.
"Fifty per cent of that could be reduced at no net cost," Nelson said. "And those reductions would have the same climate benefit as closing all the coal plants in China."
"Reducing CO2 is incredibly important, but the fruits of that labour aren't going to be felt until my grandchildren are around. Reductions of methane now can be felt immediately."
There are also immediate human health risks to methane leaks, because natural gas contains toxic gases like xylene and benzene, which are known carcinogens.
"You won't see anybody for miles and miles. Just well after well after well." https://t.co/z1dyO4Cnyp

— DeSmog Canada (@DeSmogCanada) February 5, 2018
'

You can just drive down the road and boom, you're on a well pad'

While Werring wasn't initially sure about how he'd access the well sites for his research, it turned out to be easier than he thought.

"A lot of these well sites are just sitting out in the middle of nowhere with no fences, there's no 'no trespassing' signs, there's nothing. You can just drive down the road and boom, you're on a well pad," Werring said, estimating that about 90 per cent of the wells were accessible.

"We would drive on a well pad, we'd check to make sure the site was safe, we'd check to see if we could find a leak by listening and smelling. When we did smell or hear gas, we'd look closer to try to find the leak. When we found a leak, we detected it with the measuring device to determine that methane was present."

Next Werring would put a balloon over the leak point and measure how long it took to inflate to a certain dimension. Based on that, he was able to estimate the rate at which the gas was leaking. 

The wells he couldn't access were on private land or were surrounded by fences.
Run-ins with workers rare
Since most of B.C.'s wells are located on Crown land leases, Werring could legally access them without permission.
For the most part, the workers he came across seemed unfazed by his presence.
"Ninety-nine per cent of the time, we'd be standing on the side of the road and company trucks would drive by and see us on the site and we'd just wave at them and they'd wave back and just keep going," he said.
But on one occasion he encountered Progress Energy employees who told him he wasn't allowed on the site. Werring told them he had all the appropriate safety training and equipment, including personal gas monitors and hydrogen sulfide training.
"We had a cordial conversation and we continued doing what we were doing. They went back to their truck and about 10 minutes later, they came and said, 'Our bosses told you they want you to leave,' " he said. "And so we left and then we went across the road to another site and did our work there."
Progress Energy did not respond to a request for comment in time for publication.
Not a single animal — or well inspector — in 5,000 kilometres
In the 12 days, Werring estimates he and his son drove 5,000 kilometres.
"We never saw one animal. Not one anywhere. We'd be starting off at 6 o'clock in the morning and not getting back until like 10 o'clock at night, just driving hundreds and hundreds of kilometres a day down oil and gas roads. But there were no animals … I found that to be quite disturbing actually," Werring said, adding he did see moose and caribou tracks, especially around sour gas wells.
Another thing Werring didn't see? Inspectors from the B.C. Oil and Gas Commission.
The Oil and Gas Commission's director of public and corporate relations, Phil Rygg, said in an e-mailed response to questions that the commission performs 4,000 to 5,000 inspections per year on oil and gas infrastructure.
"If unauthorized methane releases are identified, deficiencies are noted and industry is required to take corrective action," Rygg said.
Companies are not typically given advance notice of inspections, Rygg said.
The commission uses an "AVO technique (audio, visual and olfactory) to identify leaking infrastructure." Inspectors have portable gas detectors and infrared cameras for more comprehensive inspections.
Werring said he's provided his data to the commission and is waiting for a response.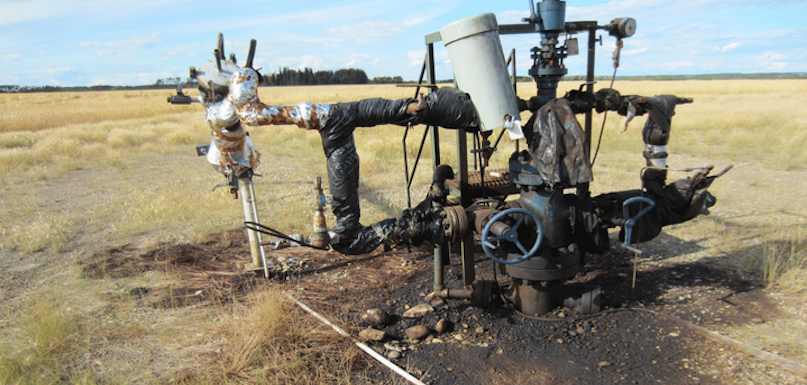 An active gas well in the Montney shale formation near Fort St. John. Werrring said he saw a few wells like this, which appeared to have suffered major issues, but were still in operation.
Province's biggest polluter not paying carbon tax
The new data comes at a key moment in the fight to regulate fugitive emissions in B.C.
In B.C., the agreement between the Greens and the NDP includes a commitment to expand the carbon tax to fugitive emissions.
The Pembina Institute estimates the cost of reductions under the federal government's draft guidelines is just under $12/tonne. At the current carbon tax rate of $30 a tonne, it would be cheaper for companies to reduce their emissions than to pay the tax.
In addition to swapping out equipment on active wells, Werring would like to see leaks from inactive wells addressed.
Those leaks are largely springing from something called a "surface casing vent."
"That vent is there to alleviate any excess gas pressure that comes up through the well that might be caused because of a well fracture or a pipe burst or cementing that's failed," Werring said.
Thirty-five per cent of inactive wells are leaking gas through that surface casing vent.
"And that's a problem because that means that there's likely a real problem with the well integrity that needs to be repaired to prevent that gas from leaking," Werring said.
"We need rules in place," Werring said. "Every single citizen in the province of British Columbia pays the carbon tax when you go to gas up your car or when you're heating your home … and here we have the single biggest polluter in the province that is just not being held to account."
Main image: John Werring in the field.