By Megan Darby, Climate Home News
The UK will draft new laws that will cut emissions to net-zero, climate minister Claire Perry announced on Tuesday.
In a submission to the UN's climate change agency, Perry said: "The UK will need to legislate for a net-zero emissions target at an appropriate point in the future to provide legal certainty on where the UK is heading."
The notice was given in a cover letter for the UK's 2050 climate goals to the UN. She added: "We hope the UK can be an inspirational example of what is possible" and committed to working with other parties to help them submit their own long term goals.
The UK's own long term plan was its Clean Growth Strategy, a long-awaited suite of environmental measures released in October 2017. The cover letter pointedly referred to the strategy as the UK's "current" policy.
Perry did not commit to lowering the UK's own 2050 target below the 80% cut by 2050 mandated by the country's climate act.
But earlier on Tuesday, at a side event of a British Commonwealth leaders summit in London, Perry said the independent Committee on Climate Change (CCC) would be instructed to advise on how the UK's long-term climate goals could meet the aspirational 1.5C limit agreed in Paris.
The CCC would be asked take into account the latest science on the 1.5C goal, which is the subject of a special report due to be finalised by the Intergovernmental Panel on Climate Change (IPCC) in September.
"After the IPCC report later this year, we will be seeking the advice of the UK's independent advisers, the Committee on Climate Change, on the implications of the Paris Agreement for the UK's long-term emissions reduction targets," said Perry.
Under the UK's 2008 Climate Change Act, it is committed to cutting greenhouse gas emissions 80% from 1990 levels by 2050, based on efforts to hold global temperature rise below 2C. The CCC is responsible for setting a series of interim targets or "carbon budgets" to get there, and periodically assessing progress.
The country is on track to meet its near-term milestones, but the CCC has warned of "significant gaps" in government policy for maintaining momentum through the 2020s and 30s.
Professor Joanna Haigh, co-director of the Grantham Institute at Imperial College London, said meeting the Paris Agreement 1.5C temperature goal would require faster emissions cuts – to net zero by 2050.
"So although the UK Climate Change Act was ground-breaking in its day, its existing 80% target now looks somewhat inadequate; other nations have already set net-zero targets in line with the Paris Accord, and the UK should logically adopt one too," said Haigh.
The UK government made a similar commitment to enshrine net-zero emissions into law under the prime ministership of David Cameron in 2016. Perry's statements on Tuesday indicated the policy remained in place and began steps towards its implementation.
Climate advocates welcomed the announcement, including Laurence Tubiana, a key architect of the Paris Agreement and head of the European Climate Foundation, and David Paul, environment minister of the Marshall Islands.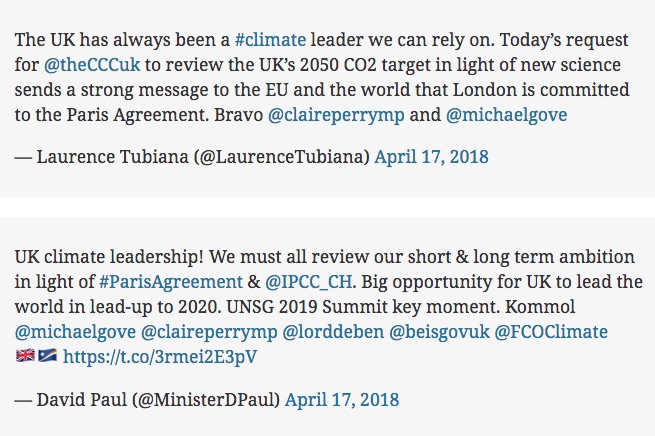 Last week the European Commission told EU ministers it would update its 2050 climate roadmap this year. 26 countries have signed up to produce similar strategies, including Brazil, Japan and Canada.
UN climate chief Patricia Espinosa last week showed her support for an initiative to inform the development of long-term strategies. "As we take action before 2020, we have to keep an eye on the future," she wrote.
To support others in developing long-term strategies, Perry promised £3.5 million ($5.0m) to extend the "2050 Calculator" tool and £1.2m ($1.7m) to help Pacific nations cut emissions.
Science minister Sam Gyimah announced a £3.5m programme using British satellites to help Kenya plan and respond to disasters like drought, floods and famine.
Meanwhile UK opposition lawmakers endorsed calls for a "climate damages tax" on fossil fuel producers to fund support for climate change victims.
Vanuatu was due to host the Commonwealth meeting but had to withdraw after Cyclone Pam hit in March 2015.
This article originally appeared on Climate Home News.
Image: Mary_R_Smith/Pixabay/CC0