London's Alternative Investment Market (AIM) was set-up in 1995 as the little sister of the London Stock Exchange, allowing growing companies to raise funds.
When a company decides to join the London Stock Exchange, it can list shares on the main market or seek admission on AIM, where smaller companies have a chance to raise money from outside investors.
To list on the exchange's main market, companies have to meet a number of criteria, such as providing audited annual accounts for at least three years and being valued at £700,000 or more.
Those companies which do not meet these criteria might seek an AIM listing.
As of March 2018, there were 947 small and mid-cap (which stands for capitalisation) UK and international companies listed on AIM worth more than £103 billion.
AIM's self-regulation system has led one senior US stock market official to describe the exchange as a "casino". Over the years, AIM has been mired in a series of corruption scandals and companies' collapses, cementing its cowboy reputation.
In August 2017, AIM's value reached more than £100 billion, strengthening the case for regulators to stop considering fraud and corruption allegations on the market as a side issue.
Scandals on AIM are often fuelled by the secrecy laws of the international financial system that allow offshore entities and their owners to remain anonymous.
Yet the market's so-called "light touch regulation" has long been pointed out by transparency campaigners as the root cause of scandals and company collapse on AIM.
Regulation on AIM is outsourced to nominee advisors, known as "nomads". These private companies are paid by the listed companies they regulate to act as advisers, carry out due diligence on each new listed company and provide guidance and oversight throughout a company's listing.
Sometimes, nomads also act as brokers for the same company they regulate by advising it on trading issues, the price of shares and investment opportunities. Brokers also earn a commission on all sums raised for the company.
This creates the grounds for conflicts of interest.
Campaigners have also denounced the nomad system as a watchdog without teeth. Nomads have little means of enforcement; instead they are expected to put pressure on the company they regulate to put their record straight — sometimes by threatening to resign as the company's advisor.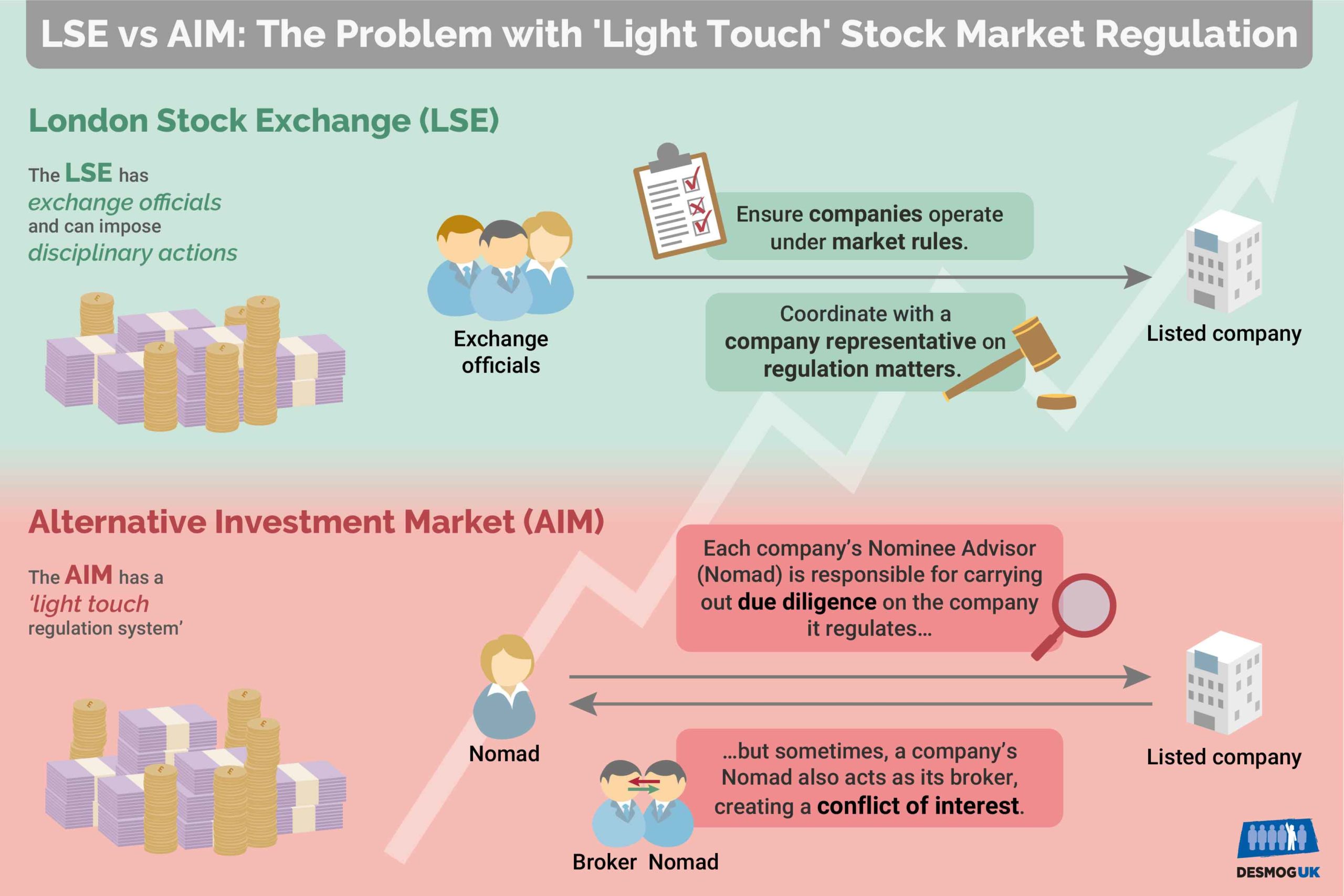 Under AIM rules, companies are forced to leave the market if a nomad resigns and they are unable to secure a replacement.
A nomad can report the company it regulates to AIM's executive panel or disciplinary committee, which can fine companies and in some rare circumstances cancel the admission of its shares on the exchange. Nomads can also be fine or be stripped from their nominee advisor status if they are found to breach AIM rules.
It is the Financial Conduct Authority that authorises private companies to act as nomads on AIM.
However, AIM regulators have been accused by critics of failing to "name and shame" companies by not disclosing the names of companies being fined for wrongdoing. Publicising investigation findings remains at the discretion of AIM's disciplinary committee.
The London Stock Exchange, which runs AIM, did not respond to DeSmog UK's request for comment.
Case Studies: Fraud on

AIM
Anneke Van Woudenberg, director of Rights and Accountability in Development (Raid), an organisation that advocates for corporate accountability on the issue of human rights, described AIM as "a haven for perpetrators of the worst corporate misconduct in some of the world's most conflict-prone regions".
Here are a couple of examples, which form the backdrop for Van Woudenberg's comments.
In 2016, a major investigation by Global Witness claimed former England cricketer Phil Edmonds and his business partner Andrew Groves used AIM to fleece investors from millions of pounds while using anonymous offshore accounts to mislead investors.
According to Global Witness' report, Edmonds and Groves used the secrecy laws of offshore jurisdiction to list a string of cash shell companies on AIM and drain funds from investors.
Global Witness' investigation claimed the pair was using investors' money to secretly buy assets using shell companies based offshore, such as the British Virgin Islands. When the asset was hidden in an anonymous account, they were able to sell it on to their own AIM-listed shell company at an inflated price and pocket the difference. Investors were reportedly conned, not knowing Edmonds and Groves were on both sides of the deal.
In 2011, Edmonds and Groves' nomad Seymour Pierce received a record fine by the London Stock Exchange for breaching AIM rules and failing to "undertake due diligence and to properly assess the appropriateness of a company seeking admission to AIM".
At the time, Seymour Pierce's new chief executive Phillip Wale, said in a statement he agreed with the findings and accepted the sanctions and that "major changes" had been made.
The company went into administration and in 2013 was bought by Cantor Fitzgerald, another company listed as a nomad on AIM. Seymour Pierce senior team continued to work for Cantor Fitzgerald.
Billionaire Frank Timis, a notorious client of AIM with a controversial past, is also well accustomed to the junior market's light touch regulation system.
His AIM-listed company African Minerals galvanised attention from human rights campaigners  after the company's activities led to hundreds of people's homes being destroyed in war-torn Sierra Leone to give way to an iron ore mine.
In an episode of BBC's Assignment, local residents in Sierra Leone told horrific stories of police violence and brutality when they tried to protest against the mine.
Tonkolili Iron Ore Limited — a subsidiary of African Minerals — has been accused of being "both complicit and involved in violence" as "villagers were unlawfully assaulted and imprisoned by the Sierra Leonean Police" while contesting the mine's activities. The case is being heard in the British high court in Sierra Leone.
Claimants reportedly argued the company "effectively" oversaw policing of its mine and surrounding areas, where protests turned deadly in two incidents in 2010 and 2012.
Tonkolili Iron Ore Ltd denies liability and claims that it has no "vicarious responsibility" for the actions of the police. African Minerals went into administration in 2015 for failing to repay its lenders and its shares were delisted from the market.
In spite of this, in 2011, African Minerals Limited had the highest value stock on AIM, with shares worth more than £2 billion.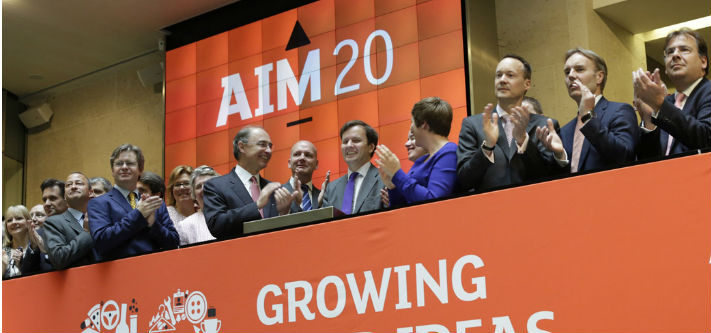 The London Stock Exchange describes AIM as "the world's leading growth market". Image Credit: London Stock Exchange celebrates AIM's 20th anniversary in 2015. Image Credit: London Stock Exchange
The case has become a notorious example of the AIM nomad system's failure to carry out robust due diligence on listed companies. Indeed, Timis was allowed to float African Minerals on AIM despite having previously been handed a record fine by AIM's disciplinary committee for overstating the oil reserves of one of his earlier AIM-listed ventures, Regal Petroleum.
In a statement, Regal Petroleum said "there was no suggestion that its management team "conducted their responsibilities in anything other than a proper and professional manner."
What needs to be done?
Campaigners such as Raid and human rights NGO Global Witness have urged for a more robust regulation framework and enforcements means on AIM.
Michelle Madsen, a freelance investigative journalist who was written extensively about AIM, told DeSmog UK the government should lead a coordinated effort to impose tougher regulations and provide existing bodies, such as the Financial Conduct Authority and the Serious Fraud Office, with the necessary resources to oversee the financial markets.
A spokesman for the FCA told DeSmog UK: "We take breaches of capital market disclosure rules, including those disclosures made by AIM companies, very seriously.
"We will investigate where we suspect serious misconduct has occurred. In recent years, we have commenced more investigations into capital market disclosure issues, especially where we have seen that there may be poor disclosure practices or, in some cases, where poor disclosure can mislead the market and become market abuse."
In March 2018, AIM announced "minimal" changes to its listing process after it asked stakeholders for submissions regarding any issues with the market's regulation system.
From September 2018, nomads will have to inform the market earlier of a new submission for listing and they will receive a "non-exhaustive" list of matters that could affect an applicant's "appropriateness" for a listing.
AIM-listed companies will also have to disclose on their website and regularly update details of how they comply with a recognised corporate governance code (including, but not limited to, the QCA Corporate Governance Code and the UK Corporate Governance Code).
These small changes disappointed campaigners who demanded radical changes to its regulation system.
Anneke Van Woudenberg, of Raid, called out the consultation as "a missed opportunity" to reform AIM's regulatory system. She denounced the "narrow scope" and "flawed approach" of the consultation which did not take into account alleged widespread fraud and criminal behaviour on AIM.
"The consultation fundamentally didn't deal with the problems of AIM. It is disappointing that the consultation did not look more broadly at why so many companies have gone bust on AIM and why," she said.
She argued an inquiry by Parliament's select committee was needed in order to better regulate who is allowed to list on London's junior market in the first place and ensure better oversight.
---
Read DeSmog UK's Empire Oil series:
Part One – Black Gold': London's African Oil Hub
Part Two – Taking AIM: London's Wild West Stock Market
Part Three – Exposed: The Elite 'Boys Club' Running London's Opaque Oil Network
---
Image Credit: Alexas_Fotos/Pixabay/CC0 1.0