By Logan Carroll
The Minnesota section of Enbridge's Line 3 pipeline accounts for nearly 300 miles of the longest crude oil transport system in the world, and it is failing. The multi-billion-dollar transnational corporation has applied for a permit to replace it. Opposition from tribes in the region and environmental groups is slowing the project, but the process at times appears so tilted in Enbridge's favor that, watching the court battles and utility commission meetings, it almost feels like Enbridge wrote the rules.
At one point in its application to build the new Line 3, Enbridge listed all the federal and state laws that regulate the permitting and construction of pipelines. Nearly all the Minnesota laws originated in one 1987 Senate bill: S.F. 90.
This bill was accompanied by unprecedented pipeline industry lobbying — led in spending by Enbridge — and included subtle but major handouts to pipeline companies. One such provision imposes a sweeping limit on the public's ability to oppose new pipelines, including the Line 3 replacement project.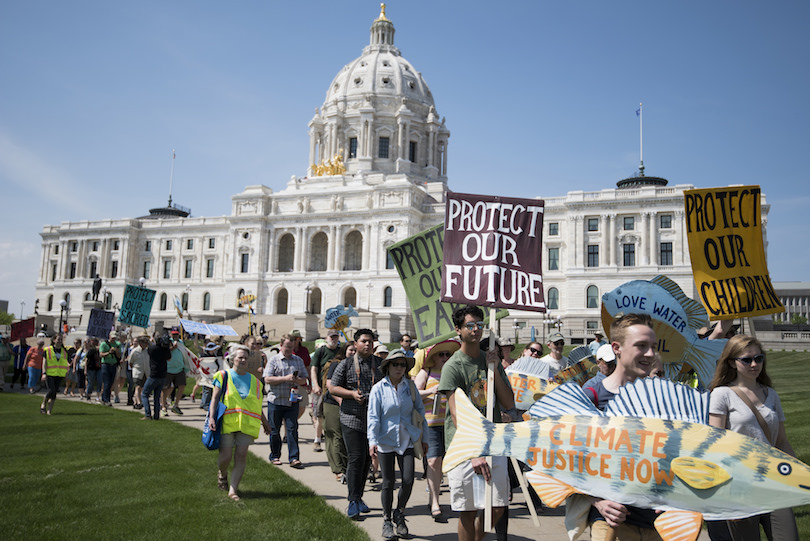 On May 18, 2018, about 100 people gathered at the Minnesota capitol and marched in protest of the Line 3 project to downtown St. Paul in front of the Public Utilities Commission, which in June is slated to decide whether or not to approve the construction and current proposed route of the Enbridge Line 3 oil pipeline. Credit: Fibonacci Blue, CC BY 2.0
Industry-Friendly Language
According to environmental lawyer Paul Blackburn, one of the largest barriers to pipeline regulation is actually the federal Pipeline Safety Act, which preempts most state regulations. He called the law "a beautiful example of how to appear to regulate something without actually regulating it at all."
Still, Blackburn said there are ways for states to regulate pipelines, with some of the most powerful being zoning, permitting, and routing laws. However, S.F. 90 includes industry-friendly language that undercuts these and other potential regulations.
The bill allowed pipeline operators to classify their own data after a spill, making it inaccessible to the public. It instituted stiff civil and criminal penalties for pipeline company employees who failed to alert the authorities or destroyed evidence after a spill, but the companies were subject only to relatively small fines.
Perhaps S.F. 90's largest handout was the overhaul of Minnesota's routing and permitting process. Before 1987, counties and towns could use zoning to exert some control over the routing and permitting of pipelines (how and where they were built), but S.F. 90 preempted local zoning of pipelines, a measure with implications for the Line 3 battle today. Instead, a new pipeline would require only a single routing permit, issued by the Environmental Quality Board, an authority which shifted to the Public Utilities Commission in 2005.
This is the commission that will decide the fate of Enbridge's Line 3 replacement project, a decision expected in June.
The bill's strongest provision established the call-before-you-dig system, requiring pipeline operators to register the locations of their lines. However, the system is overseen by a nonprofit run by pipeline and excavation industry representatives, and while excavators who don't comply are fined, there is no punishment for pipeline operators who don't register their lines.
Hidden Pipelines, Hidden Influence?
In 1986, in Mounds View, Minnesota, a gasoline pipeline exploded, leveling an entire city block and killing two: a woman and her daughter. After the explosion, the governor convened a commission to study how to better regulate the industry. The commission was co-chaired by state Senator Steve Novak, who was also S.F. 90's primary sponsor.
He describes the bill as a compromise between three sides: industry, government, and environmentalists. Before S.F. 90, Novak said, "You'd be living in your neighborhood, going to a school, at a park — some damn pipeline was going right underneath you and you didn't know it."
The next legislative session, while S.F. 90 was being drafted in early 1987, Enbridge Energy Partners (then Lakehead Pipe Line Company) spent more than $15,000 lobbying the Minnesota Legislature. This might seem modest post-Citizens United, but it was more than the company would spend in the state in the next 18 years combined.
The petroleum and natural gas industry spent $47,101 in the first six months of that year, nearly all of it by pipeline companies, a figure that would drop to only $17,479 in the year that followed this period. Although not required to disclose how they spent this money, typical lobbying expenses include wining and dining public officials, advertising, or preparing and distributing lobbying materials.
Novak doesn't recall many specifics of how the bill was drafted, except that nothing was controversial at the time and everything was unanimous, including the preemption of local zoning. One of the problems S.F. 90 addressed was that no one — including counties and cities — was regulating pipelines at all. The routing and permitting provision wasn't meant to limit regulation, but to expand it by clearly identifying who was responsible for these decisions.
For his part, Novak doesn't recall the industry manipulating the process, though he admits the possibility. "If there were things that occurred in the seams and along the edges that, possibly, 30 years later, appear to be a manipulation, we didn't know it at the time," Novak said.
Novak's explanation echoes the conclusion of a 2014 Suffolk University study of the effectiveness of state-level lobbying: "By showing a willingness to work with a bill that an interest group opposes in its current form, the lobbyist reassures legislators who might otherwise worry about the intent of the lobbyist and the veracity of the information the lobbyist is providing." When using this approach, the study found, lobbyists were able to insert industry-friendly language into 65 percent of state legislation.
"There may be conspiracies," Novak laughed a little, "going on today that we didn't think of in those days … I would recommend you find some legislators to fix it."
Trying to Fix It
In 2013, state Rep. Frank Hornstein introduced a modest oil transport safety bill in response to the Lac-Mégantic, Canada, oil train disaster that killed 47 people and an oil train derailment in Minnesota that released 30,000 gallons.
The bill would have required pipeline and railroad companies to pay into a first responder safety fund and conform to some standards for responding to spills.
Early on, rail companies opposed the bill but quickly accepted many of the provisions. The pipeline industry was silent until the very end. "Out of nowhere, they almost literally parachuted into town," Hornstein said. They poured in from Washington, D.C.; Oklahoma; the Gulf Coast: "All these lobbyists descended on the capital and started lobbying against my bill."
Hornstein sat down with the lobbyists, who represented the American Petroleum Institute and pipeline companies, including Enbridge. He described a tense meeting which culminated in one lobbyist demanding to know his "philosophy of oil."
"I don't know," he said. "There's a lot of it and it causes climate change."
After that, things moved quickly. While Hornstein worked to get his bill through the House, industry lobbyists worked to get all references to pipelines removed from the Senate version. A small war erupted when reconciling the two versions, requiring the governor's intervention. In the end, the bill regulated only oil trains; pipeline operators would pay into the safety fund but all other references to them were removed.
New Line 3, Same Old Story
In the last several years, most of Enbridge's lobbying efforts in the state have been directed at the Minnesota Public Utilities Commission (PUC). Last year, Enbridge spent more than $5 million to influence the PUC, including lawyers' fees to argue before the commission. However, the company now spends more than $200,000 a year lobbying the legislature. Perhaps not coincidentally, the legislature passed a bill last week that would have allowed Line 3 to bypass the PUC all together. This week, the governor vetoed that bill.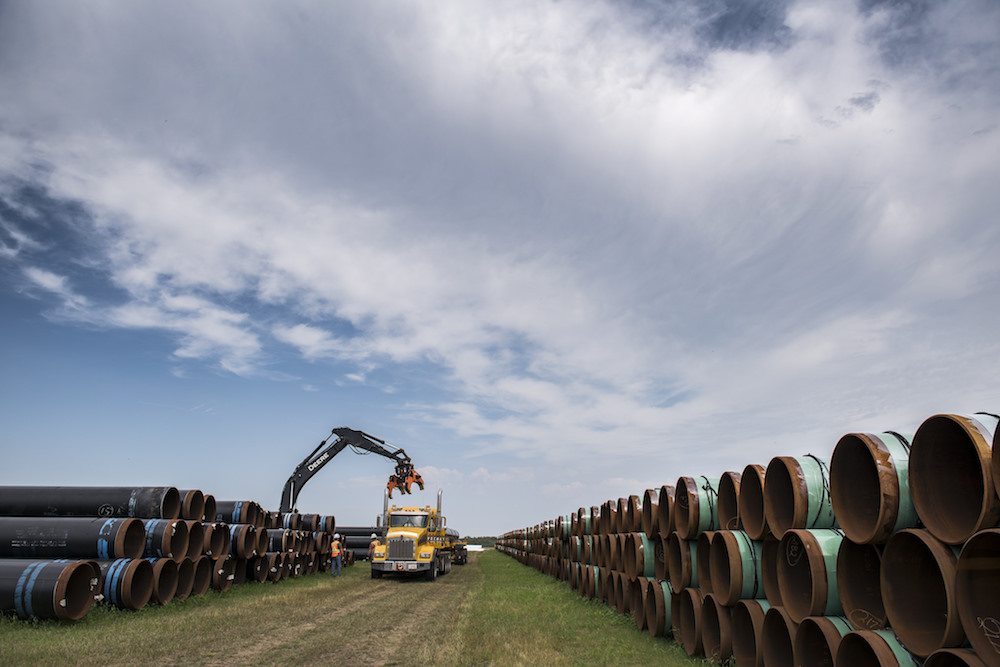 Sections of pipe destined for Enbridge's Line 3 replacement project, in Hardisty, Alberta, August 10, 2016. Credit: Marc Chalifoux/Epic Photography for the Government of Alberta, CC BY–ND 2.0
Most developments in the bureaucratic war over Line 3 happen at the state capital, politically and geographically removed from those the pipeline would affect most. The wording was subtle, but if S.F. 90 hadn't preempted local zoning, those opposing Line 3 could work with local officials to erect additional barriers.
For better or worse, S.F. 90 was an historic piece of legislation. Just last summer, Novak met with others who helped craft S.F. 90 to celebrate the 30th anniversary of its passage. He's proud of the bill and points out that call-before-you-dig has likely prevented another catastrophe. On the other hand, S.F. 90 continues to benefit oil and pipeline companies and limit public participation in decisions about pipelines.
"Maybe times have changed," Novak said of the law, "and it's time to revisit it."
Enbridge did not respond to requests for comment.
Main image: Alberta Premier Rachel Notley announced construction of Enbridge's Line 3 pipeline replacement project in Hardisty, Alberta, Canada, August 10, 2016. Credit: Marc Chalifoux/Epic Photography for the Government of Alberta, CC BY–ND 2.0