The new health secretary Matt Hancock has received £18,000 from a key donor to the UK's climate science denial think tank over the last four years, according to official government figures.
Hancock, who was promoted to health secretary in Theresa May's cabinet reshuffle following a dramatic day of resignations over the Prime Minister Brexit's plan, has received regular cash from Neil Record, who has repeatedly argued that the science of climate change is not "settled".
Record is a City currency manager and the chairman and trustee of the UK neoliberal and pro-privatisation think tank the Institute of Economic Affairs (IEA) that pushes for deregulation.  
The IEA refuses to reveal where its funding comes from but it has previously been revealed that the organisation has long been financed by the tobacco industry and the US-based pro healthcare privatisation Templeton Foundation.
Record is also a known donor to the climate science denying Global Warming Policy Foundation and a board member of the think tank's campaign arm the Global Warming Policy Forum.
Data from Parliament's register of interests and the Electoral Commission show Hancock received a yearly allowance from Record adding up to £32,000 since 2010.
A breakdown of the data shows Record has donated £4,000 every year to Hancock since 2011 as well as £2,000 in 2010 and in May 2017 respectively. The last donation dates from last November.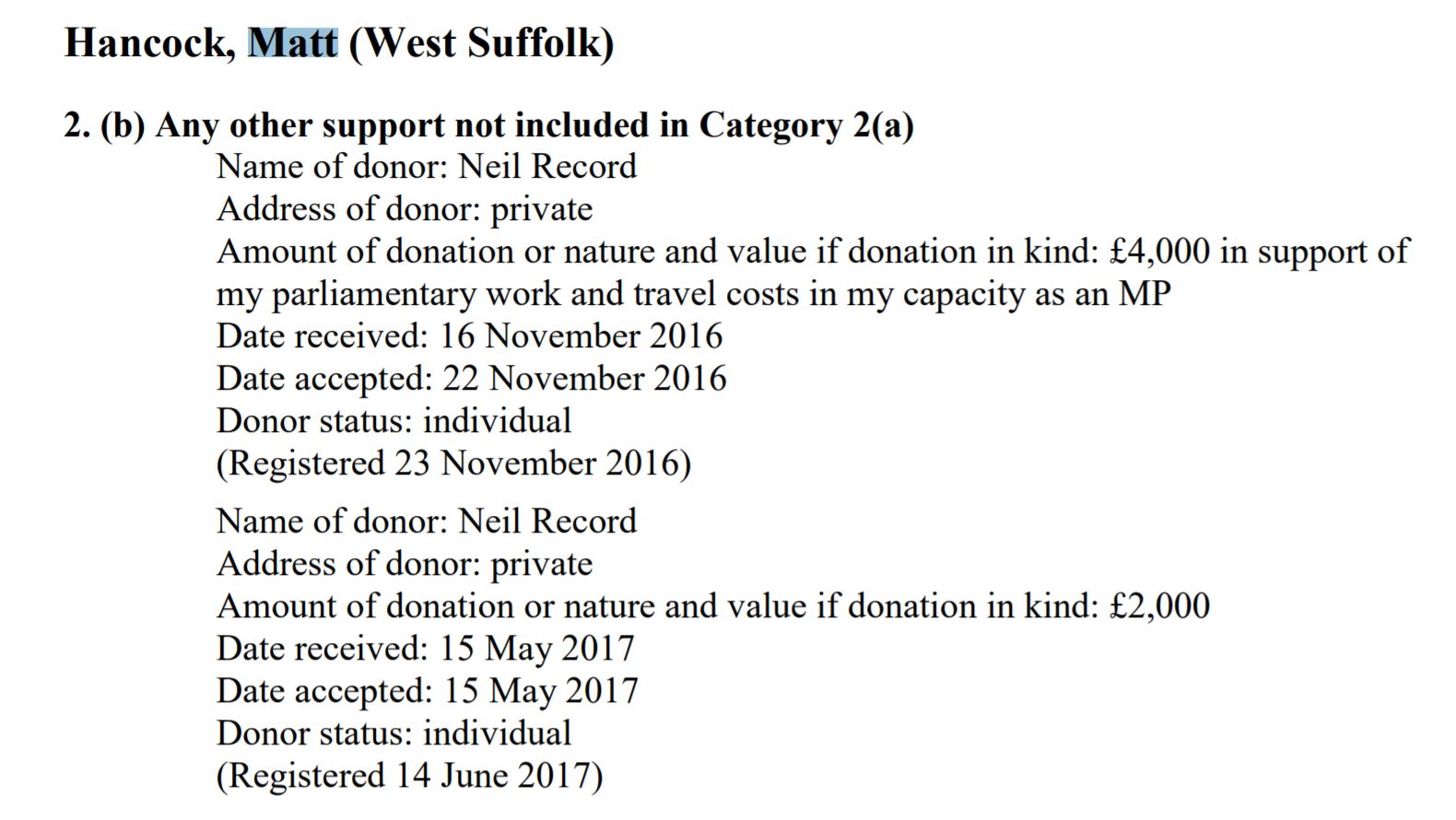 In 2015, the Guardian reported that Hancock had received £18,000 from Record between 2010 and 2014 but this did not stop the West Suffolk MP to continue to take the climate science denier funder's money. 
Neil Record: 'Climate science is not settled'
In 2015, Record told the Guardian that he had never discussed energy policy with Hancock but added that over the past several years he had "provided some research support for Matthew Hancock, in my view an impressive 2010-entry MP".
"I have never discussed energy policy or climate change with Matthew. Our discussions tend to centre round our mutual interest in economics; we both started our careers as economists at the Bank of England," he added.
During the Brexit campaign, Record was also listed as a lead business supporter of Business for Britain, a pro-Brexit group linked to 55 Tufton Street, an office shared by a number of other organisations promoting a hard Brexit and climate science denial, just around the corner from the Houses of Parliament.
He is also a major Conservative party donor. Data from the Electoral Commission show that he donated £34,740 to the Tories in 2017 alone.
Matt Hancock: Views on climate change
Hancock has held a number of ministerial roles and he served as minister of state for the former department of energy and climate change between July 2014 and March 2015.
Hancock has at times voted against measures to tackle climate change including opposing a strategy for carbon capture and storage for the energy industry and voting against setting a decarbonisation target for the UK within six months of June 2016 and to review it annually thereafter.
In a 2015 live BBC debate about the environment and climate change, he said: "There is no doubt there are changes in the climate, highly likely to be manmade," but added that any response had to be "careful and cautious" and "to go further would increase costs."
Hancock has repeatedly used the words "careful and cautious" when talking about environmental actions and the exploitation of onshore oil and gas reserves in the UK.
The words are somehow in contradiction to recommendations by the UK's Committee on Climate Change and the UN's IPCC climate science panel, which have both called for tough measures and ambitious action in order to meet global climate goals and limit dangerous warming.
Hancock's parliamentary office has been contacted for comment.
Image Credit: Policy Exchange/Creative Commons/ CC BY 2.0