By James Wilt, The Narwhal. Originally posted on The Narwhal.
The vast majority of oilsands crude moving to the West Coast passes through the little regarded Puget Sound Pipeline, which is now heavily entangled in troubled Canada-U.S. relations.
Politicians and industry have long boasted of the ability for an expanded Trans Mountain pipeline to get oil to lucrative Asian markets from Burnaby's Westridge terminal.
But experts in Washington State are increasingly concerned that the twinning of the Edmonton-to-Burnaby pipeline may in fact lead to an expansion of the Puget Sound Pipeline, a 111-kilometer "spur line" from Trans Mountain that branches southward at Abbotsford to carry oil to four large refineries in the Puget Sound region.
If Kinder Morgan shareholders vote to approve the deal, Canada will purchase the Puget Sound Pipeline as part of the $4.5 billion deal for the existing Trans Mountain line — meaning the decision to expand the spur line would eventually fall to Ottawa.
Trump May Use Puget Sound Pipeline to Punish Canada for Trade Conflict
According to a recent analysis from the Cleveland-based Institute for Energy Economics and Financial Analysis, the presence of the Puget Sound Pipeline in the $4.5 billion sale to Canada may end up being the very thing that scuttles the deal.
That's because the U.S. government is required to approve the purchase as it crosses the border, including review by both the Committee on Foreign Investment in the United States and State Department.
President Donald Trump would ultimately decide the verdict of the deal — which he may oppose given his erratic approach to addressing ever-growing trade tensions between the two countries.
The reports authors conclude the Puget Sound Pipeline could theoretically be removed from the deal, but it's no easy task.
"It would probably further delay this," Kathy Hipple, financial analyst at the institute and co-author of the report, told The Narwhal.
"They would have to work again, re-draft the contract. Lawyers would have to be involved, new documents drawn up, a new price tag put on the deal," she said, adding the change would raise a new tranche of questions: "what is the valuation of [the Puget Sound Pipeline] and how does that reduce the price from the $4.5 billion if it's not included?"
"It's not as simple as an eraser on a pencil and taking the price down," she said.
Despite the potential challenges of the transaction, others say there is an appetite for an expanded pipeline south of the border.
"I could see it happening very easily," Mike Priaro, a Calgary-based independent oil and gas consultant, said in an interview with The Narwhal.
"Those refineries in Puget Sound would want to get the cheapest crude they could get their hands on. Sending it by pipeline from the oilsands directly to the refinery is the cheapest way to get crude there."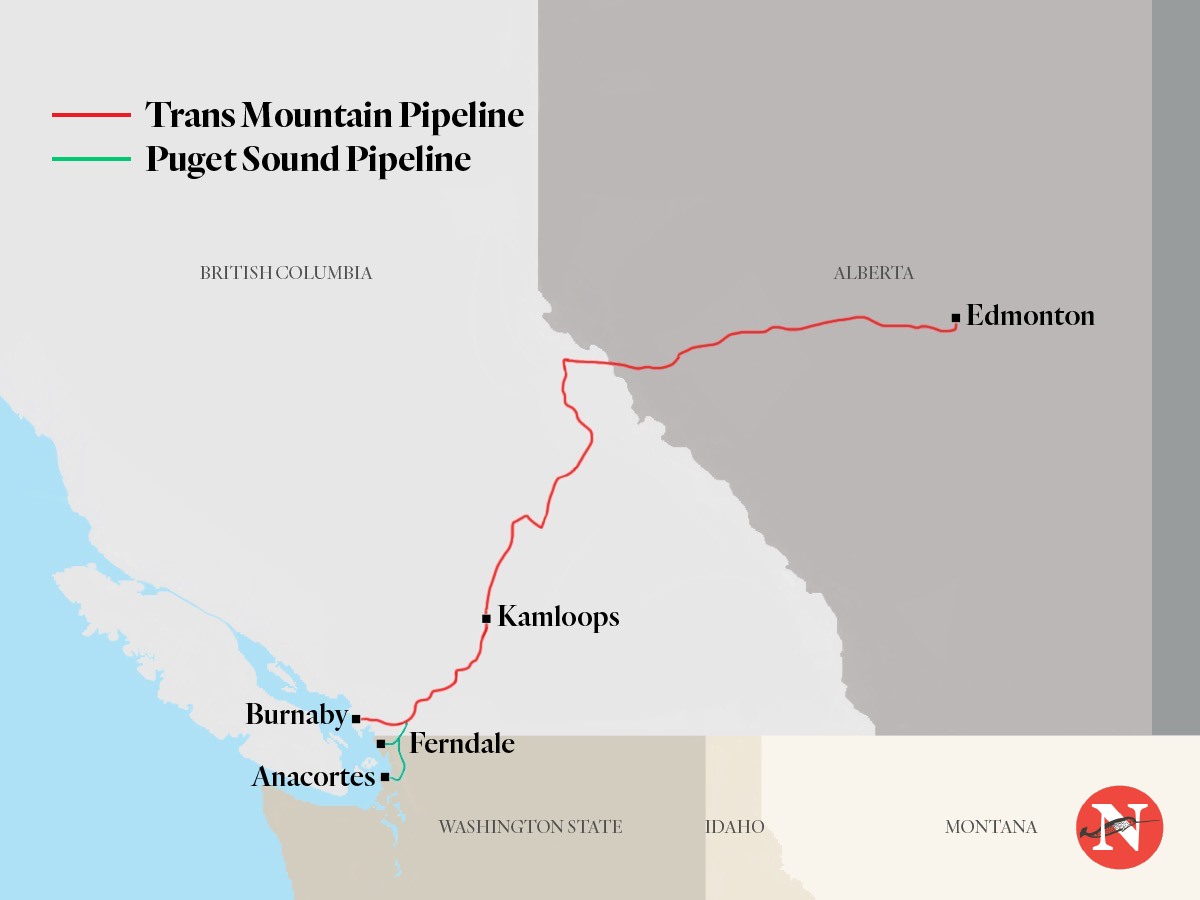 The Trans Mountain pipeline meets the Puget Sound pipeline in Abbotsford, where the oil can be carried south into Washington State. Graphic: Carol Linnitt / The Narwhal
A report by Morningstar Commodities Research in January 2017 concluded that "some if not all Washington State refiners are very keen to get their hands on Canadian crude" and that the Trans Mountain expansion "will end concerns about limited crude supply for Puget Sound refineries."
Kinder Morgan Canada's prospectus for an initial public offering a few months later, in May of 2017, referenced the possibility of a Puget Sound Pipeline expansion — five times.
Specifically, it reported that the Puget Sound pipeline system is capable of being expanded from approximately 240,000 barrels per day to approximately 500,000 barrels per day.
Two-thirds of Oil Shipped on Trans Mountain Ends up in Washington State
Most of the oil transported on the existing Trans Mountain pipeline already ends up going to refineries in Washington — either by pipeline or tanker.
According to data from the National Energy Board, an average of 295,600 barrels of oil per day was transported on the Trans Mountain pipeline in March 2018, the most recent month of reporting.
About 62 per cent of the oil went to Washington State via the Puget Sound Pipeline.
Another 21 per cent went to the Westridge terminal, while the remaining 17 per cent was transported to Burnaby for distribution, refining or storage. The Burnaby refinery, recently sold to Parkland Fuel by Chevron, has long complained about lack of supply because most of the oil is designated for exports.
Washington State's Department of Ecology reported that between January and June 2018, an average of 163,500 barrels per day of oil was transported from Alberta via the Puget Sound Pipeline.
All of the oil that made it to Westridge was "domestic heavy," or diluted raw bitumen from Alberta.
That's opposed to "domestic light," which includes conventional oil and bitumen upgraded into high-quality synthetic crude — and is primarily shipped to Washington refineries via the Puget Sound Pipeline. Some diluted bitumen also arrives at Washington refineries by tanker or barge from Westridge, with more shipped to California. Some oil is also transported from Alberta to Washington by rail.
Between January and June 2018, 1.55 million tonnes of crude oil (the Port of Vancouver measures oil in tonnes rather than barrels) was shipped from Westridge on tankers and barges. Of that, 92 per cent went to the United States (while 4.8 per cent went to South Korea in April and three per cent went to China in May).
This is an overall increase from previous years. For comparison, only 1.77 million tonnes of crude oil was shipped out of Westridge in all of 2017.
Washington State Has Limited Ability to Process Heavy Oil — But That Could Change
Historically, Washington refineries have relied on oil from the Alaska North Slope.
But production has collapsed in recent decades, down to only 525,000 barrels per day (bpd) in 2018 from over two million barrels per day in 1988. About a quarter of Alaska Slope supply was replaced by oil from the North Dakota shale boom, transported by rail.
Imports from Canada almost doubled in that time, from an average of 110,000 bpd in 2009 to 195,000 bpd in 2016 via the Puget Sound Pipeline.
Only two of the five refineries in Washington State have "coker units" that are required to process non-upgraded bitumen from Alberta. Combined, the two refineries have 83,000 bpd in coking capacity, which limits the amount of heavy oil the region can process. As a result, most of the Alberta oil imported to the region has been conventional or synthetic crude (already upgraded in Alberta).
Morningstar advised the two other refineries to upgrade their facilities to accept heavy oil.
Alberta oil processed by a coking refinery was much more profitable than other types of oil in 2016 at Puget Sound refineries: $24 per barrel, compared to $10 per barrel for Bakken oil and $6 per barrel for Alaska oil.
Washington Ports Deeper Than Vancouver's, Allowing Bigger Tankers
If there's not currently much demand for heavy oil in Washington State, what's the concern?
For starters, an expanded Puget Sound Pipeline would allow refineries to rely far more heavily on Alberta oil, encouraging them to invest in coking units that maximize returns. The future of Alaska North Slope oil is currently uncertain compared to oilsands imports, which offer a stable long-term option.
This alone could justify an eventual and significant increase in capacity.
But there's also speculation that Puget Sound could become an export terminal of its own.
The Westridge terminal in Burnaby — which will soon belong to the Canadian government, pending approval from Kinder Morgan shareholders — has serious depth restrictions that limit loading to Aframax-size tankers, which can only be partially filled with about 500,000 barrels.
Comparatively, BP's Cherry Point terminal in Washington State's Whatcom County can receive Very Large Crude Carriers (VLCC), with tankers docking in late 2017 carrying 900,000 barrels — almost double the capacity of Westridge.
"The reality is those Aframax boats are not great for international shipping," Clark Williams-Derry, director of energy finance at Sightline Institute, told The Narwhal.
"Westridge is always going to be a crummy place for the Government of Canada to be shipping oil out of because you're going to boost the cost by a few bucks a barrel, at least."
A BP spokesperson recently told The Seattle Times that it "plans to process any additional Canadian crude coming to the Cherry Point refinery within the facility." However, the refinery only has 57,500 bpd in coking capacity, so it's unclear how it could process a significant increase in imports.
Either way, the idea of increased availability of various products from the Alberta oilsands would likely appeal to both producers and refiners.
Considerable Opposition to Fossil Fuel Expansion in Washington State
But a doubling of the Puget Sound Pipeline wouldn't be an easy thing to pull off.
The owner — soon to be Canada — would have to twin the pipeline, add some additional pumping stations and build a tank farm at a refinery.
"It would be one of the most unpopular things you could do in Whatcom County," Alex Ramel, extreme oil field director with the environmental advocacy group Stand.earth, said of the prospect.
Washington Governor Jay Inslee has condemned the Trans Mountain expansion but as Victoria Leistman of Sierra Club points out, he hasn't specifically addressed the potential of a Puget Sound Pipeline also being widened or twinned.
"If there's any risk for this to be expanded, we need him to explicitly put that to bed," she said.
Tara Lee, deputy communications director of Governor Inslee, said the Puget Sound Pipeline is on his radar.
"We have concerns about that expansion that mirror the concerns the governor has expressed about the Trans Mountain Expansion," Lee told The Narwhal in an emailed statement.
"If there is a change in operations with the Puget Sound Pipeline expansion, then they must work with our state Department of Ecology spills program."
Williams-Derry said it would be complicated given a recently renewed six-month temporary moratorium by Whatcom County Council on exports of unrefined oil from Cherry Point, which may eventually lead to a permanent ban.
And there's precedent for activism stopping fossil fuel export projects in the area. In 2016, the local Lummi Nation successfully fought a proposed coal export terminal.
But Williams-Derry emphasized there are still potential profits on the table: "Just because there's political opposition here — there may actually be a bunch of people in the oil industry who really want to make that happen."
Main image: Protester holding sign stating No Pipeline, No Consent, during a Kinder Morgan Pipeline Rally on September 9th, 2017 in Vancouver, Canada. Credit: William Chen, CC BY–SA 4.0