The rig standing in a field in Little Plumpton, Lancashire, is about to start drilling. Today, Cuadrilla finally got the all-clear to start fracking, after the High Court rejected a request for a last-minute injunction.
Activists stationed outside the site have been disrupting Cuadrilla's plans for over a year. They've used lock-ons and legal challenges to obstruct the company's plans, but it looks as though Cuadrilla has leapt the final hurdle.
None of the protesters are about to go home. They see this as a legal hiccup on a longer road to victory.
"We will carry on every single day, being a thorn in their side," says Tina Rothery, an activist who has been involved in the anti-fracking movement for seven years.
She is dressed in a high-vis jacket and has spent the morning marching confidently along the road, livestreaming the action from Little Plumpton as the High Court in London deliberates the site's fate.
"We'll find other ways to fight them in court," she says. "We're mothers and fathers. To ask us to stop is to ask us to walk away from our children. We'd give anything not to be living this life, but we have no choice."
As the High Court prepares to deliver its verdict, journalists and camera crews descend from the BBC and ITV. With the Conservative government pushing for a fracking boom across the country, this is a battle that has gained national attention.
This group of activists know that their struggle is symbolic of a larger fight over the future of Britain's fossil fuels. But they also want to remind the world that this is an issue with local repercussions.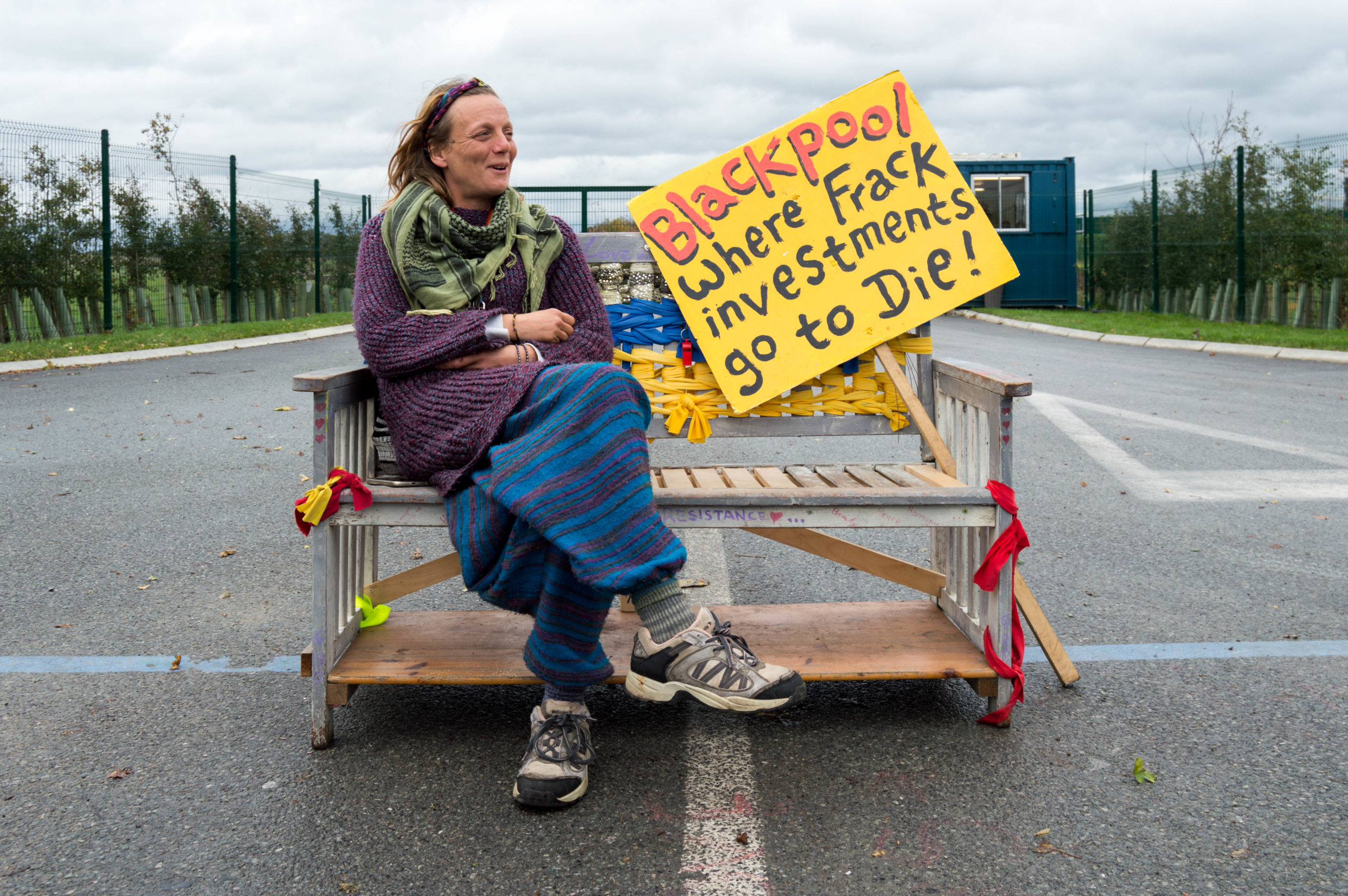 At around 12.15pm, a flurry of gunshots goes off in the field behind us. It is hunters, shooting ducks. There are mumbles of disapproval, and everyone starts to shout and whistle to scare off the birds. There's long been conflict between the protesters and this group of hunters.
"I'm sure they do it just to wind us up," one activist grumbles. "People who like country sports support fracking. Don't they realise it's going to trash the countryside?"
While the strong gusts of Storm Callum may momentarily disrupt plans to drill, Cuadrilla is likely to begin on Monday at the latest.
"We are delighted to be starting our hydraulic fracturing operations as planned," said Francis Egan, CEO of Cuadrilla, in a statement issued after the injunction was lifted. "We are now commencing the final operational phase to evaluate the commercial potential for a new source of indigenous natural gas in Lancashire."
When Cuadrilla begins operations, it will be the first time in seven years that fracking has taken place on British soil. The process is expected to take around three months, with the company proceeding slowly to monitor any seismic activity caused by the drilling.
Regardless of today's victory, the opposition to the company's plans will continue.
"It's not over," says Miranda Cox, a councillor for Kirkham town council. "Injunctions, criminalising us, it makes no difference. It's wrong on so many levels. I feel more determined than ever to continue to shout about this."
Her immediate priorities haven't changed. She wants to secure the release of the three activists who were recently jailed for blocking a convoy of Cuadrilla lorries. Beyond that, "We need to draw strength from each other and basically regroup," she says.
Lawyers for local campaigner Bob Dennett, who brought the injunction, have said they will appeal the judge's decision. And, next Saturday, a "National Climate Crisis Rally" is being held down the road at Maple Farm, the camp at which the activists have set up base while they've been confronting Cuadrilla.
Other activists at the site remain determined, but their weariness and disappointment are starting to show. They're emotionally invested in this battle, and today has been a low point. It's gusty, and there's little even in the way of snacks to buoy people's spirits.
"Slightly stale hobnobs?" offers a woman who will only give her name as Polly. "Not really cutting it, are they?"
Debs Whiteside is one of the quieter members of the group, but nonetheless she's been visiting the camp most days since July 2017. Today, she seems on the verge of tears.
"I'm gutted," she says. "I'm scared, and I just want Cuadrilla to know we're here and we're going to hold them accountable when something goes wrong. I always knew they would win. They're the ones with the power. I'm angry, disappointed."
It's been a long struggle, and now fracking will happen anyway. But many have found purpose in registering their opposition to Cuadrilla's plans and the long delays that they've already caused the company. That's been, and will remain, their game plan.
In-text images: Sophie Yeo | Main image: Mat Hope/DeSmog UK
---
Like what you're reading? Donate here to support DeSmog UK's journalism today