By John Hobson, chair of campaign group Defend Lytham
It's nearly 11 o'clock and people are arriving in droves at Maple Farm. Cars are lining up patiently and parking next door and coaches from faraway towns are disgorging dozens of smiling people onto the pavement outside.
This is what people power looks like. 
The atmosphere is electric. There is a palpable feeling that something is changing as it becomes clear that there are not just a couple of hundred people here, but nearer to 1,000.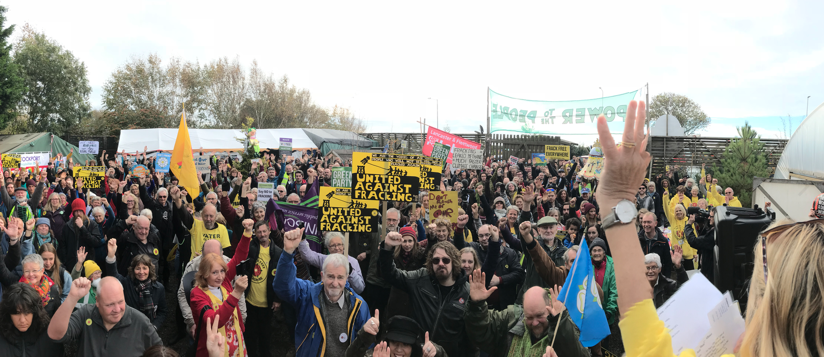 As people gather in the venue, the speeches begin. Good humour and passion are the order of the day as speaker after speaker hammers home the message that we face an existential threat from climate change but that we can and will do something about it — and that that something starts with banning fracking in the UK.
The crowd listens attentively and applauds every joke and every call to arms. You can see some of them looking around and marveling at being part of something so big. My phone keeps ringing as local radio and press want interviews with the organisers.
At around midday the word goes out that it is time to move towards the fracking site itself and the crowd moves out onto the road. A policeman comments to me how well-behaved and good natured everybody is. I reply that this is how it always would be if we were allowed to protest this way, but slow-walking is usually banned. He shrugs his shoulders.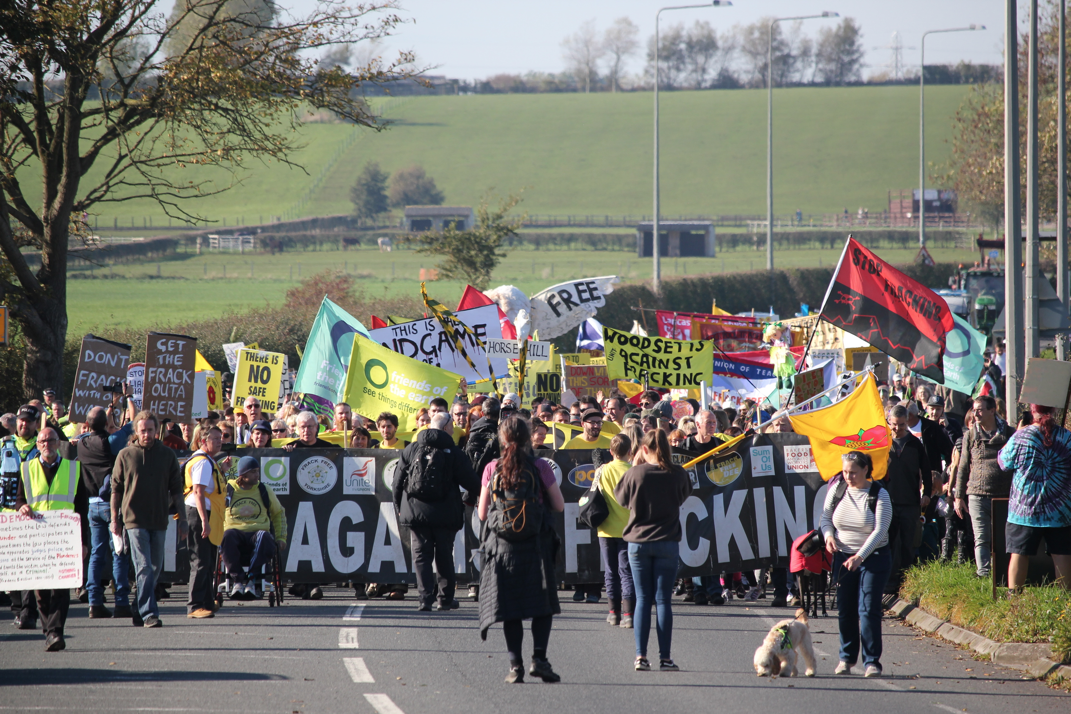 ---
Like what you're reading? Donate here to support DeSmog UK's journalism today 
---
The massive crowd starts to move, with an army of press walking backwards in front of it filming this human anaconda as it slowly eats up the mile of road in front of it. Cars hoot support as they pass in the rolling contraflow. Songs are sung. Friends are met and new ones made in the crowd.
At the site the crowd carefully disposes itself into a long phalanx along one carriageway to listen to the politicians, speakers from NGOs and local residents.
There is a roar as the Frack Free Three— recently released from their "manifestly excessive" prison sentences — are introduced.
They speak at length about what happened to them and why they found themselves doing what they did. Their partners describe the human cost. A thousand people are spellbound. Standing in the beautiful autumn sun the contrast between the collective positivity and passion and the malignant looming presence of the fracking pad in the background is massive.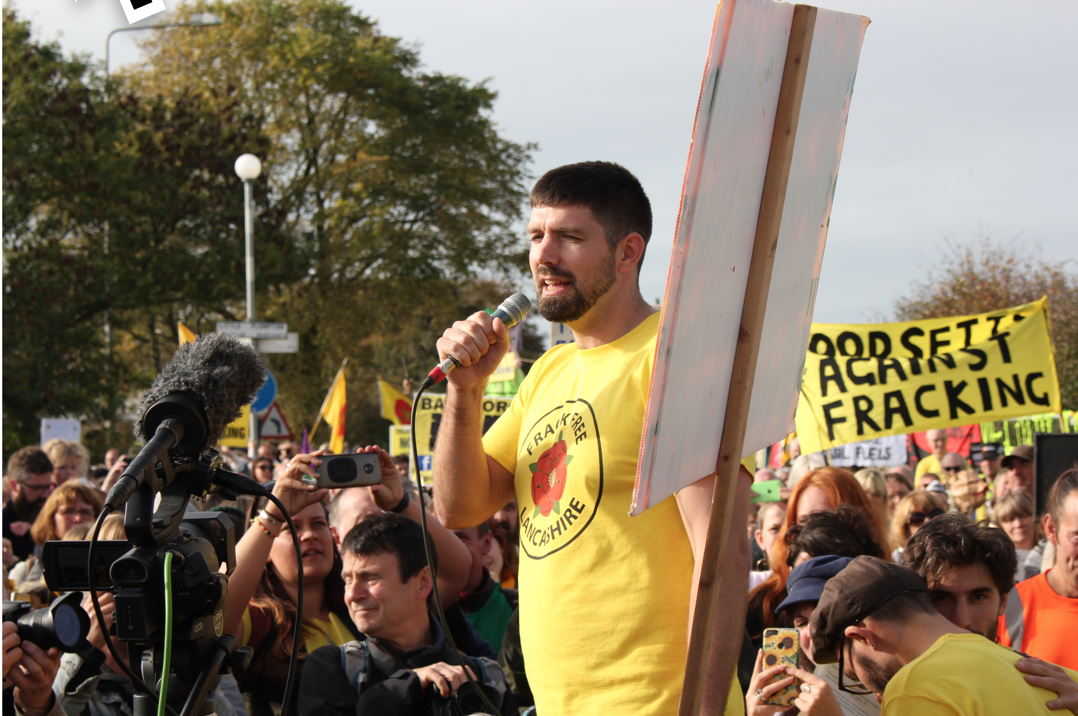 In itself a rally like this is never going to change the world but everyone here knows that this is part of the sea change that has been happening since the UN's official climate science advisor, the Intergovernmental Panel on Climate Change (IPCC), set out its dire warning two weeks ago.
The energy we are all sharing has come from watching more and more people seeing the light, and from realising fracking company Cuadrilla's vulnerabilities — from delays to their plans from protest, weather, and problems with their production activities.
The tide is turning and everyone here can feel it. We have been told for years that if we want to see change we have to be that change. Finally it is happening and everybody here knows that they are part of something big.
The rally finishes but the power it created lives on. We will all draw from it in the difficult times that still lie ahead.
Images: John Hobson
---
Like what you're reading? Donate here to support DeSmog UK's journalism today 
---