The warning is clear and dire — and the source unexpected. "This report unquestionably will fan emotions, raise fears, and bring demand for action," the president of the American Petroleum Institute (API) told an oil industry conference, as he described research into climate change caused by fossil fuels.
"The substance of the report is that there is still time to save the world's peoples from the catastrophic consequence of pollution, but time is running out."
The speaker wasn't Mike Sommers, who was named to helm API this past May. Nor was it Jack Gerard, who served as API's president for roughly a decade starting in 2008.
The API president speaking those words was named Frank Ikard — and the year was 1965, over a half-century ago.
It was the same year that Dr. Martin Luther King Jr. led a civil rights march from Selma to Montgomery, Muhammad Ali felled Sonny Liston in the first round, and Malcom X was fatally shot in New York. The first American ground combat troops arrived in Vietnam and President Lyndon B. Johnson signed the law establishing Medicaid and Medicare.
It would be another four years before American astronaut Neil Armstrong first set foot on the moon — and another decade before the phrase "global warming" would appear for the first time in a peer-reviewed study.
And 1965, according to a letter by Stanford historian Benjamin Franta published this week in the peer-reviewed journal Nature, was the year that President Johnson's Science Advisory Committee published a report titled "Restoring the Quality of Our Environment," whose findings Ikard described at that year's annual API meeting.
"One of the most important predictions of the report is that carbon dioxide is being added to the Earth's atmosphere by the burning of coal, oil, and natural gas at such a rate that by the year 2000 the heat balance will be so modified as possibly to cause marked changes in climate beyond local or even national efforts," Ikard presciently added, according to excerpts from his speech published in Nature.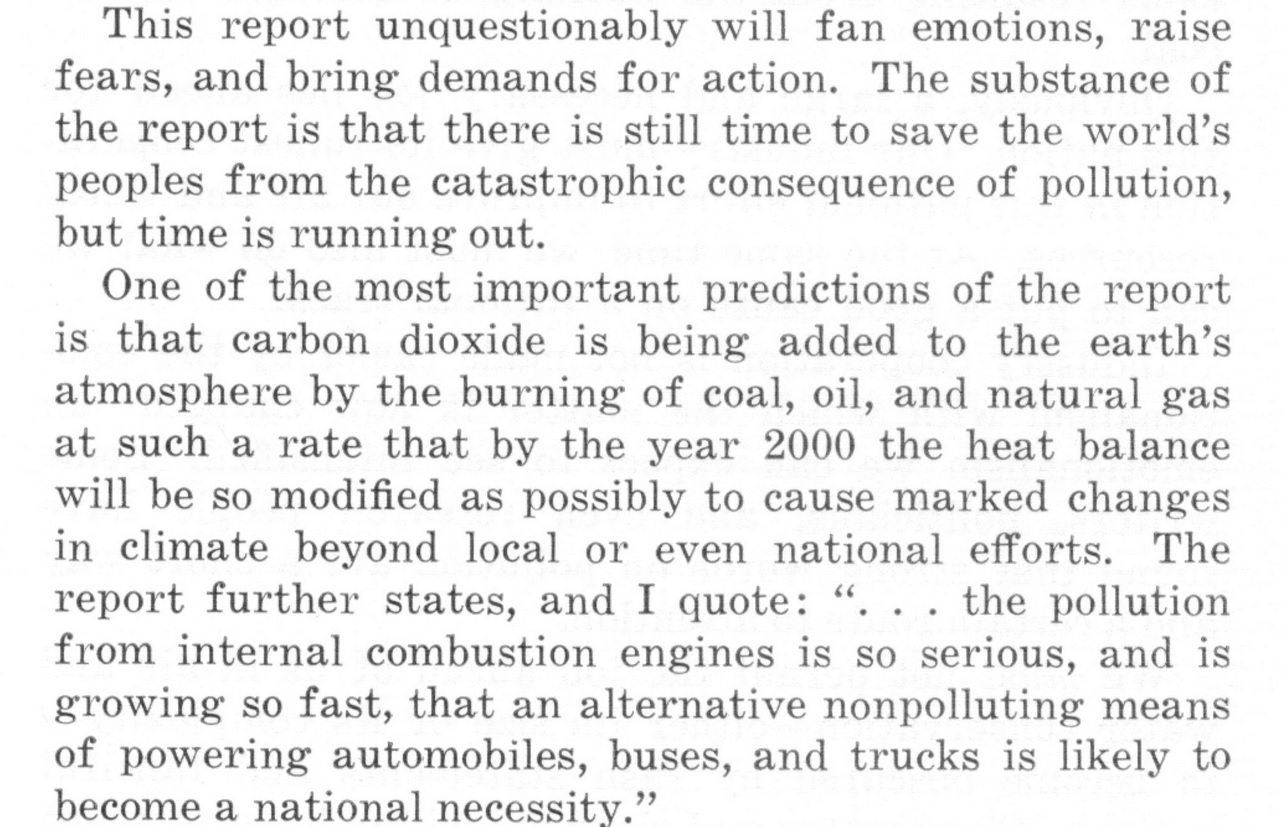 Exerpt of API President Frank Ikard's 1965 speech on climate change and fossil fuels.
API

Funded Early Research Linking

CO2

and Fossil Fuels

That prediction was based in part on information that was known to the oil industry trade group for over a decade — including research that was directly funded by the API, according to Nature.

In 1954, a California Institute of Technology geochemist sent the API a research proposal in which they reported that fossil fuels had already caused carbon dioxide (CO2) levels to rise roughly five percent since 1854 — a finding that Nature notes has since proved to be accurate.

API accepted the proposal and funded that Caltech research, giving the program the name Project 53. Project 53 collected thousands of CO2 measurements — but the results were never published.

Meanwhile, other researchers were reaching similar conclusions. Nuclear physicist Edward Teller became known in 1951 as the "father of the hydrogen bomb" for designing a thermonuclear bomb that was even more powerful than the atomic bombs dropped in Hiroshima and Nagasaki. Teller warned the oil and gas industry in 1959 about global warming and sea level rise in a talk titled "Energy Patterns of the Future."

"Carbon dioxide has a strange property," Teller said in excerpts published earlier this year by The Guardian. "It transmits visible light but it absorbs the infrared radiation which is emitted from the earth. Its presence in the atmosphere causes a greenhouse effect."

A researcher at Humble Oil Co. (now known as ExxonMobil) checked results from a study of carbon isotopes in tree rings against the unpublished Caltech results, and found that the two separate methods essentially agreed.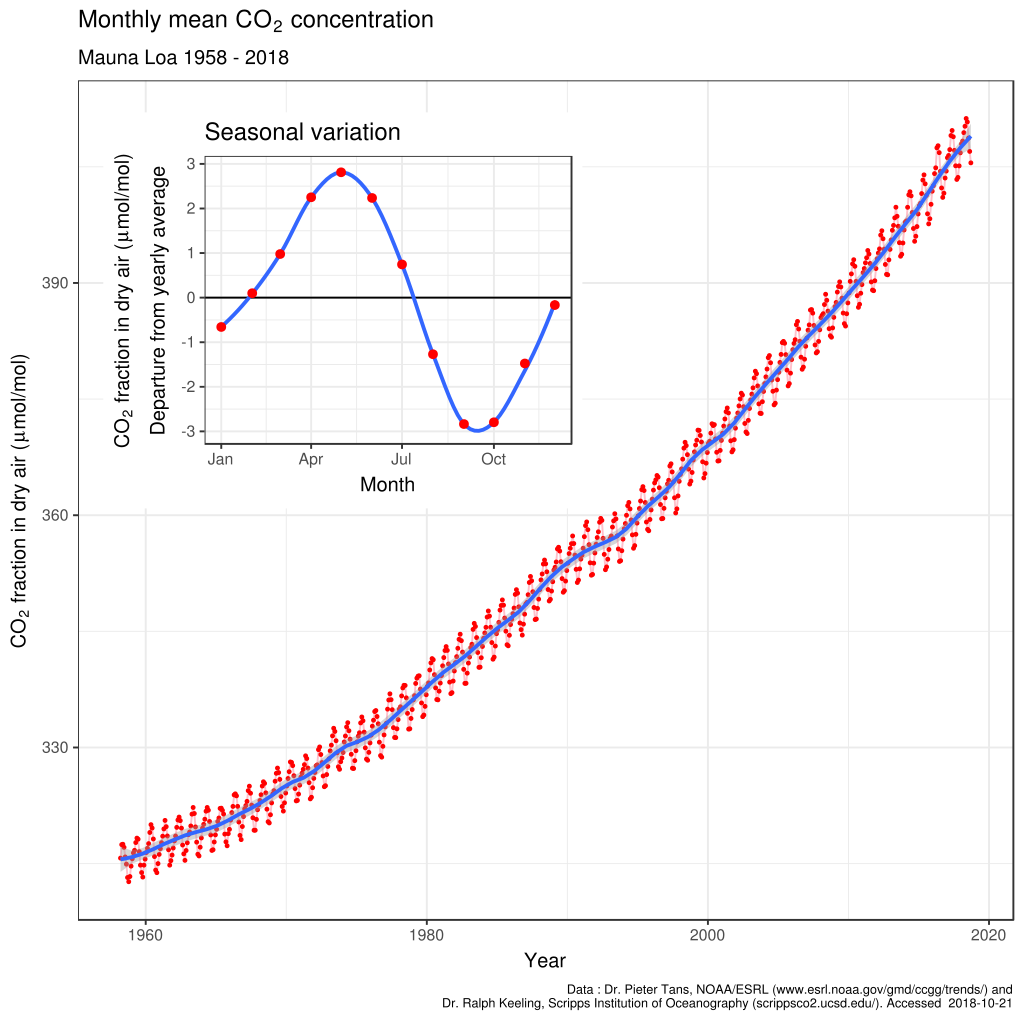 This figure shows the history of atmospheric carbon dioxide concentrations as directly measured at Mauna Loa, Hawaii since 1958. This curve is known as the Keeling curve, and is an essential piece of evidence of the man-made increases in greenhouse gases that are believed to be the cause of global warming. Credit: Delorme, data from Dr. Pieter Tans, NOAA, and Dr. Ralph Keeling, Scripps, CC BY–SA 4.0
And in 1960, Charles Keeling first published the measurements that became the famous "Keeling curve" — establishing one of the bedrock findings connecting climate change to fossil fuels. The CO2 measurements taken by Keeling back in the late 1950s showed levels of roughly 315 parts per million (ppm) at the Mauna Loa Observatory in Hawaii and rising.
Those CO2 levels have since climbed upwards to 410.13 (ppm) on the day that the Nature letter was published — CO2 levels that scientists knew both then and now would be dangerously high, as carbon levels in the Earth's atmosphere have not been over 410 ppm in millions of years.
What the Oil Industry Knew, Then and Now
In his 1965 talk, the API's Ikard described the role of oil and gasoline specifically in causing climate change. "The report further states, and I quote: '… the pollution from internal combustion engines is so serious, and is growing so fast,'" he told the API conference, "'that an alternative nonpolluting means of powering automobiles, buses, and trucks is likely to become a national necessity.'"
Three decades later, the API urged a different approach to climate science. "It's not known for sure whether (a) climate change actually is occurring, or (b) if it is, whether humans really have any influence on it," the API wrote in a 1998 draft memo titled "Global Climate Science Communications Plan," which was subsequently leaked.
As of publication time, an API spokesperson had not replied to questions sent by DeSmog.
It's worth noting that since 1965, the science connecting climate change to fossil fuels has grown stronger and more robust. A scientific consensus around the hazards of climate change and the role that fossil fuels play in causing it has formed.
"Rigorous analysis of all data and lines of evidence shows that most of the observed global warming over the past 50 years or so cannot be explained by natural causes and instead requires a significant role for the influence of human activities," the Royal Society explains.
Today, the API continues to call for further research on climate change — and expanding the use of fossil fuels in the meantime.
"It is clear that climate change is a serious issue that requires research for solutions and effective policies that allow us to meet our energy needs while protecting the environment: that's why oil and gas companies are working to reduce their greenhouse gas emissions," the API's webpage on climate change states.
"Yet archival documents show that even before Keeling published his measurements," Franta's letter published by Nature says, "oil industry leaders were aware that their products were causing CO2 pollution to accumulate in the planet's atmosphere, in a potentially dangerous fashion."
Main image: San Diego,

CA

, October 26, 2007 – A Northern California fire crew works into the night clearing the fire line and monitoring the back burn that was set to stop the Poomacha fire from advancing westward. Credit: Andrea Booher,

FEMA

, public domain