Campaigners disrupted a US event promoting "greener and cleaner" fossil fuel energy at the UN climate talks, calling it "a farce" that had no place within the global climate negotiations process.
Minutes after the start of the event on the fringe of the climate conference in Katowice, Poland, dozens of youth activists, indigenous campaigners, and community leaders burst out laughing and stood up in front of the panel chanting "keep it in the ground".
A large banner with the message "keep it in the ground" was deployed in a way to hide the panel from the audience.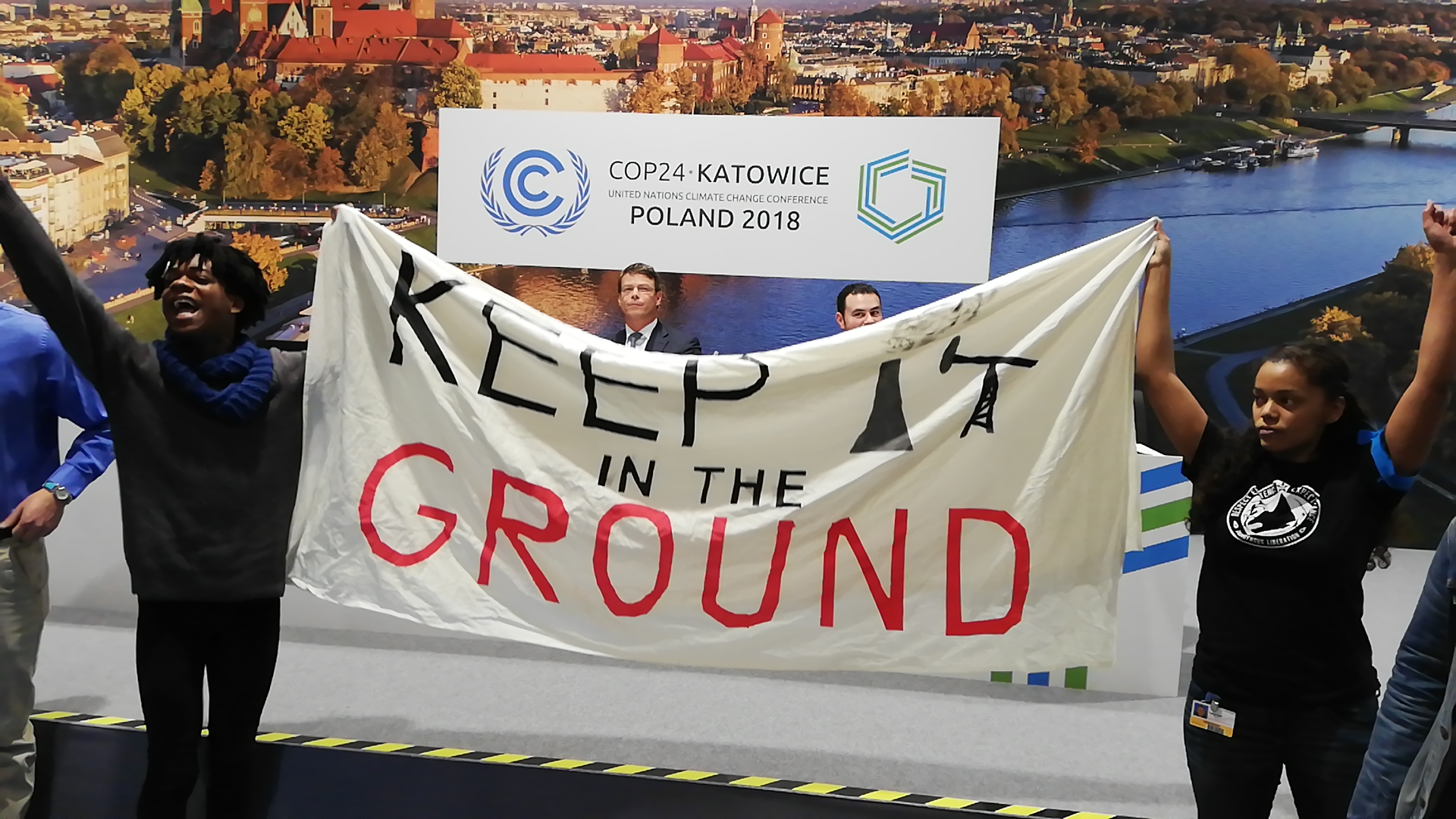 Aneesa Khan, 23, a member of the US group SustainUS, told the event:
"As we sit here and listen to these fossil fools tell us about the fossil fuels, I'm here to speak truth to power and to tell you that climate change is a process of colonisation repeating itself.
"My mother has called me to say that our home in Chennai, India, has flooded once more and that next year we might be living through a drought. No one deserves this kind of suffering. We have to remember that these developed countries and the fossil fuel industries are the ones that have caused climate change and should be doing the work to reduce."  
"The US elite has profited off fossil fuels for decades. It's time for them to pay up and support the world transition away from dirty energy," she said.
Vic Barrett, who is one of the young plaintiffs taking a case against the US federal government, accusing it of violating their constitutional rights by failing to reduce its emissions and contributing to climate change, told the gathering: "I'm 19-years-old and I'm pissed because my government has betrayed me. I'm actually suing my government".
"We will not let them fail us. We will not let them overtake their love of profits over what we know is right," they said.
"Keep it in the ground": campaigners disrupt US pro-fossil fuel event #COP24 pic.twitter.com/w0x6OtB1iA

— Chloé Farand (@ChloeFarand) December 10, 2018
Technological Solutions
The panel of speakers representing President Donald Trump's administration — which also included Australian ambassador Patrick Suckling — kept quiet and smiled as protesters shared stories from communities on the frontlines of climate change which are already experiencing its impacts.
The event, called "US innovative technologies spur economic dynamism", aimed to promote technological solutions and innovation to "unleash greener and cleaner ways to develop fossil fuels and renewable energy".
The panellists advocated using carbon capture and storage (CCS), a technology that captures carbon dioxide emissions from power plants before they are released into the atmosphere. The industry promotes CCS as a solution as it would allow fossil fuel companies to continue operating for decades longer. However, the technology currently is not commercially viable nor has it been developed at scale.
Responding to the disruption, Wells Griffith, an advisor to the US Department of Energy on the implementation of the country's energy strategy, said: "For the US energy policy, it's not about keeping [fossil fuels] in the ground but about using them cleanly."
Griffith added: "Alarmism should not silence realism. This is a forum for fact science-based discussions on climate realities."
Pressed on the apparent discrepancy between the views of the panel pushing for the use of technologies to reduce fossil fuel emissions and statements made by President Trump in which he said he "didn't know" if climate change was man-made, a US delegation spokesman said he could not comment.
Steven Winberg, who is responsible for the management of fossil energy at the US Energy Department, said the US had been developing CCS and CCUS (Carbon Capture Usage and Storage) technology for years and would continue to do so.
Sitting in the front row were a string of notorious American climate science deniers. This included science deniers Marc Morano and Craig Rucker, the executive director of the Committee for a Constructive Tomorrow (CFACT).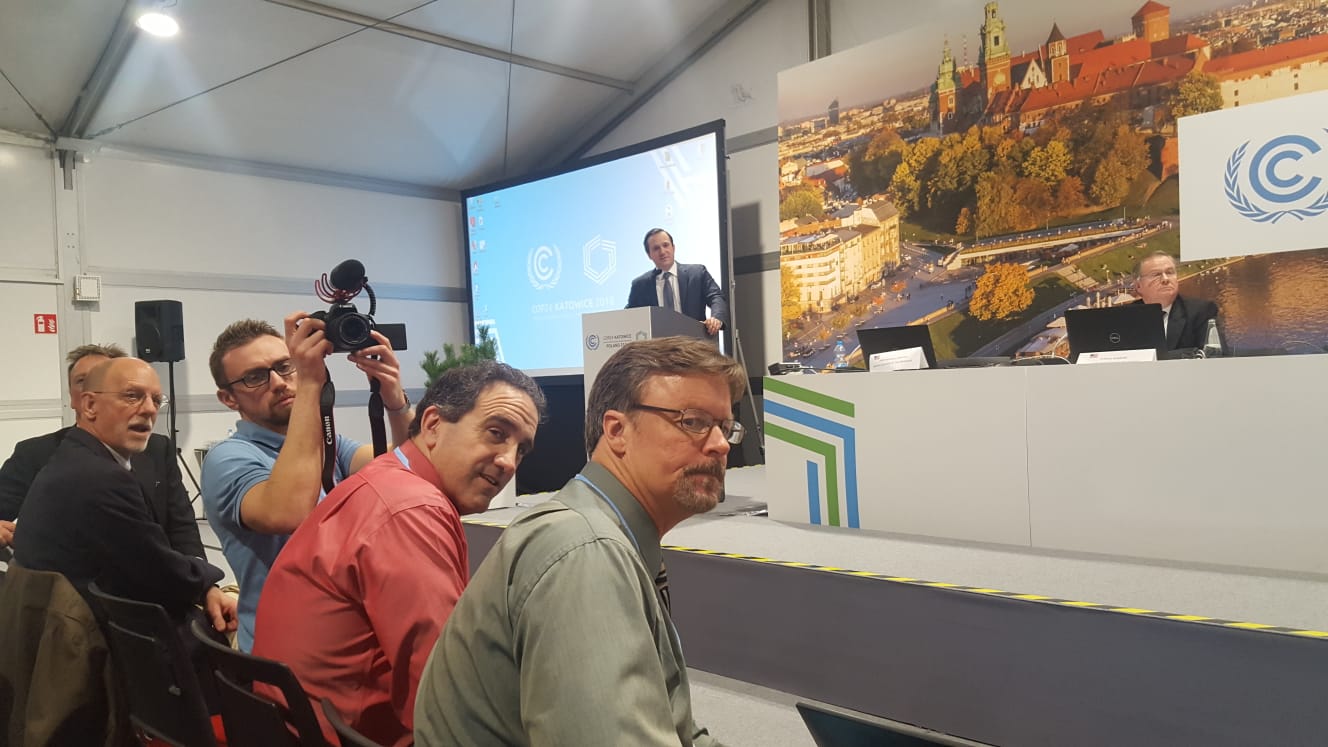 Marc Morano (pink shirt) and Craig Rucker (green shirt) attending the US pro-fossil fuel event at COP24. Image credit: Leo Hickman
Sitting besides them was Rupert Darwall, who recently wrote a report for the UK-based climate science denying Global Warming Policy Foundation (GWPF), criticising the UK Climate Change Act for being "a social and economic burden".
George David Banks, a former energy advisor to the Trump administration, also sat amongst them.
Pointing at the panel as well as Morano and his peers, campaigners shouted "shame on you" before walking out, leaving the room more than half empty.
US

 Obstruction
Since Trump's election, the US has been largely obstructive in international climate negotiations. This is the second year in a row that campaigners have disrupted a US-held event promoting fossil fuels and nuclear energy during the UN climate talks.
Outside the room, Khan, from the SustainUS delegation, said: "Shame on them [the US] for even thinking bringing the fossil fuel industry into this space is okay.
"Clearly the developed countries of the world sit in the pocket of the fossil fuel industry and they have been disrupting this climate negotiations process and any real chance of any solution to climate change."
Khan added that instead of fossil fuels, the worlds needs "real community-led solutions to a just transition for jobs and energy towards renewables".
"We need to realise the solutions are being led by people on the ground who are black, brown, indigenous and low income communities in the global south," she said.
Michael Charles, from Navajo Nation, said the side event organised by the US administration was "basically a joke".
"As US citizens we're here to try and keep our government accountable. We want to say shame on you for coming here and trying to disrupt the agenda of people working together to find solutions to climate change."
Intergovernmental Panel on Climate Change
Campaigners who had stayed inside the room challenged the panel over the US's energy policy, but panellists repeatedly refused to take questions over whether the US recognised the Intergovernmental Panel on Climate Change's (IPCC) findings.
The US was one of four major oil and gas producing countries — alongside Saudi Arabia, Russia, and Kuwait — that this weekend rejected a motion to "welcome" the findings of the IPCC's report about keeping warming to 1.5 degrees Celsius above pre-industrial levels. Instead, the US and its allies said the report should only be "noted".
The IPCC report, published in October, warned that the world had 12 years to take "far-reaching and unprecedented measures" to reduce emissions by 45 percent in order to limit global temperature rise to 1.5 degrees of warming.
Above this threshold, scientists from the IPCC warned that climate change impacts could be critical for the world's ecosystems and people's homes, lives, and jobs.
Speaking to DeSmog, Richard Powell, the executive director at ClearPath, a Washington-based organisation which describes itself as "developing and advancing conservative policies that accelerate clean energy innovation", said:
"If you looked at the actions of the US government and the huge increases in clean energy over the past year, I would say this administration is at the very least very committed to making clean energy cheaper and more accessible."
Powell did not want to comment on President Trump's statements that he "didn't know" if climate change is man-made.
Although Trump has repeatedly said he wanted the US to pull out of the Paris Agreement, this won't be effective until 2020 and until then, a US delegation officially participates in the global climate negotiations.
Image Credit: Greenpeace Poland