A member of a Virginia state permitting board who last week approved a highly controversial certification for Dominion's planned Atlantic Coast pipeline has business ties to a company currently collaborating with Dominion on a related gas project, DeSmog has found.
William (Trip) Ferguson joined three other Air Pollution Control Board members to unanimously approve a permit for Dominion's Buckingham compressor station. The planned station, which will propel the natural gas as it moves through the 600-mile interstate pipeline, will be built in Union Hill, a largely African-American community settled by free blacks and emancipated slaves after the Civil War.
The plan has sparked a years-long opposition campaign by activists and concerned residents of Union Hill. Last week's final approval was met by outrage, as protesters — many chanting "Shame! Shame!" — accused the governor-appointed board of foisting a noxious infrastructure project onto a reluctant community while ignoring critical environmental justice concerns.
Now, a DeSmog investigation raises questions about the degree of Ferguson's impartiality when approving this project.
Natural Gas, Hog Waste, and the Atlantic Coast Pipeline
Ferguson is senior vice president at Harvey Lindsay CRE, a prominent Virginia commercial and industrial real estate company. One of his clients is meat-processing giant Smithfield Foods, which recently partnered with Dominion to create a new energy business.  
In late November, six weeks before the air board's vote, Dominion and Smithfield Foods announced the creation of a joint venture to produce natural gas from hog manure. With an investment of $250 million, the partnership established a company called Align Renewable Natural Gas to capture gas from pig waste and pump it into Dominion's pipelines.
At the time of the announcement, Dominion's CEO Thomas Farrell specifically cited the construction of the Atlantic Coast pipeline as an incentive for the partnership since the gas produced from the manure will, in his words, "inevitably" make its way through the pipeline, which will run near many of Smithfield Food's Virginia hog lagoons.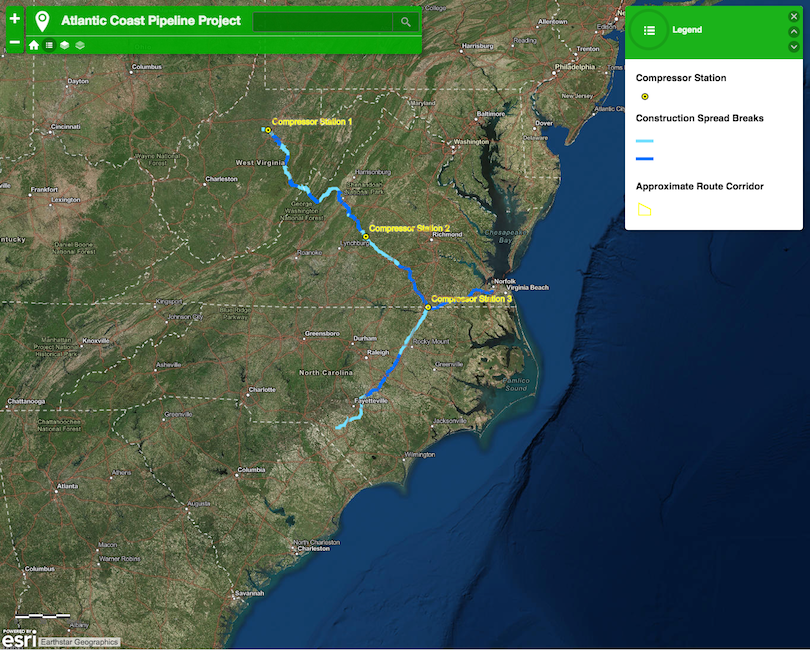 A construction map of the Atlantic Coast pipeline, which stretches through West Virginia, Virginia, and North Carolina. Compressor Station 2 is slated for Union Hill, Virginia. Credit: Atlantic Coast Pipeline
Shortly before the announcement of the joint venture, anti-pipeline activists spotted Farrell leaving Governor Ralph Northam's office. Northam's administration said the meeting was about Dominion's partnership with Smithfield Foods.
During last week's air board meeting, Ferguson said he supports the pipeline project "without reservation," citing several economic benefits to the Hampton Roads region.  
Questions of Ethics
Ferguson did not respond to a request for comment, and it's unclear whether his business ties rise to the level of a conflict of interest according to Virginia's laws.
As Joe Maschman, a legal fellow at Common Cause, a watchdog group which monitors money in politics and government, previously pointed out to DeSmog that Virginia's ethics laws are general in nature, prohibiting a state employee from receiving money or business opportunities that "reasonably tends to influence him in the performance of his official duties."
Recusals are required when a personal interest is involved, which is defined by the dollar value of one's investment or interest.
Yet Ferguson's links to a Dominion business partner are concerning to those opposing the project and who had hoped the air board would not permit the station. 
"Mr. Ferguson's statements at the hearing showed he had not fully considered the impacts to Union Hill and was mainly interested in advancing strategic energy markets for the area he's from," said Mary Finley-Brook, a geography professor at the University of Richmond who studies environmental justice and has been active against the project.
"His concern for his political jurisdiction is admirable," added Finley-Brook, who sits on the Virginia Governor's Advisory Council on Environmental Justice. "However, it also may be connected to his personal business interests through economic ties to Smithfield Foods, Virginia Power, and other direct beneficiaries of the Atlantic Coast pipeline."
The composition of the air board and the personal interests of its members have come under scrutiny of late. Weeks before last week's final vote, Gov. Northam stirred controversy when he surprisingly replaced two members of the board who expressed concern over the pipeline's environmental impacts. Activists viewed the move as Northam's attempt to tip the vote in favor of Dominion, though the administration claimed the move was merely procedural.
Northam's close relationship with Dominion, one of the nation's largest utilities and Virginia's most powerful corporate player, has come under fire for years.
Shortly after the replacements on the board, another board member, Roy Hoagland, announced his recusal from the compressor station vote after the environmental nonprofit he works for received funding for forest habitat mitigation work on the pipeline.
Other Dominion Links
William Ferguson's real estate company, Harvey Lindsay, is connected to Dominion in other ways.
James Owens, another company broker, lists Virginia Power, a Dominion subsidiary, as a client. The real estate company's founder and president, Harvey L. Lindsay Jr., formerly served as a director on Dominion's board.
The company is also a dues-paying member in two business organizations that have openly supported the Atlantic Coast pipeline, the Hampton Roads Chamber of Commerce and the Hampton Roads Economic Development Alliance.
In November last year, the Alliance lobbied the City of Norfolk, Virginia, to grant Dominion an easement allowing the pipeline's route to pass under a nearby lake and reservoir. 
Ferguson's Early Support for the Pipeline
Evidence from Ferguson's recent past suggests he's been a staunch supporter of the pipeline, even before his appointment to the air board.
In October 2014, two years before his appointment to the board by former Governor Terry McAuliffe, Ferguson commented on a blog post critical of the then-proposed pipeline.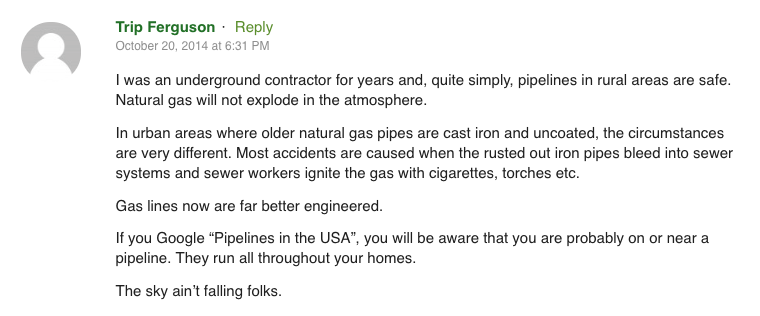 William "Trip" Ferguson, whose username links to his company website, commented in support of the Atlantic Coast pipeline on a blog post in 2014. 
"Pipelines in rural areas are safe. Natural gas will not explode in the atmosphere," he wrote in response to the post, which called the pipeline project "unwise."
"The sky ain't falling folks," Ferguson added.
DeSmog asked Virginia's Department of Environmental Quality (DEQ) about the vetting of Ferguson to serve on the board and why such a clear supporter of the controversial pipeline was appointed.
Ann Regn, a DEQ spokesperson, said: "We are not aware of any conflicts of interest." She referred DeSmog to Ferguson's publicly available financial disclosure. Dominion did not respond to a request for comment.
All of this still does not assuage the concerns of those opposing the compressor station and overall pipeline project, which has recently been suspended after hitting several legal snags, including the vacating by the courts of a Forest Service permit.
"The citizen boards are part of a long-standing tradition in the Commonwealth and pre-appointment vetting must assure the ability of board members to act fairly and free from conflicts of interest on environmental and economic matters concerning Virginia," said Mary Finley-Brook.
Main image: Protesters rallying against Dominion's proposed Atlantic Coast pipeline. Credit: Chesapeake Climate Action Network, used with permission