The US leaders of a scandal-hit American student movement are touring the UK this week, following the launch of a British branch of the organisation last month.
Advocating climate science denial, "free markets and limited government", and with numerous links to the fossil fuel industry and Donald Trump, Turning Point claims to have a presence on more than 1,300 college campuses and high schools, engaging in "over 500,000 face-to-face conversations with college students each semester."
The scandal-hit group has been plagued by incidents of racism and allegations of illegal campaign spending since its launch, with its "professor watchlist" accused of stymying academic freedom.
Nonetheless, Turning Point USA's (TPUSA) founders are in town this week for a three-stop tour of the UK, making appearances in London, Nottingham and Brighton, where Sussex University Conservative Society is hosting an event.
So, what can we expect?
---
Read more about Turning Point and Charlie Kirk in DeSmog's Disinformation Database
---
Trans-Atlantic Strategy
With a multi-million dollar annual budget, the group is known for its slick videos and well-funded campaigns. But the online launch of its UK spin-off just over a month ago quickly descended into chaos when hundreds of parody Twitter accounts appeared, leaving people wondering which were real and which were fake.
At the time, Turning Point UK (TPUK) received the blessing of various leading pro-Brexit politicians, including Conservative MPs Priti Patel, Steve Baker and Jacob Rees-Mogg, as well as former UKIP leader Nigel Farage.
A leaked memo from fellow US youth conservative organisation, Young America's Foundation, warned its activists about associating with Turning Point, however, referencing the group's alleged harbouring of "racists and Nazi sympathizers."
Similarly, the UK Conservative Party advised its student associations "not to work with [TPUK] in any capacity".
Speakers at a TPUK event in London on Sunday included Chloe Westley, campaign manager of campaign group the Taxpayers' Alliance, which shares offices at 55 Tufton Street with the Global Warming Policy Foundation (GWPF), the UK's premier climate science denial group. And among the guests at TPUK's formal launch event in December were climate science denier columnists James Delingpole and Rod Liddle, Buzzfeed reported.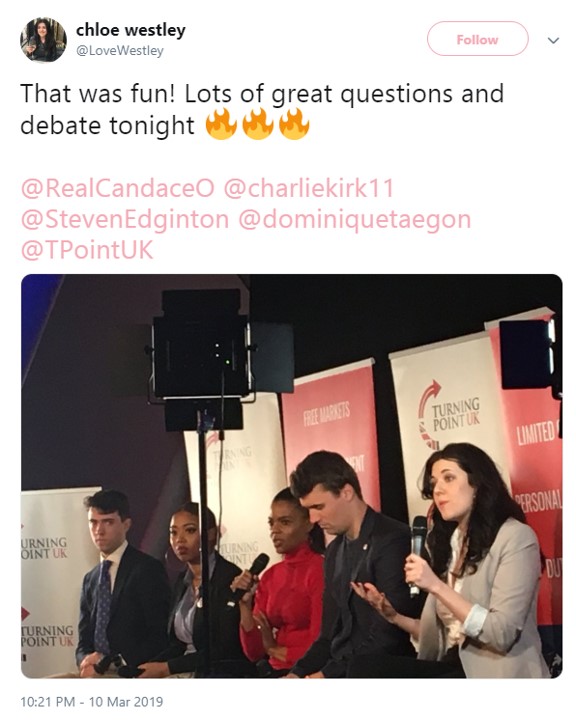 At that event, TPUSA co-leader Candace Owens made headlines after statements she made about the way people associate nationalism with Adolf Hitler:
"He was a national socialist, but if Hitler just wanted to make Germany great and have things run well, OK, fine," she said. Owens later clarified on Twitter that she in no way supported the actions of Nazi Germany.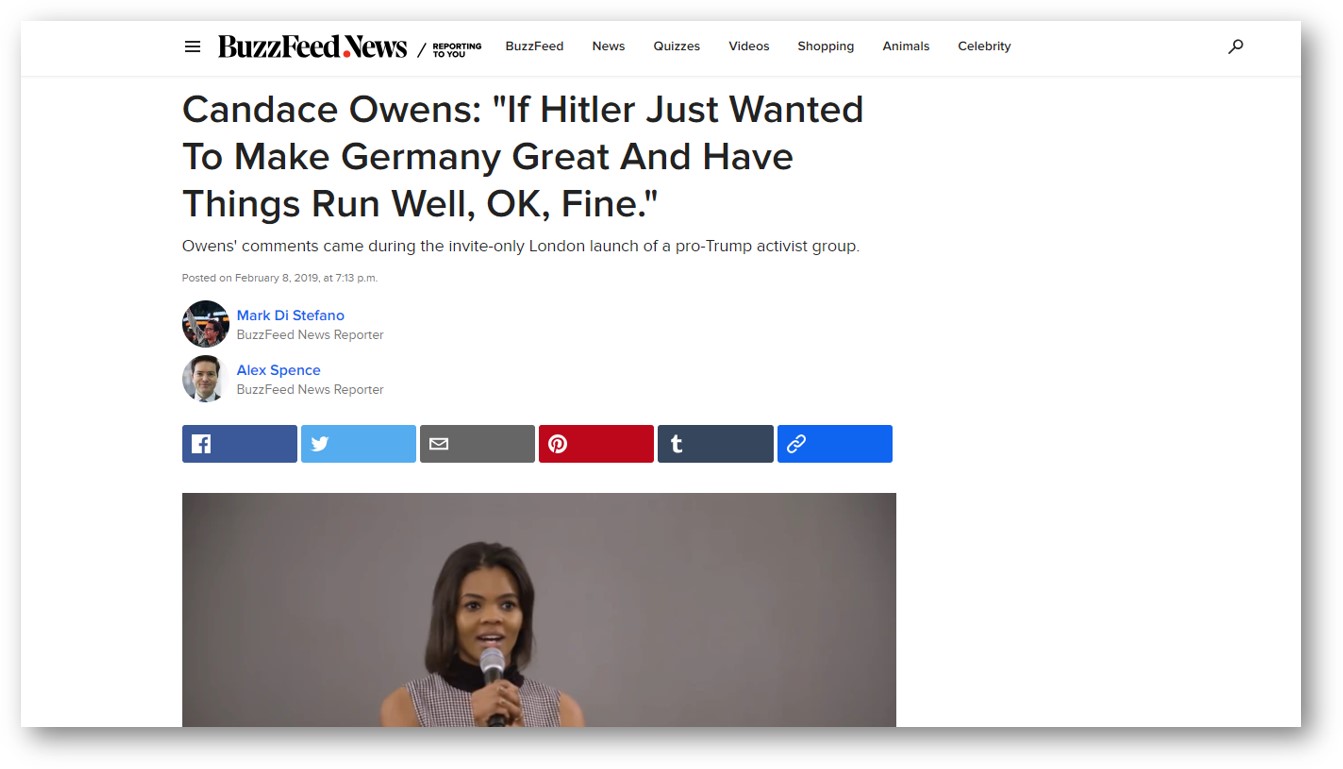 Climate Science Denial and Fossil Fuel Funding
When asked at the launch event to reveal who funds TPUK, John Mappin, a Scientologist who owns a castle in Cornwall and is one of the key figures behind the group, answered: "Well, the whole idea is to stay anonymous… That's how they do it in the United States. It actually doesn't matter who funds it because it's about the ideas."
But some of TPUSA's funding has been revealed. And, given the group's penchant for climate science denial, unsurprisingly a lot of it seems to come from the fossil fuel industry.
TPUSA previously produced a video that claims NASA scientists are "wrong about climate change", and founder Charlie Kirk has publicly supported President Trump's assertion that he will withdraw the US from the Paris Agreement.
TPUSA also played a key role in organising opposition to student campaigns for universities to divest from fossil fuels. In 2016, the organisation distributed a pro-fossil fuels guide for campuses called "Fossil Fuels Save Lives," which claimed that students were being "indoctrinated to believe the myth that fossil fuels are dirty."
A leading figure for the UK group, Darren Grimes, who is embroiled in a scandal over spending on the Leave campaign during the Brexit referendum, has also expressed scepticism about the threat of climate change. He tweeted in response to recent school strikes for climate that: 
I used to bunk off of school during PE – if only I could've used 'climate change' as an excuse and have it legitimised by our left wing media and politicians! Nightmare.

— Darren Grimes (@darrengrimes_) February 15, 2019
Kirk, who set up TPUSA in 2012, has openly admitted soliciting funds from the fossil fuel industry, acknowledging in an interview with the New Yorker that some of TPUSA's donors "are in the fossil-fuel space."
He has also spoken and fund-raised at fossil fuel industry events, including with the National Mining Association and the Independent Petroleum Association of America (IPAA), a trade association representing US oil and gas producers.
Turning Point has a partnership with Prager University, a non-profit largely funded by fracking industry billionaires Dan and Farris Wilks which seeks to spread "'Americanism' through the power of the Internet."
TPUSA is also funded by the Hanley family, who own Hanley Petroleum, as well as the Donors Trust and Donors Capital Fund, which act as a vehicle for big donors to funnel donations anonymously to conservative organisations, many of which spread doubt about climate science.
In particular, the Donors Trust acts as a vehicle for donations from the Koch brothers, owners of the US's largest privately-owned fossil fuel company. The Kochs fund organisations including the Heritage Foundation and the Foundation for Economic Education, which in turn sponsor TPUSA events.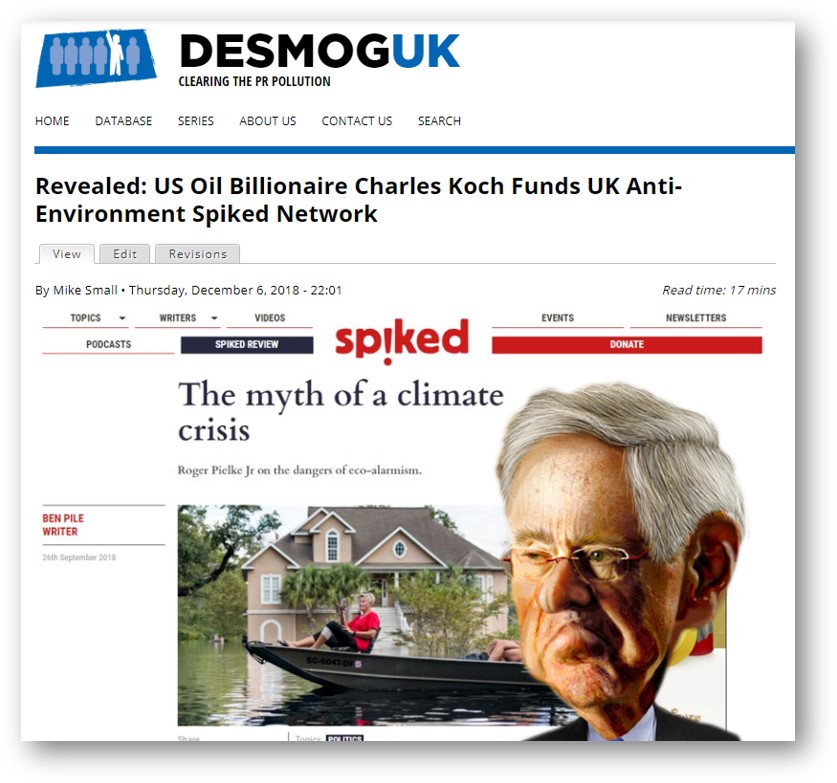 The groups also share some personnel. Adam Brandon is both President of Koch-funded FreedomWorks and sits on the TPUSA advisory council. Tommy Hicks is similarly on the national board of the American Enterprise Institute's Enterprise Club and a TPUSA advisory council member.
Turning Point is not the Kochs' first foray into UK politics. Previous DeSmog investigations have shown how the fossil fuel magnates fund alt-right media voices centred around Spiked and the Living Marxism network, and use their UK connections to influence the Brexit debate.