By Emily Gertz, The Revelator. Originally posted on The Revelator.
Two years into his presidency, Donald Trump has racked up some high-profile policy failures. There's no wall spanning the length of our southern border, no denuclearization underway in North Korea, and ethics scandals have swamped his administration.
But when it comes to environmental policy changes, the administration's record of success has been remarkable.
The Trump team has effectively stalled or reversed at least 78 major environmental rules, including broad national policies aimed at stemming and monitoring air and water pollution, curbing toxic substances in the environment, protecting wildlife, and conserving public lands.
The administration has taken particular aim at stopping or slowing Obama-era directives and regulations aimed at reducing the greenhouse gas pollution that's altering the climate. Trump lifted the previous administration's coal-mining moratorium on federal lands, rolled back its curbs on both smog-causing and climate-heating pollution from oil and gas operations, power plants, and other industrial operations, and threw into doubt standards that would improve the fuel efficiency of cars, pickup trucks and SUVs.
The administration has also moved to rescind California's right to set its own, stricter tailpipe standards under the Clean Air Act.
"Fossil fuel producers are kind of at the heart of all this," says Jessica Wentz, a senior fellow at Columbia University's Sabin Center for Climate Change. The attacked regulations all have different goals, she says, but overall their effect would be to reduce fossil fuel consumption. "Producers do not want that."
These environmental rollbacks have put the public's health in danger, says former Environmental Protection Agency chief Christine Todd Whitman, both by fulfilling the anti-regulatory wish lists of polluters and by largely cutting environmental and public health advocates out of the rulemaking process.
"I find that it's more responsive to industry than I think is healthy for us," says Whitman.
"Industry has a right to be heard, but that's not the only advice or input you take. You take it from the other side as well," she says, referring to environmental and public-health nonprofits. "I never met with anyone from industry when we had an active ongoing regulatory process that particularly affected their industry," Whitman adds.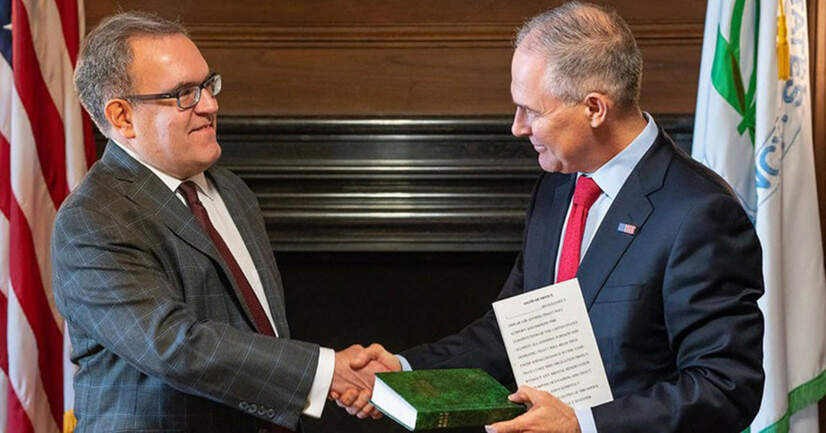 EPA Administrator Andrew Wheeler, who previously lobbied on behalf of the coal company Murray Energy, took over as interim EPA chief after Scott Pruitt resigned in July 2018. Credit: U.S. EPA, public domain
That stands in sharp contrast to current EPA head Andrew Wheeler, a former coal lobbyist, who according to CNN has "maintained the custom of his predecessor Scott Pruitt" in meeting extensively with representatives of firms or industries regulated by the agency — while at the same time ducking nonprofits. Between April and August of 2018, CNN reported recently, Wheeler met more than 50 times with industry figures and just three times with environmental groups.
Meanwhile, at the Department of the Interior, Acting Secretary David Bernhardt is presiding over several top appointees who have used their government positions to aid the industries they are tasked with regulating, as well as former colleagues and employers at ultra-conservative lobby groups that include the National Rifle Association. Their signature effort may be an attack on the Endangered Species Act that could permanently cripple the keystone environmental law.
Bernhardt is himself a longtime agriculture and fossil fuel lobbyist who was Interior's senior lawyer during the Bush administration. After rejoining the agency under Trump in 2017, he helped tear up Obama's multi-stakeholder deal to protect the increasingly rare greater sage grouse, a bird whose habitat overlaps with millions of acres of fossil-fuel-rich western federal lands.
Wentz says she anticipated Trump's attacks on "big picture" Obama-era climate regulations, such as withdrawing the United States from the Paris climate pact and weakening regulations on power plants. But the "all-out attack on every component of federal climate regulation and policy and guidance" surprised her.
"A good example would be this proposed repeal of the regulation that extended light bulb efficiency standards to a broader class of light bulbs, what were considered sort of unusual or specialized light bulbs," says Wentz. The rule would cut energy use by an estimated 80 billion kilowatt hours annually (enough energy to power around 770,000 U.S. homes, according to advocates), save ratepayers a collective $12 billion in energy costs, and significantly reduce air pollutants that cause asthma as well as climate change.
But according to the industry publication EHS Daily Advisor, a 325-member trade group called the National Electrical Manufacturers Association intensively lobbied the Department of Energy to roll back the standards, and the agency formally proposed to do so in early February.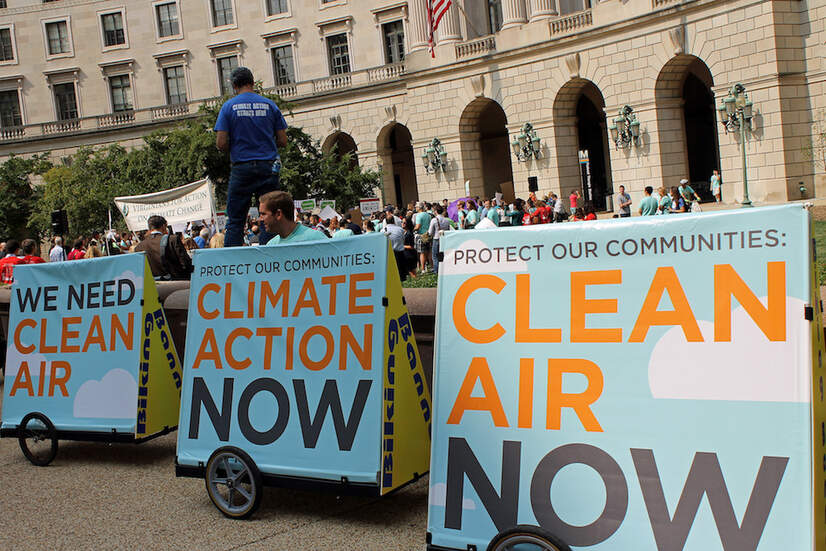 Rally for clean air outside of the U.S. Environmental Protection Agency's D.C. offices. Credit: Karen Murphy, CC BY–ND 2.0
A Bumpy Road to the Future
Environmental groups and others have taken many of these moves to court — and made a few notable wins.
But even if the rules themselves are saved, it could still be years before the federal government regains momentum on grappling realistically with climate change, says Wentz, who runs the Climate Deregulation Tracker at Columbia University's Sabin Center for Climate Change Law. As of Feb. 14 she has catalogued 113 anti-climate rollback actions by the administration since Trump took office.
That delay will be costly, Wentz says, because time has almost run out to avert catastrophic climate change.
"Every report we see from the IPCC and the United States' own global climate research program [finds] that it is necessary for us to take urgent, immediate action," says Wentz, "You have to have a very significant and rapid emissions reduction. And so the more we delay, the bigger the problem gets, and the harder it is to solve it, and the more we're passing all of these costs to our kids and to future generations."
It's too soon to tell whether the new wave of hearings by House Democrats will weaken the pace of Trump rollbacks, or the administration's attempts to give them a veneer of scientific validity. As I've covered in my newsletter, (de)regulation nation, the White House recently scored some legal victories of its own, including a federal court ruling in February that the government can waive dozens of environmental laws to build barriers along the Mexican border. A longtime climate change skeptic, Prof. John Christy of the University of Alabama, was recently named to a top EPA science panel. Meanwhile Wheeler, the EPA's new administrator, is an experienced lobbyistwho will likely avoid the sorts of ethics violations that brought down his former boss, Scott Pruitt, and craft rollbacks more carefully to survive court challenges.
Still, Trump's zeal for environmental rollbacks played a part in 2018's "blue wave" of Democratic electoral victories, notes Whitman, and will likely factor into 2020's presidential and Senate elections for Republicans as well as Democrats.
"He controls the levers of power right now within the party, so I think it's going to be very hard," she says. "We'll have to wait it out and then we'll have to get to a point where [voters] realize that they can make the changes, and that this is something they want to do."
Main image: President Donald Trump on stage at CPAC 2019. Credit: White House, Tina Dufour, public domain