Two climate change protestors have been found guilty of criminal damage after digging a hole outside the Houses of Parliament.
Paul Enock and Stephen McDonald, both 62, pleaded not guilty during a trial at Hendon Magistrates Court, arguing that they had acted out of necessity to draw attention to the problem of climate change. But the judge, sitting at Westminster Magistrates Court on 29 March 2019, disagreed and gave each man a three-month conditional discharge.
Enock and McDonald had both admitted digging a hole in the lawn on Parliament Square on 24 November 2018 as part of Extinction Rebellion's wider campaign of non-violent and civil disobedience. Enock told the court the aim was "to recruit public sympathy and awareness to shift the debate on climate change" and stressed that an important part of this approach was not to resist arrest and to be respectful to law enforcement officers.
A group of protestors had met at the site, which is directly in front of the Houses of Parliament, planning to bury a coffin to symbolise "the death of our hopes for the future", said Enock.
Kavi Choolun, prosecutor for the Criminal Prosecution Service, said the act had caused damage worth £664.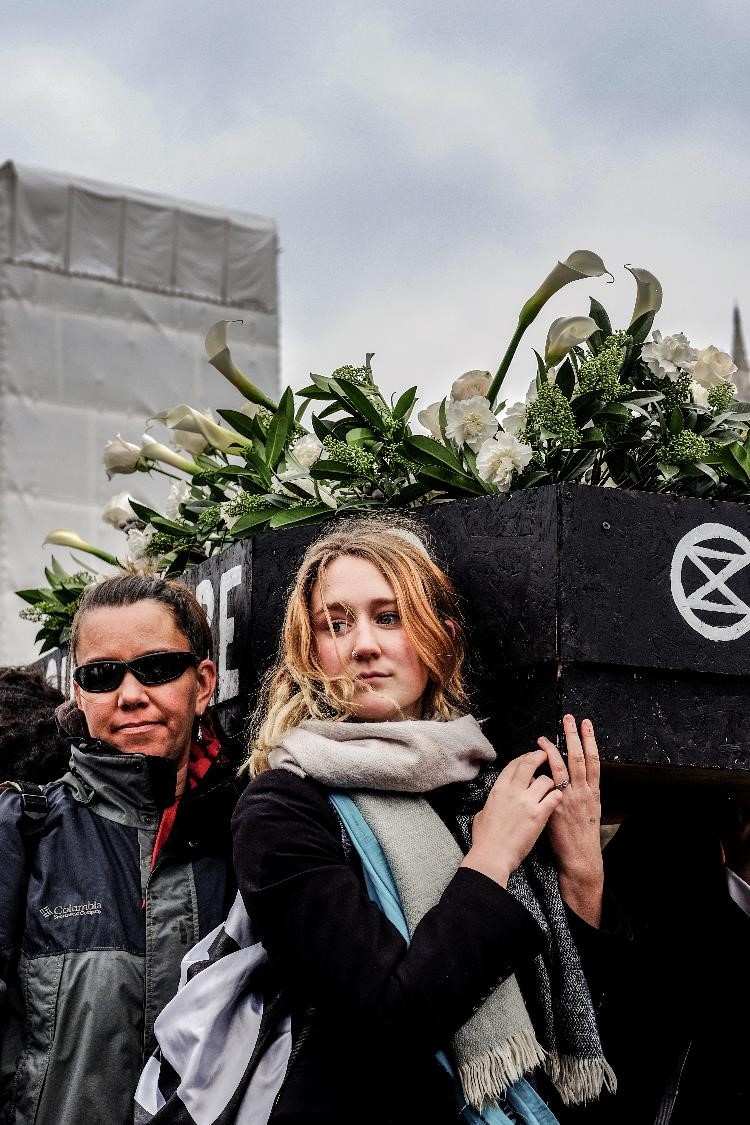 During the trial, the two men argued they had acted out of necessity because they believed climate change was such an urgent problem, and that their actions were reasonable under the circumstances.
They sought to defend themselves under the Human Rights Act, which protects freedom of expression and assembly. Emma Foubister, lawyer for the defence, told the court the two men "genuinely believe that climate change is causing widespread destruction and loss of life".
In 2018, a judge prevented three anti-fracking protestors from presenting similar arguments on the same grounds. The three were sentenced to over a year in jail for stopping a lorry convoy heading for a fracking site, but the sentence was later quashed for being "manifestly excessive".
In his defence, Enock cited a landmark report from the Intergovernmental Panel on Climate Change (IPCC), which had come out a month before the protest and warned that there is only a dozen years for global warming to be kept to 1.5°C. He said it is "quite clear from the evidence that scientists have been producing for many years that life on this planet is in real danger if the government doesn't take drastic action to reduce emissions. But there is little sign that those changes are taking place."
Enock and McDonald were asked whether they had tried other ways of persuading the government to act. Both said they had campaigned on climate change for decades, but felt they had run out of other options.
When asked by the prosecution whether he was aware about actions the government was already taking on climate change, McDonald described these as "just window dressing".
"I accept there are other smaller initiatives the government is doing but they are basically nowhere near enough. We have got to stop the extraction of energy through fossil fuels," he said.
McDonald told the court he was acting to protect his three grandchildren, aged 4, 7 and 8. "There's almost nothing I wouldn't do to protect the future of my grandchildren," he said. "I know if we carry on this path their future life will severely curtailed."
Speaking after the judgment, Enock told DeSmog he was "moderately happy" with the judgment and the "fairly minimal" sentence he had been given. "The judge listened and repeated all the arguments… before deciding they didn't actually apply to us. But we felt that at least that was considered."
He added that the judgment would not dampen his enthusiasm for taking part in protests in the future.
Image credits: Alex Fisher/Extinction Rebellion