Eliza Griswold's book Amity and Prosperity: One Family and the Fracturing of America examines the impacts of fracking in western Pennsylvania, and on Monday it was awarded the Pulitzer Prize in General Nonfiction.
Griswold's book carefully refuses the birds-eye view of fracking's impacts — readers will find few state or national statistics — and instead presents the detailed results of seven years of on-the-ground reporting. It traces the story of one extended family in western Pennsylvania, a small handful of neighbors, and eventually the two-person legal team that took on their case, now covered by a sealed settlement with natural gas driller, Range Resources, which still faces additional related legal battles today.
The New York Times Book Review called Amity and Prosperity a "valuable, discomforting book." The 336-page narrative presents the Haney family's experiences as a story of failed systems, both legal and political, and the pummeling of small town residents in the Marcellus Shale, not only by the arrival of fracking, but also by the region's long history with extractive industries like timber, coal, and steel; by the national painkiller addiction epidemic; and by the extraordinary difficulties created by the decline of family farming.
The book begins at — and frequently returns to — the county fair's 4H competition, where Stacey Haney's son and daughter are entering "two goats, two pigs and four rabbits." Griswold recounts how Stacey, a nurse, and her neighbors suffer as family pets, prize goats, and treasured horses become ill and die — and at the same time, Stacey's son Harley is suffering from a mysterious ailment that neither Stacey nor the doctors are initially able to diagnose.
Thank you!! https://t.co/2nTwSkSVei

— Eliza Griswold (@elizagriswold) April 16, 2019
Book Spoiler Alert
Note: the next two paragraphs contain spoilers that readers may wish to avoid.
The family, it turns out, was living just down the hill from a massive wastewater impoundment used by Range Resources to store waste from over 100 different shale gas wells. Not only was Range spraying that chemical-laced wastewater into the air to evaporate it, Griswold slowly reveals, but state inspectors discover that the impoundment's waste leaked and used improperly designed leak detection systems.
At one point, Griswold reports that Range pumped freshwater and soap into the dirt below the impoundment not long before the Environmental Protection Agency arrives, hoping to "flush" the ground below — over objections from a state regulator who warned the action might only force contamination farther below the surface and towards the families' water wells.
Spoilers end here.
The Wastewater Woes of Fracked Gas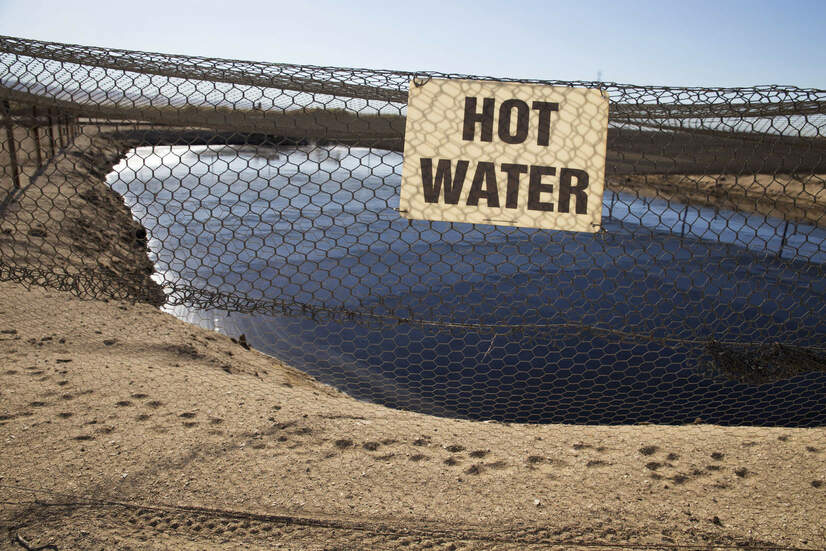 Unlined waste pit for fracking wastewater in California. Credit: Sarah Craig/Faces of Fracking, CC BY–NC–ND 2.0
For shale gas drillers, handling and disposing of the industry's toxic wastewater remains one of its most difficult issues.
Unconventional oil and gas drillers told Pennsylvania that they produced 9.8 million barrels of liquid waste in the first two months of this year. Drillers listed over 650,000 barrels as stored in lined pits called surface impoundments, nearly a million barrels shipped to injection wells (for underground storage), roughly 2.5 million barrels sent to waste treatment plants, and 5.8 million barrels designated for re-use (i.e., drilling or fracking other wells).
A tiny amount of the waste from unconventional gas wells even went to public sewage treatment plants this year. Alliance Petroleum Co. reported sending 120 barrels of "other oil and gas wastes (in barrels)" to the Reynoldsville Sewage Treatment plant in Jefferson County.
The corrosive salt-laden wastewater has been spread on roads as a de-icer, been dumped illegally into abandoned coal mines and rivers, and was even recently reported as finding its way into swimming pool salt sold by Chlorox.
Fracking and Farming
Amity and Prosperity keeps its focus largely outside of Washington D.C., Philadelphia, or Harrisburg, mostly limiting its examination of public policy to a landmark case that Stacey's lawyer, John Smith, successfully argued before the state Supreme Court. Instead of tracing the familiar history of fracking de-regulation, Griswold carefully describes the region's colonial history and violence.
The appeal of fracking for many of Griswold's protagonists centers on farming and raising animals — the hope is that royalty money can fix up a barn or buy a wood splitter to help feed woodstoves through the winter. Range Resources and other drillers curry favor by paying top dollar for prize-winning 4H animals. And it is the desire to remain local, to still live in the same rural towns where great-grandparents spent their days, that drives residents to seek local jobs — whether those are in the drilling industry or not.
Those agrarian ties also leave families vulnerable when fracking goes wrong. Stacey Haney's difficult decision to move out of her home after discovering evidence of toxic pollution in the water and air is compounded by questions about how to take care of the animals if she leaves. A goat is born in three pieces. Horses and dogs collapse mysteriously, then die.
While many narratives about the Rust Belt's thirst for jobs reach as far back as the decline of the 20th century's age of coal and steel, Griswold describes how locals viewed those earlier industries, writing that the wealth from coal fed only a tiny handful of mine owners and left behind not only tainted water, but also nearly abandoned towns (like Amity's neighbor Prosperity, population: 1,497, which is roughly 10 percent of Amity's 13,015 residents).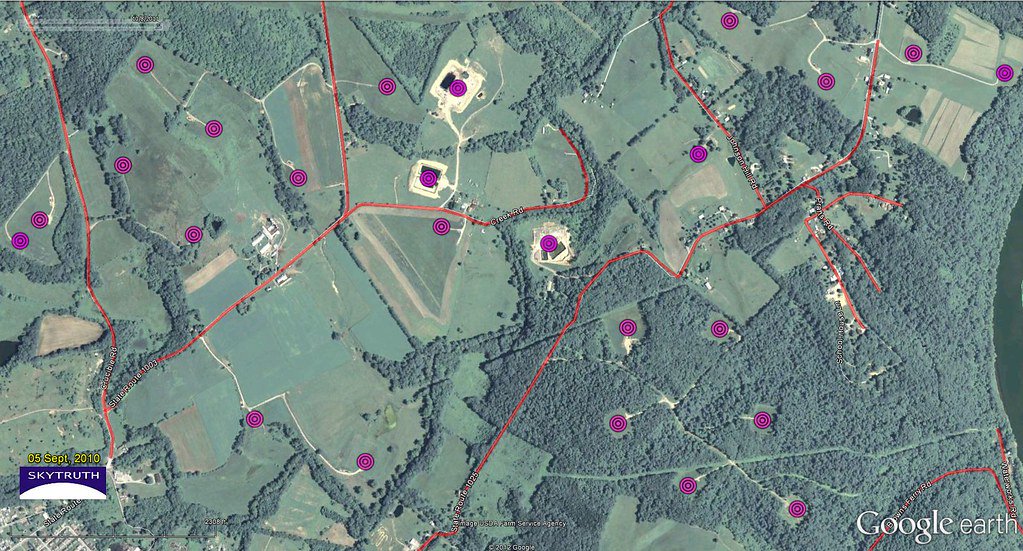 Google Earth image of Pennsylvania fracking sites from September 5, 2010. Credit: SkyTruth, CC BY–NC–SA 2.0
In a June 2018 interview, Griswold described an encounter with a farmer-slash-barber early on in her reporting, telling NPR's Marketplace that when she revealed she'd lived in Philadelphia and New York City, the man replied, "That's two strikes against you."
"And that conversation began for me a learning, which was why over so long have rural Americans felt increasingly disenfranchised and really enraged at urban Americans?" Griswold told Marketplace. "And part of that has to do with people who are supportive of fracking, legitimately so, saying, 'Listen, you guys are going to come in here and wag your fingers at us? This is the first opportunity we've had to make money off of our land in more than a century.'"
Legal Battles Stretch On
After the many grueling years chronicled by Griswold, the Haneys and their neighbors eventually reached a confidential settlement with Range Resources. The book ends shortly after that settlement, described as "disappointing" for the families.
But legal battles over the activities of shale driller Range Resources — which included allegations that a water testing laboratory helped to conceal evidence of water contamination — remain underway.
In February, the Pittsburgh Post-Gazette asked a Washington County judge to unseal confidential settlement documents from the lawsuit. The Post-Gazette was previously successful in seeking the public release of records from a 2011 confidential settlement between Range Resources and another Pennsylvania family, the Hallowiches.
In February, the Pittsburgh Post-Gazette also reported that the state attorney general, Josh Shapiro, "sent a letter to attorneys representing Ms. Haney and Range that referenced the 'Stacey Haney/Range Resources Investigation,' and requested that the case record be preserved, under penalty of law."
Shapiro's office is reportedly pursuing a grand jury investigation into possible criminal activity by the shale drilling industry in Washington County. A spokesperson for the attorney general has told NPR's State Impact that their office "cannot confirm or deny the existence of any investigation."
Stephanie Hallowich testified before that grand jury on February 21, and another Washington County resident has said she was called to testify about a waste impoundment near her home and the health impacts she had experienced.
The Post-Gazette reported in January that Shapiro's criminal investigation may extend beyond Washington County.
Separately, three criminal investigations — by Shapiro's office, by the Chester County district attorney, and by the Delaware County district attorney — have been reported as looking into potential criminal activity related to Energy Transfer's Mariner East pipelines, which are slated to carry fracked fossil fuels. Range Resources has contracts with Energy Transfer to ship ethane and other natural gas liquids from its fracked wells across the state for export via the Mariner East pipelines.
Main image: Summit Elementary School playground in Butler County, Pennsylvania, with a fracking well in the background. Credit: Moms Clean Air Force, CC BY–NC–SA 2.0