Whitehaven is a small port town on the coast of Cumbria, where coal means both life and death.
It was death in 1947, when an explosion at the William Pit killed 104 miners, and again in 1910, when a fire at the Wellington Pit trapped and killed 136, some of whom had time to scrawl chalk messages onto the doors.
Yet the coal that was dug out from around Whitehaven for around 300 years also provided life to its residents, both economically and spiritually. That ended in 1986, when the last pit, Haig Colliery, closed.
Today, the town feels the lack of it.
The pillars of the Victorian Turkish Baths, which escaped demolition a few years ago, have been streaked green with time and neglect. The colours are flaking off its buildings, and the brickwork is cracked. Industrial grandeur has been replaced by rows of takeaways, florists and Greggs (which, yes, sells vegan sausage rolls).
While the pits slipped away, West Cumbria welcomed a new industry: nuclear power.
Just south of the town is Sellafield, a nuclear reprocessing site, which has both sustained and poisoned the population of Copeland, the borough where Whitehaven is located. The week I visit, the company has been fined £380,000 after a worker punctured his hand through a protective glove and was exposed to plutonium.
It's easy to understand why West Cumbrians tolerate this toxic presence. In 2016/17, the average Sellafield salary was over £43,000, compared to a national average of around £34,000. If the wages don't tempt workers into the plant, lack of choice may force them there. The plant sustains around 59 percent of jobs in Copeland, directly employing around 11,000 people.
But 3,000 of these jobs are to disappear in the coming years as the plant abandons its reprocessing role. The losses will be felt painfully and acutely across the county. This, alongside the impacts of austerity across Cumbria, has led to a headache for local politicians.
Luckily for them, a small company called West Cumbria Mining is offering an aspirin: a new underground coal mine, just south of Whitehaven.
---
Read more — 
'Coal is our Heritage, not our Future': Inside the Community Protecting Pont Valley from Banks Mining
---
Climate Change Objections
It is, as usual, a quiet day at Whitehaven market. The looming coal mine is not yet part of the town's landscape; there are none of the protests or posters you see in other parts of the UK where fossil fuel developments are taking place — such as the fracking showdown in Lancashire.
Some residents still hold a muted suspicion of the mine. Leaflets through their doors from West Cumbria Mining haven't answered all their questions, or assuaged fears that they will only ever be seen as collateral damage in the UK's efforts to secure new fuel sources.
"This mine is opening up, but the question I want to know from all these bigwigs is, why just now are they reopening the mine when they could have kept people in work in 1984?" says Andrew Matthews, who helps run a stall at the market, and who fundraises for an Alzheimer's charity.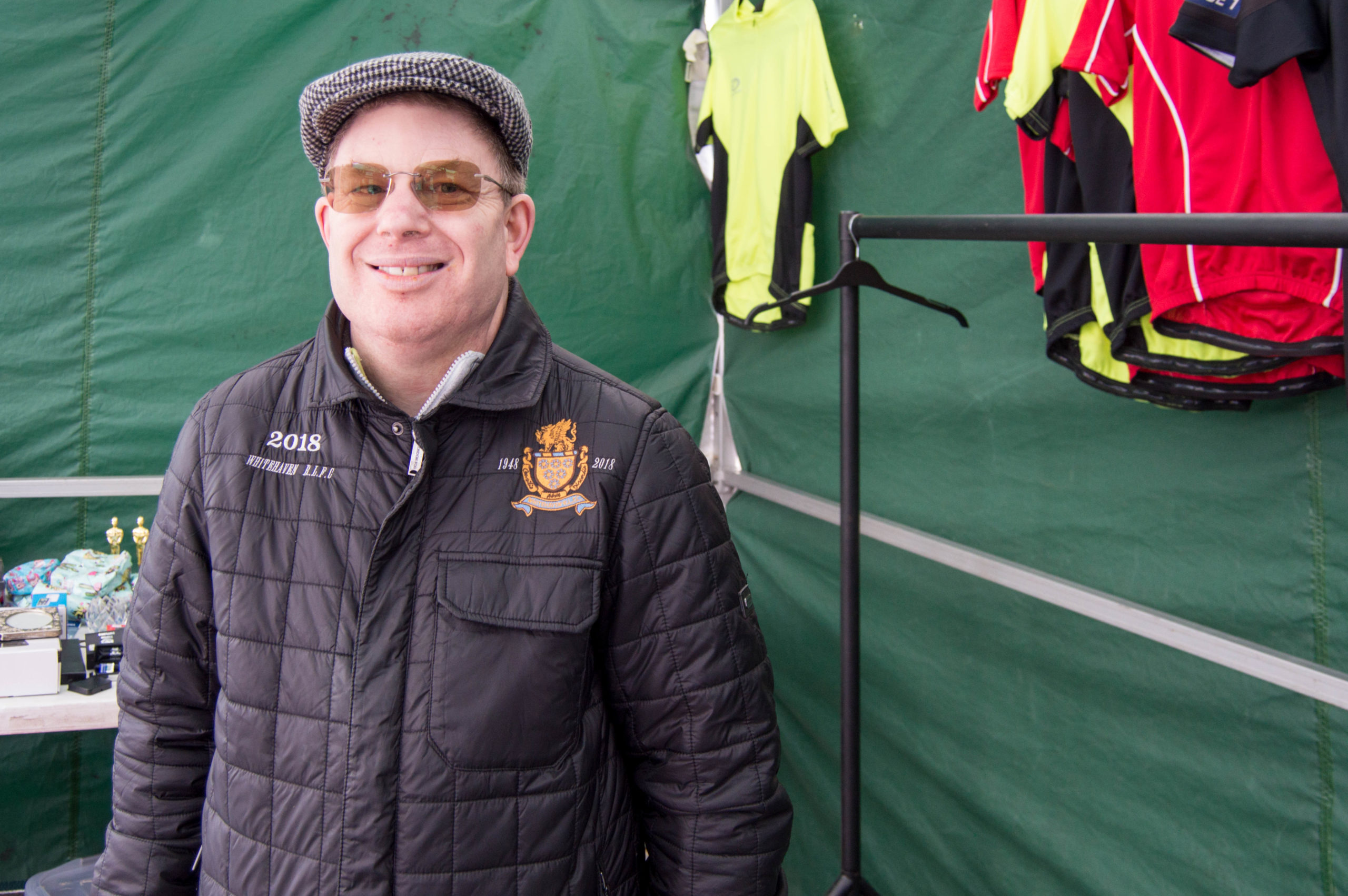 Image: Local resident Andrew Matthews. Credit: © Sophie Yeo 
This is what West Cumbria Mining has revealed so far: The mine will be called Woodhouse Colliery, it will be located on the site of a former chemicals factory between Whitehaven and St. Bees, and around 2.8 million tonnes of coal will be extracted from both onshore and offshore seams every year for around 50 years. Crucially, this coal will be metallurgical-grade and will be used both in the UK and in Europe.
These may appear to be technicalities — coal consumption emits carbon dioxide, wherever it is used and whatever grade is extracted. But the fact that metallurgical coal is used to produce steel, and the emissions will largely be outsourced to other countries, means that West Cumbria Mining is not stymied by either the UK's 2025 phase-out of unabated coal for power generation. "I am not aware of any UK government or EU proposal to end the use of metallurgical coal in steelmaking," wrote Cumbria County Council, in its report approving the planning application for the mine.
Nor is the company hampered by national emissions targets. The UK aims to reduce emissions by 80 percent by 2050, but this only includes carbon dioxide emitted on home turf. If coal produced here is burned somewhere else, then it's someone else's problem. This loophole, campaigners argue, is the fault of the planning system at large.
Indeed, this has been an issue in other recent proposals for coal mines. When Communities Secretary Sajid Javid quashed the planning permission for an opencast coal mine in Druridge Bay, Northumberland, it was widely reported to be on the grounds that it was incompatible with the government's climate change targets.
Yet Javid's main objection was not with the emissions released by burning coal from the mine. These, he argued, would replace other sources of coal rather than increase UK coal consumption overall. Instead, he was concerned with the emissions released in the construction and operation of the mine itself — "The non-combustion GHG consequences of the proposal are of such magnitude that this would justify refusing permission," he wrote.
With similar contortions of logic, Cumbria County Council and West Cumbria Mining agreed that the coal mine would actually help to combat climate change.
Their line of thinking is that the consumption of coal is driven by demand; coal produced on the shores of Cumbria and used in the UK and Europe would simply displace coal mined further afield, from regions like Appalachia in the USA. The emissions saved by not having to ship this coal halfway around the world are therefore counted as emissions reductions in the county's final analysis, to the tune of 5.3 million tonnes.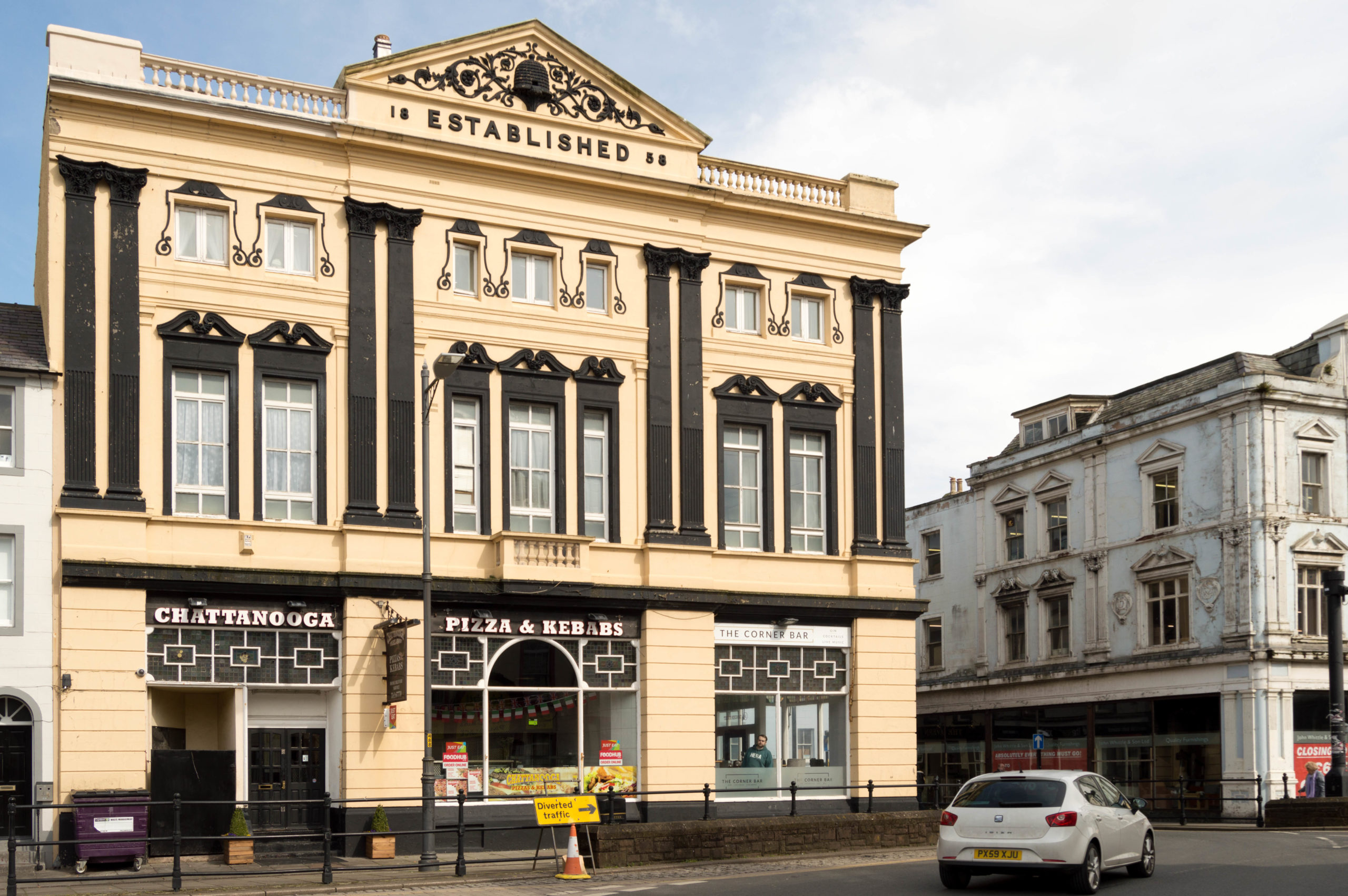 Image: Whitehaven town centre. Credit: © Sophie Yeo 
Jobs
But what swung the decision was the opportunities it created for local residents.
West Cumbria Mining estimated in its planning application that, when running at full production, the Woodhouse Colliery would provide around 500 jobs. That's not many, when you consider the 3,000 jobs set to be scrapped at Sellafield. But it was enough to secure the almost unanimous support of local politicians from the Labour, Liberal Democrat and Conservative parties.
"In comparison to a lot of industry that is on offer in this area it is such an important and exciting scheme, and it is vital that it goes ahead," wrote Whitehaven town councillors in their letter of support for the project.
Liam Fox, the Secretary of State for International Trade, visited the site in 2017, calling it "an encouraging example of what can happen in terms of regeneration to help the local economy".
The Liberal Democrat leader of Cumbria County Council said that "the need for coking coal, the number of jobs on offer and the chance to remove contamination outweighed concerns about climate change and local amenity."
---
Read more —
Broken Promises and a Legacy of Distrust: Restoration Failures Show Long-Term Impact of Coal Mines
---
And there is undoubtedly support for the mine.
On the day I visit Whitehaven, the local newspaper includes two letters championing the development. "A town needs its self-respect," writes Jeremy Godwin of Penrith, in The Whitehaven News. "Mining is a calling that some have and others don't. Those who oppose it on the grounds of climate change are forecasting what might not occur. Were they to prevail, Whitehaven would remain in its ebb-tide, hard-up, and dejected."
Yet local support for the mine is not the uncomplicated clamouring that local politicians have suggested. Decades of neglect and contamination have made residents wary of promises that sound too good to be true, and suspect that their own wellbeing will be forgotten by the businesses, politicians and stakeholders backing the mine.
Raymond Scurr is a 71-year-old former miner, who owns a whippet called Michael Jackson — named such because he's bad, he says (a reference to the 1987 single, rather than recent allegations of sexual abuse). The name has merit: two years ago, Michael Jackson ate Scurr's false teeth.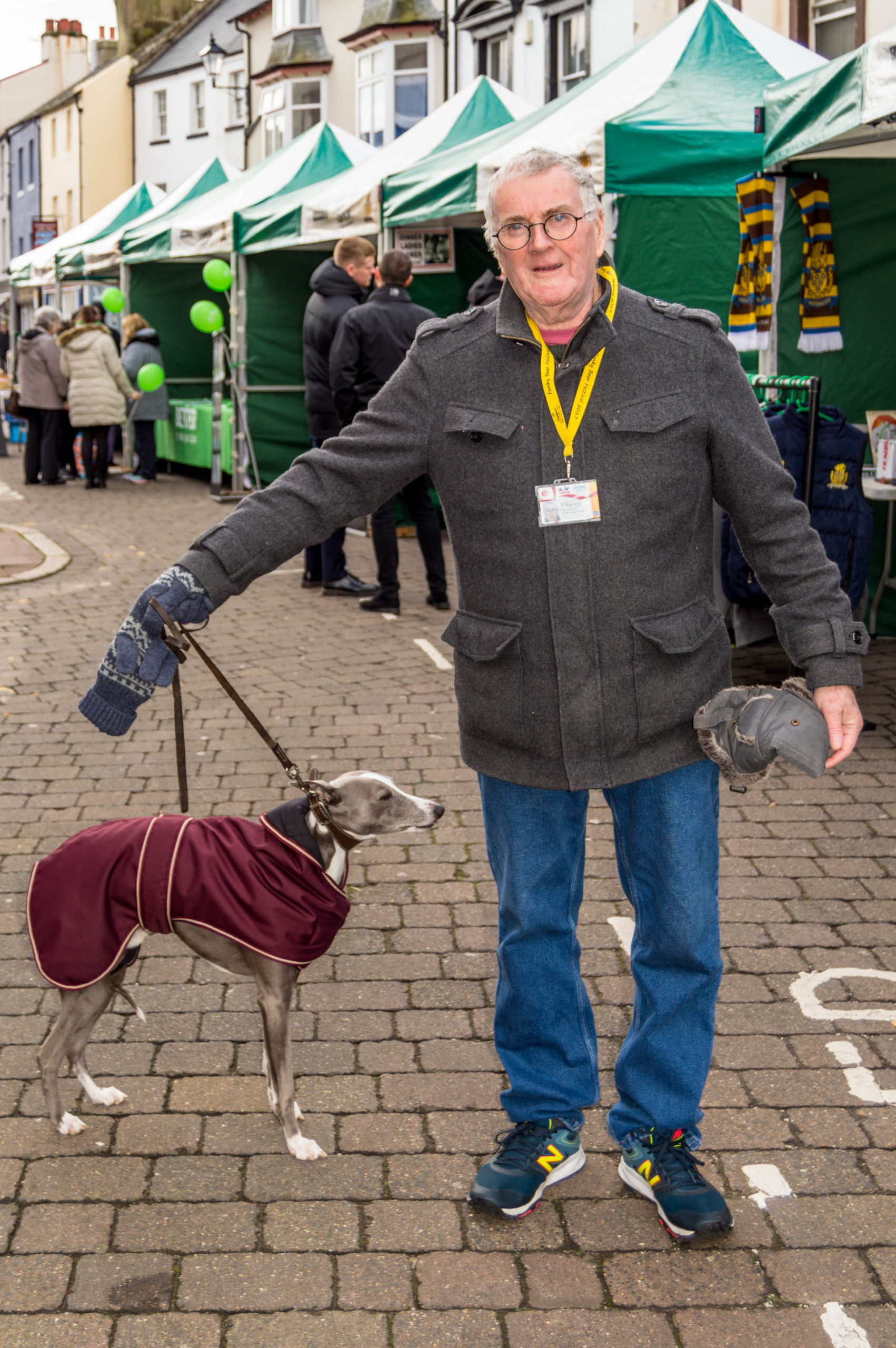 I get chatting to Scurr at a quiet moment at the market stall. He proves ambivalent at best about the development, concerned about contamination and the lack of a workforce – Cumbria is "haemorrhaging" young people, according to a local magazine. While old miners like him might welcome a return to the past, he's concerned that he and his ilk are not the people that West Cumbria Mining are looking to employ.
"When I left school, there was pits, there was Marchon [a chemical factory], there was steel works. There's nothing left for young kids now, is there?" he says. "I'll be quite honest, if I was in me 20s, I'd be first in queue to go back down, but I'm 71. There's silly buggers I know, 71, 72 — 'I'm going back down'. They won't entertain them! They want young lads in their 20s, but where are they going to get them?"
Andrew Matthews interjects. "They're promising people round here jobs. They promised that at Sellafield," he says. "The jobs they're promising will not be for local lads. That's what I'm worried about."
Indeed, among locals, Sellafield and the proposed mine are inextricably linked. The nuclear plant has been a "silent killer" in the region, says Matthews, and nothing has convinced him that the extraction of coal won't unleash a similar wave of contamination and death.
For Ruth Balogh, a volunteer at the local branch of Friends of the Earth, Sellafield is more than an abstract reminder of the community's disposability: it is an active threat. She is concerned that seismicity and subsidence brought on by the drilling could disturb stores of radioactive waste. "It could cause tremors, and the nuclear waste is quite unstable," she says. "You really don't want earthquakes around it."
The mining company is not concerned. In a speech to Cumbria County Council's planning committee in March 2019, West Cumbria Mining's CEO Mark Kirkbride promised the company had conducted "extensive evidence-based modelling work" to ensure the mining process would be safe.
Opposition
On the other side of Cumbria, on the eastern edge of the Lake District, another kind of opposition is afoot – one that's scarcely more organised, given the suddenness of the announcement, but certainly more connected and more attuned to the world of planning, policy and the environment.
Among them are Maggie Mason, a retired planning officer at Cumbria County Council, and Mike Berners-Lee, author on books about climate change and part-time lecturer at Lancaster University (and brother of Tim, the inventor of the World Wide Web).
Over the past weeks, they have scrambled to understand the impacts of this colossal development — and how to use their own experience and skills to stop it happening. Berners-Lee admits that the coal mine caught them off guard.
"The idea of this coal mine, it only really came strongly onto my radar quite recently, because I had naively assumed it was such an obviously stupid idea that it would surely never get any traction. Then it looked as though there was this vote coming up in the council that might go the wrong way," says Mike Berners-Lee. "I've just tried to get my head around it the best I can."
---
Watch —
Documentary: Living with Coal – Resisting the UK's Newest Mine
---
We were meeting in the front room of his airy stone house in Kendal, separated by an oversized chess set. He places my coffee on the copy of his new book, There Is No Planet B, that is laid on the table. This latest publication is an attempt to provide quantitative answers to some of the key questions around climate change today: should we frack? Should I buy an electric car? When might we emigrate to another planet?
Now, he has applied the same numerical analysis to the environmental problem on his doorstep – in part, to counter the absences and ingeniousness he sees in West Cumbria Mining's own calculations. He pulls up a Word document, which contains his rough estimates for the impacts and costs of this massive fossil fuel project, as well as the outlook for the steel market.
He's calculated that the coking coal produced from this mine, when consumed, will emit around 380 million tonnes over its lifetime. Using global coking coal prices, he estimates the coal itself will bring in around $25 billion – of which only around three percent will be spent on the salaries of workers, he predicts. Another 22 percent will be spent on other production costs. That leaves around $18 billion in profit.
"So that's the reason why this coal is coming out the ground," says Berners-Lee. "That's the reason fossil fuels are coming out of the ground. It's because of all the vested interests, because it's worth so much money."
He's also unconvinced by the argument that this coal is needed to produce steel, although he confesses that the claim has caught the group of environmentalists, used to battling coal used for power generation, off-balance. With the potential to expand recycled steel and other technologies, "you could make a massive cut in the amount of coking coal required," he says.
Maggie Mason, on the other side of Kendal, is drawing on her years of experience of the system, working in the planning office at Cumbria County Council. Her expertise is obvious as we sit in her front room and she methodically works her way through the tangled planning system, and why she believes West Cumbria Mining has failed to meet its rigorous demands.
At the end of March, she submitted a letter to the Communities Secretary James Brokenshire requesting that he reconsider the permission granted by the council. Given the carbon emissions of the mine, the project is of "more than local significance" and "may conflict with national policies on carbon reduction and coal extraction", she writes.
What's more, given the UK's ambitious diplomacy on climate change abroad, the mine "gives rise to substantial cross-boundary or national controversy". All are legitimate reasons to reconsider a planning decision, she says.
She also points out that West Cumbria Mining, to date, has only received approval for the onshore part of the development — the more significant offshore seams have yet to be permitted. To extract the vast amount of coal that lies off the coast of St. Bees, the company will need permission from the Marine Management Organisation. Yet the Council's approval was granted on the basis of the employment benefits provided by the mine as a whole.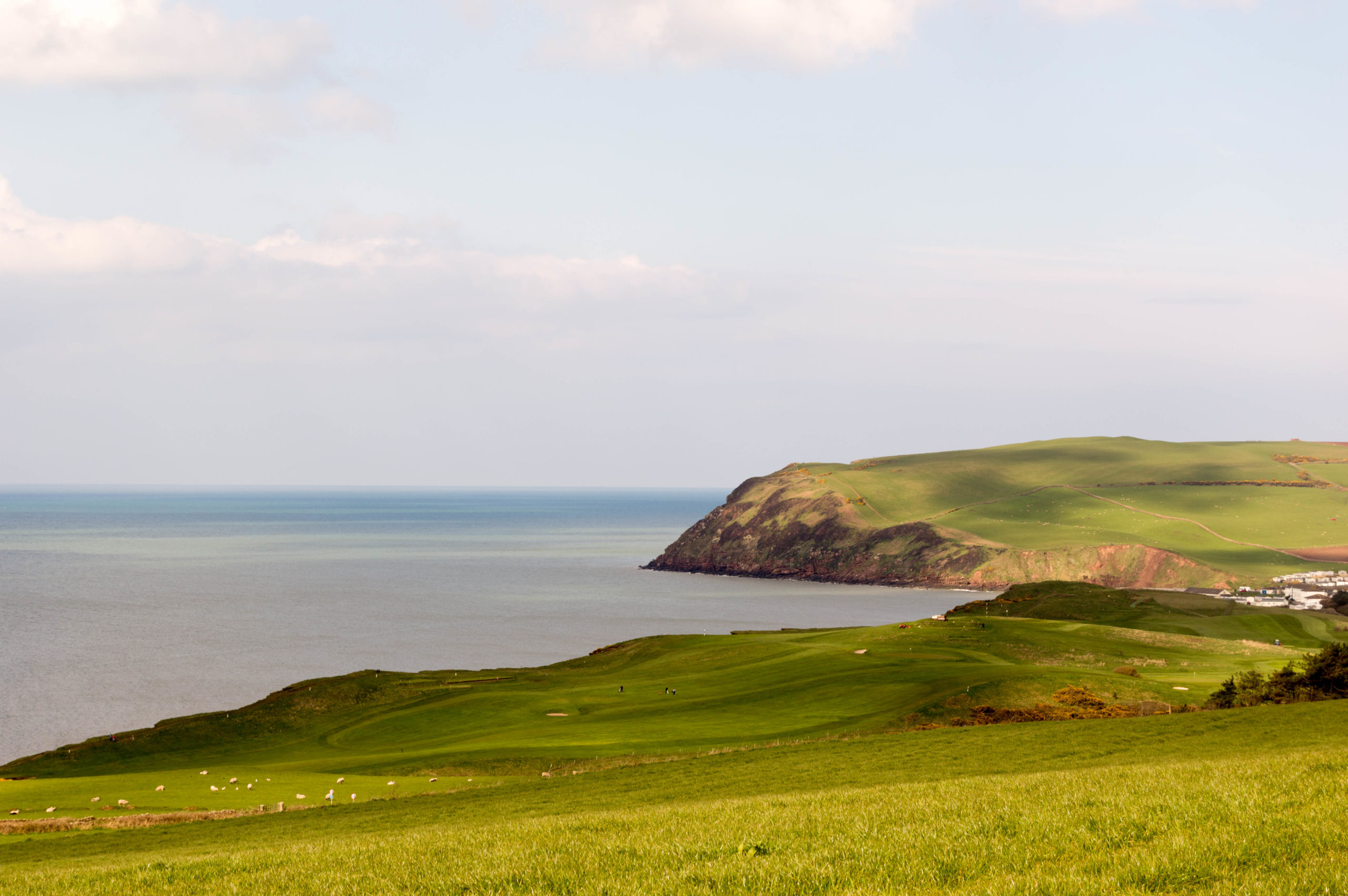 Image: St Bees headland. Credit: © Sophie Yeo 
"They're saying 500 jobs for 50 years. Well, you're not going to get 50 years of 500 jobs from the onshore planning application. They would run out [of onshore coal] before 50 years was up," says Mason. It's a flaw in their planning application, and grounds for an eventual judicial review, she believes.
But opposition isn't just in the hands of this smattering of well-educated adults. Just before Cumbria County Council approved the mine, children from Kendal stormed their offices, equipped with placards. It is one sign that things are changing, says Berners-Lee.
"I think they've not understood the moment. We've had decades in which you could get away with being disingenuous about climate change, nodding to it and how important it is in one sentence, then going off and opening a coal mine in the other, and just got away with that kind of behaviour."
"But I think they're going to be really badly caught out by this, because the mood has changed, the school kids are prepared to take to the streets, and people don't want to vote for this rubbish anymore."
"More people are getting actually scared by climate change. And I think they're going to get exposed. I think if they can't find a way of backpedalling from this, I think it's going to be the end of some political careers."
Main image: Sellafield from afar. Credit: © Sophie Yeo. Updated 25/04/19: The name of the current Communities Secretary was corrected.