Nine climate activists are standing as independents in the upcoming European elections in the name of climate and ecological emergency. None of them have stood in an election before, some have been arrested to raise awareness about the climate crisis, and all want to change the political system.
Inspired by the Extinction Rebellion (XR) movement and the climate school strikes, the Climate and Ecological Emergency Independents (CEEI) candidates have promised to break from traditional campaign tactics and take direct action, break the law, and engage in grassroots debates to get attention.
"It's absolutely zero to do with being elected and it's all to do with the campaign," said Andrew Medhurst, one of the seven candidates running in London, a former banker who worked in the City for more than 30 years before leaving his job to become a full-time activist.
Instead, the group of independents that also includes a lawyer-poet, a theatre director, an 80s DJ, an actress, an organic farmer, a global justice campaigner, a teenage student and a "freegan" who lives of foraged and waste food, have one goal: to keep the climate emergency at the top of the media and political agenda.
Manifesto
CEEI candidates have three demands that mirror those of XR: that the EU executive and legislative bodies declare a climate and ecological emergency, that policies are implemented to reach net-zero greenhouse gases across Europe by 2030, and that national citizen assemblies are established to shape Europe's decarbonisation and climate justice policies.
However, CEEI candidates insist they are standing in the election independently from XR, which seeks to go "beyond politics". As such, candidates are receiving no funds nor resources from the group and had to step down from any prior role within XR for the duration of the election.
XR insisted in a statement: "We are not, and will never be, a political party".
Between spending a day in a prison cell and a court appearance for spray painting on King's College London, Roger Hallam, a co-founder of XR, described his candidacy in the European elections as a "no brainer".
Hallam argued there was huge potential in creating a disruptive and hybrid election campaign by taking part in direct action. For him, the creation of a "climate and ecological emergency party could be on the cards" — separately from XR.
Hallam predicted a "dark future" in which more radical parties would emerge triggered by a "massive emotional transformation in western cultures caused by the climate emergency".
With seven CEEI representatives fielding in London and two in the South West, the candidates are clear that they goal is not to get votes but rather to make noise.
"I am not requesting people to vote for me, but for them to realise what is going on around them, to see the truth and act accordingly," said Claudia McDowell, a 21-year-old actress standing in the election.
Rejecting the current political system, which McDowell argued "failed all living life on the planet", she added: "I have no qualifications to be a politician in the way we usually understand it, but I have a qualification as far as I live on this planet and I want to fight for its future."
Zoe Lafferty, a theatre director specialised in social and political productions and also standing agreed: "The idea is not to become politicians but to create a space in which to put climate and ecological emergency into the political conversation and to do this creatively with direct action. There is something so theatrical about the whole thing," she said.
'

Conventional Politics Unconventionally'
Although CEEI candidates are not encouraging people to vote for them, the group agreed that if people were going to cast their vote for one of them, it should be Daze Aghaji, a 19-year-old history and politics student at Goldsmith University, London.
The youngest CEEI candidate, Aghaji carries the determination her generation has shown in taking to the streets to demand governments act now on the ecological and climate crisis. "It's important for young people to fight for their future," she said.  
Born in North London, Aghaji stepped up her activism when she realised that big issues such as climate change were "not caused by little people like me but by big corporations that are not being held to account".
Aghaji is adamant change can be achieved by working within the existing political system as well as outside it. "But I have not seen much 'Act Now' in conventional politics," she said.
"If we are engaging with conventional politics, we are not conventional", Aghaji is quick to add. "I am a student and a black woman. We want to show that politics should be for all people. We want to make sure that climate change is always going to be in the conversation."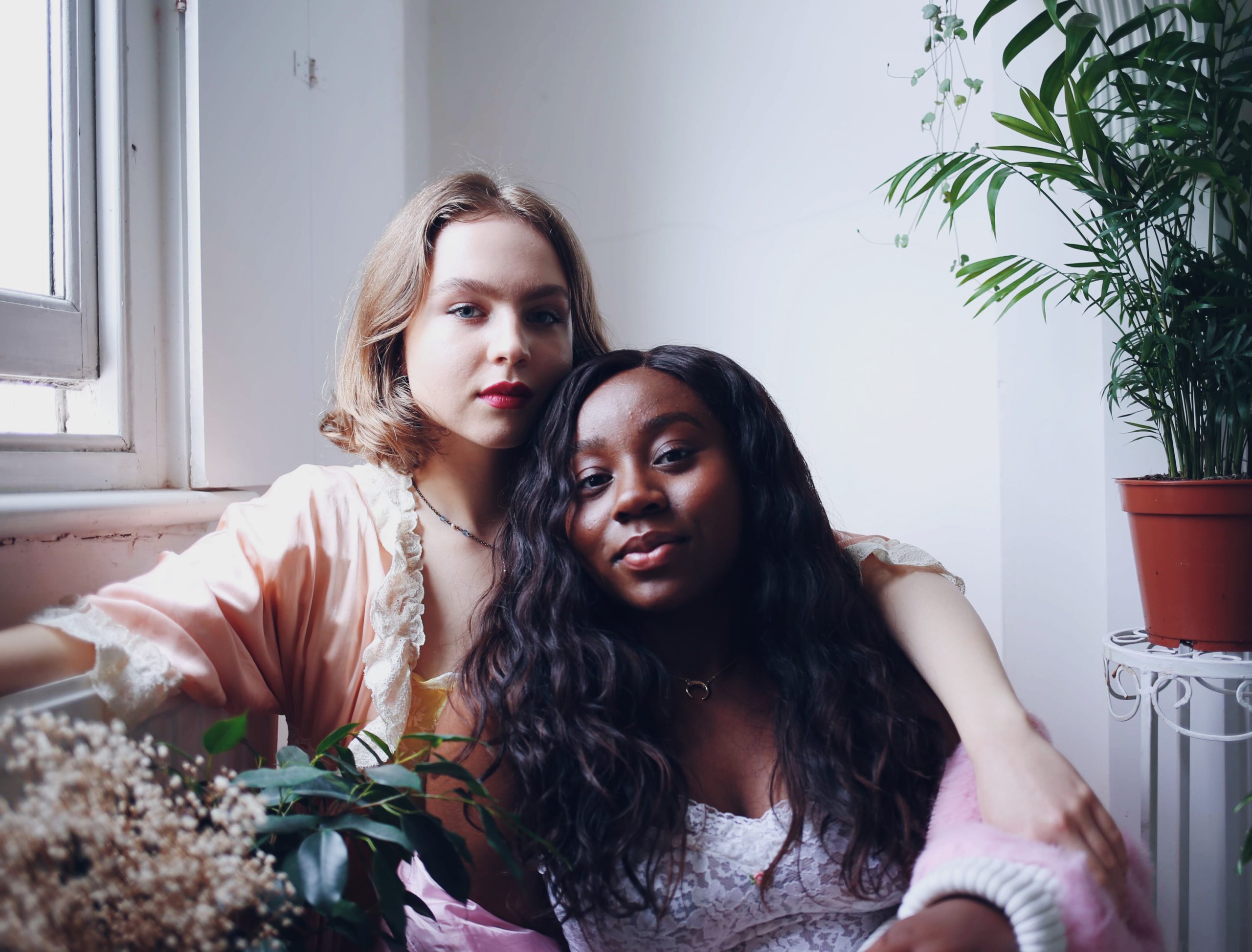 Claudia McDowell and Daze Aghaji. Image credit: Talia Woodin, [email protected]
Aghaji is not alone to want to represent those who "never get a political voice".
Born and bred in Ghana, it was political activism that led Kofi Mawuli Klu to live in exile in the UK for the past 25 years. A founder of the pan-african campaign for reparatory justice Stop the Maangamizi: We Charge Genocide/Ecocide, Klu described the climate actions of the last few months as "largely a white middle class movement".
This prompted his decision to stand in the European elections, which he said was "not to build an individual career as part of the EU's political establishment, but rather to amplify the voices of people that are not represented at that level, including the African heritage community".
Klu warned that "the little space for liberal democracy that exists in the EU must not be taken for granted," and that climate activists had "to build an alternative independent political force" to oppose those obstructing climate action.
Climate emergency politics
The involvement of CEEI candidates in the election could see the dawn of a new form of climate emergency politics.
"The parties that come out of the last 30 years aren't spiritually and emotionally able to cope with what is going to be the emergency over the next few years," Hallam argued. "Extinction Rebellion was the first on the block with a new emotional reality," he said, adding that others will likely follow.
But entering the political arena has not been without tensions for CEEI candidates, who have been accused of threatening to split the votes by creating competition to the Green Party, especially in the South West where Green MEP Molly Scott Cato is seeking reelection.
In response to those criticisms, Larch Maxey, one of two CEEI candidates in the South West, argued that the campaign was not about standing "with or against other parties" but aimed to work with everyone on the political spectrum.
Maxey admitted that he previously focused on grassroot activism rather than party politics but argued that entering the election was "the most effective way" to continue to put pressure on decision-makers to act.
Looking ahead, Hallam said the next focus will be another rebellion in the autumn, which he said would "hopefully bring down the British government". Unusually for a candidate about to stand in an election, Hallam maintained:
"Keeping the current political system is not going to be possible given the level of emergency. The sooner we have a rebellion to transform it, the better."
You can access a full list of MEP candidates running in the UK for the European elections on May 23 here.
Main image, from left to right: Andrew Medhurst, Zoe Lafferty, Daze Aghaji, Claudia McDowell, Henry Muss. Image Credit: Talia Woodin, [email protected]