Almost exactly two years after President Trump announced his plans to withdraw from the Paris climate accord, a groundbreaking youth climate change lawsuit challenging the federal government's promotion of fossil fuel energy was back in court for a long-awaited hearing. Before a three-judge panel in the Ninth Circuit Court of Appeals, the Trump administration, which has tried numerous times to derail the suit, argued that the case is an "attack on the Constitution" and that there is no right to a stable climate system capable of sustaining human life.
The 21 youth plaintiffs in Juliana v. United States allege that the government's role in perpetuating a fossil fuel energy system despite knowledge of the climate consequences amounts to violations of their constitutional rights. During the hearing June 4, the judges had tough questions for both sides arguing the lawsuit, which originally launched when Barack Obama was still president.
On November 10, 2016, one day after the election that put President Trump in office, U.S. District Judge Ann Aiken rejected the government's motion to dismiss the case and recognized a life-sustaining climate system as a right that is "fundamental to a free and ordered society."
Since then, the federal government under the Trump administration has tried repeatedly to stop the case from going to trial while simultaneously pursuing an "energy dominance" agenda and an assault on existing climate and environmental policies. This includes President Trump's announcement on June 1, 2017 that he intends to withdraw the U.S. from the Paris Agreement, the nearly 200-nation agreement to limit global warming.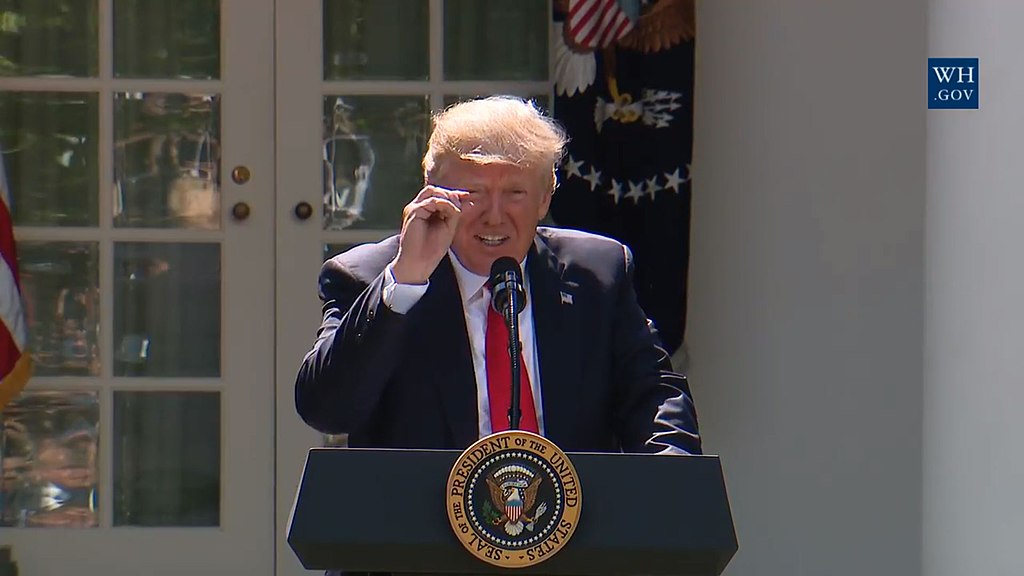 President Trump during his June 1, 2017 announcement to leave the Paris Agreement on climate change. Credit: White House, public domain
A Constitutional Right to a Safe Climate?
The Juliana lawsuit had been scheduled to go to trial on October 29, 2018, just weeks after the UN Intergovernmental Panel on Climate Change (IPCC) released a significant report finding that society has just over a decade left to make transformative changes to stave off irreversible climate catastrophe. The U.S. government released its own comprehensive climate assessment last November — released on Black Friday — confirming the alarming scientific projections and detailing the economic, health, and physical consequences for Americans.
November was also when the Ninth Circuit Court paused the kids' climate case, leading to a decision to allow a rare, early pre-trial appeal by the Trump administration.
This week in Portland, Oregon, the judges heard oral arguments in that appeal. The Trump-appointed Department of Justice attorney Jeffrey Bossert Clark opened the hearing by arguing that the case inappropriately attacks administrative agency actions through constitutional claims.
"There are wholesale administrative regimes that are being circumvented by this lawsuit," Clark said. "This is a suit designed to circumvent a whole bunch of statutes."
Clark was part of BP's legal representation in the Deepwater Horizon oil spill litigation and has challenged on behalf of industry the U.S. Environmental Protection Agency's finding that rising greenhouse gas levels endanger public health and welfare. During his arguments this week, he said a right to a "safe climate" capable of sustaining human life doesn't exist and that the U.S. government is not endangering the plaintiffs.
Judge: Do we get to intervene just because we have the wrong Congress and the wrong president?

(Wow)#AllEyesOnJuliana @youthvgov https://t.co/ZgfmfZMSZI

— Extinction Rebellion SF Bay Area (@xrsfbay) June 4, 2019
A Government Favoring Fossil Fuels
Julia Olson, executive director of the nonprofit Our Children's Trust and lead attorney for the youth plaintiffs, countered that the suit, launched nearly four years earlier, was not about challenging specific agency actions nor was it about the government's inaction on climate change. Instead, she argued, it was about the government's actions spanning decades that have deliberately accelerated and favored fossil fuel production.
"The scale of the problem is so big because of the systemic conduct of the government," Olson said.
Olsen: When our great grand children look back on the 21st century, they will find that "government sanctioned climate destruction" will be the defining constitutional question. We must be a nation that respects the rule of law. That is what the founders intended.

— Eric Holthaus (@EricHolthaus) June 4, 2019
Phil Gregory, co-counsel for the youth plaintiffs, called out the egregious conduct by the Trump administration during a press conference following the hearing. "This government is doing nothing but putting their foot on the accelerator of fossil fuels," he said. "The Trump administration does not want this case to go to trial because they know what they are doing is shocking."
Geoffrey Supran, a researcher at Harvard University studying climate science denial, told DeSmog that the fossil fuel industry's intense political influence has made climate action in the U.S. nearly impossible, leaving citizens with little choice but to turn to the courts.
"Fossil fuel interests have corrupted the executive and legislative branches of government to such an extent…that an entire generation of young people are now pouring onto the streets and into courtrooms, fighting for their right to a just and stable future," Supran said. "Litigation is a key backstop in this fight — a proven, crucial tool for correcting social ills and for legally and socially holding powerful interests to account, especially in the presence of regulatory failure."
The three-judge panel will now decide if the Juliana case finally goes to trial, an outcome that could have implications for a range of climate change litigation around the nation.
Main image: Soldiers carry a young girl through deep water to load her onto a light multi-terrain vehicle during severe flooding in Wharton, Texas, April 21, 2016. Credit: Texas Army National Guard/1st Lt. Zachary West, public domain