It may come as something of a surprise to regular readers of DeSmog that we are joining more than 250 other news outlets in a global collaboration called "Covering Climate Now," led by The Nation and the Columbia Journalism Review. After all, DeSmog has a very long "now" that we've been covering climate change — all the way back to our launch in January 2006.
Since then, we've been telling the stories overlooked by mainstream media: debunking early arguments of climate science deniers, exposing their funding sources and networks, and examining the questionable claims (and finances) of the "fracking revolution" that has contributed to the climate crisis, just to name a few.
Hell, we began reporting on the Dakota Access pipeline in February 2015 — a year and a half before the confrontations between private security contractors and the Standing Rock Sioux Tribe sparked a global movement of water protectors. Oh, and long before international media descended on the plains of North Dakota to interview the thousands of supporters camping out against a fracked oil pipeline.
"Instead of sleepwalking us toward disaster, the U.S. news media need to remember their Paul Revere responsibilities — to awaken, inform, and rouse the people to action," wrote Mark Hertsgaard and Kyle Pope in their announcement of the collaboration this past Earth Day.
.@CoveringClimate's extended week of coverage (Sept. 15-23) begins today, all leading up to the @UN Climate Action Summit on Sept. 23! Track #CoveringClimateNow for stories from our 250+ partners worldwide & check our website for a full list of partners:https://t.co/jQvP6YNoP4

— Andrew McCormick (@AndrewMcCormck) September 15, 2019
We at DeSmog take these responsibilities seriously.
We have long been critics of mainstream media coverage of climate change (ahem, we're looking at you, New York Times and Bret Stephens). And after the Boston Phoenix folded in 2013, leaving homeless one of the most impassioned cases that journalism has been shirking its duties on climate, DeSmog republished Wen Stephenson's 2012 call-to-arms cover story here.
Nearly seven years after it was first published, Stephenson's story has lots none of its bite. Its title — "Dear mainstream media colleagues: Time is running out to prevent climate catastrophe. Lives are at stake. And you are failing us all." — instead begs the question of where a movement like "Covering Climate Now" was a decade earlier.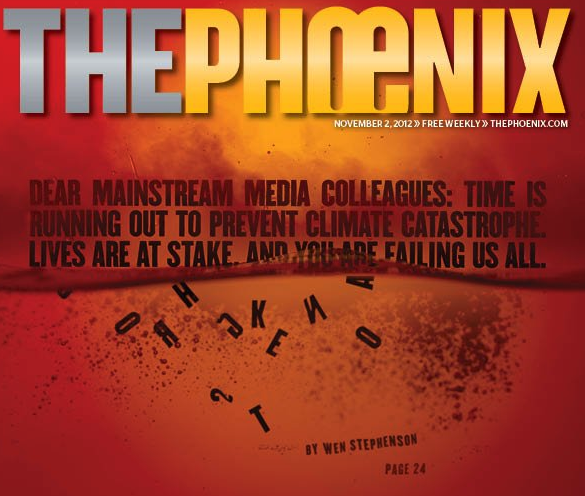 Wen Stephenson's 2012 cover story in The (Boston) Phoenix took journalists to task for failing to adequately cover the climate crisis.
That said, we're glad to see so many mainstream publications — local, national, and international — are starting to catch on and have committed to at least the next eight days of reporting on the "climate story" as part of this collaboration. It's about time.
So, over the course of the next eight days, leading up to the United Nations Climate Action Summit in New York City on September 23, DeSmog will be publishing a number of stories analyzing and reflecting on the impediments to climate action.
We begin today with a story by our UK editor Mat Hope, dissecting the international network attacking Swedish teen climate activist Greta Thunberg. Stay tuned for Sharon Kelly's examination of the PR shift among fossil fuel companies beset by lawsuits, for Justin Mikulka's analysis of the dangerous distraction posed by geoengineering, and for Ben Jervey's revelation of the Koch network social influence strategy now working to quash the burgeoning electric car industry.
We'll look at the past and future of climate science denial and at how the rise of populism is fueling this denial across Europe, in a special jointly published story with Spanish newspaper La Marea's Climática magazine.
In addition, we'll be republishing on DeSmog some of the excellent stories by others in this collaboration and making our stories available for others to do the same.
Thanks, as always, to you, our readers, for your support of DeSmog and our mission. We are dedicated to covering the climate story — the story of our time — now and in the future.
Main image: Covering Climate Now logo